Best SBS 3D Blu-ray Copy in DVDFab
DVDFab Blu-ray Copy probably is the first and best SBS 3D Blu-ray copy in the world. It copies Blu-ray 3D to SBS 3D Blu-ray for playback on 2D player and viewing on 3D TV with great 3D effect. It can output BD 50, BD 25, BD 9, and even BD 5 to meet your needs. It has great decryption power, super fast speed, and flexible customization.
Why copy 3D Blu-ray to SBS 3D BD?
Blu-ray Copy is definitely a life saver for those 3D fans who have no 3D player and who want to cost less with smaller sized backup discs. Why? Since this SBS 3D Blu-ray Copy can copy 3D Blu-ray to SBS 3D BD, and the output disc can be BD 25 / BD 9 / BD 5, and can be played in 2D player. Another cool thing is that when viewing on 3D TV, the SBS BD has terrific 3D effect.
How to Copy 3D Blu-ray to SBS 3D BD?
In order to copy 3D Blu-ray to SBS 3D BD with Blu-ray Copy, we should start up DVDFab at first, then run Blu-ray Copy. If you want to copy all content in the source disc, choose Full Disc mode. If you want to copy only the longest title, then choose Main Movie mode. Let's take Main Movie mode for example. Now import in the source Blu-ray 3D, and the longest movie title will be selected by default. On the main UI of Blu-ray Copy, you can freely set audio tracks and subtitles. And you need to specify the output type as BD 50, BD 25, BD 9, or BD 5 in the lower part.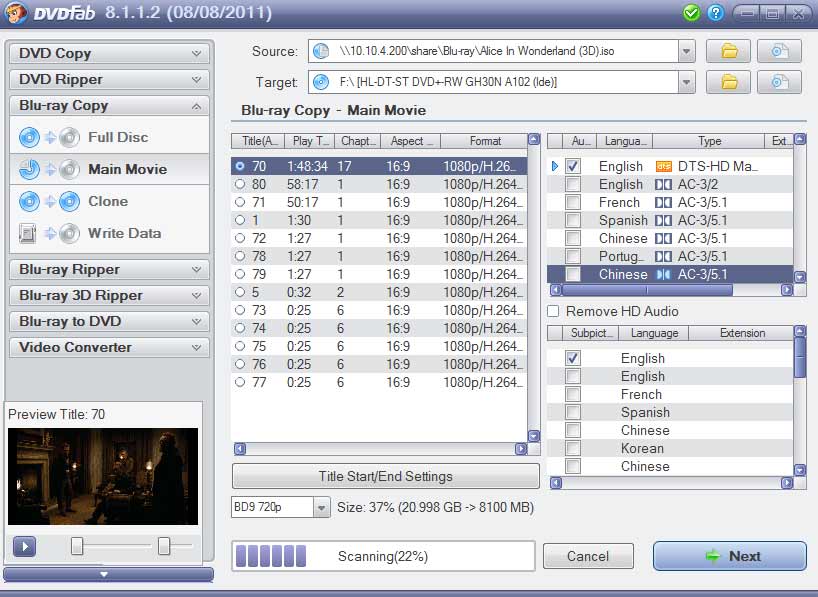 Click Next button to the next step. Please choose "Convert to Blu-ray SBS 3D" option in the below window.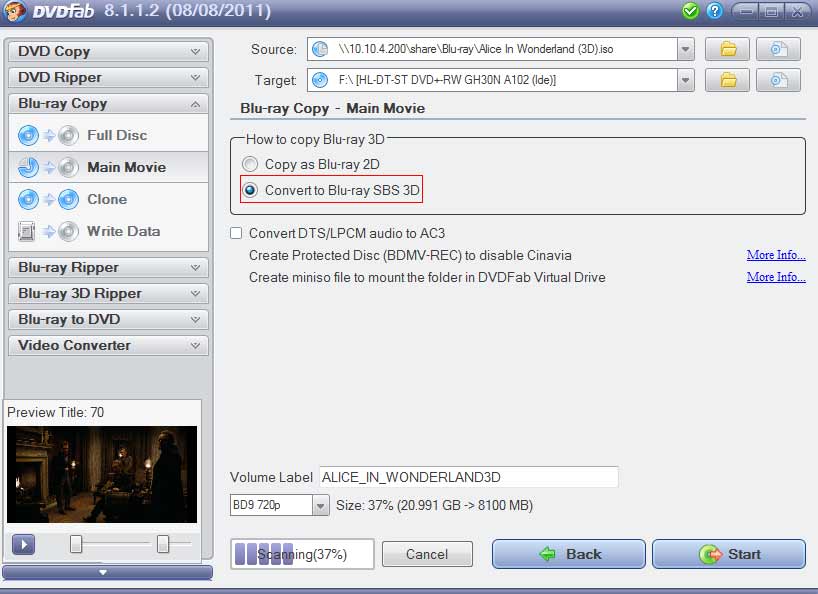 OK. Now hit Start button to start converting. Don't forget to insert a compatible media for writing process. During the conversion, you can monitor detailed progress info and set auto shutdown for your PC if you need.
OK, that's all about Blu-ray 3D to SBS 3D BD copy.
For more info about SBS 3D, please go to: http://www.dvdfab.cn/blu-ray-copy/sbs-3d.htm
For more info about Blu-ray Copy, just visit: http://www.dvdfab.cn/blu-ray-copy.htm