>
Multi-Angle Movies
What Is Multi-Angle Movie?
There would be some special scenes when shooting a movie, which will deliver totally different visual experiences with different viewing angles. Take the dinosaur scenes of the movie "Jurassic Park" for example. The director would shoot with different angles from front, side, top, etc. When the time comes to the after treatment, all the different-angle shots will have to go through professional technology processing in order to become a multi-angle movie for audience to view at last.
How to View a Multi-Angle Movie?
When viewing a multi-angle movie from a stand-alone player, one can press some "Angle Switch" button to switch angles to view. We must acknowledge that this multi-angle thing really can treat viewers with fabulous visual feast. But at the same time it comes naturally to viewers that they should get a clue of which part in the movie is the multi-angle content. Due to some technology limit, DVDFab currently can only detect whether a movie is multi-angle or not, but cannot pinpoint down to the chapters.
How Does DVDFab Deal with Multi-Angle Movies?
When using DVDFab to backup or convert multi-angle movies, we would encounter below circumstance:
There're 2 titles under "Main Movie", xxx.Titlexxx(1) and xxx.Titlexxx(2), with the same parameters of Chapter/Audio/Subtitle; if any of these parameters are changed for one title, the other title will be simultaneously changed to catch up.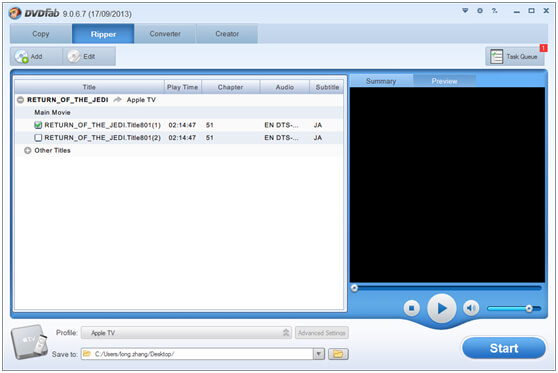 Since we don't know where exactly all these multi-angle scenes sit in a movie, it is suggested that when ripping/converting multi-angle DVD/Blu-ray sources with DVDFab, the first title should be processed; when copying them, all multi-angle titles should be selected then.
You can download DVDFab for free to copy/convert your multi-angle movies at: https://www.dvdfab.cn/download.htm