M4V vs MKV: Which One to Choose
2019-03-24 18:33:01 Posted by Gabriel
1026
Summary: If you know the difference between an M4V file and an MKV file, you could best decide which type works best for you. From this article, you will learn them more.
DVDFab 11 offers the world's most complete and advanced Cinavia removal solutions in its DVD, Blu-ray and UHD Cinavia Removal modules, respectively. With the help of these solutions, you can remove the so-called undefeatable Cinavia watermarks embedded in the audio tracks of the affected DVDs, Blu-ray, and 4K Ultra HD Blu-rays, completely and permanently. Thus, when playing the backups on the devices equipped with a Cinavia detector, you don't need to worry about the sound being muted in the middle of the playback anymore.
If you don't pay too much attention to file extensions you may run into situations where you can't play certain files and don't really know why. That's precisely why know the difference between something like an M4V file and an MKV file is very useful and can save you a lot of time when trying to decide which type works best for you. With that in mind, today we're going to do a little M4V vs MKV comparison and also talk a bit about how you can convert one file to the other using some very powerful and intuitive tools.
Part 1: M4V vs MKV
The M4V extension is associated with files developed by Apple to work exclusively alongside its own products and services. M4V files are opened by default in iTunes and feature a form of DRM known as Apple FairPlay. Because of this, it's not possible to play files on non-Apple products unless you first remove the DRM or convert the M4V to MKV or another popular format.
A Matroska Multimedia file, better known as an MKV, is a container that can hold any number of media tracks within the same file. These include not just video and audio tracks but also subtitles and images. MKV is a very popular format that can run on pretty much any device and operating system you can think of as it has very strong playback support across all platforms.
Main Differences
If you want to do a direct M4V vs MKV comparison the first difference that immediately stands out is the fact that one format is a lot more widely used and flexible than the other. While protected M4V files are limited to Apple devices due to the inclusion of the FairPlay DRM, MKV files don't have such restrictions and can work just fine on Windows, Linux, Android, and other platforms. Another important distinction to make is that MKV files tend to be larger in size when compared to M4Vs, though this is generally because they also offer better picture and audio quality.
Part 2: How to Remove the DRM Protection on M4V Files and Convert Them to MKV
In this section, we're going to show you how to convertM4Vto MKVin two quick steps. First off, you're going to need a tool known as DVDFab DRM Removal for Apple, which is pretty self-explanatory. You can use this tool to load any number of protected M4V files you have laying around and quickly remove the DRM while also converting the files to MP4 or M4A format depending on whether they're video or audio files. DVDFab DRM Removal for Apple is very easy to use and because it converts files to MP4s, you can rest assured knowing that they will work with virtually any device and media player. Here's how it works:
Note: To remove DRM encryptions, users must allow DVDFab to access the iTunes Library XML. For that purpose, go to iTunes > Edit > Preferences > Advanced, and then check the box before Share iTunes Library XML with other applications.
1. Open DVDFab 11 and navigate to the Utilities section to get started. Once there, look for a tool labelled DRM Removal for Apple and click to open it.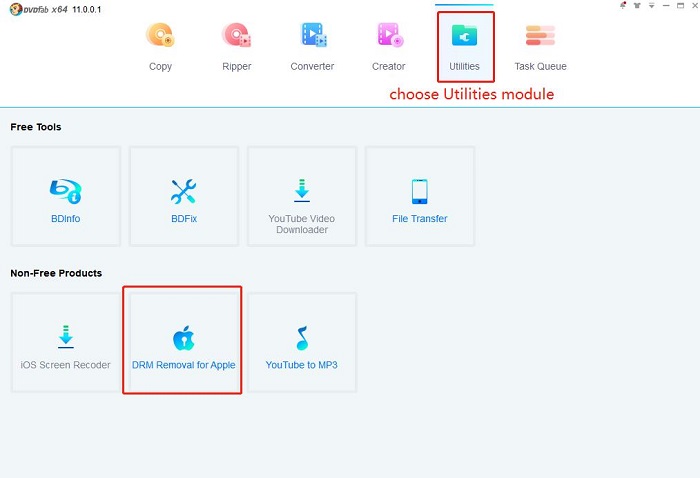 2. Once the tool opens you'll notice there are two options – one for video files and one for audio files. We've mainly discussed about video conversion in this article but feel free to choose the audio option if that works best for you.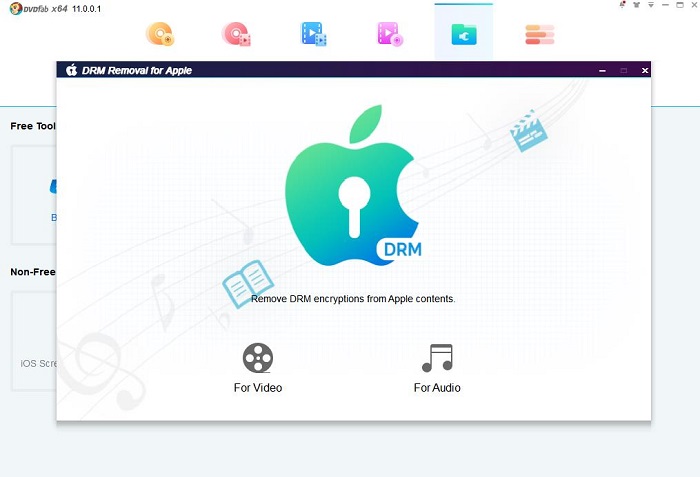 3. After you've picked an option it's time to load the M4V files you want to remove the DRM from. The tool supports batch conversion so feel free to add multiple files to speed up the process. If you picked the video option you will be able to load files either from Windows or from your iTunes library. Meanwhile, audio files can only be added from iTunes.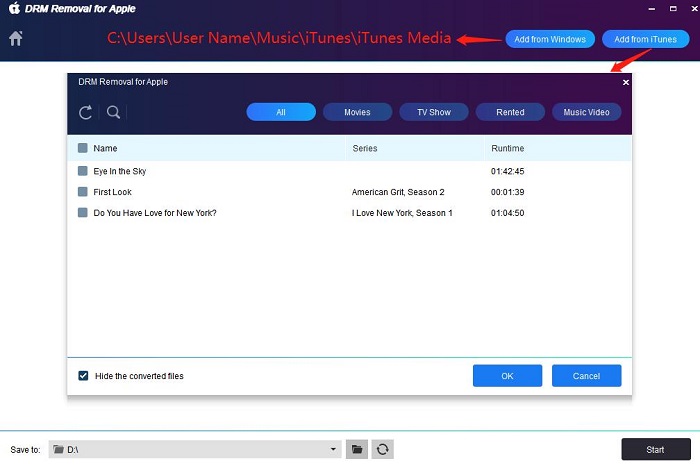 4. Change the destination folder by using the bottom dropdown menu if needed and then click the Start button to initiate the conversion process.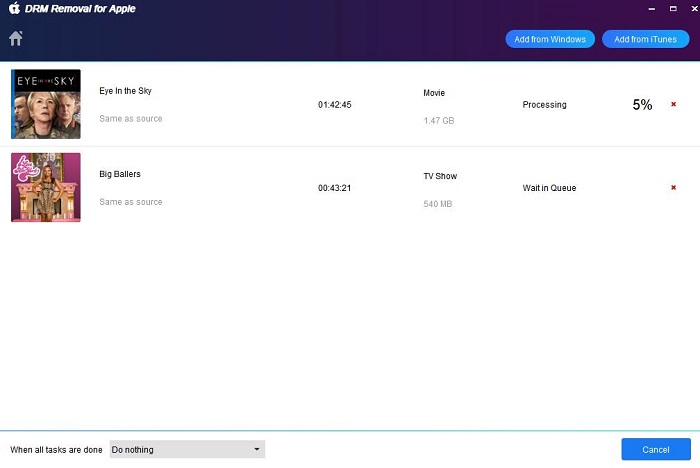 DVDFab Video Converterto Convert M4V to MKV Files
We've talked about M4V vs MKV at the beginning so now it's time to move to the final step. DRM Removal for Apple outputs MP4 files but you can convert the MP4 or an unprotected M4V source to MKVby using an additional tool known as DVDFab Video Converter. This all-in-one software supports all the most popular video and audio formats and is just as intuitive as the DRM Removal tool. To use it to convert M4V to MKV, you only need to load the file, choose the MKV format and click the Start button.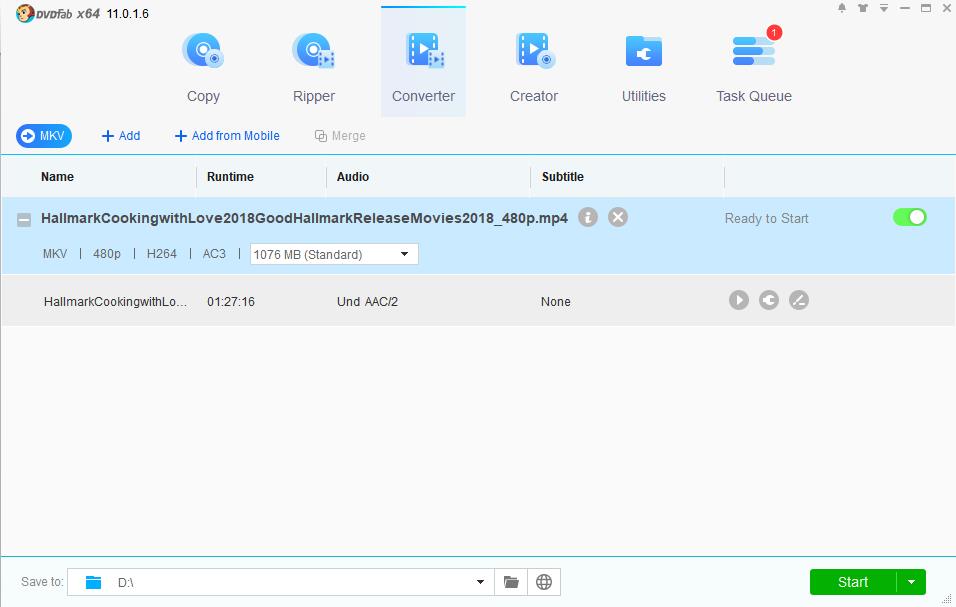 In addition to video conversion, the tool also includes a number of powerful editing and customization tools that you can use to modify your files in a wide variety of ways.
Conclusion
Learning the difference between M4V and MKV, MP4 or any other format type can be very useful when trying to figure out which files you can rely on as not all of them have the same level of support on every device and operating system. It's a bit tricky to directly convert M4V to MKV because of FairPlay but using DVDFab DRM Removal for Apple in conjunction with DVDFab Video Converter gets the job done every time.
Read here, you must have learned the similarities and differences between M4V and known how to convert M4V to MKV files. Then would you like to play the MKV files you got? Here are the best media player for MKV files.
You May Need Other Tools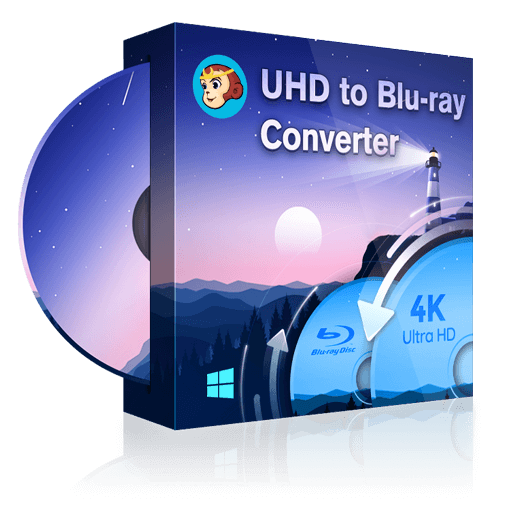 Convert 4K UHD Blu-rays to Blu-ray discs/folders/ISO files