How to Rip Blu-ray for Google Nexus 7 on Mac?
Google Inc. recently released a newbie tablet PC called Nexus 7. The second non-manufacturer enterprise entered into manufacturer's zone, the first one being Microsoft Corporation, with its Surface tablet. Of course, Google does not make Nexus itself, but partnered with ASUS. Nexus 7 carries Google's latest mobile operating system, Android Jelly Bean, a very sweet bean referred by many insiders.
As of its configuration, Nexus 7 seems not targeted at top-end market, when being compared to similar products, such as iPad, the King of tablet sector. As its name indicates, it features a 7-inch HD backlit IPS display, 1200*800 in resolution and 216 in ppi. To most customers, the most used feature of Google Nexus 7 maybe is its entertainment value, for example watching movies on this 7-inch HD screen. Speaking of HD movies, can you watch Blu-ray video on it? Yes, you can. As the best Blu-ray Ripper software for Mac platform, DVDFab Blu-ray Ripper for Mac will help you rip anyBlu-ray to Google Nexus 7compatible video files on your Mac computer.
Follow this tip below to see how to make that happen:
Rip Blu-ray for Google Nexus 7 on Mac: Step 1 -> Download the latest version of DVDFab for Mac and install it on your Mac computer.
Rip Blu-ray for Google Nexus 7 on Mac: Step 2 -> Start DVDFab for Mac, navigate to Blu-ray Ripper option and Google mode, and then load the Blu-ray you are about to convert. Next, choose the audio track and subtitle stream you want to keep.
Rip Blu-ray for Google Nexus 7 on Mac: Step 3 -> Click the "Edit" button to rename the output file, fix output file size, bit rate, etc and click "Video Effect Settings" button to resize the frame resolution, crop the display area and so on, if you do not want to use the default settings. Next, wait for the task to be completed.
Note: the critical factor of this converting process is the Google mode you choose.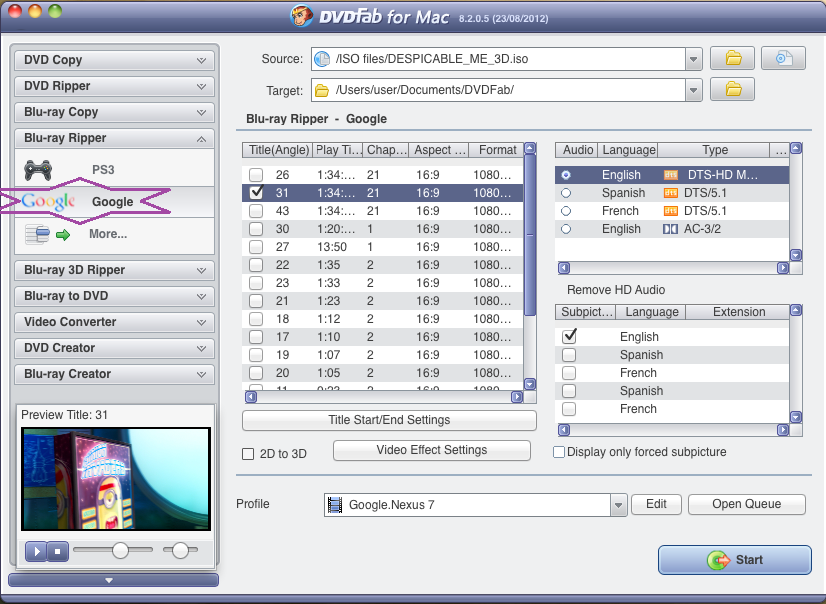 For more information, please refer to DVDFab Blu-ray Ripper for Mac page.