How to Rip Blu-ray for Kindle Fire on Mac?
Whether or not you think it is a smart idea for Amazon to release Kindle Fire tablet computer, in its own name, Kindle Fire, in fact, does set foot on this big marketplace. Although its market share is not as big as iPad, it seems that it has successfully caught people's attention. After all, not all tablets are called iPad, especially to those who cannot afford the expensive Apple product, Kindle Fire is also a pretty good choice.
As of its advantages, maybe Amazon's intention behind this big move is the integrated two-way communication between Kindle Fire and Amazon online shop. People can use Amazon account to transfer their purchased e-books, videos, and songs etc onto this tablet. Besides, users can also convert their movie collections for this 7-inch handset. Here we offer a solution to convert your own Blu-ray movies to Kindle Fire compatible videos, using the most popular Blu-ray Ripper software for Mac OS, DVDFab Blu-ray Ripper.
Below is how to make that happen:
Rip Blu-ray for Amazon Kindle Fire on Mac: Step 1 -> Download the latest version of DVDFab for Mac and install it on your computer.
Rip Blu-ray for Amazon Kindle Fire on Mac: Step 2 -> Start DVDFab for Mac, navigate to Blu-ray Ripper option and Amazon mode, and then load the Blu-ray you are about to convert. Next, choose the audio track and subtitle stream you want to keep.
Rip Blu-ray for Amazon Kindle Fire on Mac: Step 3 -> Click the "Edit" button to rename the output file, fix output file size, bit rate, etc and click "Video Effect Settings" button to resize the frame resolution, crop the display area and so on, if you do not want to use the default settings. Next, wait for the task to be completed.
Note: the critical factor of this converting process is the Amazon mode you choose.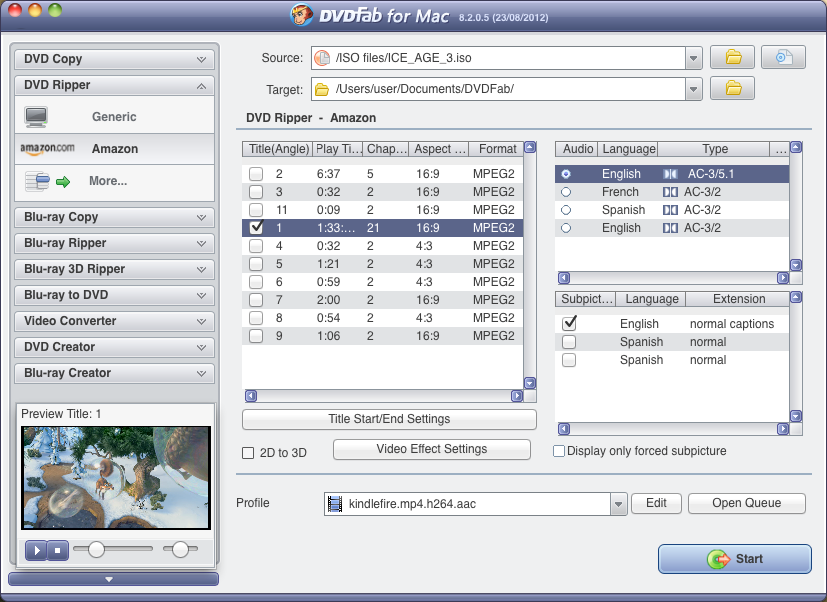 For more information, please refer to DVDFab Blu-ray Ripper for Mac page.