How to convert DVD for Nexus 7 under Mac OS?
If it is the holy duty of the world's greatest company to combine art and technology, then Apple did that a perfect job. If it is the holy duty to survive a deadly fierce competition, then the second greatest companies on this planet did their good jobs too. Google maybe is among the second greatest ones, despite of a reluctant self admitting. It does make unbelievable amount of revenues by its world No. 1 search engine, it does also let others make huge profits by announcing an open source of its mobile operating system. But, it finally entered a brand new arena, the one that it is not good at. Unlike Apple, a vertically and horizontally integrated ecosystem of hardware and software, can Nexus 7 earn it a big name, or it will dwarf its fame? God knows, Google may not.
At least, Nexus 7 has seemingly received positive responses from consumers. As whether or not it is just a flash in the pan, take a look at its specs, you may find some hints: 7-inch in size, 1GB RAM, 8GB or 16GB onboard storage, carrying Jelly Bean, a sweet bean by the way, powered by a quad-core Tegra 3 processor. Seems like a wonderful shot. One thing worth a notice, its 7-inch display has a 1200*800 resolution, much better than Kindle Fire, plus its IPS technology, maybe it's a good idea to watch movies on it. How? As a universal DVD Ripper software designed for Mac platform, DVDFab DVD Ripper can help you do that.
This tip below talks about that, in detail.
Convert DVD for Google Nexus 7 on Mac: Step 1 -> Download the latest version of DVDFab for Mac and install it on your Mac.
Convert DVD for Google Nexus 7 on Mac: Step 2 -> Run DVDFab for Mac, navigate to DVD Ripper option and Google mode, and then load the DVD you are about to convert. Next, choose the audio and subtitle you'd like to keep.
Convert DVD for Google Nexus 7 on Mac: Step 3 -> Click the "Edit" and "Video Effect Settings" buttons and do the Conversion Settings and Video Effect Settings respectively, then hit "Start" button to go converting. Next, wait for the task to be completed.
Note: the key point of this conversion is the Google mode, pay enough attention.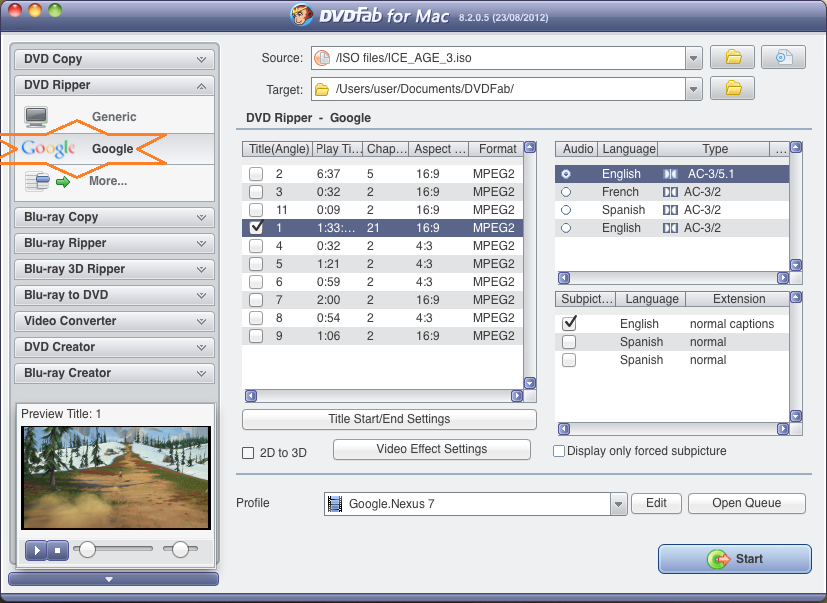 For more information, you can go to DVDFab DVD Ripper for Mac page.