How to convert DVD to Samsung Galaxy Note i9220
Do you have a Samsung Galaxy Note? You must feel exceedingly awesome if you do own one, especially its crowning glory---5.3-inch HD Super AMOLED screen with its 1280*800-pixel resolution. Samsung's family of AMOLED screen technology always looks bright, vivid, and saturated in color. People comment that this huge screen guy is improperly positioned, as it is believed to be at the intersection between a phone and a tablet. Well, for better, for worse, now that you have one, why not make the best use of its glamorous 5.3-inch display?
This tip below shows you how to convert your DVD movie for this amazing screen, with the DVD Ripper software from DVDFab:
Convert DVD for Samsung Galaxy Note: Step One-> Download the latest version of DVDFab DVD Ripper and install it on your computer.
Convert DVD for Samsung Galaxy Note: Step Two-> launch DVDFab, navigate to DVD Ripper option and Android mode, then load the DVD you are about to convert. After doing the audio and subtitle settings, go to the bottom of the main window where you can find the profile selection area, then choose "Samsung Galaxy Note i9220".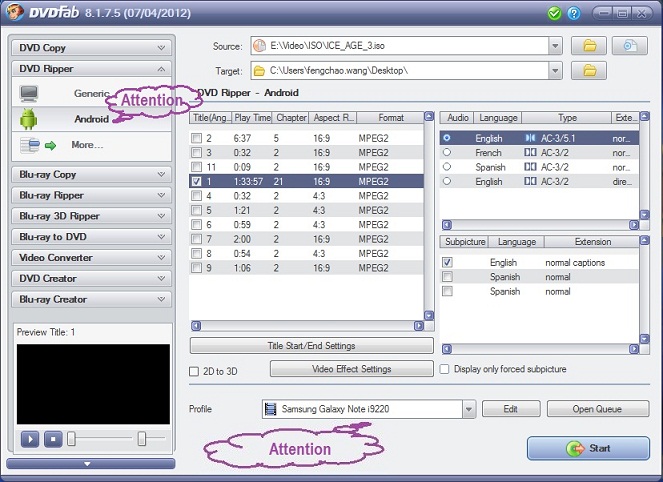 Convert DVD for Samsung Galaxy Note: Step Three-> Click the "Edit" and "Video Effect Settings" buttons and do the Conversion Settings and Video Effect Settings respectively, then hit "Start" button to go converting. Next, wait for the task to be completed.
Note: the key point of this conversion is the Android mode and profile, pay enough attention.
For more information, you can go to DVDFab DVD Ripper page