DVD to iTunes
DVDFab DVD Ripper can flexibly rip DVD to iTunes with the help from DVDFab File Transfer. DVD Ripper allows you to convert DVD to iPod compatible video, and you can freely customize for conversion. When DVD to iPod conversion finished, File Transfer will run by itself, and auto detect and fire up iTunes on your PC, then let you transfer your converted iPod video to iTunes easily. Next is a simple tutorial about how to rip DVD to iTunes. Let's have a look.
DVD to iTunes > Step 1: Run DVD Ripper -> iPod
Start up DVDFab and go to DVD Ripper. Choose "iPod" mode on the left pane. Then insert your DVD disc, or choose DVD folder or image file on your PC to import in the source DVD movie. Choose any titles you want to convert and in the Profile drop-down menu, specify an iPod profile for the title. You can also select your favorite audio tracks and subtitles. What's more, the title can be previewed in real time.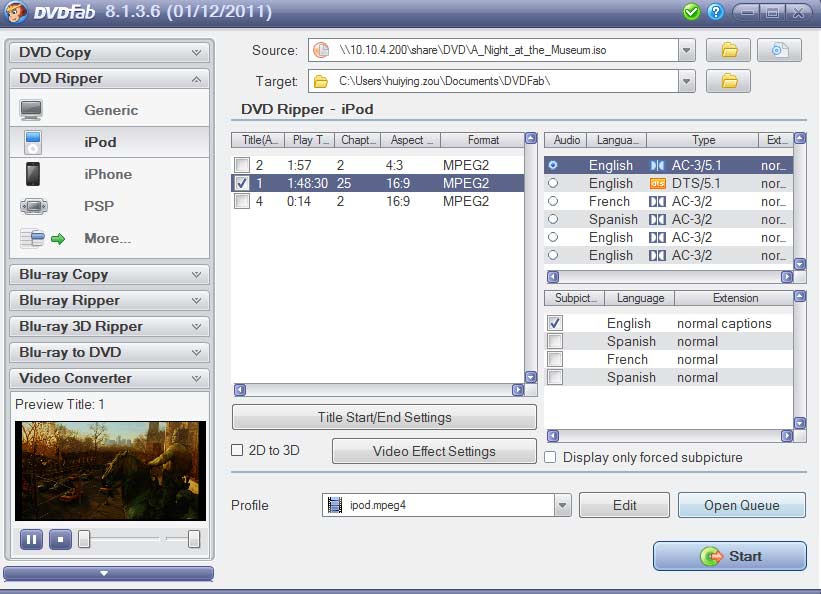 DVD to iTunes > Step 2: Set for Conversion
Click Edit button on the main interface of DVD Ripper will open Conversion Settings window, where all video and audio parameters are ready for you to change from default, like bit rate, frame rate, frame resolution, aspect ratio, channel, volume, etc.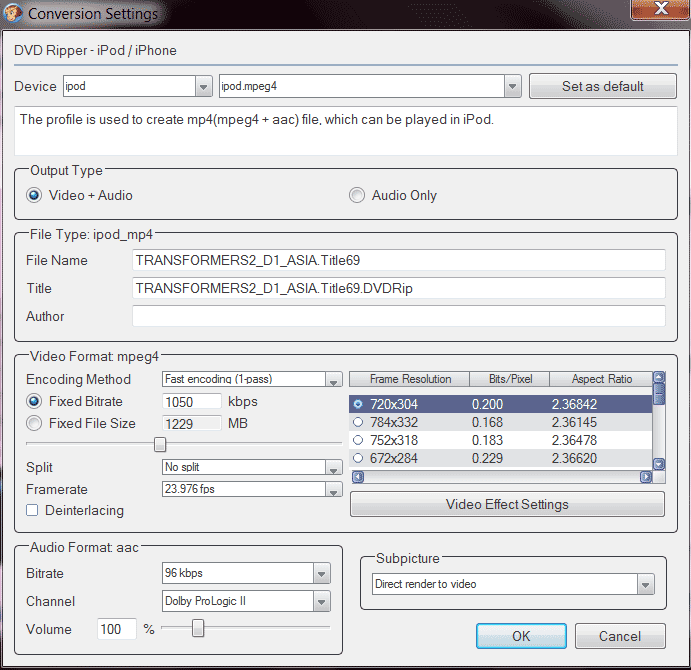 Click Video Effect Settings button and a window with the same name will pop up with Resize and Crop tabs. In Resize tab, you can set source aspect ratio and frame resolution of the video. The Crop tab is more interesting. You can choose whatever region you want out of the current image for display with changeable value boxes and removable crop frame, or in an automatic way which will crop the image without black bars.
DVD to iTunes > Step 3: DVD to iPod conversion
Hit Start button to start conversion process. During the process, you can monitor the progress with detailed info and source movie preview.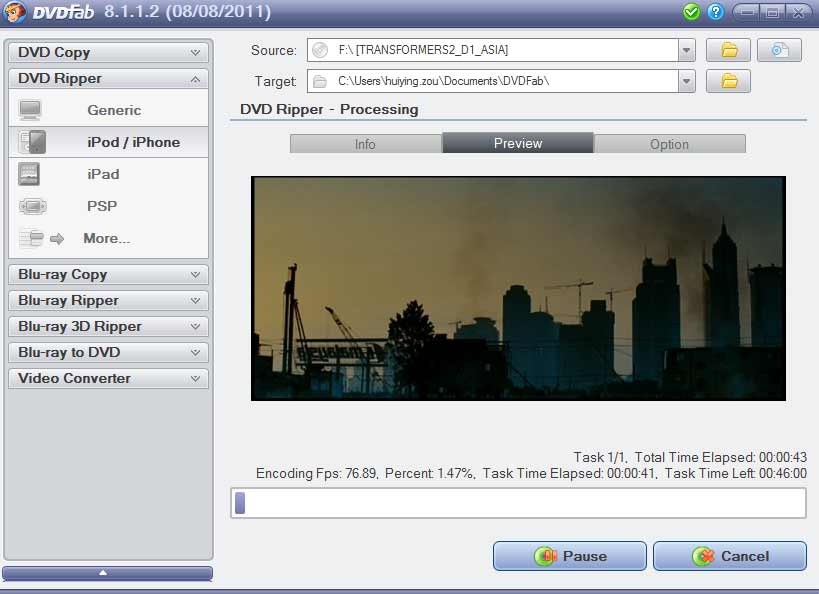 DVDFab has super fast processing speed, and soon you'll see a Process Completed Successfully prompt window.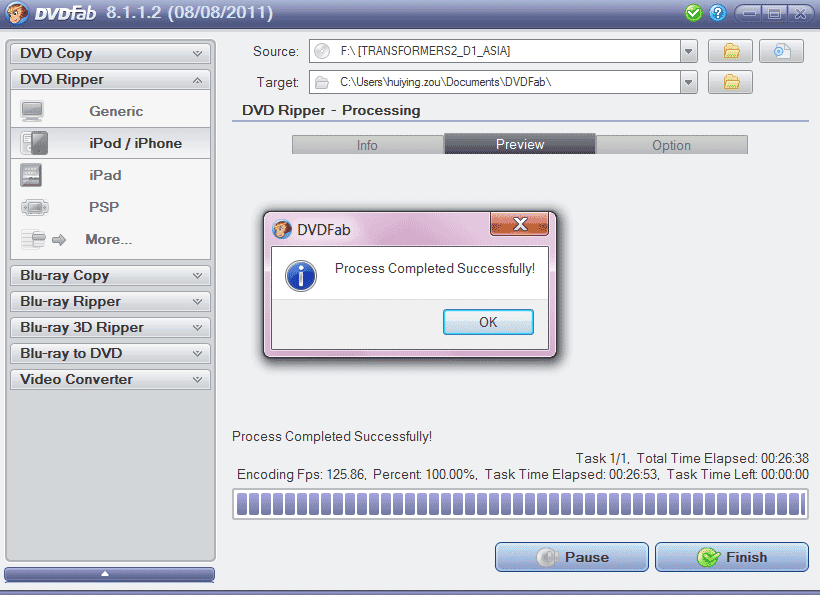 Click OK to see what will happen. Yes, File Transfer will pop up with the below interface. And your iTunes will be auto detected and opened.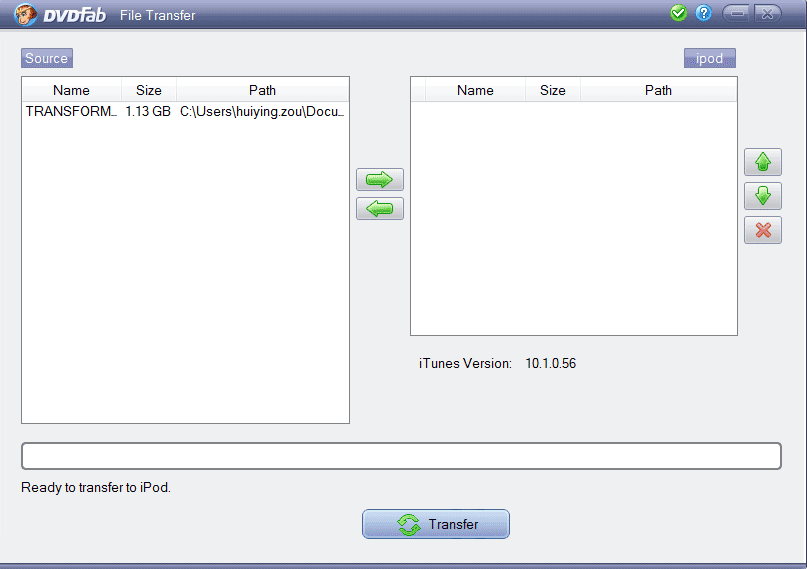 DVD to iTunes > Step 4: Transfer Converted File to iTunes
In the interface of File Transfer, your freshly converted iPod video rests in the Source list on the left. Highlight it and click on the right arrow, then it'll be moved to the right iPod list.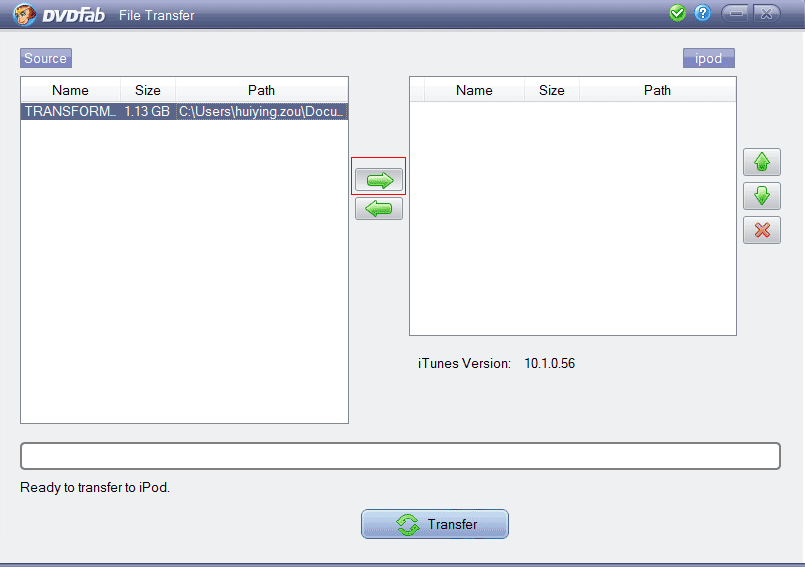 Now press Transfer button, and the file will be transferred to your iTunes in one or two seconds.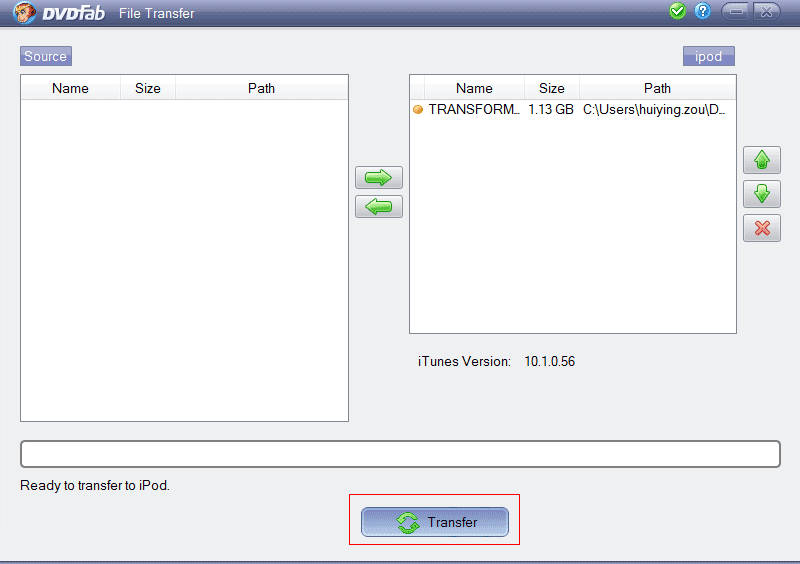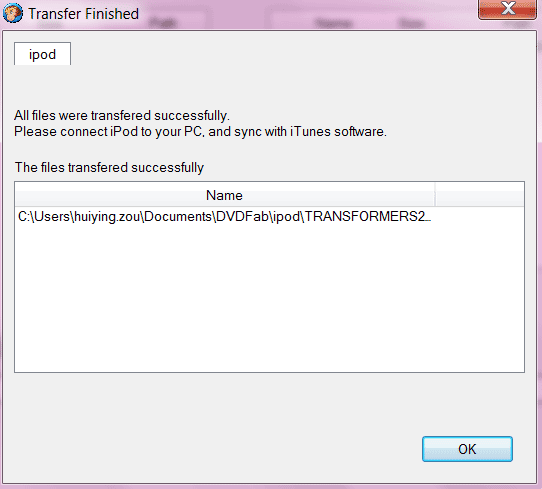 Check back in your iTunes, you can see that your DVD movie is right there. Cheers!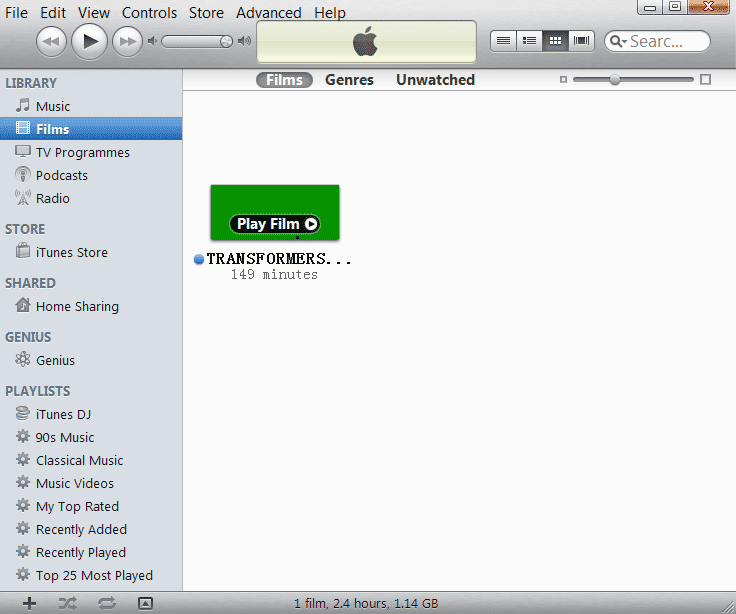 OK. That's all about DVD to iTunes conversion. Just try it out with DVD Ripper and File Transfer.
For more info about DVDFab DVD Ripper, please go to: http://www.dvdfab.cn/dvd-ripper.htm
More info about DVDFab File Transfer at: http://www.dvdfab.cn/file-transfer.htm