How Do I Copy a DVD?

Copy DVD is what nearly all DVD fans do frequently. Copy a DVD to a blank DVD disc can protect your valuable DVD from any damage and ensure you a perfect DVD collection; copy a DVD to hard disk then can make an easy backup, and what's more, it gives you the flexibility to watch DVD movie on your computer with some player software so that you don't have to be always tethered to DVD player or DVD disc for DVD viewing. If you are looking for a powerful tool and best way to copy DVD, or you don't even have any DVD copy experience, the next simple tutorial is right for you, which is about how to copy a DVD with DVDFab DVD Copy.
Copy a DVD with DVD Copy > Step 1: Import your DVD in DVD Copy
Start up DVDFab after it's installed. Choose "DVD Copy" option. On the left pane, select a copy mode accordingly. If you're going to copy all the DVD content, please choose "Full Disc"; if you'd like to copy only the movie pare, just choose "Main Movie". There're 8 copy modes by the way, and you can later try them out yourself one by one. Here we choose "Main Movie" as example. Now insert your DVD disc into optical drive on your computer for it to be imported in DVD Copy as the source.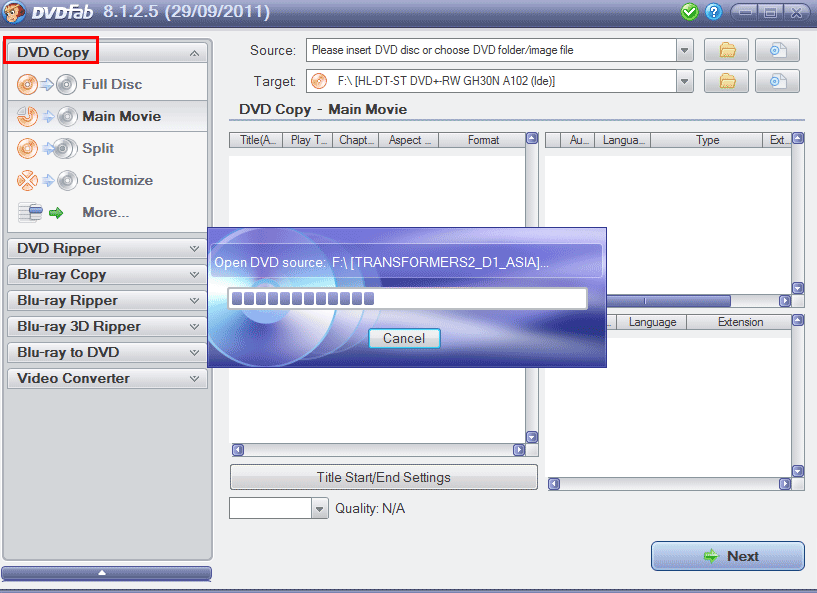 Copy a DVD with DVD Copy > Step 2: Choose a target and select audio tracks and subtitles
Now the source movie is in, you can see that the longest movie title is selected by default. On your right hand side, there're multiple audio tracks and subtitles for you to select. Just select your favorite ones. And in the lower part of the interface, you can define the output type as DVD 5 or DVD 9 based on your need. One more thing you can't miss, that is the Target. If you want to copy a DVD to a disc, you should specify the DVD drive for the target since which can be used to burn your DVD into disc. If you want to copy DVD to hard disk for backup, please choose the folder icon or image file icon to specify a target path on your computer.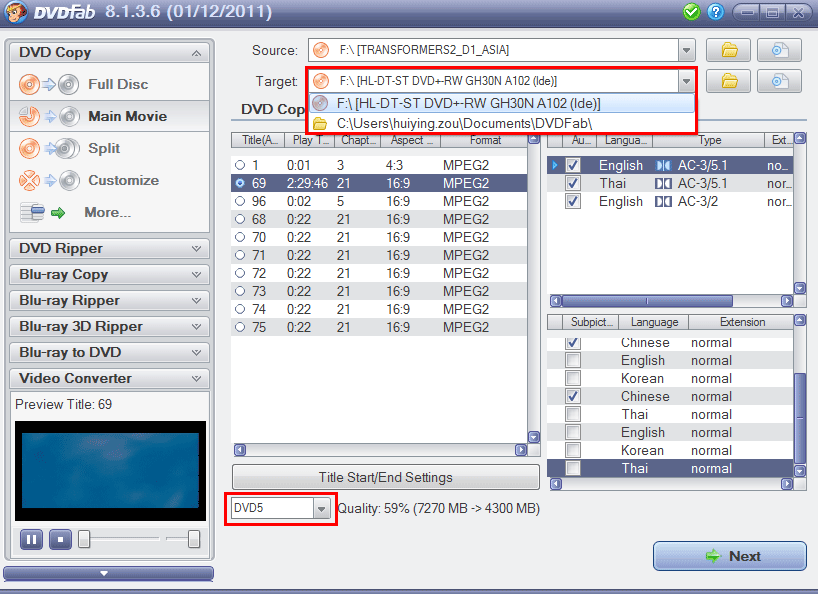 Copy a DVD with DVD Copy > Step 3: Start copy process
Click Next button to go to the next interface, where you can set the output DVD to rewind when done playing.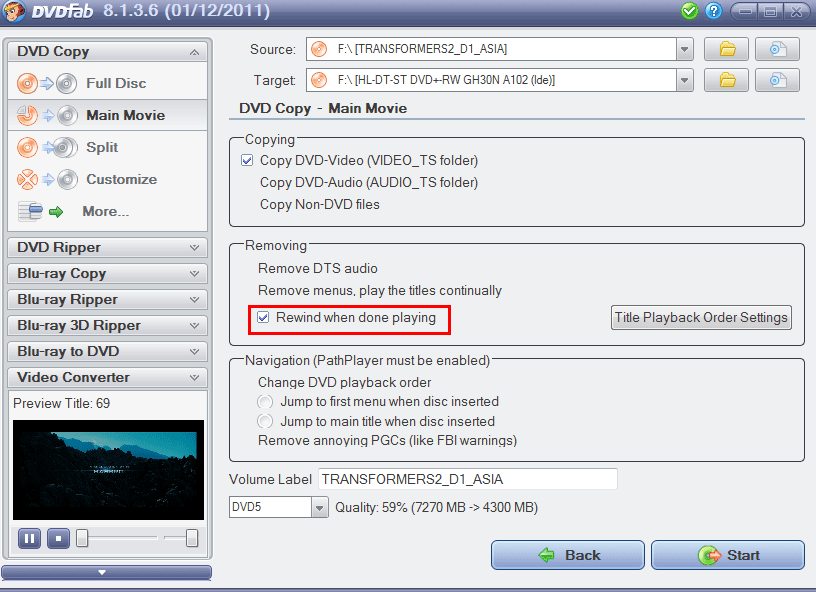 If everything is OK, just hit Start button to start copy process. And everything can be monitored during the process.
If you're copying DVD to disc, after the ripping process, you'll be asked to insert a compatible media to start write process.

Just insert a DVD 5 or DVD 9 disc you prepared beforehand to start burning.
If you're copying DVD to hard disk, you won't come across the above prompt. And it's always the same that during the copy process, every detailed info can be viewed, and you can set auto shutdown to your PC if needed.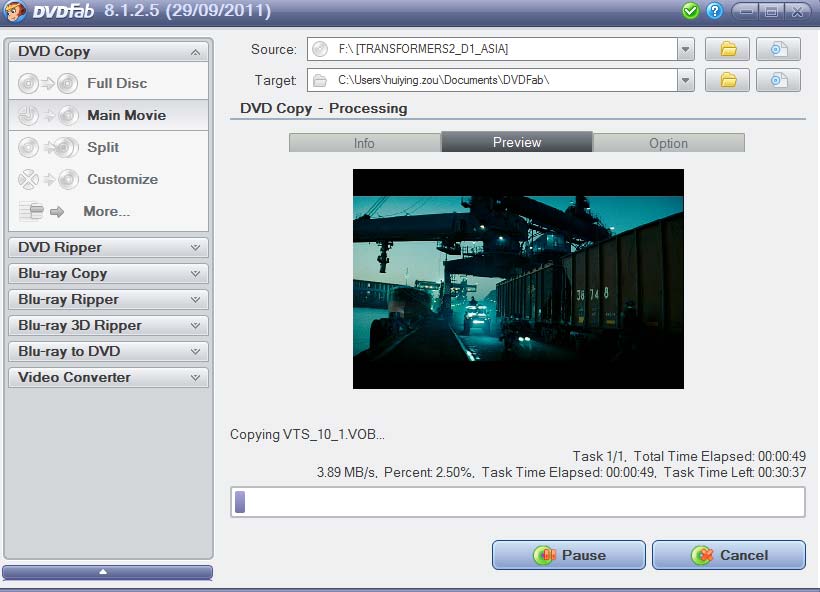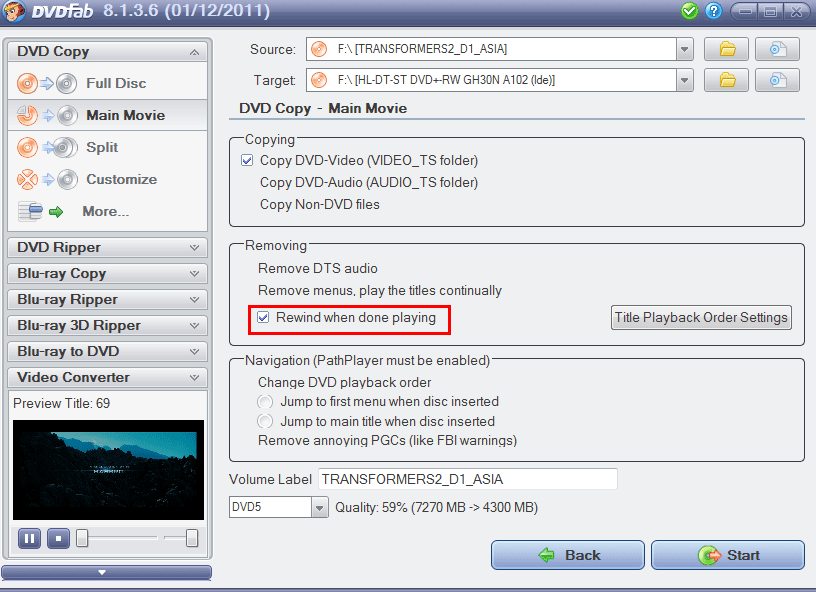 DVDFab has super fast speed and a short time later, you'll get what you desire. If you're interested, please go to http://www.dvdfab.cn/dvd-copy.htm and find out more nice surprises for copy DVD out of DVD Copy.