How to Clone DVD with DVDFab DVD Copy?
DVDFab DVD Copy is the best DVD Cloner software and DVD copy software for you to clone DVD,copy, backup and burn any DVD (with or without protections) with fast speed and high quality. It makes perfect 1:1 bit-to-bit DVD clone and ideal for dual layer DVD copy, or for PS2 data DVD. If you want to clone your DVD with a minimum button clicking, this DVD Cloner is the very one for you.
The next steps will show you how to clone DVD with this powerful DVD backup Software.
Clone DVD>Step 1: Open DVDFab DVD Copy - Clone
After install and start up DVDFab, make sure that the "Clone" mode of DVD Copy in the left pane of the main interface is selected.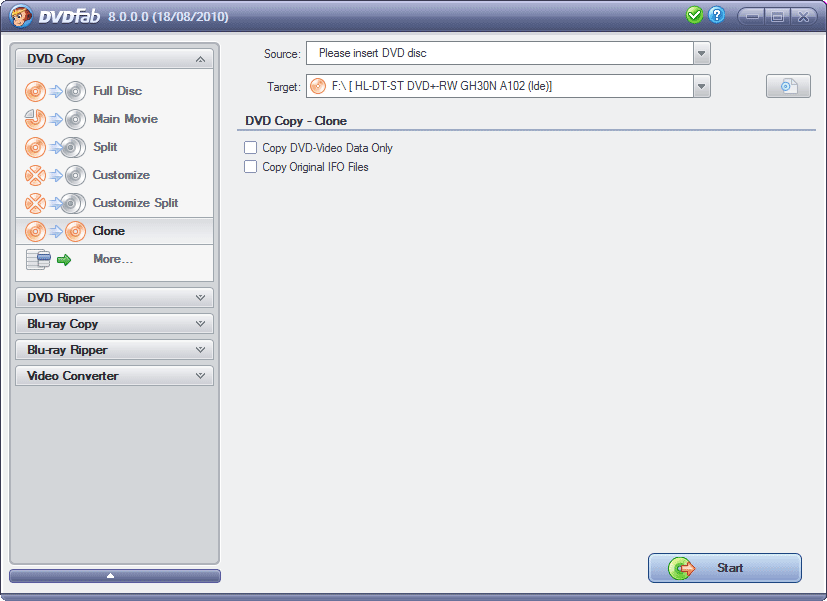 Clone DVD>Step 2: Insert the DVD disc you want to clone
Insert the DVD disc you want to clone for the program to open the DVD source. You will be asked to specify the region code of the DVD. Then wait a couple of seconds for DVDFab to load it.

Clone DVD>Step 3: Make some common settings
After the program is successfully loaded the DVD, we can click the Common Settings button (the green button with a white check) to make some common settings.

In the left navigation bar of Common Settings window, you can set your preferred output directory in "General"; you can select the burning engine, and set the write speed and write type under the option of "DVD/Blu-ray";you can go to "DVD Copy" to specify the default output size and output type.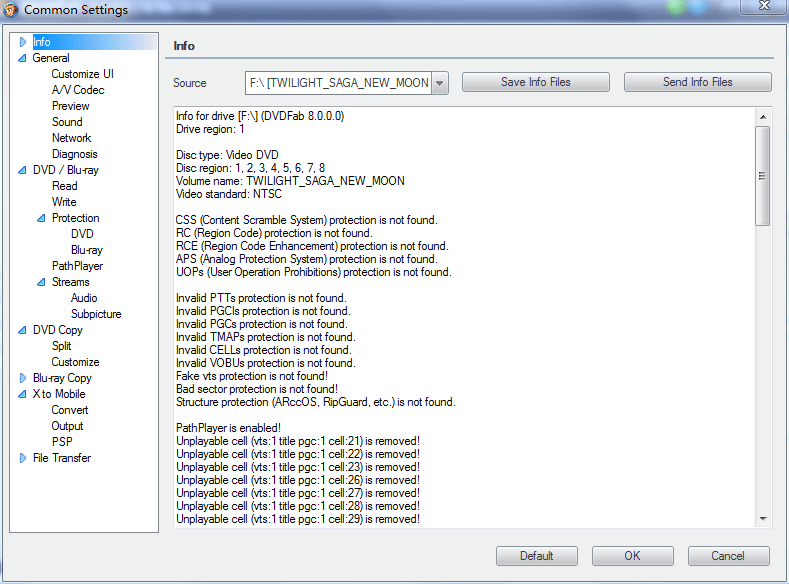 Once you finished the common settings, click "OK" to return to the main interface.
Clone DVD>Step 4: Select the clone mode
After completing the common settings, again on the main interface, we can see that there are two clone modes for us to choose: "Copy DVD-Video Data Only" and "Copy Original IFO Files"

Copy DVD-Video Data Only: This small checkbox prevents DVDFab from copying DVD-ROM or other non-movie content from the original during the clone process. This will also prevent studio-supplied players (InterActual, etc.) or other executable files that may be present from being included on the backup.
Copy Original IFO files: This checkbox forces Clone mode to copy the original disc's IFO files exactly, without removing RC/RCE protection and Prohibited User Operations. This will allow technologies such as ClearPlay to function correctly with Cloned discs but will leave the protections and control limits mentioned earlier in place.
Clone DVD>Step 5: Select target and start ripping
This DVD Cloner supports you to clone your DVDs to an ISO file in your hard drive. For Target, you can click the ISO icon

to choose the default ISO file. Here we use DVD burner as the target.

Now that everything is OK, just click "Start" button to begin the ripping process. You can overview the ripping progress, and the ripping time is around 15-20 minutes.
Clone DVD>Step 6: Insert a blank disc to start burning process
After the ripping process is completed, you will be met with a pop-up window asks you to insert a blank disc to begin the write process. Just do it. The burning process is also can be viewed.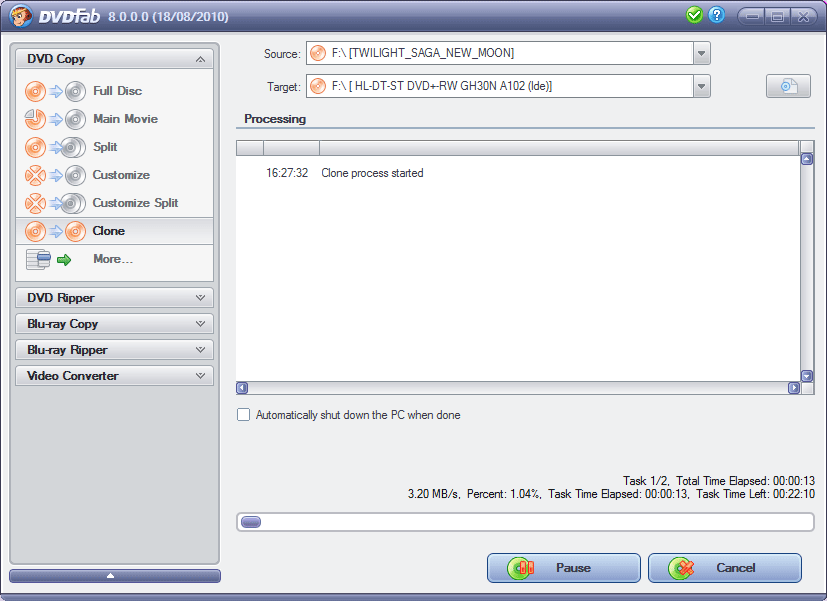 Wait for the burning process completed. Then click "Finish" to end or "Burn Again" to go on burning.
OK, done. See? With DVDFab DVD Copy, DVD clone would never be a problem.