How to Convert 2D Blu-ray to 3D Video?
DVDFab 2D to 3D Converter for Mac, when works with DVDFab Blu-ray Ripper for Mac, can be used on Mac to convert 2D Blu-ray to 3D video to give your Blu-ray movie fantastic 3D effect, and you can view it on your 3D smartphone, 3D TV, or on your Mac according to what kind of 3D video you convert to. And you can easily use 2D to 3D Converter for Mac to do this as follows:
Convert 2D Blu-ray to 3D Video > Step 1: Enable 2D to 3D Converter for Mac
Start DVDFab for Mac, choose "Blu-ray Ripper" option. On the left pane, select "3D Format" mode which covers all supported 3D video formats. Then load in the source 2D Blu-ray. After the movie is in, you can see the "2D to 3D" option in the UI is auto selected, this means that 2D to 3D Converter for Mac has been enabled. You can choose any movie titles, audio tracks and subtitles you like in the interface for conversion, and in the Profile drop-down menu, you can choose one 3D video format according to your need.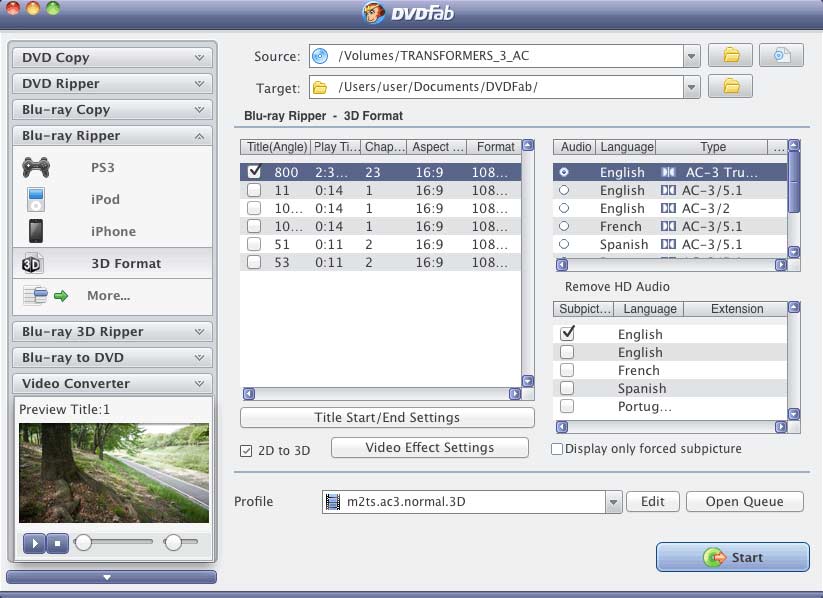 Convert 2D Blu-ray to 3D Video > Step 2: Customize and create your own 3D video
Click Video Effect Settings button to open Video Effect Settings window. In the 3D page, you can choose the 3D type you want, from side-by-side 3D, to anaglyph 3D, and to interlaced 3D, etc.
Now let's come to the Crop page, in this page, you can freely crop the current image to get the perfect playback region for the output.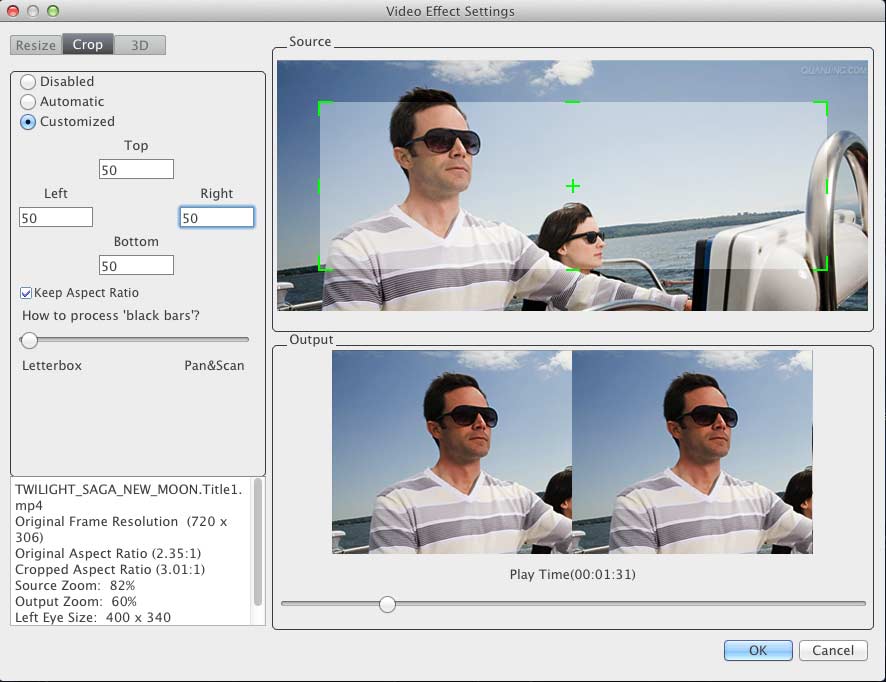 Click Edit button on the main interface and you can go to edit nearly all video/audio parameters if you like, such as bit rate, frame rate, frame resolution, aspect ratio, channel, volume, etc.
Convert 2D Blu-ray to 3D Video > Step 3: Start conversion
If everything is OK, click Start button to start conversion. During the process, you can view detailed info, preview source movie, and set auto shutdown to your computer.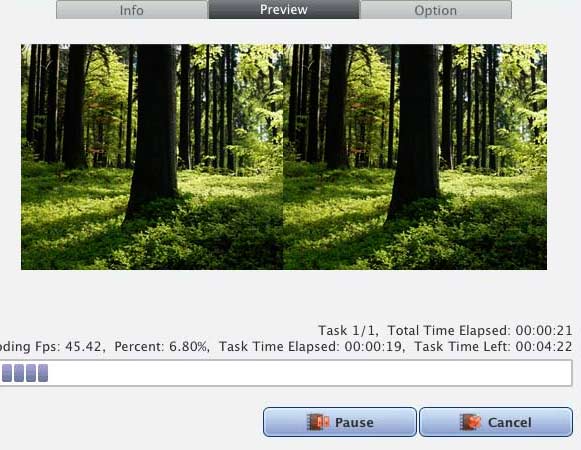 OK. Done. Very soon, you'll harvest what you want. For more info about DVDFab 2D to 3D Converter for Mac, please go to: www.dvdfab.cn/2d-to-3d-converter-for-mac.htm