How to Rip and Convert Blu-ray to iPod/iPhone with Blu-ray to iPod/iPhone Ripper?
Want to convert your Blu-ray movies to files playable on your iPod or iPhone 4S / iPhone 5 and enjoy them whenever and wherever? Then DVDFab Blu-ray Ripper will give you total freedom. It's a Blu-ray to iPod/iPhone converter with fast speed, high quality and flexible settings. It also can rip and convert Blu-ray to various other video/audio formats for playback on multi-equipments. Follow me to have a look at the easy conversion of Blu-ray to iPod/iPhone with DVDFab Blu-ray Ripper.
Rip Blu-ray to iPod/iPhone>Step 1: Run DVDFab Blu-ray Ripper – iPod/iPhone
Install then start up DVDFab, select "Blu-ray Ripper" option, then go to "iPod/iPhone" on the left panel.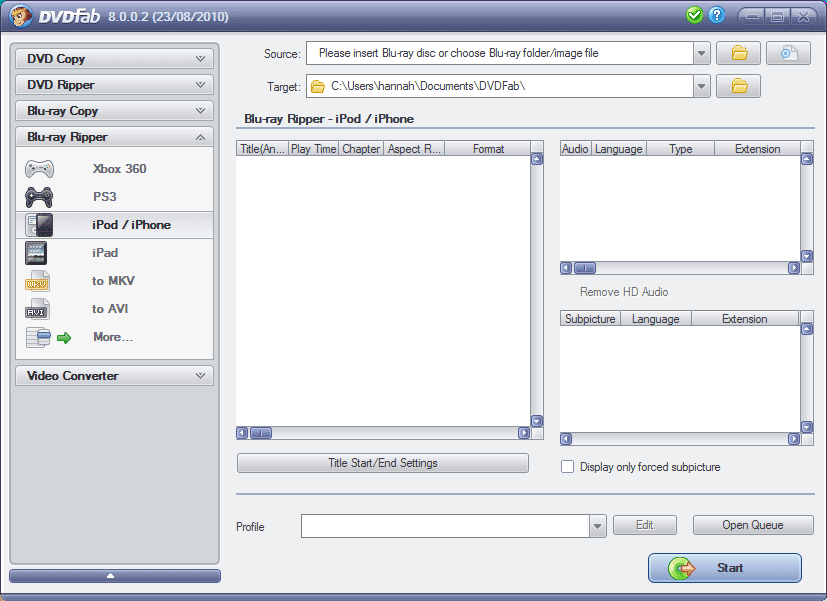 Rip Blu-ray to iPod/iPhone>Step 2: Open Blu-ray as source
Insert Blu-ray disc to Blu-ray drive, you will be asked to specify its region code, choose a corresponding one then wait a while when it's being analyzed and opened as source.

Rip Blu-ray to iPod/iPhone>Step 3: Select titles to convert
All the titles show on the main interface as below after the source movie is loaded in. Choose the very titles you want to convert, since batch conversion is supported you can choose more than one title. You are also allowed to convert just part of a title by clicking "Title Start/End Settings" to set the start and end chapter. Then go to Profile drop-down to select proper profiles for titles among all these optimized preset profiles in the list. The subtitle and audio tracks of the output can be freely selected. And you can preview a checked and highlighted title with an internal video player on the lower left.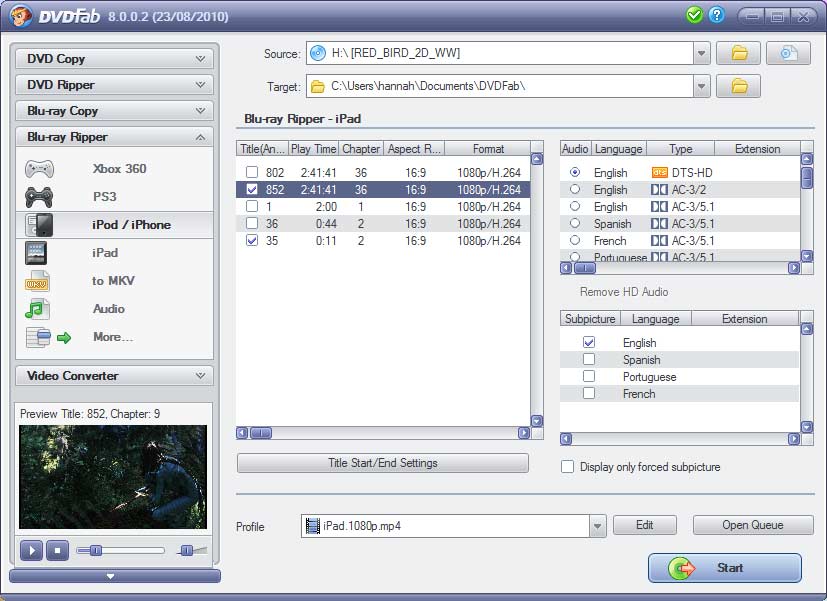 Rip Blu-ray to iPod/iPhone>Step 4: Advanced settings
1) Want to convert a title with different profiles? Then click "Open Queue" to open Mobile Task Queue window as below. Highlight a title, click "Copy" to get a same task, then go to its profile and click on it to activate a profile drop-down list, just choose a different profile to get a whole new task of the same title. "Remove" button will remove a highlighted task out of the queue.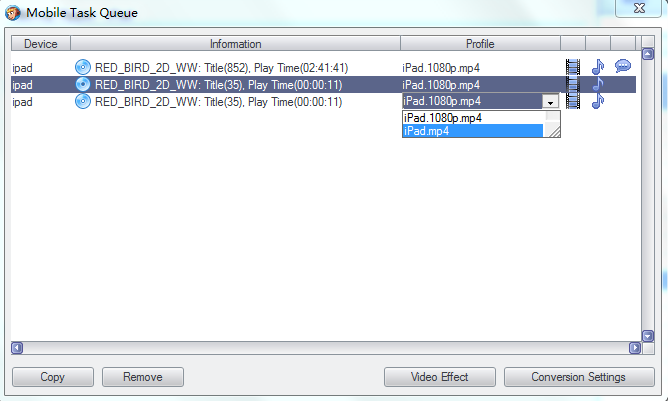 2) You can set video format and audio format by clicking "Conversion Settings" to come to Conversion Settings window. For the video format, you can set bit rate, frame resolution, aspect ratio, frame rate, file size, and decide whether or not to split title by chapter, etc. For the audio format, you can set bit rate, channel and volume. If you like, you can also rename the file and title.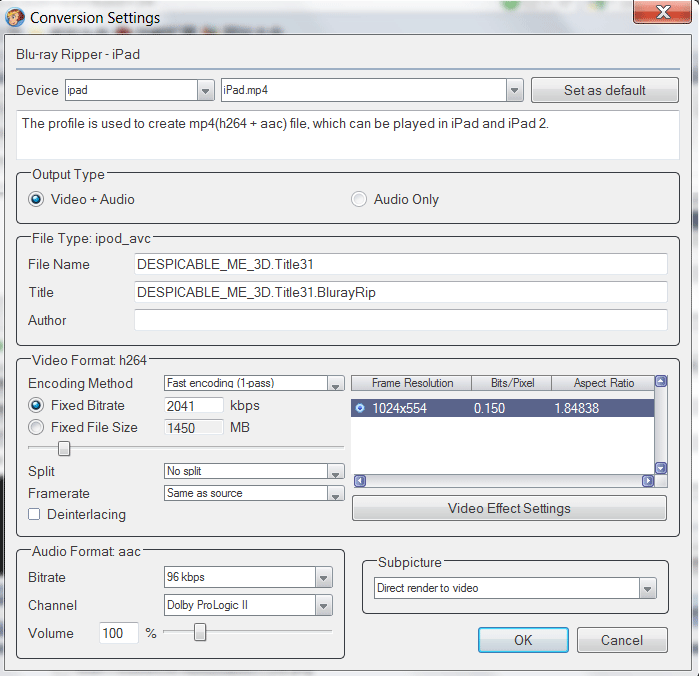 3) Click "Video Effect Settings" to go to set video effect for output.
"Resize" button will resize the frame resolution.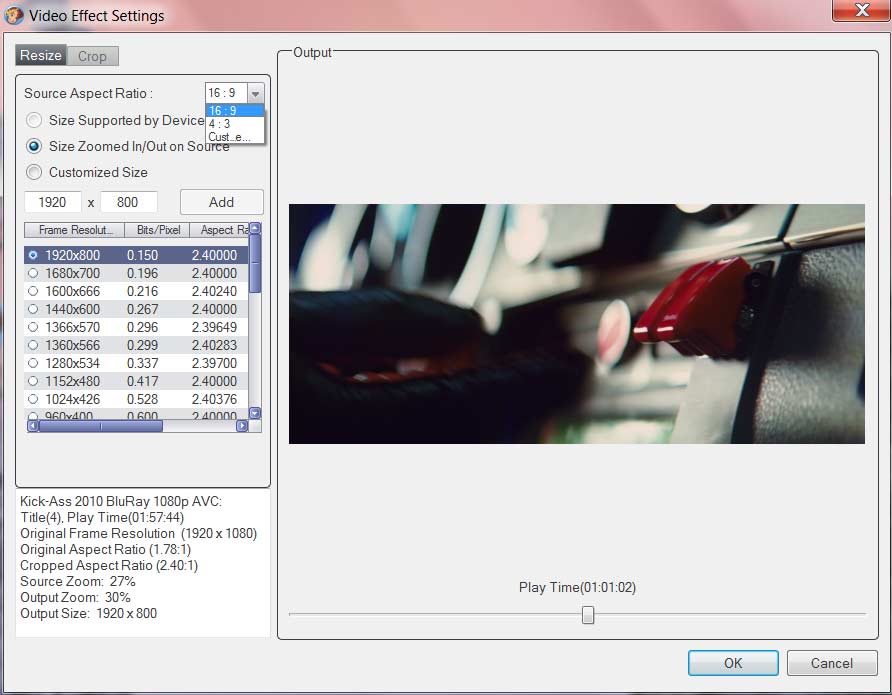 "Crop" button enables you remove black bars on the source video automatically, adjust crop frame mark, set crop value boxes, or reset output size from Letterbox to Pan&Scan mode.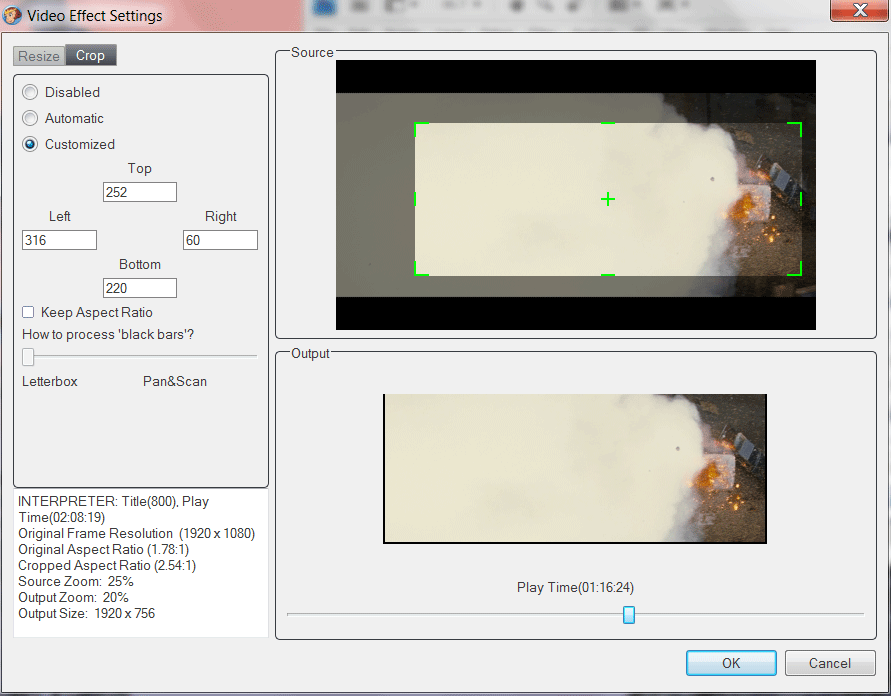 Rip Blu-ray to iPod/iPhone>Step 5: Start converting
Return to the main interface. Make sure that the target folder has enough space to save converted files, then hit "Start" button to start converting. The progress screen is as below.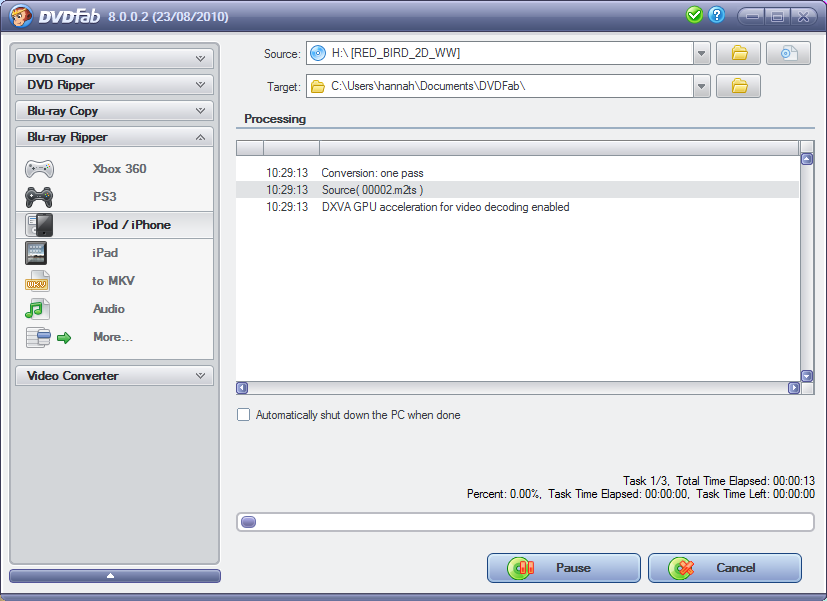 About 20 minutes later, the Blu-ray to iPod/iPhone conversion with Blu-ray Ripper will be finished. Then transfer the converted files to your iPod/iPhone and begin to enjoy them. By the way, DVDFab File Transfer will be activated after Blu-ray to iPod conversion completes. It's an easy to use transferring tool which can help you transfer converted files to iPod, PSP and ZUNE.