How to Rip and Convert DVD to DivX/XviD with DVD to DivX/XviD Ripper?
DivX Codec and XviD Codec have become popular due to their ability to compress lengthy video segments into small sizes while maintaining relatively high visual quality. DivX and XviD are playable on lots of devices these days, from portable digital assistants to next generation consoles, and more and more people are choosing to convert their DVD to DivX/XviD. You can use DVDFab DVD Ripper to do this conversion with fast speed and high quality.
Rip DVD to DivX/XviD>Step 1: Go to the "Generic" mode of DVDFab DVD Ripper
Install and start DVDFab, select "DVD Ripper" option. We need to choose "Generic" mode here, since under this mode can we select .divx and .xvid as output formats. Then insert DVD to DVD drive and wait a while for the program to open DVD source.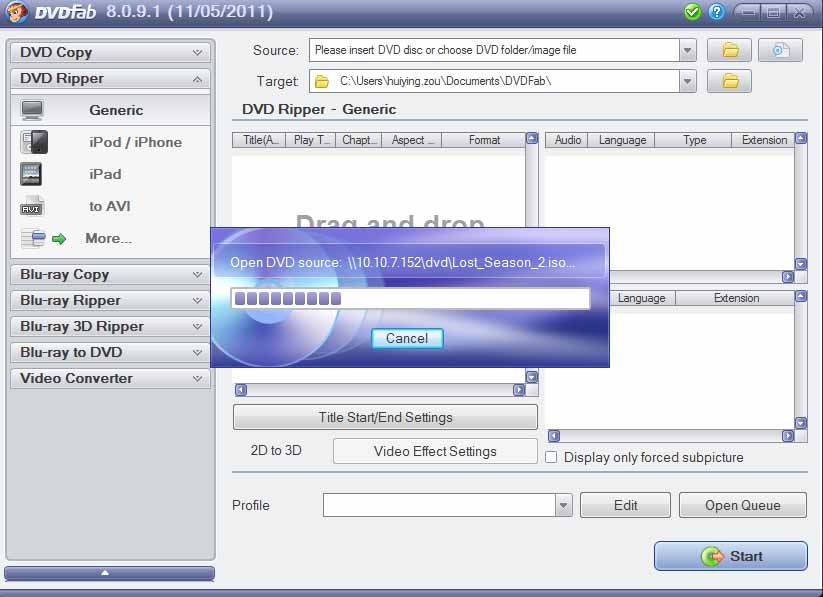 Rip DVD to DivX/XviD>Step 2: Select titles and profiles
Now, the source DVD is opened, all the movie titles are listed in front of you. Choose one or more titles for conversion. DVDFab can convert many titles simultaneously to save your time. Then go to Profile drop-down list including many .divx and .xvid profiles and also others. So please make sure that you select the right profiles for DVD to DivX/XviD conversion. Next, go to choose your favorite audio track and subtitles for output. If you want to convert only part of a title, you can click "Title Star/End Settings" to fulfill this by ranging the start and end chapter. Please note that DVDFab enables you to preview title in the left bottom corner of the main interface.
Rip DVD to DivX/XviD>Step 3: Do some settings
1) Click "Open Queue" to set conversion tasks. You will see the Mobile Task Queue window with all conversion tasks in it. If you want to produce more tasks of one title but different profiles, you can highlight a task can click "Copy" to get a same task, then click its profile to open a profile drop-down and select a different profile for this title from the list. If you want to remove a task, just highlight it and click "Remove".
2) Click "Conversion Settings" to set output type, video format, and audio format. Explain in detail: For output type, you can choose "Video + Audio" or "Audio Only". For video format, you can set the encoding method, bit rate, file size, frame resolution, aspect ratio, frame rate, and decide whether to split the title or not. For audio format, you are free to set bit rate, channel, and volume.
3) Click "Video Effect Settings" to set output video effect. In the Video Effect Settings window, you can hit "Resize" to reset the frame resolution, and also aspect ratio if necessary.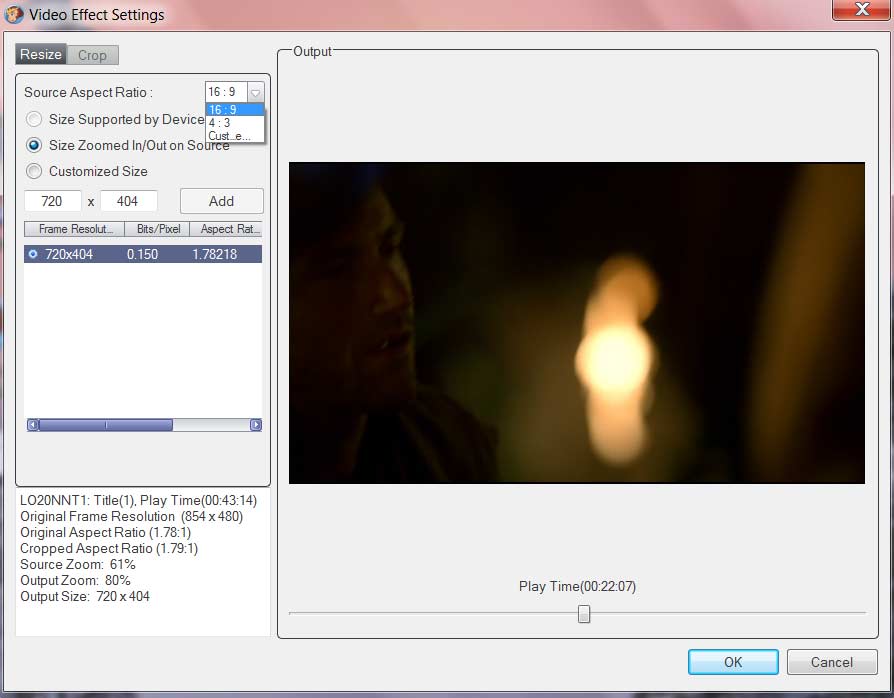 And the "Corp" button enables you crop the play region of the output by "Automatic" (DVDFab will remove the black bars of the source video automatically) or "Customized" (crop by adjusting frame mark or value boxes). You can deal with the black bars on the output video by changing from Letterbox to Pan&Scan.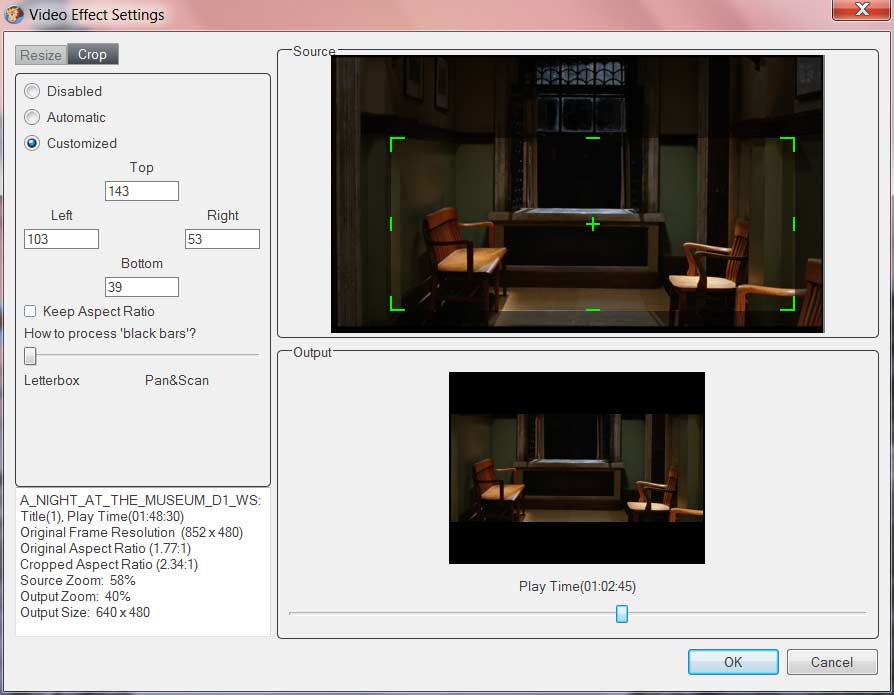 Note: In the left bottom of the window is video information.
Rip DVD to DivX/XviD>Step 3: Convert
Click "Start" button on the main interface to start converting process. And the progress can be viewed, and you can also set auto shutdown for the computer during the process.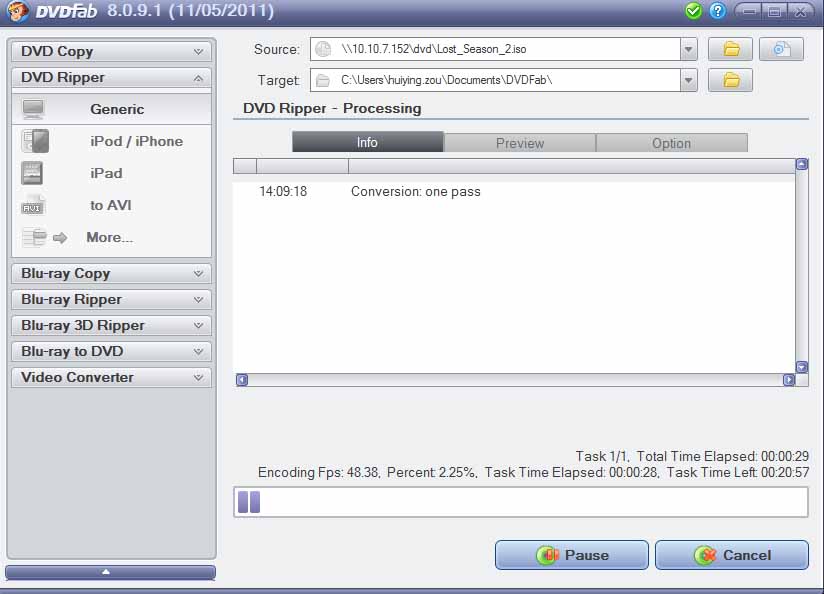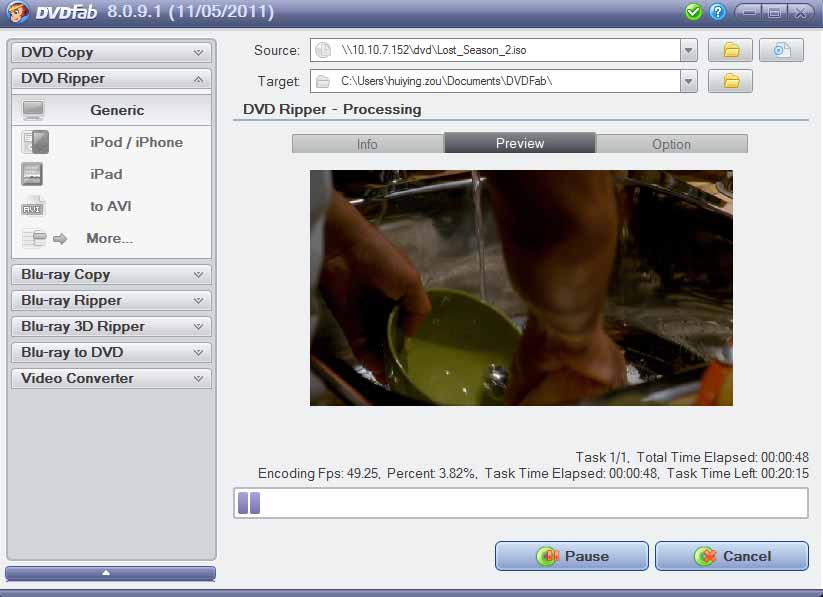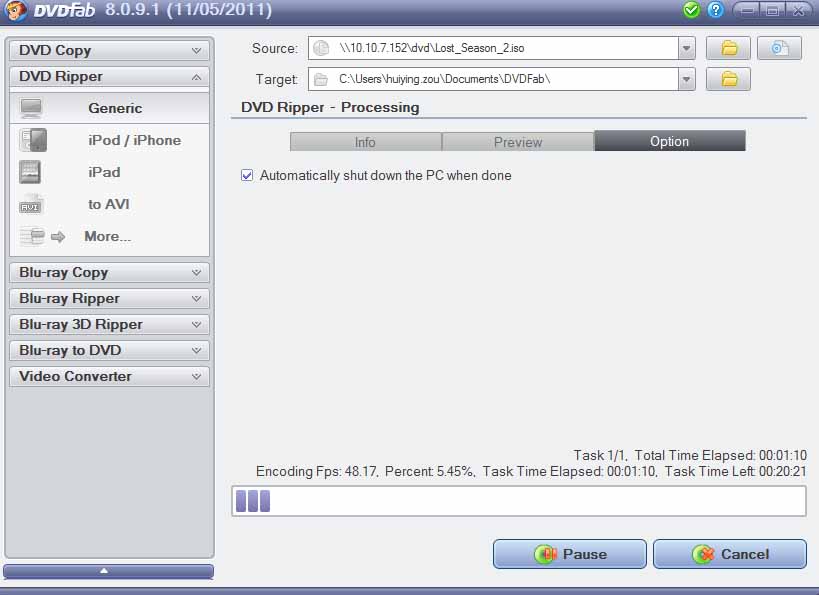 Above are all the steps of DVD to DivX/XviD conversion. Besides this conversion, DVDFab DVD Ripper still can convert DVD to other various formats playable on various devices.