How to Rip and Convert DVD to MP4 with DVD to MP4 Ripper?
Do you want to transfer your favorite DVD movies or videos to your MP4 player? DVDFab DVD Ripper is a smart tool with lots of pre-set profiles for you to easily convert DVD to MP4 playable on most MP4 players such as iPod, iPhone, Apple TV, PSP, etc., and also other various video/audio formats.
This DVD to MP4 Converter enables you to split titles by chapter to convert any segment of the video, to choose your favorite audio track and subtitle, and to personalize your output videos by "Conversion Settings".
You will find it's so easy to convert DVD to MP4 from the next steps.
1. How to run DVDFab DVD Ripper and load DVD?
Install and start DVDFab, go to the mode of "DVD Ripper", click "MP4" in the left navigation bar of the main interface.
Then insert your DVD, specify its region code, wait a while for the program to open it.
2. How to set titles/chapters you want to convert?
After your DVD movie was imported in the program, all the titles will show up in the main interface, then click those titles in their checking boxes you want to convert (DVDFab DVD Ripper can convert files simultaneously). By the way, you can preview the titles in the left lower corner by highlighting them. Click "Title Start/End Settings" under the title list window to further choose the exact segments of the titles for conversion by selecting the start and end chapters. On the left part of the interface, audio tracks and subtitles are there for you to choose for the output video. In the Profile drop down list, you need to choose one or more corresponding pre-set profiles for the titles. Don't forget to select a large enough file folder to save your output files for "Target".
3. How to personalize and further set your conversion?
1) Highlight one selected title and click "Edit" to open Conversion Settings window.
You can set for the highlighted title here. For example, you can select "Video+Audio" or "Audio Only" as the output type; you can also rename the file and the title if you like; for the "Video Format", you need to select an encoding method, choose the bit rate, file size, frame resolution, aspect ratio, frame rate, and whether to split the title by chapter or not; for the "Audio Format", you need to select the bit rate and channel, and specify a volume; refer to "Subpicture", you can choose "Extract to idx/sub file" or "Direct render to video". About "Video Effect Settings" in the window, we will talk it later.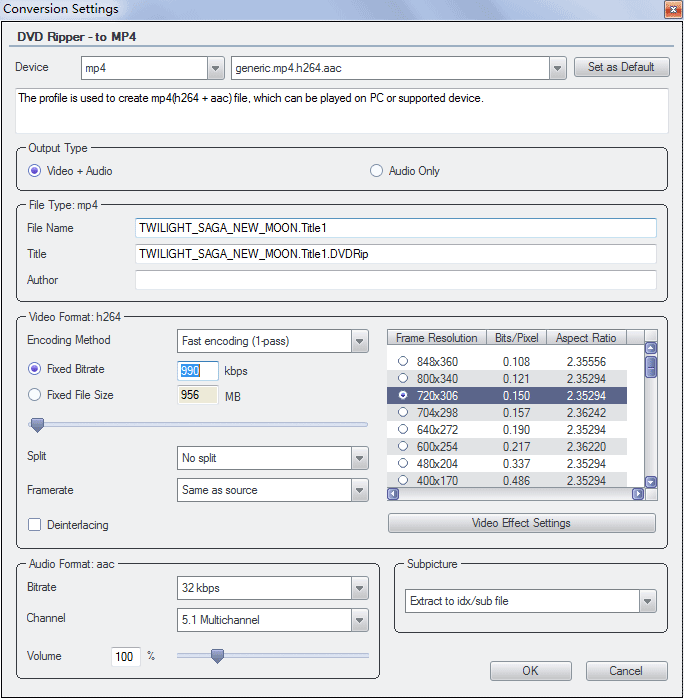 2) Click "Open Queue" to open Mobile Task Queue window.
Click "Open Queue" in the main interface to open the window below. If you want to output a title with many different profiles, you can make it here. Just highlight a title and click "Crop", then a same new item will be produced as the original one, go to the corresponding "Profile" position on the new one, click to open the profile drop down list, then choose a different one. If you want to delete a task, also highlight it, and click "Remove" button. By the way, you can edit "Video Effect" and open "Conversion Settings" window here.
3) Video Effect.
You can set your video effect by clicking "Video Effect Settings" in the "Conversion Settings" window, or by clicking "Video Effect" in the "Mobile Task Queue" window to enter the interface.
"Resize" lets you resize the frame resolution. The detail information of the video shows on the left lower part.
"Crop" lets you crop your movie play region. Two cropping ways available: one is by clicking "Automatic" to let DVDFab remove black bars on the source video automatically, the other is by clicking "Customized" to adjust the crop frame or the crop values (Top, Bottom, Left and Right).If you don't want to change the output aspect ratio during the cropping, please check "Keep Aspect Ratio". You can also process black bar here by sliding between Letterbox and Pan&Scan.
4. How to start conversion?
After all the settings you need have been done, return to the main interface and click "Start" to begin converting process. Then, let DVDFab DVD Ripper do the rest. You can view the processing information and the progress as below.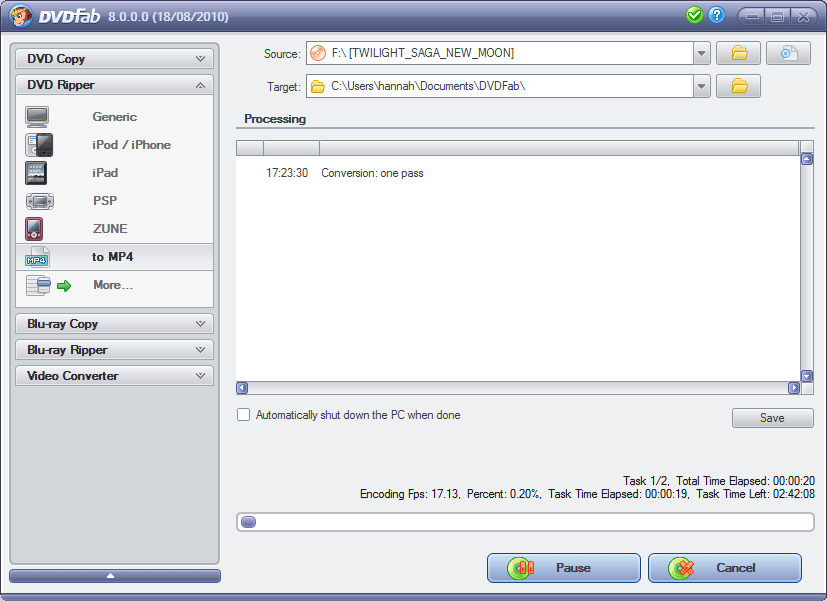 OK. The whole process of DVD to MP4 conversion. Got it? DVDFab DVD Ripper is also powerful to convert your DVD to lots of other formats for playback on different portable devices. What about check it yourself?