How to Rip and Convert DVD to PSP with DVD to PSP Ripper?
Ever thought of enjoying your favorite movies on your PSP instead of playing games? DVDFab DVD Ripper can help you convert DVD to PSP with fast speed and high quality. This software supports multi-file conversion with one or more formats at the same time, and has the ability to convert DVD with the exact section, the very subtitle/audio, and the bit rate, frame resolution, and aspect ratio of your choice, and also can split any DVD title by chapters. With DVDFab DVD Ripper, you surely will make an easy DVD to PSP conversion and have a nice experience.
Then, how to?
Rip DVD to PSP>Step 1: Start DVDFab DVD Ripper and open DVD source
Start DVDFab, go to "DVD Ripper", click "PSP" on the left to come to the DVD to PSP conversion interface. Insert your DVD, select a corresponding region code, then wait for DVDFab to open DVD as source.
Rip DVD to PSP>Step 2: Select titles for conversion
Once DVD was imported in the program, it's time for you to select the exact titles you want to convert. DVDFab DVD Ripper supports batch conversion to save your time, and provides you an internal player for you to preview the titles on the left bottom. If you don't want to convert the whole content of a title, just click "Title Start/End Settings" to specify an exact segment by ranging the start and end chapter of the title. On the right side of the main interface are audio track and subtitle for you to choose. On the bottom, in the Profile drop down list, you need to specify the profile for the highlighted and checked title. Don't miss the Target on the top, here please select a large enough target file folder.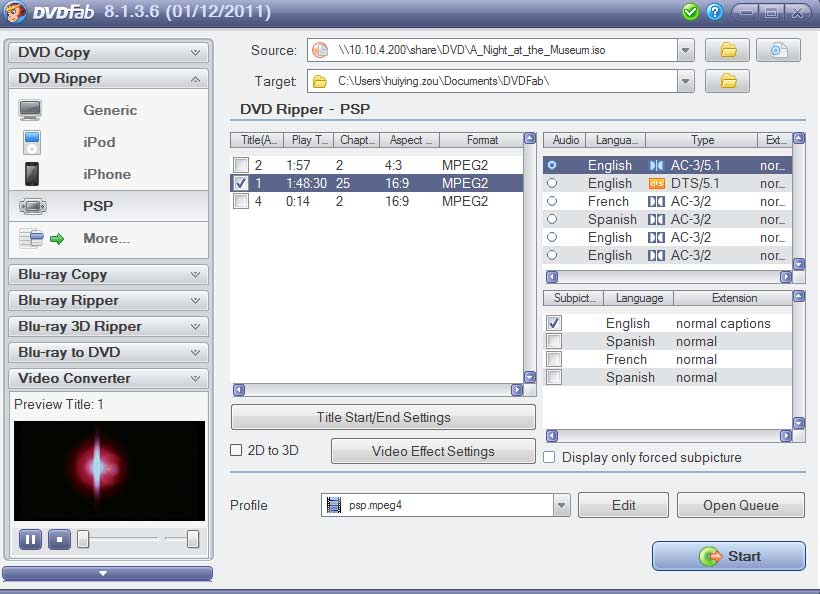 Rip DVD to PSP>Step 3: Further settings and editing
There are "Edit" button and "Open Queue" button on the bottom of the main interface for further settings and editing.
1) "Edit"
The "Edit" button will lead you to the Conversion Settings window as below. Here, you are free to rename the file and the title; to choose an encoding method, bit rate, file size, frame resolution, aspect ratio, frame rate, and whether to split the title by chapter or not for Video Format; to set bit rate, channel, and volume for Audio Format.
2) "Open Queue"
Click "Open Queue" button to open the Mobile Task Queue, in which all the conversion tasks are listed. Since this program is capable to convert a file with different output profiles at the same time, you can click "Copy" to copy a same task of the highlighted original one and click its profile to open a drop down list, then choose one pre-determined profile in it. If you want to remove a task from the queue, just highlight it and click "Remove" or press the "Delete" button on your keyboard.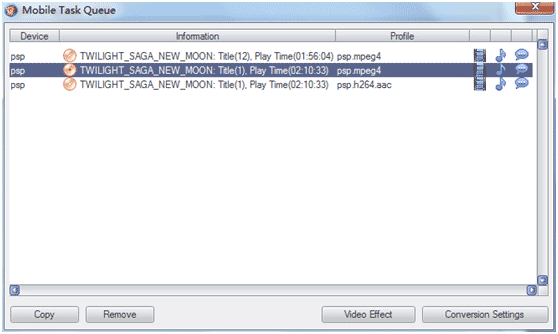 3) Video Effect Settings
To set video effect, you can click "Video Effect Settings" in the Conversion Settings window, or click "Video Effect" in the Mobile Task Queue window to open "Video Effect Settings". There are two modes here: Resize and Crop.
Resize: Under this mode, you can re-choose the frame resolution and aspect ratio. Detail information shows in the left lower corner.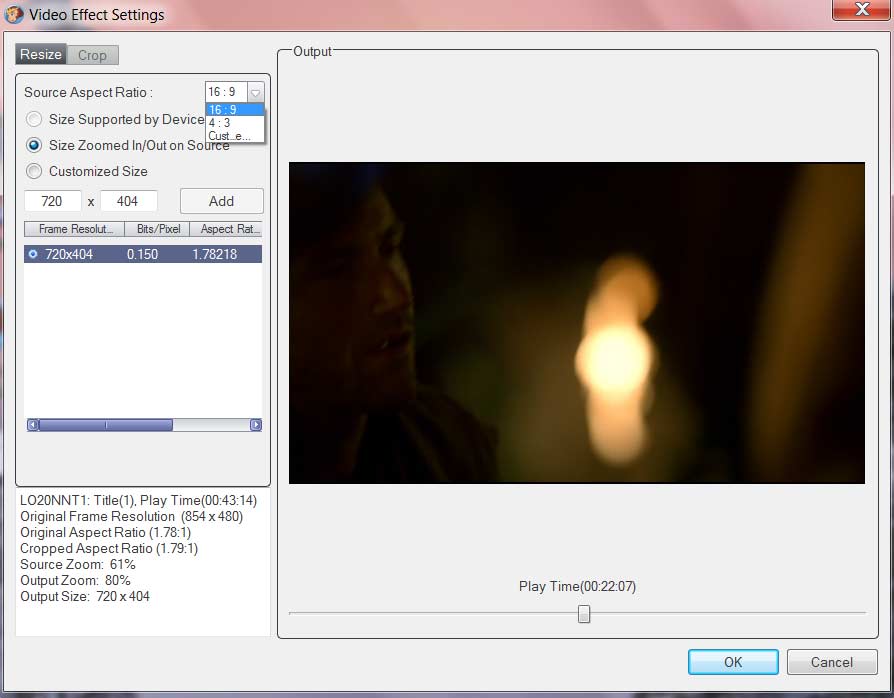 Crop: You can choose the play region on your PSP here by either adjusting the crop frame or setting the crop values, or clicking "Automatic" to let DVDFab cut off black bars on the source video automatically. We recommend you to check "Keep Aspect Ratio" if you want to keep the output aspect ratio as the origin. You can also choose to view your converted movies with or without black bars by setting the Letterbox / Pan&Scan slider bar.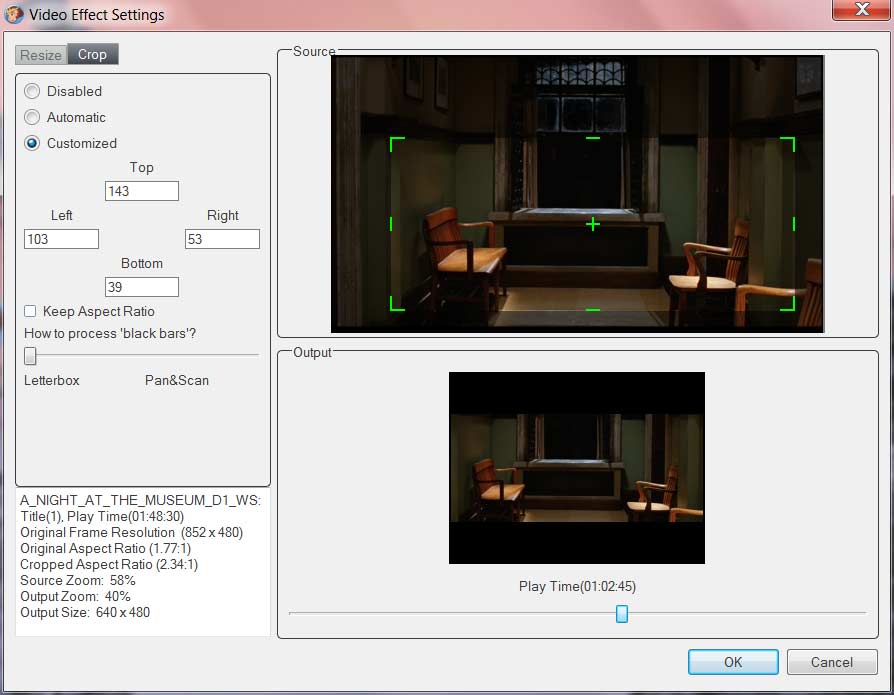 Rip DVD to PSP>Step 4: Click "Start" to begin converting
All the settings are OK now, return to the main interface and click "Start" button to begin converting. The progress shows in detail as below.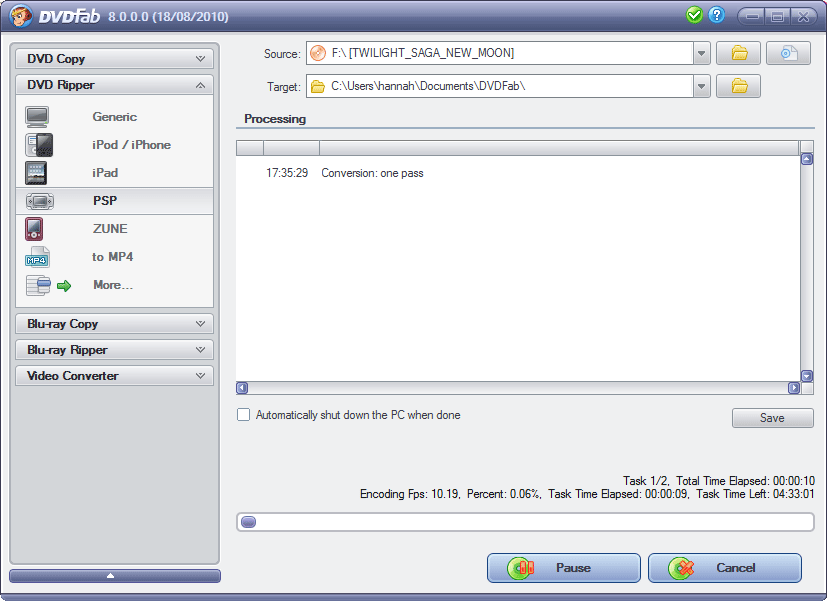 Note: If you want the PC shut down automatically after conversion completed, please choose "Automatically shut down the PC when done".
OK, done. If you find out what else DVDFab DVD Ripper can do besides converting DVD to PSP, I bet you will be surprised.