How to Copy DVD with DVDFab DVD Copy?

DVDFab DVD Copy is a powerful and easy to use DVD copy and burning software. This DVD Copy software enables you freely to copy, backup and burn any DVD movies (from different region codes, protected or unprotected) to any blank DVD disc in 1:1 ratio or compress DVD-9 to a DVD-5. You can also save DVD movies to your hard drive as DVD file folder or ISO image file.
Now, let's take a look at how to copy and backup DVD with DVDFab DVD Copy.
Copy DVD>Step 1: Start up DVDFab - DVD Copy
Install and launch DVDFab, a "Welcome to DVDFab" screen will show. Choose "DVD Copy" option. You can click the check box on the left bottom "Do not show again" to skip this screen in the future and then click "Start DVDFab" on the right bottom.
Copy DVD>Step 2: Load DVD
1) Insert DVD into the optical drive. After that DVDFab will let you specify the DVD disc's region code. Check the corresponding one then click "OK".
2) After clicking the "OK" button, you need to wait a while for the program to open the DVD source.

Copy DVD>Step 3: Common settings
After the DVD loading process finished, we can click the round green button with a white check on the right top of the main interface to open the Common Settings window and do some settings.
In the left navigation bar of the Common Settings window, you can select "General" to set your preferred output directory; you can choose "DVD/Blu-ray" to select the burning engine, and set the write speed and write type if you need. The default settings work just fine for those wanting simple copies; you can go to "DVD Copy" to specify the default output size and output type.
Note: The "General" option of the Common Settings window also has multiple functions as below for you to choose.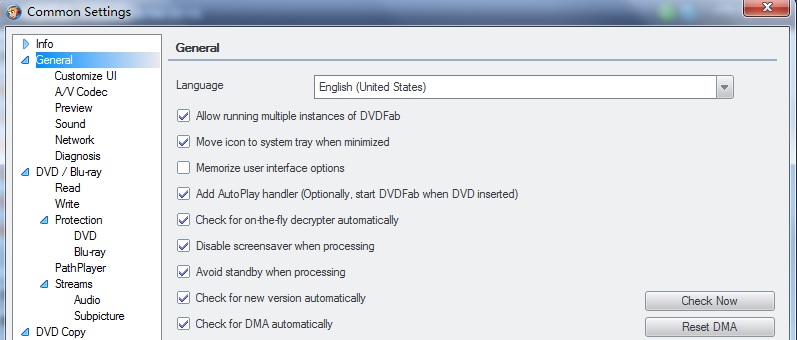 After making all the settings we want, just click "OK" to return to the main interface.
Copy DVD>Step 4: Advanced settings
1) On the left of the main interface, we can select "Full Disc" ("Full Disc" copies all playable content of the original disc to make a lossless copy) or "Main Movie" (only the movie part—the longest title—of the DVD will be copied). Here we select "Full Disc" as example.
2) "Copy DVD-Video (VIDEO_TS folder)" on the upper center should be selected by default.
3) Check the "Change DVD playback order" if you want "Jump to first menu when disc inserted" or "Jump to main title when disc inserted". Select "Remove annoying PGCs" to eliminate unwanted program chains like FBI warnings.
4) We can also change the volume label by typing a name into the text box, better naming the volume label the same as the movie title. By the way, the default one is OK.
5) For the Quality setting, we can select DVD5 which will (if needed) compress the output to a size that would fit a single layer DVD, or DVD9 for 100% quality with no compression but a larger output size.
Copy DVD>Step 5: Select target path
If you want to copy DVD to your hard drive, click

or

to select a file folder or ISO file as target. If you want to copy DVD to a blank disc, you should select DVD burner as the destination.

Copy DVD>Step 6: Start ripping process
After everything is set up, click "Start" to begin ripping process. The ripping time will vary depending on the hardware and the size of the disc. Normally be around 15-20 minutes. Detail progress can be viewed.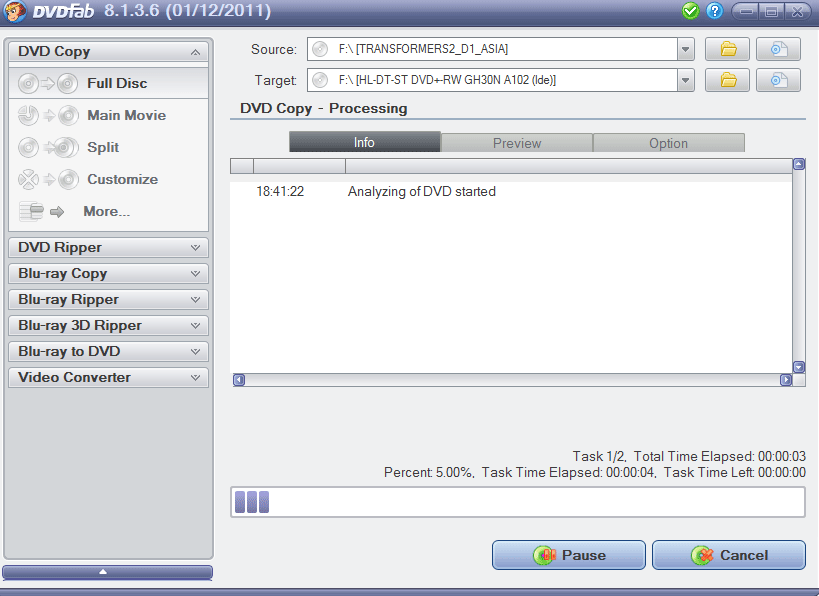 Copy DVD>Step 7: Start burning process
After the ripping process is completed, you will be asked to insert a blank disc for burning. Then insert one to start burning process. The burning progress can also be seen.
After some time, a message "Process Completed Successfully" will show, click "OK".
OK, above is the whole process of DVD copy. DVDFab DVD Copy can also do a lot besides what mentioned above, just try it out, which will give you fantastic surprises about how to copy DVD freely, easily and full of fun.