Top 6 MKV Editors for Free MKV Video Editing
Summary: Which is the best MKV editor for editing MKV videos? Here we have listed top 6 best MKV editors that come with many advanced editing features you may need. Check them to find the MKV editor you like most.
DVDFab Video Converter
• Convert videos from one format to another like MKV to MP4
• Support video to video and audio conversion
• Enable you play converted files on mobile devices or home theater
• Competent to enhance video quality with Enlarger AI
Are you looking for best MKV editor to polish your MKV files? A lot of people think that editing videos takes a lot of work and patience but that's not always the case. The truth is that pretty much anybody can do basic video editing nowadays thanks to the myriad of easy-to-use editing tools now available. Finding software like that online isn't that big of a problem but you will need to do a bit of research if you want to find the best tools for the job. Don't worry, though, because you don't have to look far as we have already combed the internet and found the best video editors currently available. This article is about MKV editors, in particular, but most of the tools will also let you edit video in any format.
DVDFab Video Converter: Best MKV Editor for Lossless Output
If you want the best MKV editor out there we recommend trying DVDFab Video Converter. Just as its name suggests, this software is meant to be used primarily as a video converter. In that regard, it's one of the best tools of its kind as it can support all major formats, including 4K and 3D ones, as well as video to audio conversion. The software can also convert files for specific devices and allows users to import videos that need to be converted directly from their mobile devices and then export them back once the process is complete.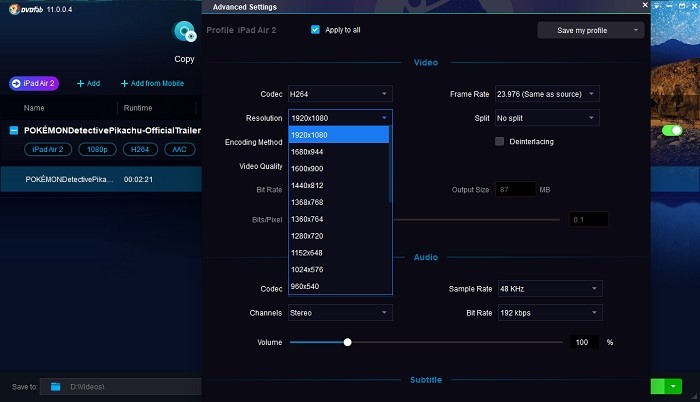 As far as the editing options are concerned, DVDFab Video Converter offers plenty of tools that can help you customize videos to your liking. For example, the Advanced Settings menu lets you pick the encoding method, resolution, video quality, and frame rate of the video, among other things. You can also edit MKV files by playing around with the audio options or by choosing if you want soft or hard subs on your video. Meanwhile, another menu known as Video Edit contains another set of useful tools that let you crop and trim the video or change color proprieties like brightness, contrast, and saturation. Not only that but the MKV editor also makes it easy to add your own subtitles and watermarks.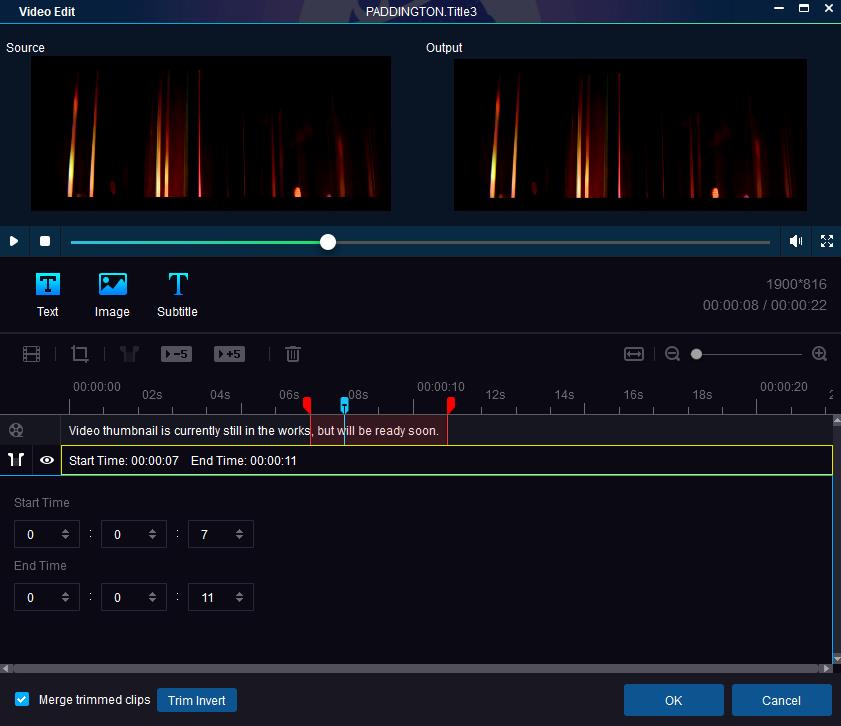 SolveigMM Video Splitter 5: Simple MKV Editor
This MKV video editor promises high speeds and lossless editing tools that are very simple to use. The interface is quite basic but that actually makes it a perfect choice for users interested in quick and painless editing jobs that don't require a lot of fancy extra tools. Video Splitter 5 can help you remove or join together different parts of a video, repair damaged files, add or remove subtitles, and more. Overall, it's a pretty simple MKV editor designed for a few specific tasks but is always able to handle those tasks very well.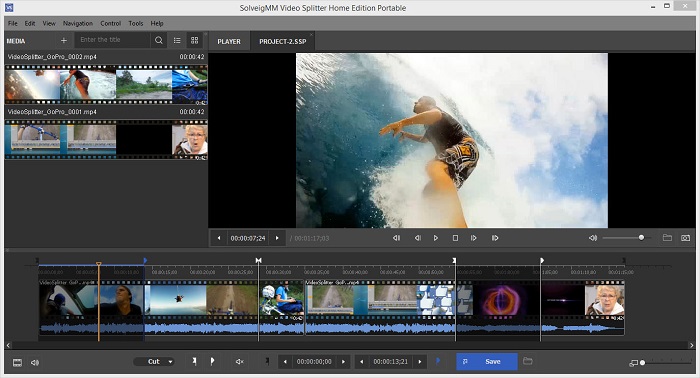 Avidemux: Popular MKV Editor
Avidemux is a very popular MKV editor that can also support a wide variety of other formats. This software is perfect not only for cutting parts of a video and converting them to different formats but also for extracting, merging and even building new MKV files from scratch. The MKV video editing software also offers a variety of filters that can be used to change the appearance of videos in various ways. The software is a bit harder to use than others on our list but Avidemux's minimalistic interface makes it an accessible tool for users of all skill levels.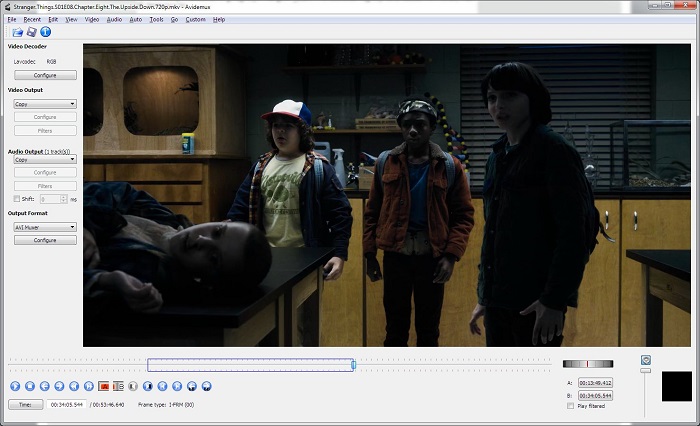 MKVToolnix: Easy-to-use MKV Video Editing Software
MKVToolnix is yet another simple to use tool that doesn't require a lot of previous experience. Just as its name indicates, this software was designed specifically to work with MKV files so its approach is a bit more focused compared to some of the other entries on our list. As an MKV video editing software, MKVToolnix is pretty basic and doesn't offer a whole lot of advanced features. However, what's really handy about this tool is that you can use it to easily create your own MKVs by using putting together any video and audio files you may have at your disposal.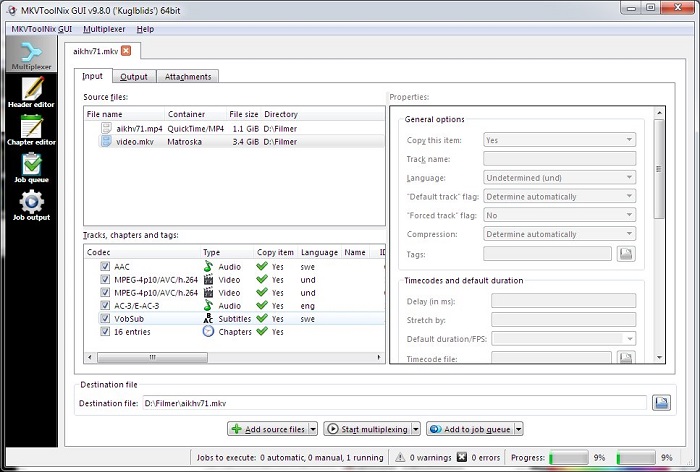 Shotcut: Free MKV Editor
Shotcut is a free open source MKV editor that has a lot to offer to those who take the time to learn all its ins and outs. The software can generate truly professional looking videos but the interface is quite complicated and it may take you a while to get used to it. Fortunately, at least basic functions like applying filters and cropping videos are fairly straightforward. If you want to start playing around with all the advanced stuff, however, be prepared to invest a lot of time because Shotcut has a very steep learning curve.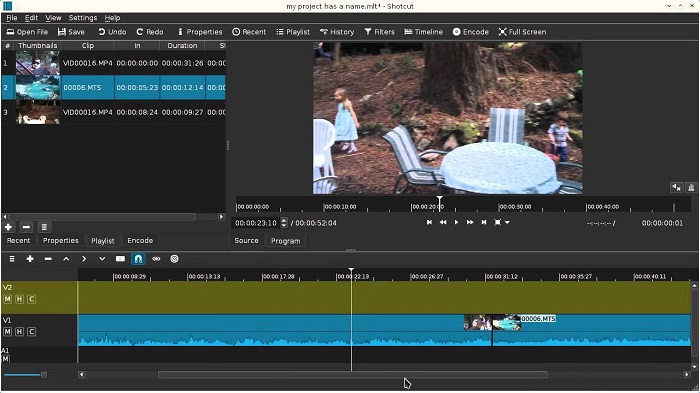 VSDC Free Video Editor: Non-linear MKV Editor
Last but not least we have VSDC Free Video Editor, a software that strikes a good balance between functionality and ease of use. Despite offering a whole lot of advanced features, the tool is actually pretty easy to learn, which makes it a good pick for beginners and veteran video editors alike. VSDC is a non-linear MKV editor that allows you to work with multiple scenes and transitions at a time. You can take clips or bits of text and add them anywhere on the timeline or add various visual and audio special effects. The best thing about VSDC Free Video Editor is that it can actually also be used as an audio and image editor in addition to an MKV video editing software.
Conclusion
MKV is one of the most popular multimedia formats you're going to come across so it can be very useful to know how to edit this type of file. All of the tools we discussed today can help you with that so it's up to you to decide which one might work best for your particular needs. It's probably best to start off with a very simple to use tool and try making a few simple edits until you get used to the process. Then, you may want to try your hand at more complex software that offers advanced features. Alternatively, you could simply grab DVDFab Video Converter and shot two birds with one stone. The MKV editor is both simple to use and offers a lot of great editing features. Of course, the software is not just a solid MKV editor, it's also a very reliable video converter so there's a lot to look forward to here.