Save 20% now! Coupon:FAB-PHL-OFF Valid to Dec 5, 2016
Backup Your Laptops, PCs and Workstations in Your Way
DVDFab PC Backup is a powerful Windows based PC backup software that helps users to backup laptops, PCs and workstations easily and effectively. It enables users to backup all sorts of data including Windows system, disk partitions, files, mails, music and images in a safe way. Moreover, it has the restore feature to recover system and files in minutes. This software will definitely do more than described.
| Functions List | Backup Functions | Recover Functions |
| --- | --- | --- |
| Windows System | | |
| Disk partition | | |
| Files | | |
| APPs | | |
| Mail/Outlook | | |
| Backup to CD/DVD/Network/Nas/Tape | | |
| Transfer system/Apps/Data between PCs | | |
| Copy/Clone/Migrate partitions to SSD/HDD | | |
Note: You should backup first before you use the recover functions of the software
OS: Windows XP/7/8/8.1/10 32/64 bit
Backup Your Data on the PC in Different Ways
DVDFab PC Backup is a powerful and professional PC data backup software that keeps users out of the disaster of data loss. It helps users to backup all the files, Outlook mail system, disk partition, apps, Windows system, and even the whole hard disk into hard drive, external device, NAS, CD/DVD, FTP server and so on.
You can backup your PC in modes as follows: full backup, differential backup, incremental backup and schedule backup. All these features will helps users to backup in a safe way.
No More Worry about the Abrupt Data Loss, Recover It Painlessly
DVDFab PC Backup also serves as a professional data recovery software. It can save almost anything on your PC even including the operating system. Backup the data on your PC first, then you will be free worry about deleting anything by mistake. And the selective file restore feature will help you to recover any file with the backup.
Backup Your Outlook, Keep Mails Safe
Backup your Outlook, and keep your important mails and contacts safe in case of occasional loss. When you shift to a new computer or system, just backup your Outlook with DVDFab PC Backup and then transfer all the information to the new one. It's totally clean, safe and easy to use.
PC Transfer, Migrate All Data Including System into A New PC
DVDFab PC Backup allows users to create WINPE (Windows Pre-installation Environment) bootable version with the backed-up data. Users just need to backup the system first and create the WINPE version onto bootable USB hard drive, CD, DVD, then boot from the WINPE version to restore system or transfer system on a new PC.
Other Special Features:
Migration and clone: Fast, easily and safely migrate system to a SSD or a bigger HDD for disk replacement or upgrade.
Browse image file: Browse backup with Windows Explorer and simply copy-paste files/folders.
Virtualization support: Support P2V copy, P2V recovery and P2V image files convert.
Centralized management: Support centralized management via Central Management Console.
Backup management: Easily manage data backup job and automatically delete the out-of-date backup images, saving storage space.
Compatible with GPT/UEFI: Create a WinPE-based bootable media for 64-bit Windows system resided on GPT to start up PC recovery from it.
Support for latest HDD standard: Enjoy support for advanced format drive, up to 4TB and non-512B sector size drive.
Main Window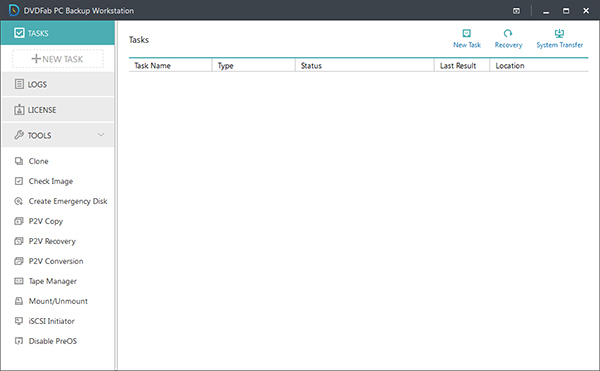 The main window lists all features of DVDFab PC Backup: Disk/Partition Backup, File Backup, System Backup, Smart Backup, Mail Backup, Clone, System Transfer, Browse to Recover, Tools, Logs.
Disk/Partition Backup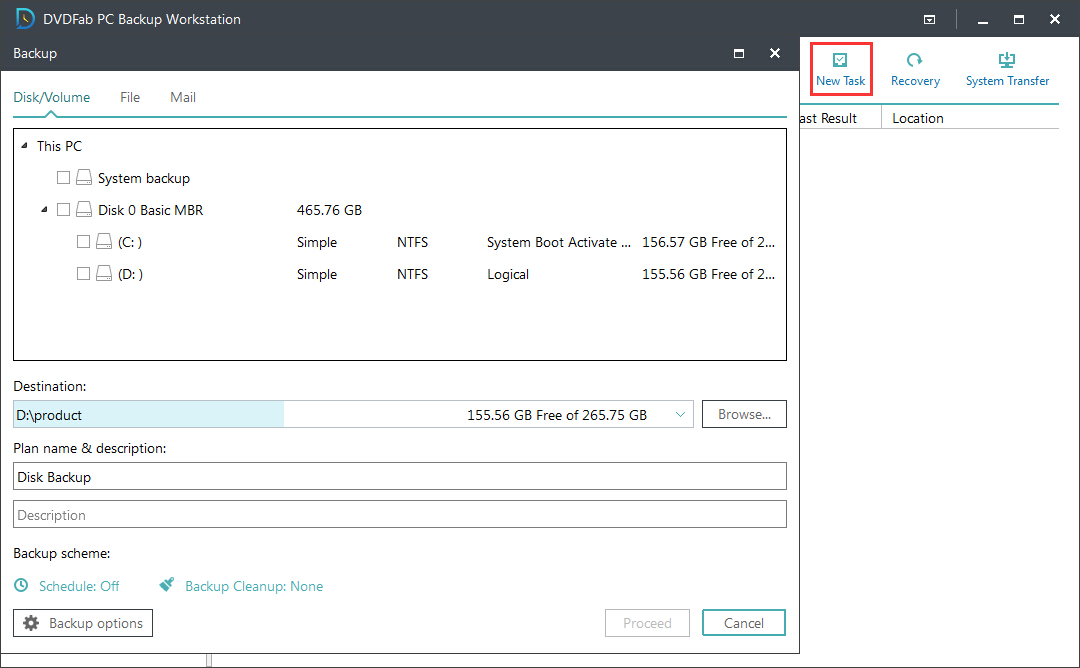 Back up the entire disk(s), partition(s), dynamic volume(s) or GPT disk(s) to image with any one of the given backup modes: full backup, incremental backup, differential backup and schedule backup.
File Backup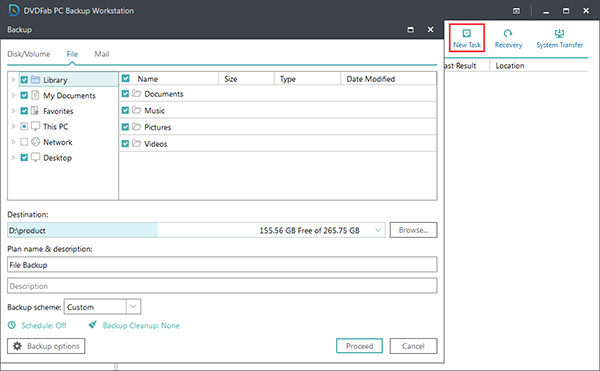 Back up specified files, folders or file types including documents, pictures, music, emails, applications, videos, financial files, etc. with full backup, incremental backup, differential backup or schedule backup.
System Backup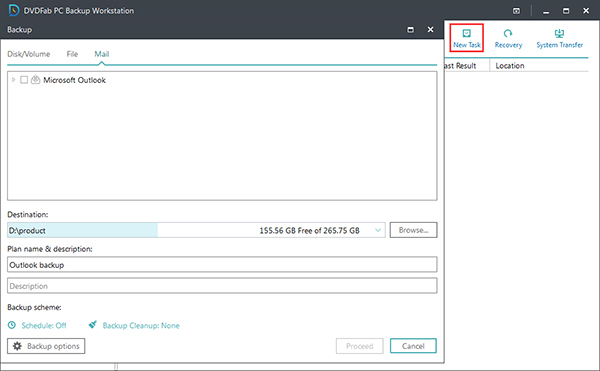 Backup the whole system with just one click and no interruptions during the backup work.
Disk Clone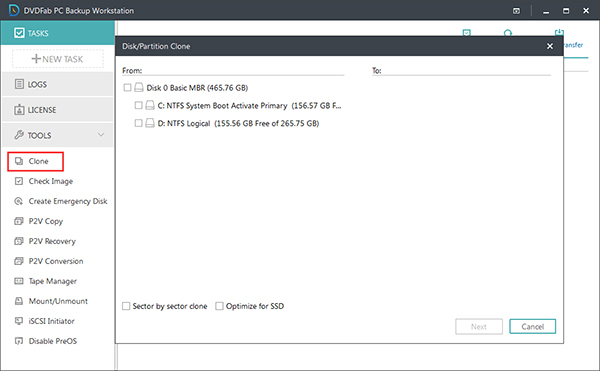 Migrate or copy all the data, either on a hard disk partition or a GPT disk, to another disk to upgrade the hard drive without reinstalling operating system and applications.
Supported Operating Systems
Windows 10

Windows 8.1

Windows 8 32 bit and 64 bit Edition

Windows 7 SP1

Windows 7 32 bit and 64 bit Edition

Windows Vista 32 bit and 64 bit Edition

Windows XP Home Edition and Professional 32 bit and 64 bit Edition
Supported Languages
English

Deutsch

Español

Français

Italiano

Portugu

Polski

日本語

繁體中文
Supported Device Types
Parallel ATA (IDE) HDD

Serial ATA (SATA) HDD

External SATA (eSATA) HDD

SCSI HDD

All levels of SCSI, IDE, and SATA RAID controllers

Full Support of RAIDed configurations (hardware RAIDs)

IEEE 1394 (FireWire) HDD

USB 1.0/2.0 HDD

Support large hard disk (MBR and GPT hard disk, DVDFab PC Backup can support up to 4TB hard disk and 32 disks at most)
Hardware Requirements
CPU: at least with X86 or compatible CPU with main frequency 500 MHz.

RAM: equal or larger than 1GB

A standard PC system with mouse, keyboard and color monitor

CD-R/RW, DVD-R/RW, DVD+R/RW or DVD+R DL drive for bootable media creation