How Can I Play Blu-ray Movie on DVD Player?
Almost every family has a DVD Player. But it seems that many new movies are released in Blu-ray recently. Or your friends have some fabulous Blu-ray movies which you can borrow. You may have this in mind: How can I play a Blu-ray movie just on my DVD player? Is it possible? Yes, only with the help from DVDFab Blu-ray to DVD Converter, which can easily and professionally convert Blu-ray to DVD-Video disc for playback on DVD player.
Play Blu-ray on DVD player > Step 1: Run DVDFab Blu-ray to DVD Converter, load Blu-ray
You can easily download and install DVDFab package, the "Blu-ray to DVD" option in it is the product Blu-ray to DVD Converter. Activate it, then load the Blu-ray movie. Three ways to load it in: Insert BD to Blu-ray drive; click folder icon or image file icon beside "Source" on the UI to import the Blu-ray file already saved on the PC. And you will be required to specify the region code for the Blu-ray movie. Go ahead.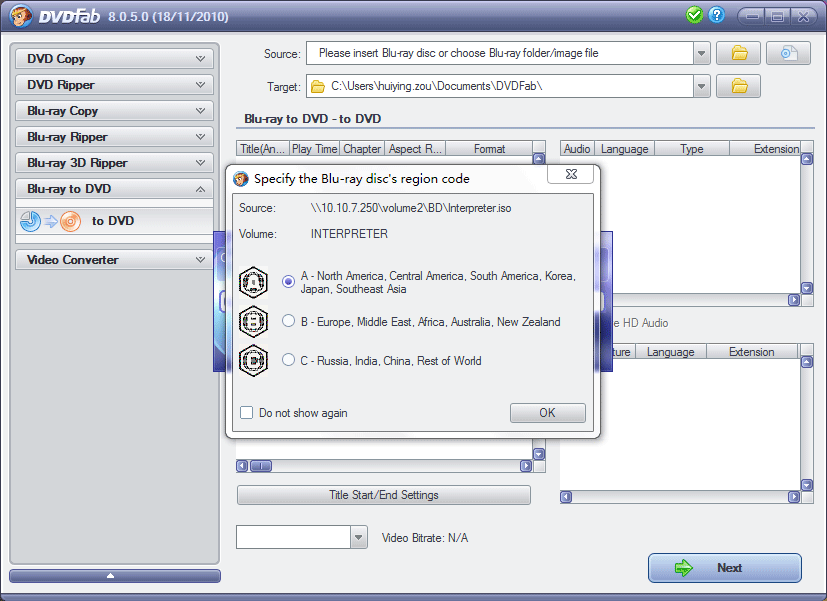 Play Blu-ray on DVD player > Step 2: Some settings before conversion
Some seconds later, the source Blu-ray will be opened, and the longest title be highlighted by default. On this interface, you need to define something. At first, make sure choose the write drive as target. Then select either DVD 5 or DVD 9 as the output media on the lower part. On the right part are multiple audio and subpicture streams for you to freely choose as preferred. By the way, the built-in video player in the lower left corner will help you set. Title Start/End Settings allows you to arrange title start and end chapters, or you can fulfill this by clicking Next button on the next interface.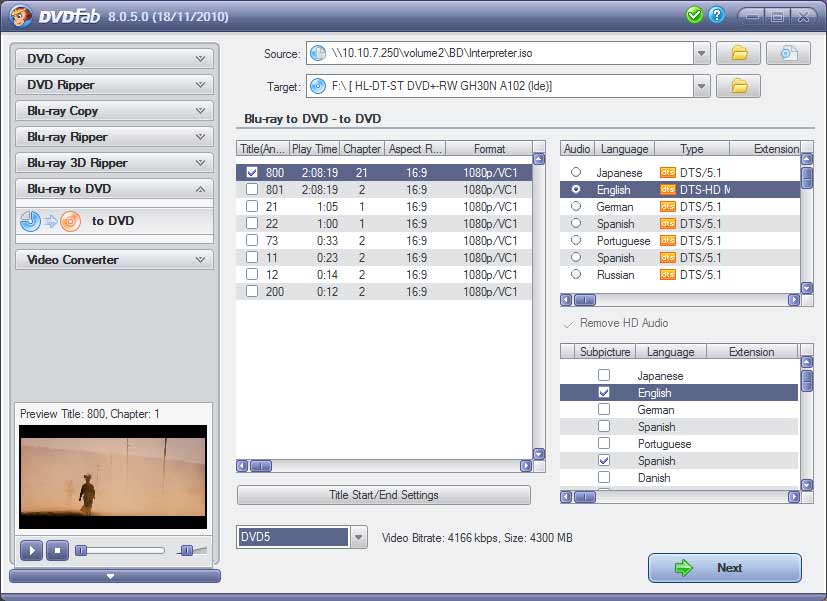 The Next button will bring you here to this following interface. You can arrange the start/end chapter for a highlighted title here, we just mentioned it. And if you choose more than one title for conversion, then you can adjust titles playback order here. You can set "loop" play mode for the output by checking "Rewind when done playing". The volume label can also be renamed if you have the need.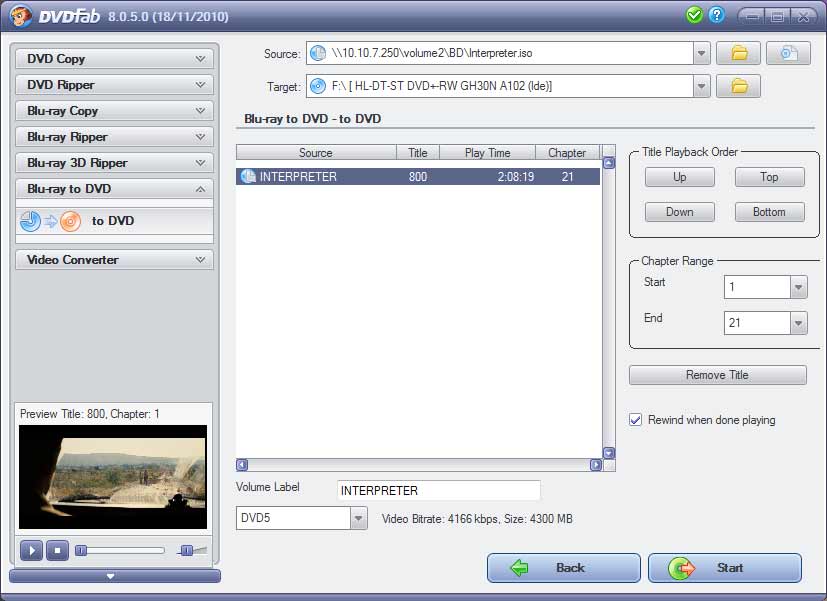 Play Blu-ray on DVD player > Step 3: Start Blu-ray to DVD converting process
Hit Start button on the main interface after everything is set up. You will be asked to insert a compatible media to start write process, just insert a blank or rewritable DVD disc to write.

Then the process begins. You can follow the detailed progress info.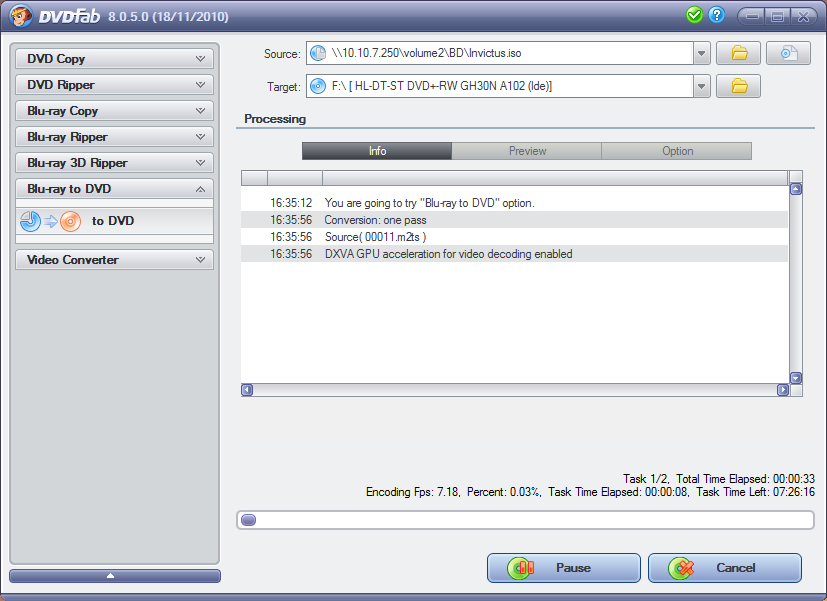 You can preview movie pictures changing with different processing stages.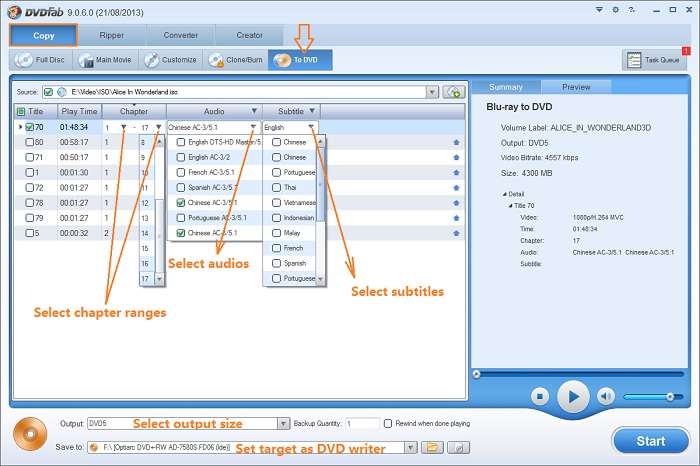 And you can use auto shutdown function to make the PC automatically shut down after conversion completed.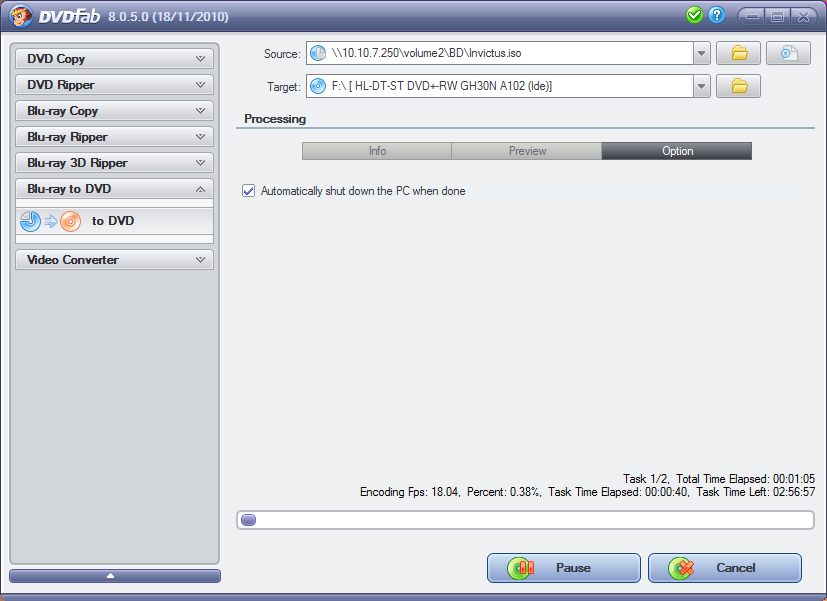 Some time later, you will get a DVD disc storing original Blu-ray movie, with perfect output effect. Then insert this DVD disc to your DVD player, and you can start to enjoy the Blu-ray movie. See? It's extremely easy! Convert Blu-ray to DVD, just turn to DVDFab Blu-ray to DVD Converter.