6 Best DVD Menu Creators to Make DVD Movie Menus
Summary: Make DVD with menu. Do you want to try the best DVD menu creator that allows you to create DVD movies menu free and easily? Good DVD menus maker can make professional DVD movie menus to facilitate DVD movie playback. In this post, you will be familiarized with the top 6 best DVD menu software and how to make DVD menus easily.
DVDFab DVD Creator
• Burn videos into DVD discs/ISO files/folders
• Process all sorts of videos from streaming websites, camera, etc.
• Create a DVD menu with various templates support
• User-friendly and easy-to-use
Do you know the best DVD menu creator that enables to create DVD menus? Want to master how to make DVD menu free and easily? Looking for the best menu creator application software helps you make DVD movie menus professionally, facilitating playback and improving the viewing experience. Hence, to meet your personal needs, this post lists the top 6 DVD burning software with menu creator function. Besides, you will know how to make DVD menu with the best-recommended DVD menu software.
A DVD Menu Creator is cross-platform application software that initiates the customized and personalized creation of menus and user interface of the professional layout DVDs with the ultimate goal of providing users with a pleasant playback control experience. It not only creates personalized DVD menus but also allows for the burning of DVD files on DVD, which is ordinarily Open Source Software. Such programs support multiple file formats concerning both audio and video and generally come with a user-friendly interface along with interactive menus. Considering this, there are always numerous DVD menu creators available on the market that serve the purpose of creating a professional and smart-looking DVD with customized features. In this post, we would like to discuss the top 6 best free DVD Menu Creator on a free trial basis, compatible with all desired features to create DVD menus.
If you want to make DVD with menu, choose a menu maker free download among the top 6 DVD creators I am going to introduce.
DVDFab DVD Creator is a DVD maker program that can burn all types of videos into standard DVD discs, ISO files, or DVD folders. As a professional DVD menu maker, it allows users to burn DVDs with menus from camcorder videos, downloaded videos and many other common videos of almost every format. However, what makes this DVD creator application software extraordinary lies in that it enables users to create a DVD menu and customize the DVD movies menu into their desired style with various built-in DVD menu background templates. Now let's look at the highlighted features of this amazing DVD menu creator.
Create standard DVD disc/ISO/folder from videos of various formats
Intuitive DVD menu templates (static/dynamic) to make DVDs professional
Built-in DVD menu background with a timely update for stylish & modern looking
Allow for switching audios and subtitles during playback
Support personalized modifications to elements and widgets inside the DVD menu templates including background art, Play/Pause, Previous/Next, thumbnails, text font, size, and color
Smart preview and external subtitles available
DVD menu maker free download on Windows & macOS, 30-day free trial
i Free Download i Free Download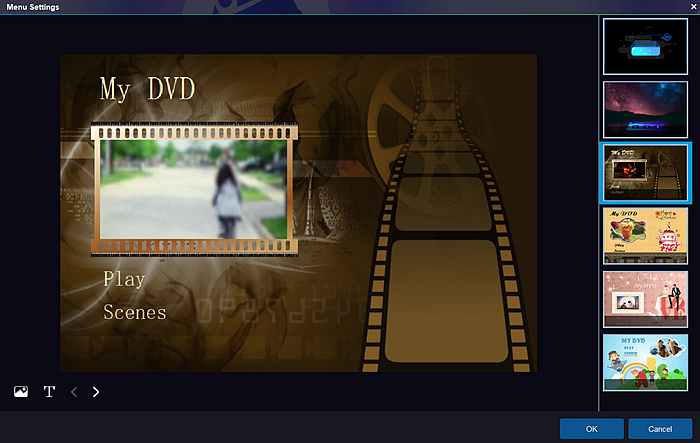 Apparently, this best DVD menu creator free program lets you create DVD menus with customized options. Want to know how to make DVD menu with a DVD menu creator Windows 10 program? Move on to the second part for details. Of course, if you want a different experience of making DVD movie menus, you might as well try out other possible options.
This DVD menu creator, compatible with both Windows and Mac (10.12 macOS Sierra), is designed to create DVDs with any types of DVD menus as per personal needs on the themes. Feel free to choose your DVD menu and apply it to your video. Alternatively, you can directly download DVD menu templates using its built-in menu downloader. Aside from burning DVDs from videos and audios, this DVD menu maker allows users to make slideshows with imported images and further burn them to DVDs. Besides, you can make DVD menu for free with limited features.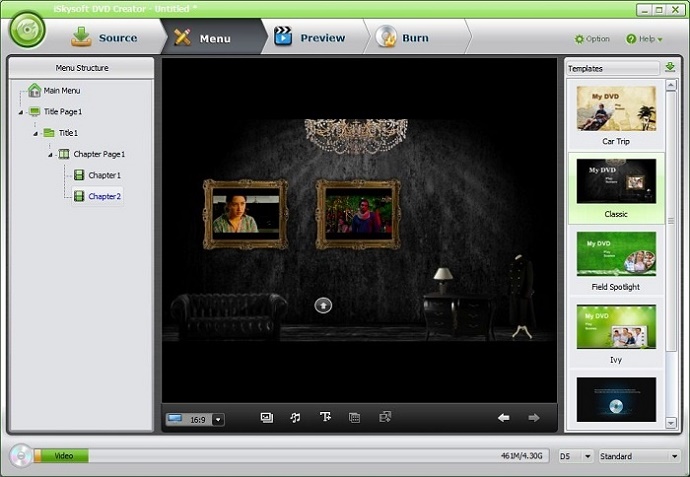 As a Windows movie maker DVD menu, this DVD creator can burn CDs and DVDs (including ISOs) that include the latest formats of HD-DVDs and Blu-ray, which is characterized by burning audio CDs without leaving gaps between the tracks and can create discs that can be booted later on. However, as one of the best free DVD Menu Creator Software for Windows, its interface can be a bit complex for users who intend to manage files when using the application.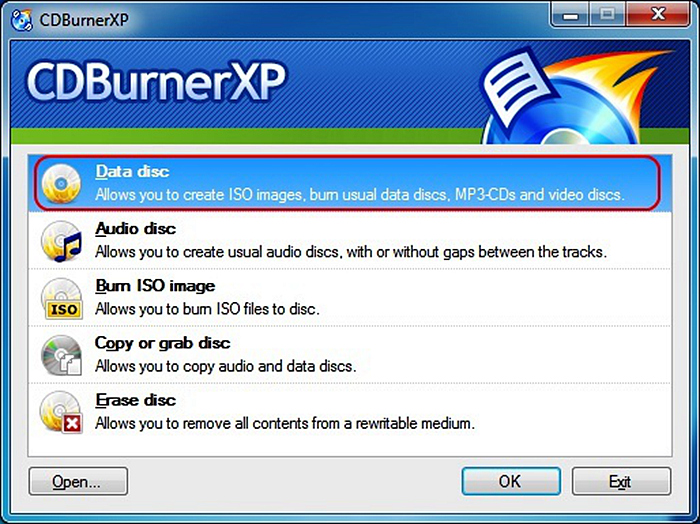 This DVD Menu Creator is born to burn DVDs with videos and gives users the option to create DVD menus of professional looking with preset lists of DVD menu templates. Meanwhile, this DVD menu maker has a cross-platform interface that makes DVDs with videos of numerous formats so that self-made DVDs can be playable on a standalone DVD player. With a user-friendly interface and Multicore processor, this DVD menu creator is able to import image files for background, place text, images, buttons, and other objects anywhere on the menu background, and even customize menu navigation using DVD scripting. Besides, photo slideshows can be created with this DVD menu maker.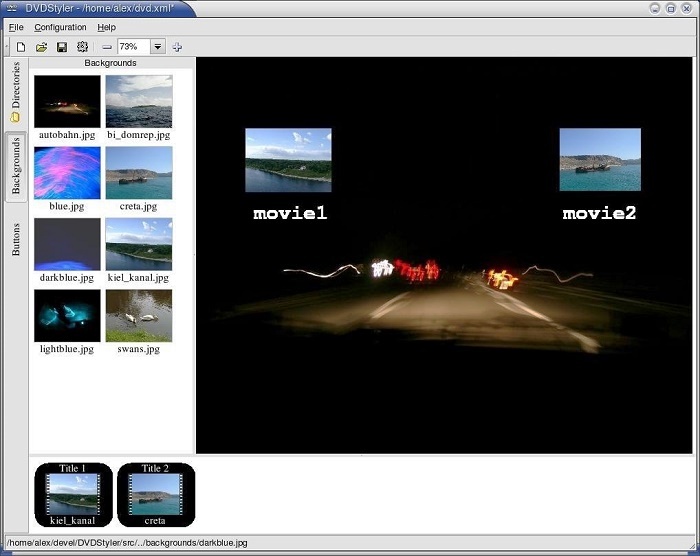 This DVD menu maker, available on Windows, enables users to make DVDs from various formats of videos, whose simple interface is liked by most users. Besides, it can accept files with multiple audio-streams and a maximum of three external subtitles. However, if you hope to create DVD menu with stylish and professional features, you shall resort to other options.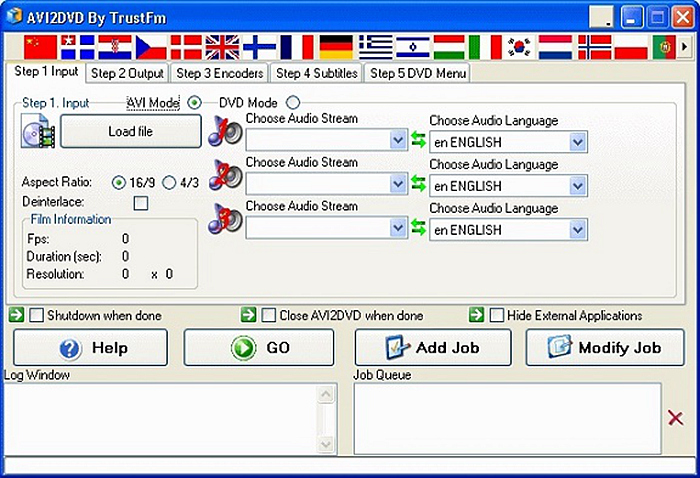 This DVD Menu Creator MAC is a high-end DVD menu maker that is able to create DVD menus when burning DVDs and keep track of the burnt files to record for later tasks. In addition, it supports multi-session burning of DVDs and disc image modifications. What's more, this DVD menu creator bears an animated workflow interface that eases users to span across the DVD menu so that they can gain full control over the playback of the made DVDs. However, this free DVD menu creator for free trial lacks a highly functional and efficient menu creating a feature that other programs share. Consequently, it fails to create smart and unique DVD menus for users to personalize their DVDs.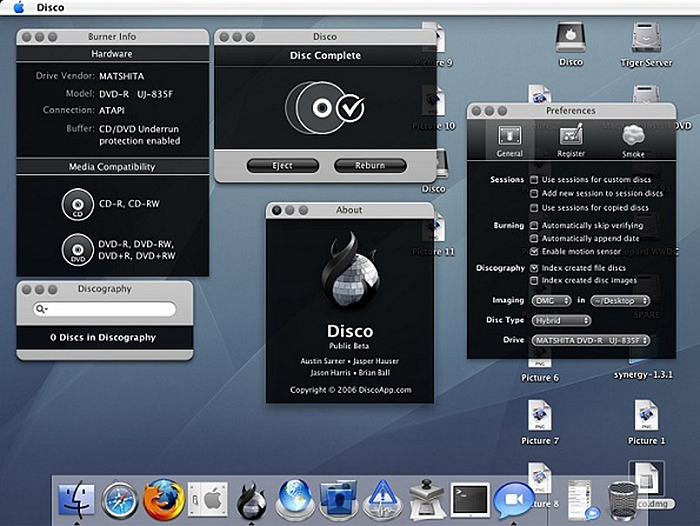 Now you must know which one to choose from the given options when it comes to burning DVD with menu templates. No doubt the first DVD menu maker free download shall be your top priority. Knowing its features is far from enough. Here are simple tips as to how to make DVD menu with this powerful and professional DVD menu maker.
Step 1: Run DVDFab DVD menu creator and tab the Menu Settings
i Free Download i Free Download
FREE DOWNOAD and run the best DVD menu software, and load video source when it program runs.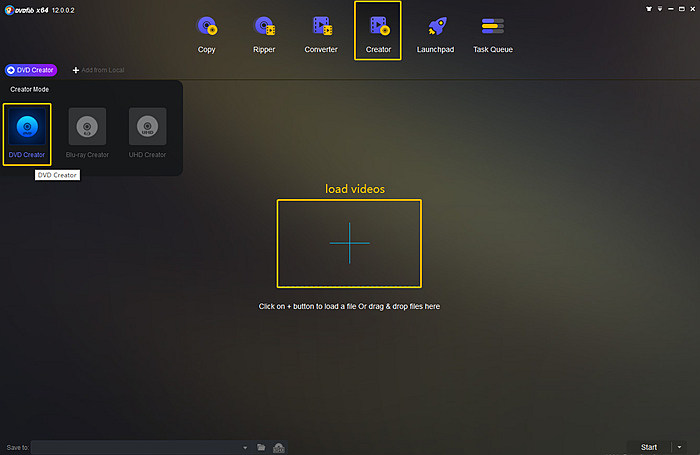 After loading videos, you will enter the following interface. Choose the Menu Settings button to create DVD menu with the given templates.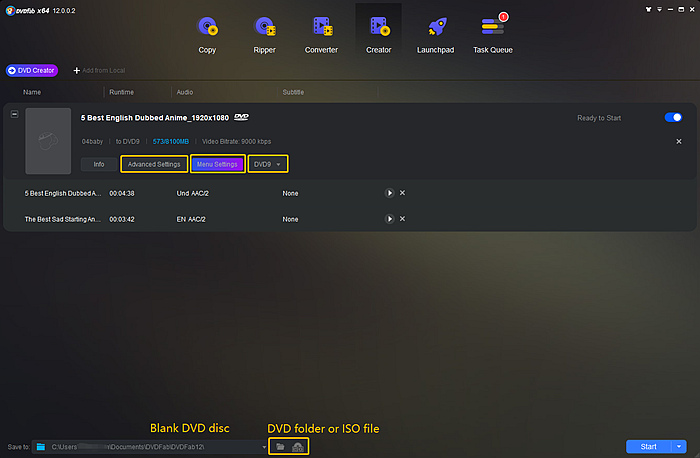 Step 2: Customize DVD menu
Choose your desired menu from the given DVD menu templates in the panel. You can switch the font, size, and color of the navigation menu so as to create a pleasant control over the playback of the DVD to be made.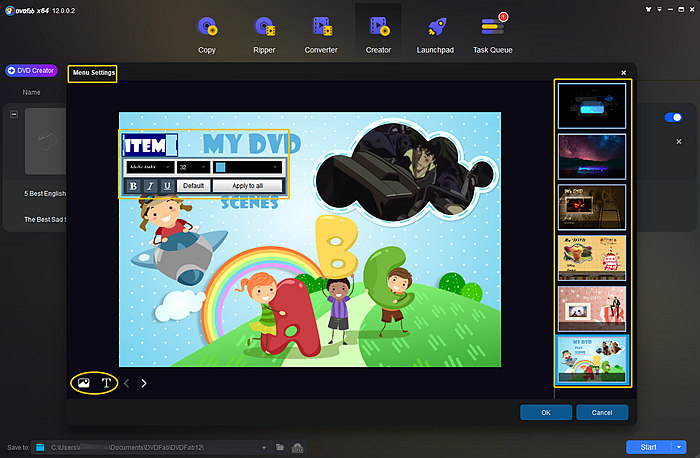 Meanwhile, you can add an image from the template, add text to the DVD menu and change its font, size, and color. If you don't want to customize all parameters, you can select Apply to all. Besides, you can add your own image to make the final DVD menu more personalized.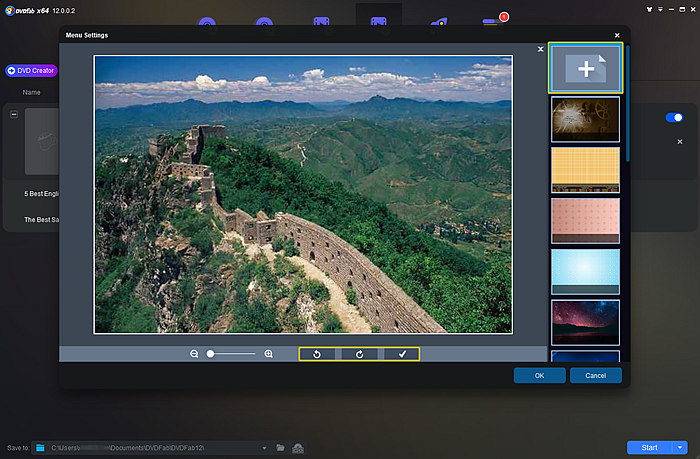 Step 3: Start to Create DVD
Once done, insert a blank DVD disc into the optical drive of your PC, or choose to save the made DVD as an ISO file or DVD folder on HDD. Meanwhile, you can choose DVD size (DVD-5/DVD-9) via the Advanced Settings option. Then tab the Start button for the DVD menu maker process.
The above-mentioned are the essential steps as to how to make a DVD menu. Want to know how to burn iPhone videos to DVD? Click the link for details.
Which program do you like best to make DVD with menu? With the above top 6 best DVD Menu Creators introuduced, we have come to realize the utility and function of DVD menu creators for burning DVDs from desired video and audio formats. Above all, an intuitive and professional DVD menu will pave way for controlling DVD playback, thus enhancing the visual experience. So, next time when you aim to burn DVDs with menus, do not miss out on the best-recommended DVD menu creator free application. After you have created DVD movie menus with the best DVD menu creator, move on to play DVD movies with the best 4K media player.

Hot topics on DVD/Blu-ray/UHD:
Download MKV Movies - Play MKV - Convert MKV to MP4
Top 8 Best Blu-ray Burning Software 2021
4 Best ISO Makers 2021: How to Make ISO File from DVD Free
6 Best DVD Menu Creators to Make DVD Movie Menus
Top 8 Best Free DVD Decrypter for Windows & macOS
SDR vs HDR: What You Should Know
DVD to Digital: How to Upload a DVD to YouTube
Top 11 Best Free DVD Makers