How to Make Your Own DVD Disc
There have been expectations among DVDFab followers that a DVD Authoring program being developed. Now, in response, DVDFab releases its DVD Movie Producer-DVD Creator, which can convert and burn all walks of video files on personal computer into standard DVD disc which can be enjoyed on Standalone DVD players.
As a powerful DVD burner software, DVDFab DVD Creator will help you to make DVDs from videos with ease. With several steps, you can make a DVD for your self. Right below this tip tells us how to make it with this terrific DVD Maker.
DVD Creating Step 1> Open DVDFab and direct to DVD Creator option
Click the yellow folder icon at the source area to choose the folder that contains the video files you are going to process, or click the film & paper icon right behind the folder to select the video files directly; Choose the audio track(s) and subtitle stream(s) you need in the final disc; Select one output size at the bottom and set the target as your DVD burner.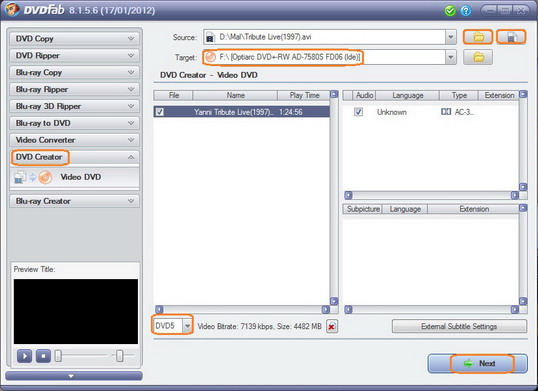 Note: If there is no subtitle in the original video file, and you want to add your external ones, you can just click the "External Subtitle Settings" button to do this.
DVD Creating Step 2> Start to burn:
Go to the "Next" window, insert a blank DVD disc into your DVD writer, and then click the "Start" button to begin the converting and burring process.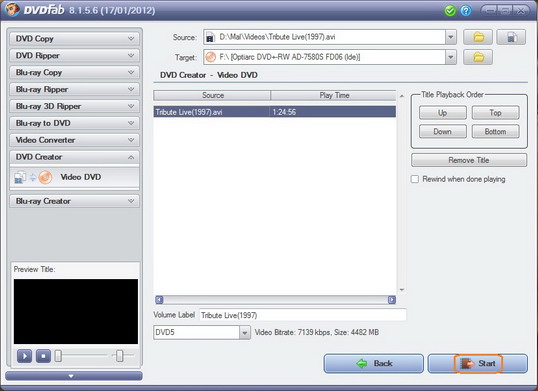 You can trace the information at the three different pages, and under the "Option" page, you can choose to shut down your PC automatically after the disc get burnt.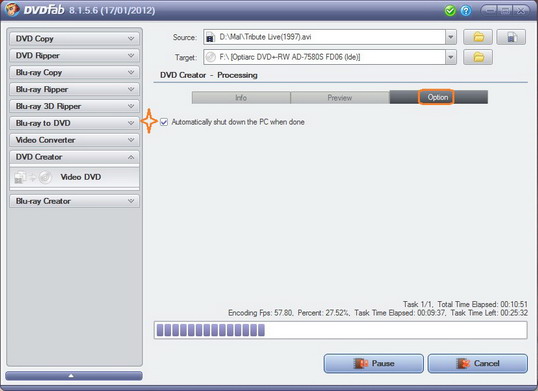 After a short while, 20 minutes or 30, depending on the source size and output size you choose, there will be a pop up window appears, signifying that the job is done correctly. Close that window and take the disc out of the burner.
Okay, that is all about it. It is not a hard job.
For more information, please visit http://www.dvdfab.cn/dvd-creator.htm