Rip Blu-ray to ISO on Mac OS X
Do you want to enjoy Blu-ray movie on your Mac? On condition that you do, then you need 1) an external Blu-ray drive hooked up with your Mac and, 2) one Mac Blu-ray player software installed on your Mac. By doing so, you have two ways to watch your Blu-ray's, the first is that each time you wanna see it, you kick your Blu-ray disc into the physical drive, and the other way is that you copy and store the Blu-ray on your Mac HDD as ISO image file and enjoy it anytime you want.
As the best powerful Mac Blu-ray copy software available, DVDFab Blu-ray Copy for Mac can do the latter for you. See how below in detail.
Rip Blu-ray to ISO on Mac -> Step 1: Download and install the latest DVDFab Mac edition, connect your external Blu-ray drive to your Mac, and put the Blu-ray disc you wanna copy into the drive;
Rip Blu-ray to ISO on Mac -> Step 2: Start DVDFab for Mac, direct yourself to Blu-ray Copy option, and then do as following:
2.1 For those who want an 1:1 copy: Go to Full Disc mode, and click the disc&paper icon at the target area to select an output directory to store the resulting ISO file.
Sidenote: An exact 1:1 copy will copy everything on the disc, including extras, trailers, etc, so you need to choose the output size as BD50 at the bottom part of the main interface.
2.2 For those who want movie only: Go to Main Movie mode, click the ISO button to choose output directory as 2.1 says, select the audio track(s) and subtitle stream(s) you like to keep at the two middle right parts of the main interface, and choose one output size (Optional: BD25 1080p/i), then click "Next" to go forward: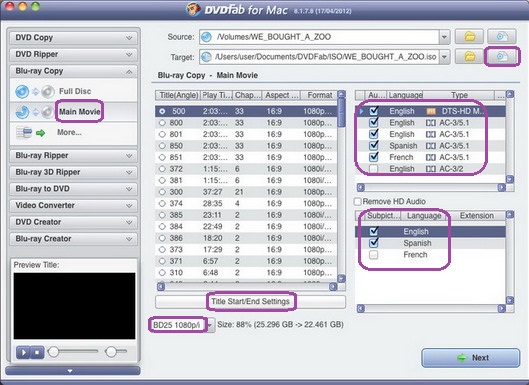 Sidenote:
1). Usually, program will auto-select the main title on itself correctly but sometimes you may need to do this manually especially when there is seemingly more than one main title appears, you can use the built-in video player to preview first and then tell the correct one from the fake lists.
2). The "Title Start/End Settings" option allows to select a certain range of chapters to one specific title to copy, use this function if you want only a small part of a title.
Rip Blu-ray to ISO on Mac -> Step 3: In both Full Disc and Main movie cases, press the "Start" button to begin copying. And then get yourself a cup of coffee, after a short while, when the copying task ends, you will see a pop-up window telling you a successful job has been done.
During the copying process, you can do following:
3.1 Trace the information at the "Info" page;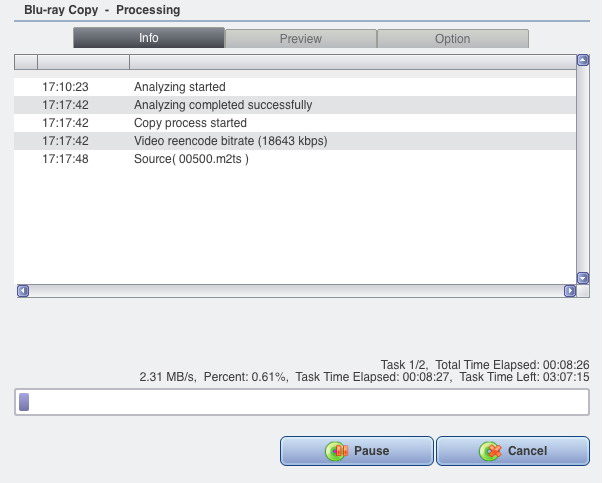 3.2 Visually check the progress when it comes to the ISO creating stage, at "Preview "page;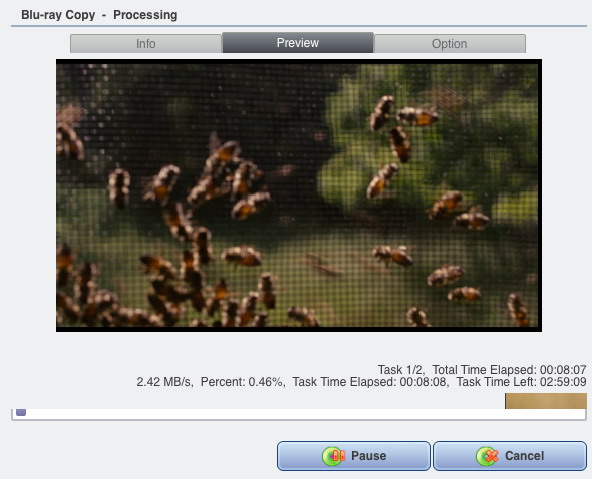 3.3 Let your Mac shut down automatically when the job is done right, at "Option" page;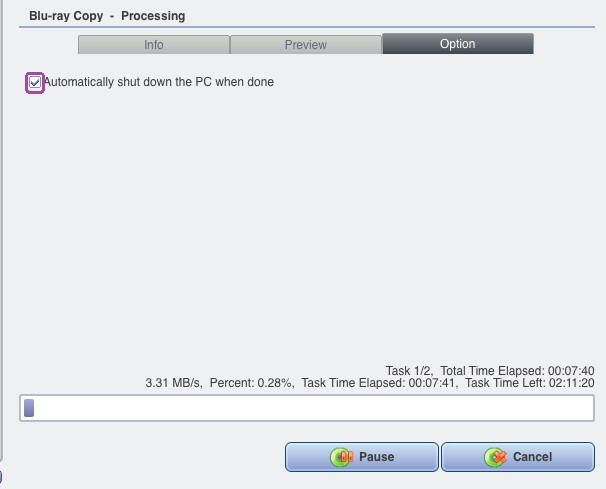 FYI: DVDFab Mac Blu-ray player can play the created ISO file directly on your Mac computer.
For more information, please direct to DVDFab Blu-ray Copy for Mac page.