Top 6 AI Image Enhancer to Enhance Image [Free & Paid]
Summary: If you are in dire need of image enhancer to enhance image quality from multiaspects, you are on the right page. This post aims to give you a clear clue to image quality enhancer based on diverse uses on different platforms. Read on to take your best pick.
DVDFab Photo Enhancer AI
• Enlarge photos up to 40x with more details added
• Sharpen photos by reducing background/chroma/luminance blur
• Make photos clearer by removing motion blur and out-of-focus blur
• Suitable for both beginners and experts
Reliable image enhancer counts much since enhancing image, especially low-resolution photos can be a pain and laborious chore. After all, it's usually impossible to extract ample true details from a small number of pixels to create a clearer image. What if you can enhance image in one click with the aid of Artificial Intelligence (AI) technologies? In a sense, AI outshines human brain in some aspects when dealing with repeated but simple work. In this article, you will be introduced top 6 AI-powered image quality enhancer applied to enhance photo quality from multiple sides. Read on to find the best one that suits your needs.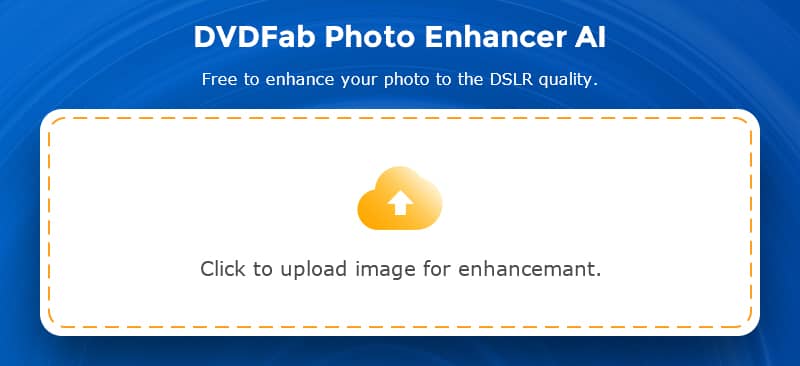 Article Contents:
AI Image Enhancer to Enhance Image for Desktop Users
AI Image Resolution Enhancer Online Tools
AI Image Quality Enhancer App for Mobile Users
More Hot Topics
AI Image Enhancer to Enhance Image for Desktop Users
As is often the case that most AI-powered image quality enhancer fulfills its missions on desktop computer due to its complex algorithm rules and high system requirements when processing batch images with high quality and fast speed. Here are three options designed to enhance image to perfection automatically and intelligently.
Available on: Windows
Price plan: Free trial, $49.99/mo
Supported formats: PNG, JEG, JEPG, TIF, TIFF
When speaking of AI image quality enhancer, DVDFab Photo Enhancer AI shall comes out first thanks to its creative packed features, high cost performance, and friendly use experience. Whether to enhance portraits, landscapes, objects, or figures for personal or business purposes, this photo image enhancer will unleash huge power to meet all your needs in simple clicks. Four work modules (PhotoPerfect, Enlarge, Denoise, and Sharpen) will be at your disposal to create your amazing masterpieces.
Enlarge image without losing quality (upscale up to 40x)
Optimize image in one click achieving DSLR camera quality
Brighten image, fine-tune contrast & saturation to present perfect color
Denoise photo for the sake of utmost image clarity
Sharpen edges, fix all sorts of blur, add original details
Available on Windows, free trial
Intuitive interface, easy-to-use for novices & professionals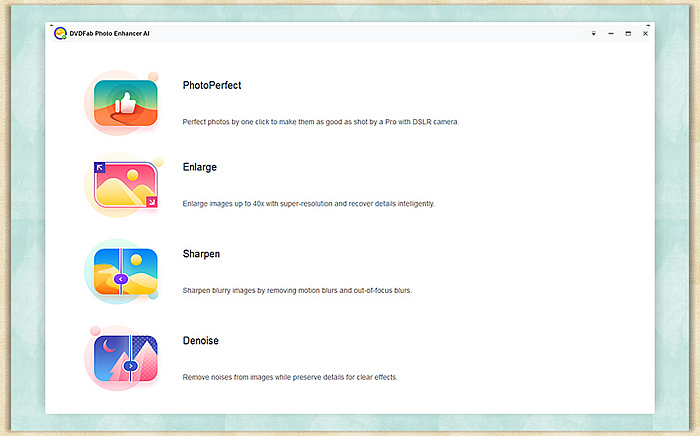 Applied tech & work principle: Deep Convolution Neural Networks and hundreds of millions of professionally trained & enhanced samples working together to upscale image without losing quality, reduce noise and blur from photos, sharpen and optimize image than expected.
How to enhance a photo with this image enhancer software
Download this best image enhancer software from official site for free trial
Install & launch the program to select desired module
Load (or drag & drop) photos, set parameters, and save the final work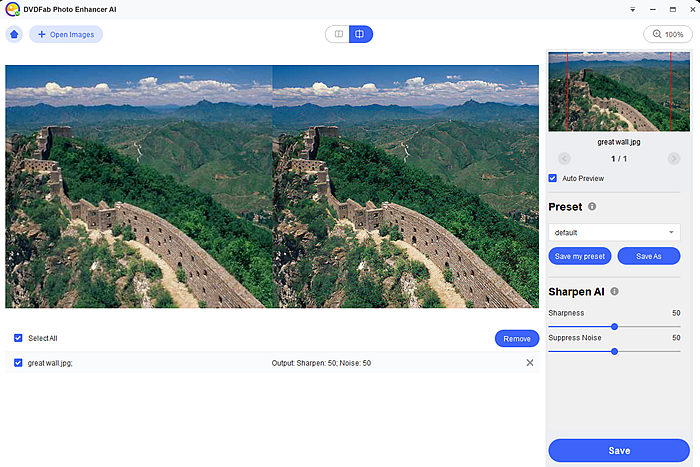 If you are busy with other matters, no time to edit photos, just resort to this automatic free image enhancer software, and let the AI do the whole work with one click. Note that the paid version will offer you consistent service with advanced full features. If you are a Mac user, you might as well turn to other alternative image enhancer program.
Available on : Windows & Mac
Price plan: $15 upgrade; $35 single; $55 family
As an image resolution enhancer, Photolemur is born to improve photo quality powered by AI technology by means of analyzing millions of details and instantly complex adjustments so as to transform defective images into good ones. All-new Face Finish tech can auto smooth skin, remove imperfection, enhance eyes, and whiten teeth. Meanwhile, Sky Enhancement, Color Recovery, Exposure Compensation, Foliage Enhancement, and Raw Processing are designed to meet diverse needs when it comes to improving image quality.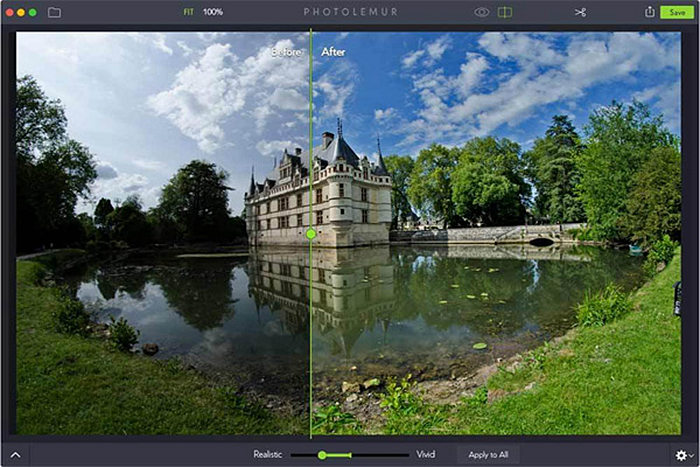 How to use this image enhancer
Download and run the program
Drag & drop your image
Enhance them in one click
Note that you have to register by email to get download link after free version registration or final purchase. Besides, free trial contains watermark, no batch processing, with exported photos not exceeding 1200px in width.
Alternative image enhancer: Topaz Gigapixel AI
If you are indifferent to budget, you can turn to Gigapixel AI ($99.99, Win & Mac), designed to enlarge your image while preserving image quality with the aid of machine learning and image recognition. Automatic face refinement in this AI image enhancer will present you accurate face portrait, a nice face editor worth your trial. However, if you aim to remove noise from photos, you have to buy another program Denoise AI.
AI Image Resolution Enhancer Online Tools to Enhance Photo Quality
If you are tired of downloading and installing desktop image enhancer software, go to image enhancer online app to enhance photo quality with simple clicks. Here lists two options for your reference.
Price plan: 100 images, $9/mo; 300 images, $24/mo; 500 images, $34/mo
Supported formats: JPG & JPEG
As online image resolution enhancer, Let's Enhance always wins a place in that it adopts cutting-edge Image Super Resolution technology based on Deep Convolutional Neural Networks to increase photo or image size without losing quality and reduce noise from photos. Automatic and fast to produce desirable works.

What to do with this picture enhancer
Import image
Choose Upscale type and size
Click Start processing, and wait for the final result
However, you can use this image quality enhancer online free for 5 images only, upscaling up to 256 megapixels, stored for 30 days.
Available on: online browser, Android & iOS
Price plan: 100 image, $9/MTH; 500 images, $39/MTH; 1000 images, $69/MTH
Supported formats: PNG & JPG
As an online photo enhancer, Deep Image is dedicated to increasing image size and removing artifacts in order to enhance image resolution based on Compression Artifacts Removal Using Convolutional Neural Networks, Accelerating the Super-Resolution Convolutional Neural Networks, and Generative Adversarial Networks.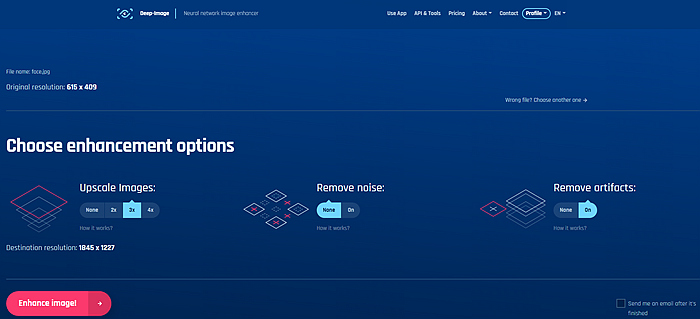 What you to do with this photo enhancer online:
Upload image (single or in batch)
Choose Upscale image/Remove noise/Remove artifacts
Click 'Enhancing image!' and wait for the result
Remember that you can process 5 images per month after register with email. The max image size after process is 25 megapixels.
Alternative online image enhancer free: Google Image Enhancer
Google with its Brain division has created Zoom in & Enhance to extract details out of tiny, pixelated source images based on the combination of Conditioning Networks (downsizes other similar high-res images to a resolution similar to the source image) and Prior Network (add realistic high-resolution details to image source).
AI Image Quality Enhancer App for Mobile Users
There might be occasions when you want to enhance image quality with mobile app. Here offers two nice AI-driven image enhancer for your choice.
Available on: iOS
As an image enhancer app, FaceApp applies the most advanced neural face editing technology (powered by AI) to enhance image quality, play with gender swap, hair styling & dyeing, old & young filters, evening & day makeup, add shining smile or amazing tattoos to face, replace background, even add color filters, lens blur and other practical tools to make your photos stand out from the crowd.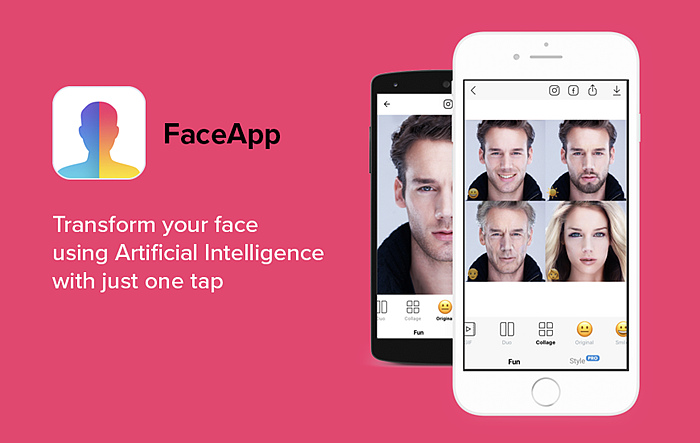 Nevertheless, what may let you down is that this AI image quality enhancer app for iOS users contains business ads and in-app purchases.
Available on: Android & iOS
As AI image enhancer app, Remini engages advanced AI generative technology to bring professional film production level image enhancing and restoration technologies to our daily lives by means of enhancing old and low-res photos to high-res ones, fix blurred photos/videos to clarity accompanied by image processing features.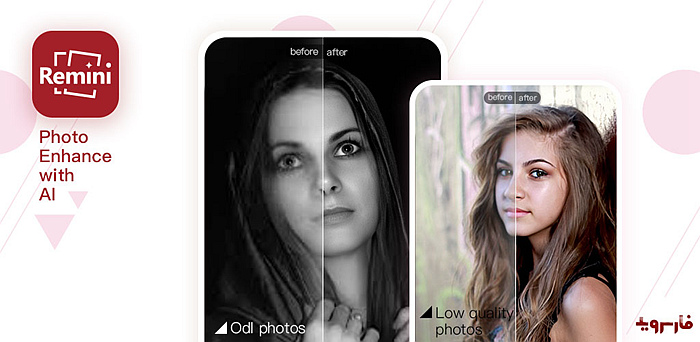 Note that this image resolution enhancer contains ads and offers in-app purchases.
To conclude, you have been introduced top 6 AI-powered image enhancer tools,respectively available on Windows, macOS, online browser, Android and iOS, which can be used to enhance image resolution and quality from all sides. Just take the best pick that can achieve your goal. But in terms of user experience and image processing efficiency, you might as well give first priority to Photo Enhancer AI to enhance image quality for all purposes.
More Hot Topics: