How to Convert DAT to MP4?
2019-03-19 03:07:34 Posted by Amanda
2205
Summary: DAT is not a popular video format and is supported by only a few devices. Here is the tool and method for people who want to convert DAT to widespread support MP4. Check it.
DVDFab 11 offers the world's most complete and advanced Cinavia removal solutions in its DVD, Blu-ray and UHD Cinavia Removal modules, respectively. With the help of these solutions, you can remove the so-called undefeatable Cinavia watermarks embedded in the audio tracks of the affected DVDs, Blu-ray, and 4K Ultra HD Blu-rays, completely and permanently. Thus, when playing the backups on the devices equipped with a Cinavia detector, you don't need to worry about the sound being muted in the middle of the playback anymore.
Technically DAT is a file extension that is used for any type of generic data files for various applications. At times videos sport that extension as well however – particularly if they are originally from a VCD.
The DAT videos from VCDs are actually MPG video files that are using the DAT extension due to how VCDs are structured. Despite that you may have trouble playing them on some devices as the files may not be recognized as videos.
If you convert DAT to MP4 however you can overcome that problem. In fact you should have no trouble playing them on most devices and platforms because of the widespread support MP4 enjoys.
As a newer format, MP4 will also allow you to use newer codecs which can help you to compress your video to a smaller file size without sacrificing any quality.
In short you stand to benefit quite a bit by converting DAT to MP4 – and just below you'll find out several options that will help you to do just that.
1. DVDFab Video Converter
One of the easiest ways to convert DAT videos to MP4 is to use DVDFab Video Converter. It is a premium video converter that will let you convert high quality videos to and from a wide range of formats.
To starting converting a DAT video, you should first download and install the DAT to MP4 converter. After you do you can launch it and select the 'Converter' option.Next you will want to add the DAT video, by either dragging and dropping the video file into the main working area or clicking on the '+ Add' button.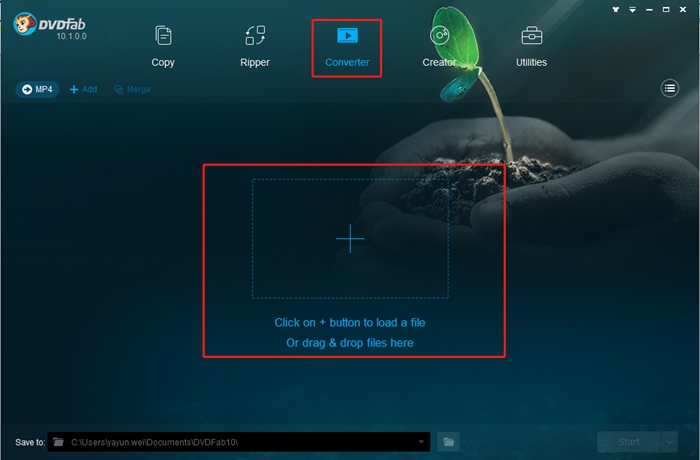 Once the video has been loaded, you can click on the leftmost 'arrow' button and select 'MP4' as the format that you want to convert it to.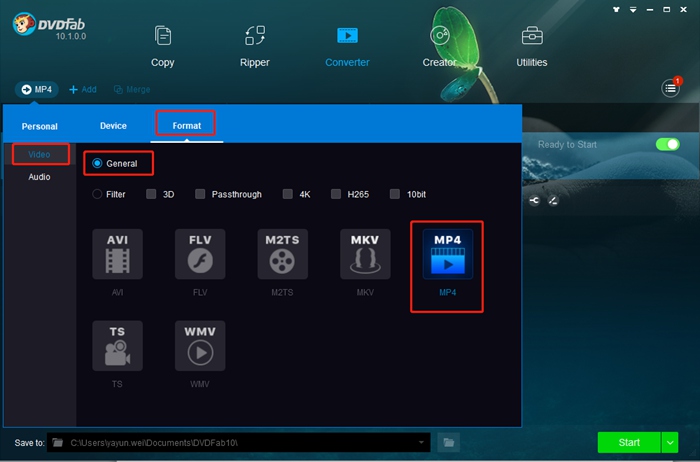 Choose a directory to save the output video andthen click 'Start' to begin converting the video.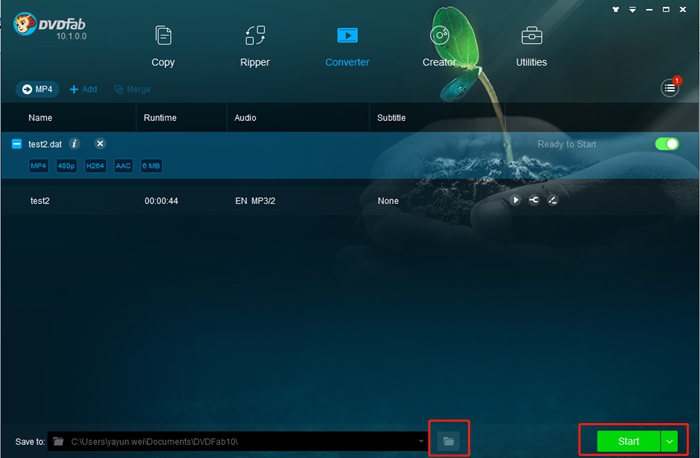 It is worth noting that DVDFab Video Converter has numerous other features that you can use to adjust the video parameters such as the resolution, framerate and bitrate – or edit videos. In short you will be able to make alterations to your video if need be as well.
2. AConvert
If you'd like to convert DAT to MP4 without downloading or installing additional software, AConvert is a simple yet useful online converter that you could try.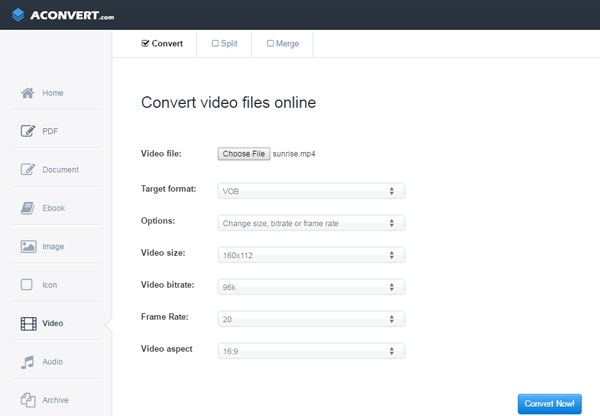 All you need to do to use it is click on the 'Choose File' button to select the DAT video file, then expand the 'Target Format' list to select 'MP4' as the format you want to convert it to. After that's been set up, you can click the 'Convert Now!' button and AConvert will switch the DAT video to MP4 and provide you with a download link.
While AConvert can convert videos at a decent rate, it does have a 200MB size limitation that you should be aware of.
3. WinFF
As a free and open-source video converter, WinFF will allow you to convert DAT to MP4 as well – but it isn't that easy. Before you begin, you'll have to rename the DAT video and replace its extension with MP4.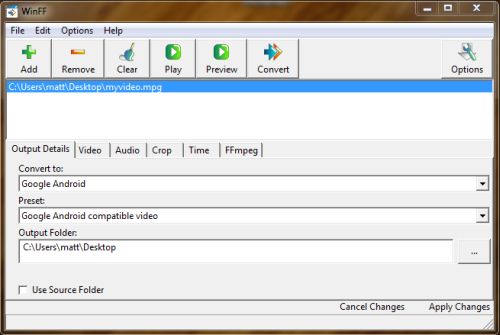 Once the file has been renamed you can add it to WinFF by clicking on the 'Add' button, then select 'MP4' from the 'Convert to' list – while choosing the right quality setting as well. To start converting the video you can then click on the 'Convert' button.
Overall WinFF can be a bit tricky to use, and you may encounter some bugs and crashes. Still, it can get the job done in a pinch.
4. VLC Media Player
Considering how popular VLC Media player is, you may already have installed – in which case you can convert DAT to MP4 just by using it. To get started you'll need to open the 'Media' menu and select 'Convert/Save'.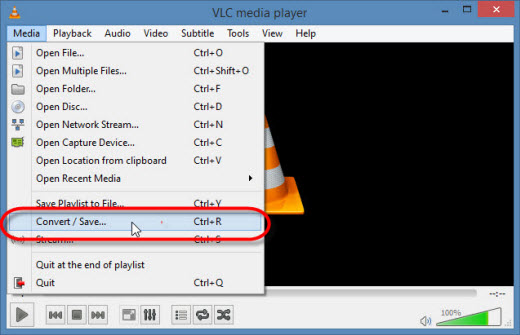 Initially in the 'Open Media' window you can click 'Add' to select the DAT video, then select the 'Convert' option at the bottom. After that in the 'Convert' window you can select 'MP4' from the list of profiles, and adjust the various other parameters before clicking 'Start' to begin.
It can be a bit daunting at first as the user interface isn't that user-friendly – but it is effective.
Final Words
At the end of the day while all the options listed above will allow you to convert DAT to MP4 – few truly compare to DVDFab Video Converter. It will make it much easier for you to convert your videos, and at the same time has no limitations that you need to worry about.
On top of that DVDFab Video Converter is far more versatile than the other options – on numerous fronts. By using it you'll be able to convert any formats of videos, and will find that you can edit and adjust them in other ways as and when you require.
You May Need Other Tools