Χ
DVDFab Player 5: How to Play Blu-ray Discs, Blu-ray ISO Files, And Folders
2019-07-16 00:56:48
When it comes to play a couple of videos or movies then everyone head towards the free media players. Free media players are good but they often lack the best user experience. And most of them are not even suitable to play Blu-ray discs, Blu-ray ISOs and folders. Playing Blu-ray discs directly on these free players is sometimes not possible. This is because they require external Blu-ray support libraries which are open source and lack performance. So we suggest you not to waste time on such players and use a powerful Blu-ray player software like DVDFab Player 5. DVDFab Player 5 is the world's best 4K UHD media player with powerful media libraries for crystal clear entertainment.
Part 1: DVDFab Player 5: Download Links And Installation Procedure
DVDFab Player 5 is available to download for both Mac and Windows operating systems. You can choose the right version for the installation. Here we are giving download links to this Blu-ray player software.
DVDFab Player 5 for Mac and Windows – Download for Mac and for Windows now.
Download the package first and then open it to start installation. Once you open it you have to follow the on-screen instructions to install this software. The installation process is very easy and you just have to select the installation path and accept the end user licence agreement.
Part 2: Use DVDFab Player 5 to Play Blu-ray Discs, Blu-ray ISO Files, and Folders
After installing the player on your computer you should now follow the step-by-step tutorial in this part to play your favorite Blu-ray discs, Blu-ray ISO files, or even folder using the DVDFab Player 5. Let's get started.
Open the DVDFab Player 5 software with a double click. In the main interface window you'll see two modes 'PC Mode' and 'TV Mode'. Select 'PC Mode' as we will discuss 'TV Mode' later.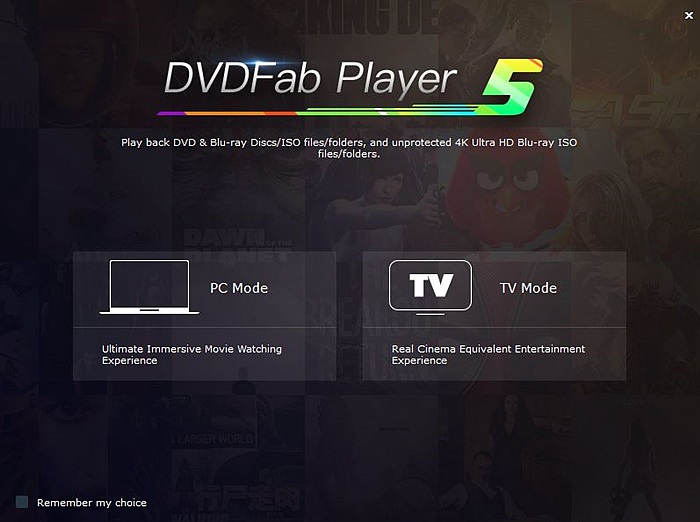 Click the 'Eject' button to load a Blu-ray disc, or click the 'Plus' button in the middle to load a Blu-ray ISO or a folder. Alternatively you can drag and drop Blu-ray ISOs and folders directly in the player window to play them.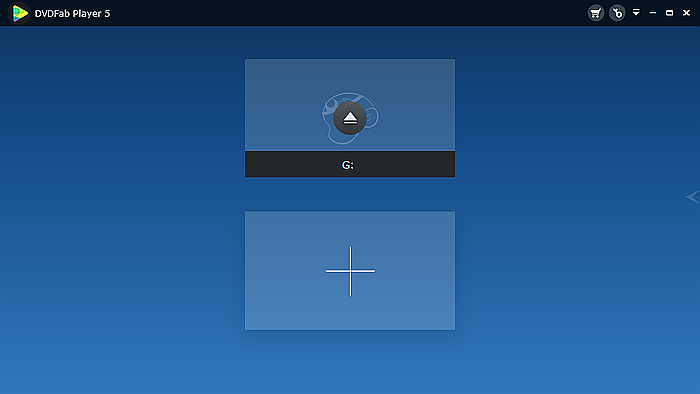 The player screen looks like this below.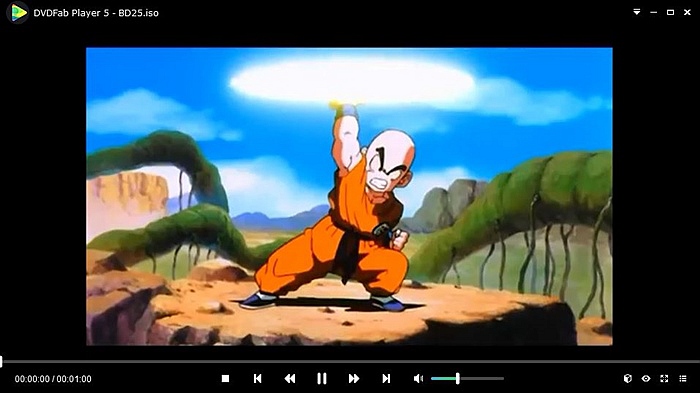 Part 2.1: DVDFab Player 5 On-Screen Options and Settings
DVDFab Player 5 provides on-screen options and settings which can be changed or customized anytime while the video continues playing. To access the on-screen options and settings right click on the player's screen and you will see a bunch of options. Some of these options are discussed below.
1. Video: Right click on the player screen and you'll see many options. Hover, the mouse cursor over the 'Video' option to expand the sub-options further. In the sub-options you can customize 'Aspect Ratio', 'Deinterlace', 'Rotate Video', 'Adjust Color', and take a snapshot.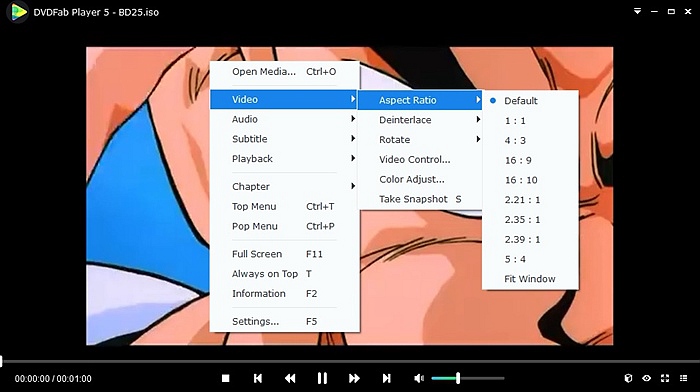 2. Audio: Use this option to select a particular audio stream if the current video or movie supports multi-audio languages or streams.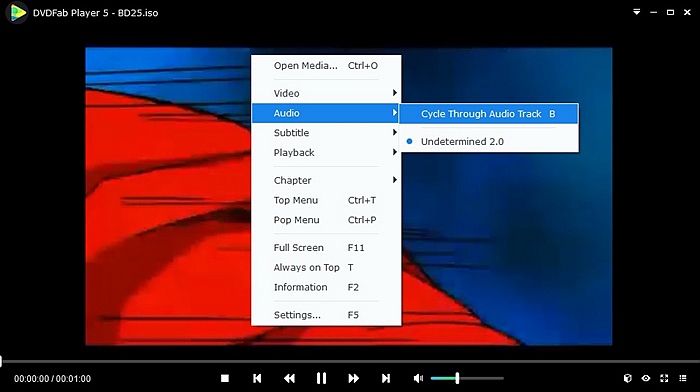 3. Subtitle: Use this option to load external subtitle files (SRT, ASS, SSA, IDX, SUB, PGS). When loaded you can see subtitles on the screen. There's also an option of 'Subtitle Settings' in which you can customize subtitles like the subtitle text, color, font, size etc.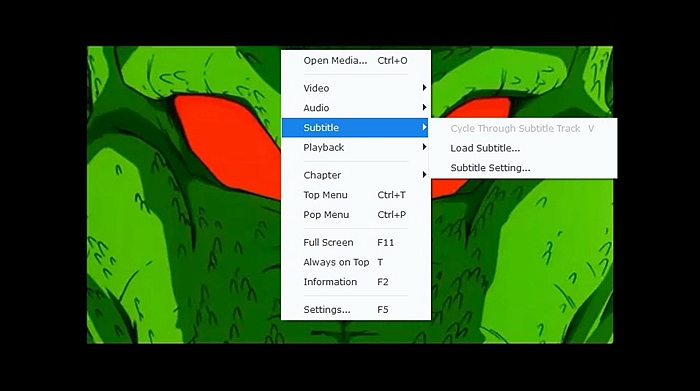 4. Playback: Use this option to access playback options like rewind, fast forward, pause, stop, previous chapter, next chapter, 10 second backword or forward.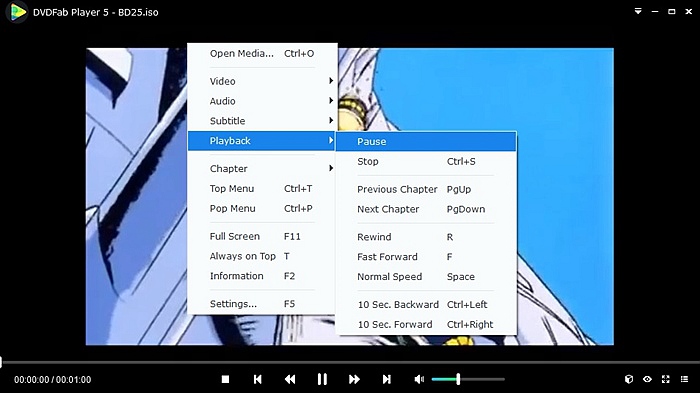 5. Play 3D Videos: You can play 3D Blu-ray sources with this player. Just click the 'Cube' icon and choose the playback mode you want. And you can hover over the '3D Source Format' option and either select 'Side by Side' or 'Top/Bottom'.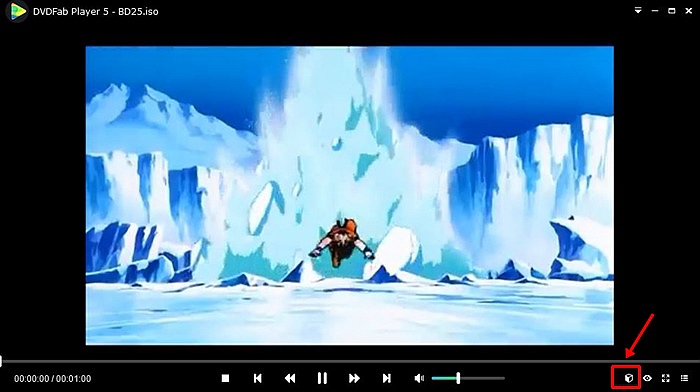 Part 2.2: DVDFab Player 5 TV Mode
The 'TV Mode' is designed for large screen HDTVs. The main purpose of this mode is to convert your HDTV in to a mini home theater with Dolby digital surround sound and HDR. HDR is a camera function which shoots videos, movies in high detail. If your TV is HDR enabled then DVDFab Player 5 will deliver the ultimate visual experience on its screen. Basically you'll need an HDMI cable to connect your PC to TV. We also recommend that your PC should have a powerful graphics card (Nvidia GTX series) so that you can watch the movie details in HDR. Here are the steps below to use it.
Connect your TV to PC via HDMI cable and adjust the maximum resolution in your PC's graphics settings for your TV's display.
Open DVDFab Player 5 and choose TV Mode. This will open in full screen having several options.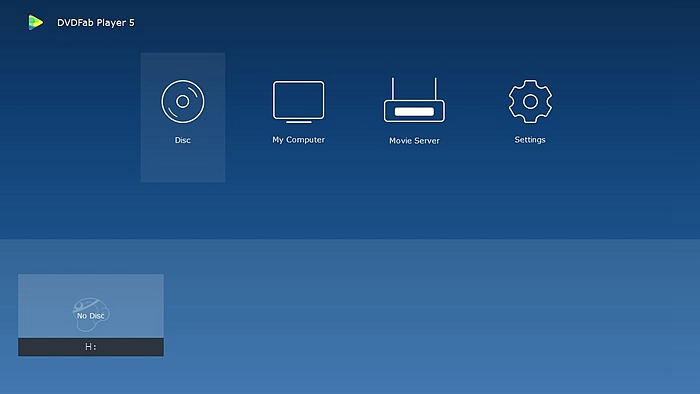 Click the 'Disc' icon to select it and then load a Blu-ray disc in the BD optical drive ROM to play it.
If you want to play Blu-ray ISOs or folders then click the 'My Computer' button and then locate the Blu-ray ISO or folder on your computer's hard drive. Select the ISO or folder to play it. While the video is playing you can access the on-screen options by right clicking in the left most area of the player window.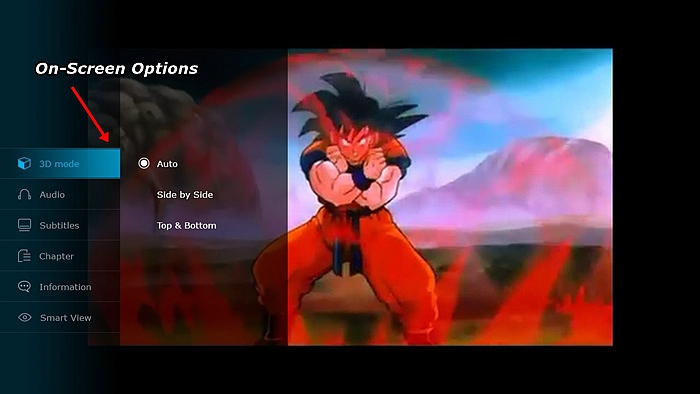 Click the 'Settings' button to customize the settings related to playback, player UI, audio, 3D display, and network. DVDFab Player 5 fully supports 3D displays and they can be customized in the 3D settings.
Part 2.3: DVDFab Player 5 Settings
Before you can actually start to enjoy your favorite Blu-ray movies on this player you should first customize several settings for the best audio-visual experience. Open the DVDFab Player 5 in 'PC Mode' and press 'F5' key to open settings. Check these settings below to customize.
Click the 'Video' tab and customize settings like 'Hardware Acceleration', 'HDR Mode', and 'Output Color Range'.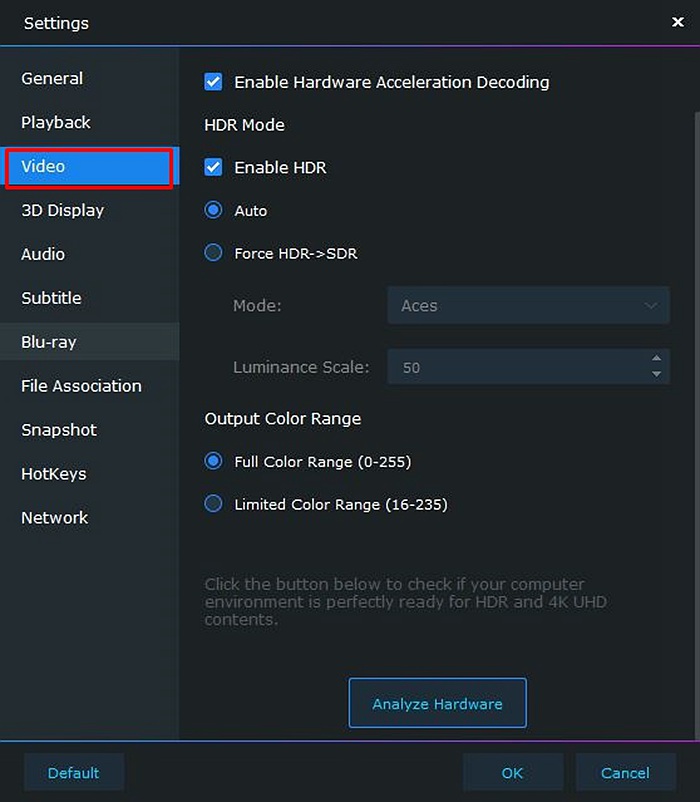 Click '3D Display' and customize settings related to your 3D display. You can also select the type of the 3D display here in '3D Display Device' which supports 4 types of 3D displays.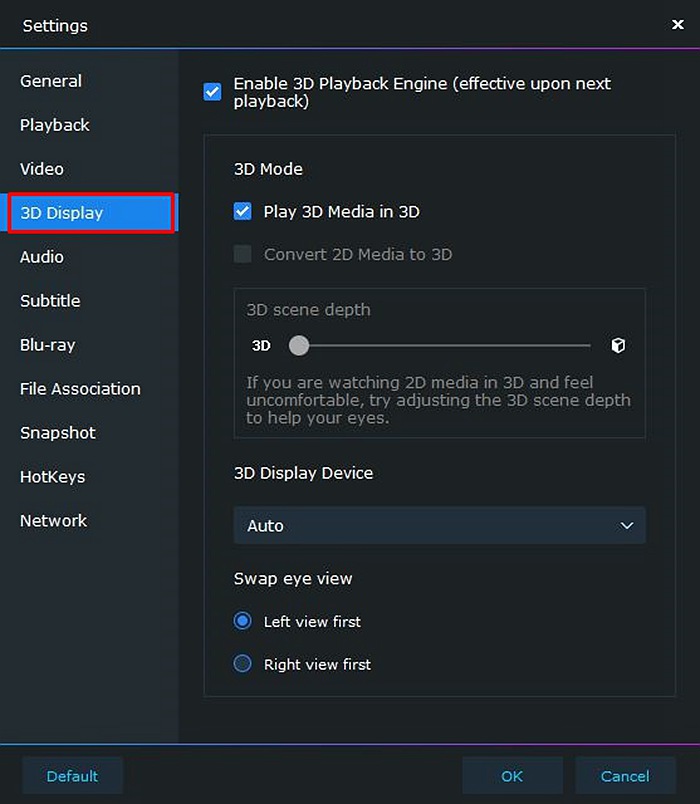 Click the 'Audio' tab and change settings related to audio 'Output Mode', 'Output Device', 'Speaker'. The speaker configuration can be set to '2.0', '5.1', and '7.1'. Use 'Volume Amplification' if required.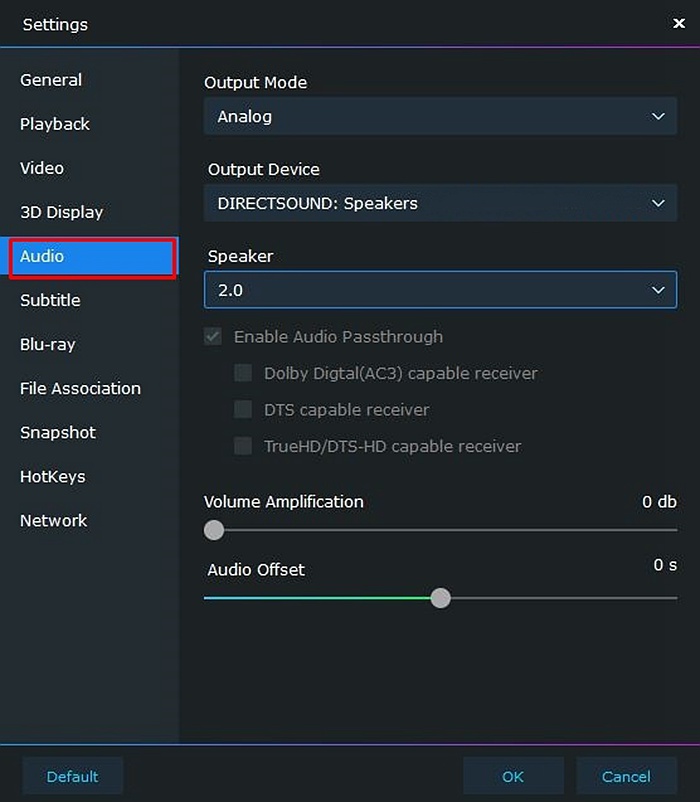 Click the 'Subtitle' option and directly customize the appearance of the subtitles by customizing the fonts, color, text size, and position.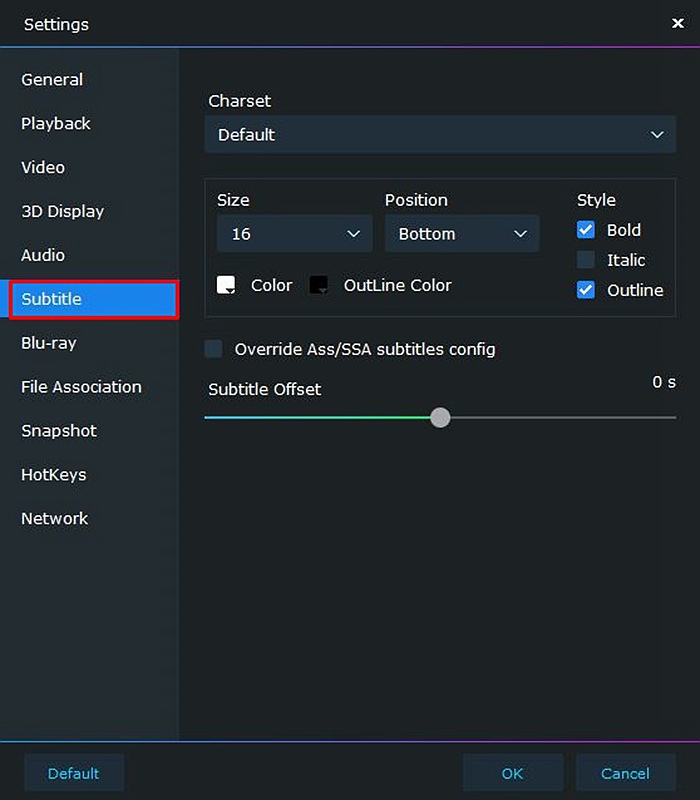 Use the 'Hotkeys' tab to learn about all the hotkeys supported by DVDFab Player 5 in PC and TV mode. These hotkeys are necessary to access player controls and functions quickly.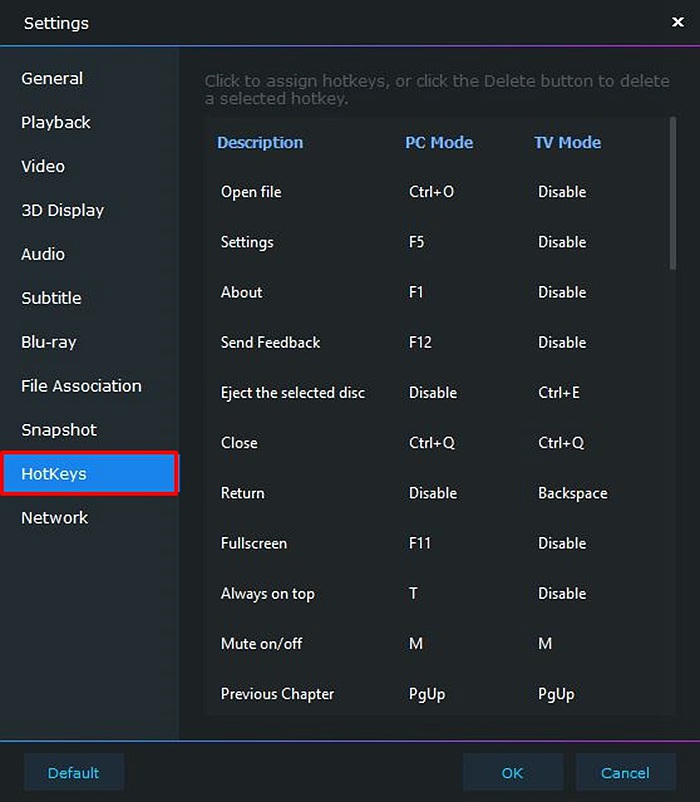 Part 3: DVDFab Player 5 Hotkeys
Part 2 explained about playing the Blu-ray discs, ISOs, and folders in DVDFab Player 5 using either the 'TV Mode' or 'PC Mode'. If you are using PC mode then most of the options and controls are available on the player's screen. But in case of 'TV Mode' not much options are available or visible on the screen. So, to compensate this you have to learn the hotkeys. We are putting a list of several important hotkeys for DVDFab Player 5 TV mode. A complete list of hotkeys can be found in 'Settings>Hotkeys'. To open 'Settings' from the 'PC Mode' press 'F5' on the player screen.
Return to Player Menu – Backspace
Play/Pause Movie Playback – Space Bar
Stop Playback – CTRL + S
Increase Audio Volume – Equals Key (=)
Decrease Audio Volume – Minus Key (-)
Fast Forward – F
Rewind – R
Previous Frame – D
Next Frame – N
Switch Audio – B
Switch Subtitle – V
Display Playback Menu – CTRL + M or right click on the left most side of player screen
This is not the complete list of hotkeys for 'TV Mode'. Check 'Settings>Hotkeys' for the complete list. You can also see 'Part 2.3' for hotkeys.
Note: If you are using the Windows version of DVDFab Player 5, you can also control the playback of TV mode with the remote controls for Windows Media Center.
Part 3.1: DVDFab Player 5: Different Versions Compared
DVDFab Player 5 comes in 3 versions which are free, standard, and ultra. Here we are comparing these 3 versions.
DVDFab Player 5 Free: The free version can be used to play common video formats like MP4, MPEG-2 videos files, H-264 files, DivX, XviD, WMV and other video files. You can only enjoy 5.1 channel surround sound in the free version. It supports digital audio technologies like Dolby Digital, Dolby Digital Plus, Dolby TrueHD, DTS:X etc. You can also customize your playlists, and can view smart preview with thumbnails. You won't be able to play any Blu-ray disc, ISO file, or Blu-ray folder.
DVDFab Player 5 Standard: This is a paid version and you can use it to play Blu-ray disc in simple mode only. You can also play Blu-ray ISOs and folders but in simple mode only. It can play all kinds of known video formats with ease. It supports 5.1 channel surround sound with latest digital audio technologies. You can customize playlists and view thumbnails of videos too.
DVDFab Player 5 Ultra: This is the third version which is the most superior version of the DVDFab Player 5. It includes all the features of free and the standard version. It is capable of playing 4K Ultra HD Blu-ray discs, ISOs, and folders which can't be played in the above two versions. It has a built-in 'HDR Render' support which is essential for HDR supported displays and videos. It supports all the digital audio technologies with up to 7.1 channel digital surround sound. Works like a charm in both the TV and PC mode. This is the right choice of the people who are looking for a perfect, HDR enabled Blu-ray player software which even works with HDTVs, 3D TVs, and large screen TVs.
As a user you are free to make a choice depending on your entertainment needs.
Conclusion
We just have taught you to play Blu-ray discs, ISOs, and folders using DVDFab Player 5. The reason why we used it is that it is the only player which takes playing Blu-ray discs seriously. Other free Blu-ray players are not the right choice to play Blu-ray discs, ISOs, or folders. The reason is that they lack proper Blu-ray support and use open source libraries to decode Blu-ray content. This makes them sluggish which prevents you to enjoy a Blu-ray disc properly. So, instead of looking here and there on the web you should download and install DVDFab Player 5. Whether it is a PC or an HDTV, by using DVDFab Player 5 you'll be enjoying your favorite Blu-ray titles in eye-catching detail with HDR.
You can convert any 2D video playback in 3D video playback. Just click the 'Cube' icon and hover over the '3D Source Format' option and either select 'Side by Side' or 'Top/Bottom'. You'll need Red/Cyan glasses to watch the videos in 3D.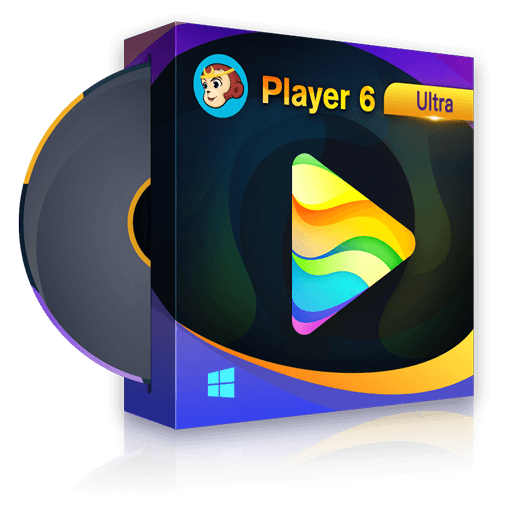 ① Play DVDs, Blu-rays and 4K Ultra HD Blu-rays with native menus
② Play non-disc media including all formats of videos, up to 4K
③ Play genuine 3D discs, ISO files, SBS or top & bottom 3D videos
④ Display the original HDR10 video to deliver crystal clear images
⑤ Output Hi-Res audios, like Dolby Atmos, with up to 7.1 channels