DVDFab Blu-ray Copy - Write Data
DVDFab Blu-ray Copy - Write Data can burn existing Blu-ray folder or ISO image file to Blu-ray writer, or convert Blu-ray folder to ISO image file. The source must be your HDD, not a blu-ray drive; the target can be a blu-ray writer or you can use this mode just to convert a blu-ray folder to an ISO by clicking on the ISO icon in the target area.

This mode calls the burning engine immediately and does not process the Source at all, so it will not apply compression. Your files/image must be able to fit on the blank media you have selected and be ready for burning.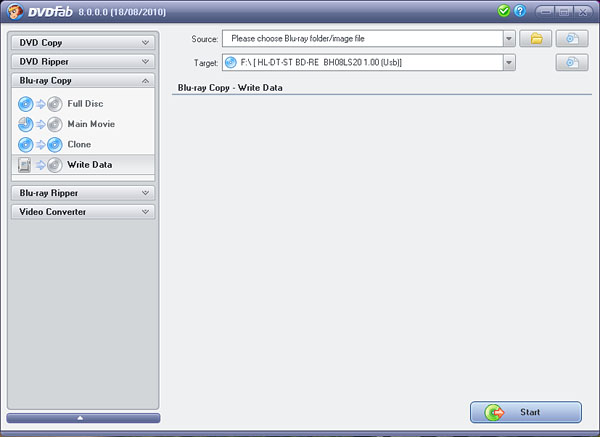 For a detailed video tutorial, you also can visit http://www.youtube.com/watch?v=ST307CEY5qM
Great news: DVDFab has released the new products Blu-ray Creator to help you to burn videos to Blu-ray discs.