How to Decrypt Blu-ray?
2019-03-19 04:53:32 Posted by Amanda
5354
Summary: Commercial Blu-rays are always protected with protections like AACS, BD+, Cinavia, and more. Here in this article, we will show you how to decrypt Blu-rays for legal use.
The Most Complete DVD/Blu-ray/4K UHD Solutions
DVDFab 11 offers the world's most complete DVD, Blu-ray and 4K Ultra HD Blu-ray backup solutions to help users make home backups to their DVDs, Blu-ray, and 4K Ultra HD Blu-rays in the ways they prefer.
Commercial Blu-rays are always protected with some sort of copy protection popularly known as DRM protection. This is a standard that the prerecorded Blu-ray come with. The only files on which this protection is applied are the stream files and not the other files that are present in Blu-ray disks. The protection applied for these pre-recorded disks is multilayered and the some of the major encryptions are as follows:
AACS Encryption
This encryption has been developed by a consortium of media industry leaders - Disney, Intel, Microsoft, Panasonic, Warner Bros., IBM, Toshiba and Sony. It stands for Advanced Access Content System (AACS) and the consortium is known as AACS Licensing Administrator. The encryption used as part of this is 128-bit AES encryption. The Blu-ray players or the device have the Device key while the disks have Media Key Block. Using these two a Media key is generated which decrypts the Title key which is finally used to decrypt the audio and video in the disc.
The list of keys with AACS encryption that are available with the players can be revoked in case there is a suspicion that the keys have been compromised. Whenever a newer version of Blu-ray is inserted into a player, the drive checks for the Host Revocation List in the "Media Key Block" and updates it in the permanent non-volatile memory of the device. This system ensures that even if there is a hack and list of keys is leaked (which happens quite often) by people looking to decrypt Blu-ray discs, the AACS consortium still has the chance of revoking the old list and creating a new one.
BD+ Protection
BD+ Protection is an optional protection that is applied in addition to AACS encryption. This protection garble or mangles the video content with instructions within the disc itself on how to repair the content. The instructions are known as BD+ instructions and run on a virtual machine. The virtual machine runs the BD+ instructions and fetches a "Fix-up Table" to fix the mangled parts of the video. However, BD+ protection was hacked by reverse engineering the VM in 2008 by hackers who were looking at how to decrypt Blu-ray with BD+ protection. Since then there is a continuous stream of changes in upcoming VMs along with BD+ discs which are yet again reverse engineered by hackers keeping the loop running.
Cinavia
Cinavia is a protection tool developed by a company called Verance and since 2012 it is compulsorily supported by all Blu-ray players. Cinavia protection is an audio watermark that is present in addition to AACS protection and helps prevent theatre recordings of movies (CAM recording) to be released online or as a personal copy. While this audio is not audible to human ears, Blu-ray players can read this watermark and figure out if the media content you are trying to play on a home disk is for theatres. It can also check if the AACS encryption used on the disk is similar to the one that was used on the original recording. The reason why this is hard to crack protection is that the watermark differs from each disk to disk therefore making a general decrypting logic difficult. If the player detects a counterfeit, it will degrade the audio quality of the Blu-ray, therefore, making it a poor copy of the original 4k content.
Why Decrypt Blu-rays
If you are a fan of Blu-ray quality content and have a pile of such discs lying in your cupboard, it is a good idea to digitize the content not only to avoid losing your bought content due to disc damage but also so that you can play it on your smartphone, desktop and other devices which are not capable of playing Blu-ray discs.
There are two ways to decrypt a Blu-ray. One way is to copy the Blu-ray in its digitized form with its protections intact on your computer using DVDFab Blu-ray Copy and the other way is to use a ripping software like DVDFab Blu-ray Ripper to remove the protections and save the media file in whichever format you like.
DVDFab Blu-ray copy
This tool is an expert in decrypting Blu-ray discs and making a copy/clone of it on another disc or DVD or on your hard drive with the 3D information intact. Wondering how to decrypt Blu-ray if it contains Cinavia protection then fret not because along with Cinavia Removal Solution (sold separately) you can even remove that protection from the content. DVDFab Blu-ray Copy can burn your Blu-ray media content both blank Blu-ray discs or even DVDs if you want to save money or just don't have a Blu-ray handy but still want to make a high-quality backup. In this case, you can make a BD format disc type which players only on a Blu-ray player or if you have a Blu-ray disc handy you can burn a Blu-ray disc like BD-R 25, BD-RE 25, BD-R 50 and BD-RE 50.
There are 5 different modes to copy a Blu-ray - Full Disc, Main Movie, Customize, Clone/Burn and Merge.
The cloning speed is super fast but despite that, the output will be a totally lossless media file with no quality loss.
How to decrypt Blu-ray using DVDFab Blu-ray copy
1. Download and install DVDFab Blu-ray copy.
2. On the home screen, select the Copy option from the menu bar at the top. If you have attached the Blu-ray player then insert the BD disk into it and navigate to it after click on the Add button on the main screen or just drag and drop the ISO or the Blu-ray folder to the main screen.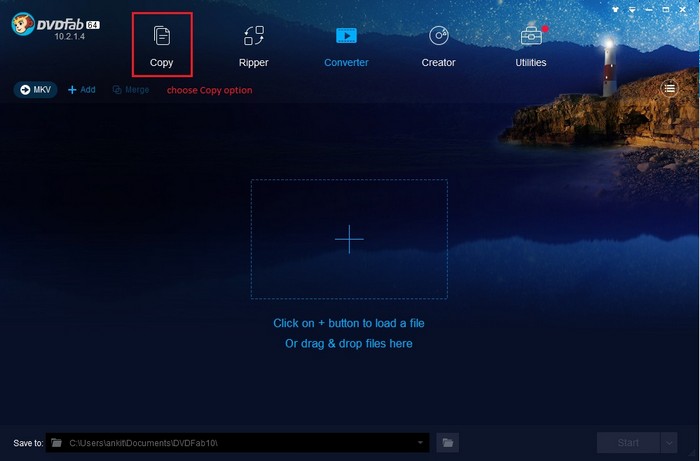 3. Once you have loaded the file and selected the Copy option, go to the Mode Switcher menu at the left side of the UI below the DVDFab logo to select the copy mode you require.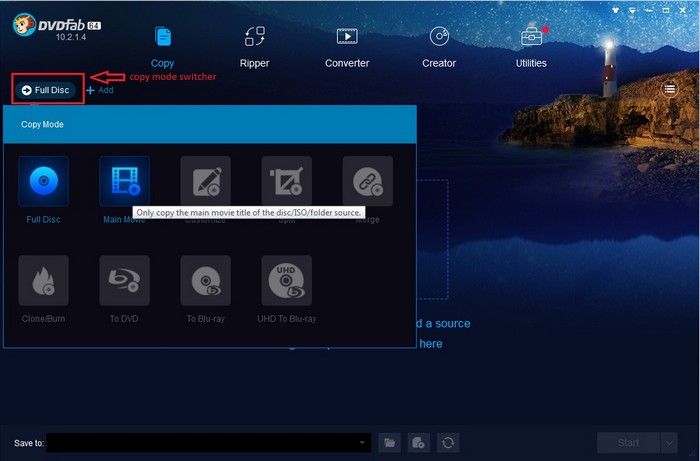 4. You don't need to copy all the data from the Blu-ray to another disc or on your computer. Before decrypting the Blu-ray and copying it, you can choose the Titles, subtitles and audio track that you want to copy to the output file. You can also define the volume label and choose the output file type from BD 50, BD 25 BD 9 or D-5 from the Advanced Settings panel.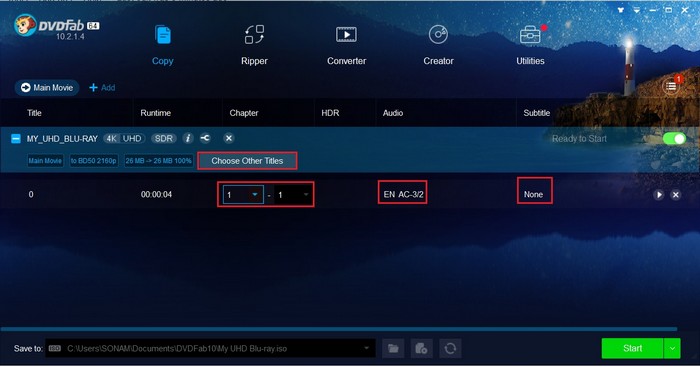 5. At the bottom of the UI, in the "Save to" bar select your optical drive as directory (copy to a blank disc) or select any folder (copy to a folder) after clicking on the folder icon if you want to create the ISO (copy to an ISO) in your computer local directory.
6. Click on the Start button to start the copy process immediately. A new window will open showing you the progress where you can pause or cancel the task if required. You can minimize the window to do any other parallel task using DVDFab software or any other application on your computer.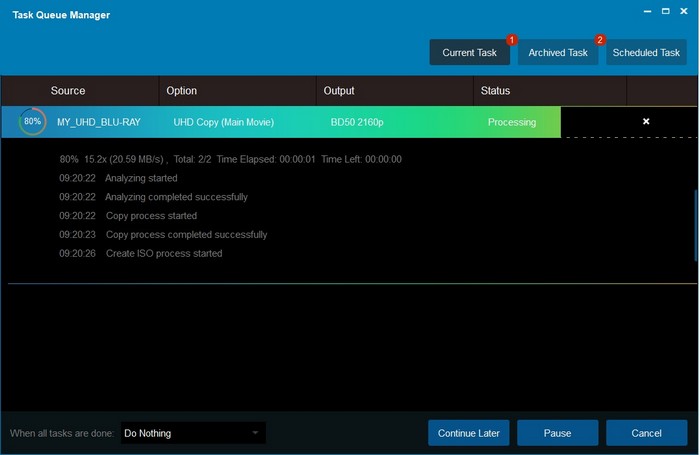 How to decrypt Blu-ray using DVDFab Blu-ray Ripper
With Blu-ray Ripper from DVDFab, you can convert the movie from your Blu-ray disc to an easy to use format. Convert it to any 2D or 3D format including H.265 and 4K high quality videos as well the more command formats like MP4, AVI or MKV. You can even just select your device and DVDFab Blu-ray Ripper will decrypt and convert the video and audio to the format that your device supports. Just like DVDFab Copy, here too you can use the separate paid tool DVDFab Cinavia Removal Solution. DVDFab Blu-ray Ripper supports batch conversion and is programmed to accelerate the ripping speed with multi-threading, multi core usage and support for latest NVIDIA CUDA and Intel Quick Sync. The tool has gone through many years of development and is highly stable and trustworthy.
1. Download and install DVDFab Blu-ray Ripper.
2. On the main screen select Ripper option. If the source is a BD then attach a Blu-ray player external with the disc inside. Navigate to the disc after click on the Add button and if it is an ISO you can directly drag and drop the file to the main UI.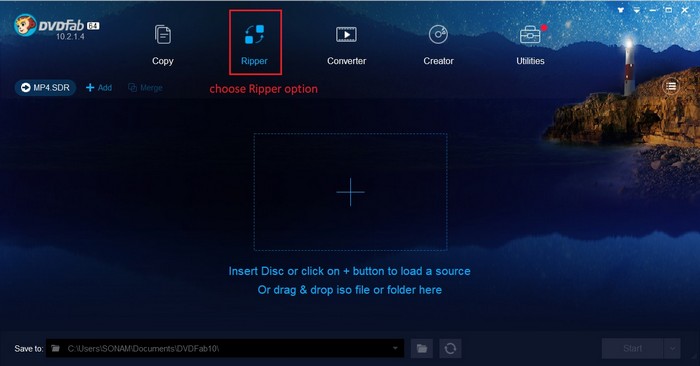 3. Once the source file has been loaded, click on the Profile Switcher button to choose the profile for conversion. With DVDFab Blu-ray Ripper you can decrypt the Blu-ray content to any audio formats, 2D & 3D video formats, or devices in support of video playback. The conversion can be done to any latest and high-quality formats like Passthrough, HEVC, 4K and many more.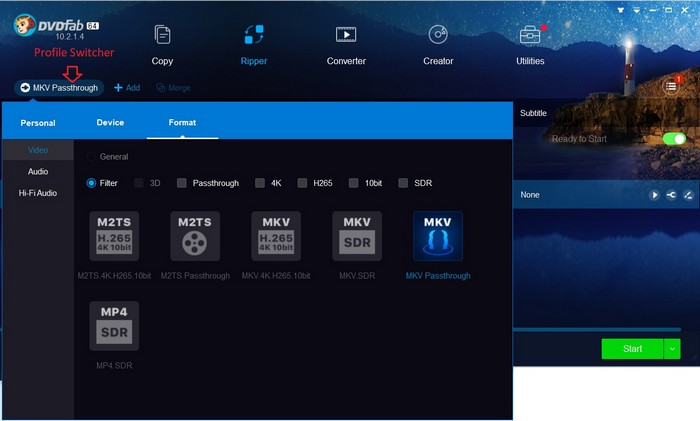 4. Select the Titles, Audio track and the subtitle you want to be present in the output file. Use the Advanced settings toolbar and the Video editor to do other customizations.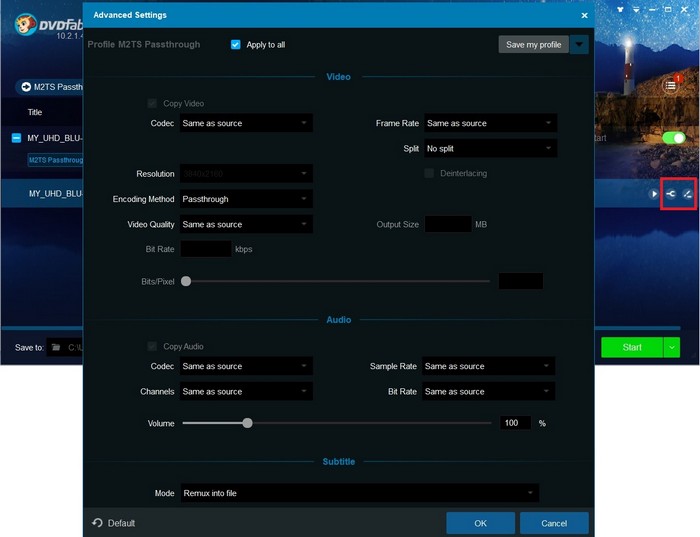 5. Once all settings are done click on the Start button to start the ripping process which you can see in another window. Once the output file is generated you can see the end result how Blu-ray decryption is done using DVDFab Blu-ray Ripper.
The world's No. 1 Blu-ray ripper software that can quickly rip and convert a Blu-ray to any mainstream audio & video formats for playback on PCs, portable and mobile devices.