How to Remove DVD Copy Protection in 2021
Summary: As many are trying to rip DVD to digital video formats or other devices for personal use, DVD copy protection removal software have emerged. Today we have many DVD rippers in the market. Among them, we might be confused about which one to choose from, and what is the best DVD copy protection removal for personal use. Don't worry, you would find all the answers in this article concerning these questions.
Free HD Decrypter
• Copy DVD and Blu-ray files with two backup modes: Full Disc and Main Movie
• Convert Videos/DVDs/Blu-rays to MKV or MP4 format
• Work at top speed and export files without quality loss
With lots of DVD movies on hand bought from local stores, flea markets, or even online stores, like eBay or Amazon, you'd like to play them on your laptop or DVD player but only to find out that these DVDs are either DRM encrypted or region code locked.
Currently, there are many kinds of DVD copy protections that forbid users to copy the DVD for distribution or commercial use, some regular and some advanced. In this part, these DVD copy protections are listed for users to understand the variety of them so as to find a most suitable way to remove copy protection from DVDs. Next are a list of DVD copy protections, let's look at it together.
1. Region Code
Region code refers to that a DVD disc is encoded with a code restricting the area in which it could be played, aiming for controlling DVD release and its price. Discs without region coding are called all region or region 0 discs, which are not under restriction. Here is the area each Region code number representing for: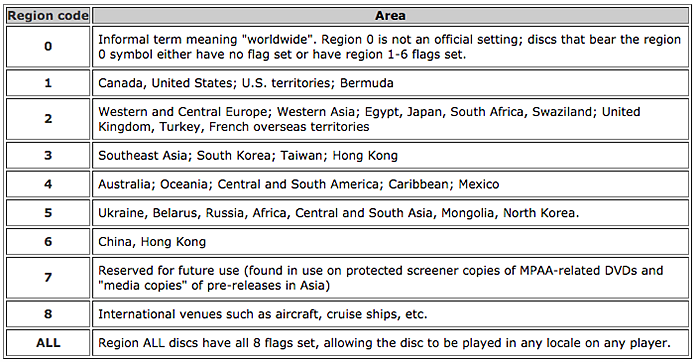 2. Region Code Enhanced (RCE)
Region Code Enhanced refers to a retroactive scheme to prevent playing DVD from one region in another region, which is also known as just "RCE" or "REA".
3. Content Scramble System (CSS)
Content Scramble System, abbreviation for CSS, refers to a Digital Rights Management (DRM) scheme applied on almost all commercially released DVDs. Introduced in 1996, it aims for preventing DVD video from being illegally copied, distributed, and viewed. So to copy a DVD disc, CSS protection removal is the first step you'll have to encounter.
4. User Operation Prohibition (UOP)
User Operation Prohibition, abbreviation for UOP, refers to a digital rights management scheme applied on DVD video discs that prohibits the viewer from performing a large majority of actions. If users are attempting to make changes to this kind of discs, it would present you relevant copyright notices like FBI warning.
5. Sony ARccOS Protection
Sony ARccOS Protection refers to a copy protection system developed by Sony. Designed as an additional layer working in collaboration with Content Scramble System (CSS), ARccOS deliberately creates corrupted sectors on the DVD when users are trying to use DVD copy software.
6. Analog Protection System (APS)
Analog Protection System, also named as Copyguard, refers to a DVD copy prevention system which is originally developed by Macrovision. If users are trying to copy DVD with APS protection, they would find out that the copied become garbled and unwatchable.
7. FairPlay
FairPlay, developed by Apple, is a digital rights management (DRM) technology built into the MP4 file as an encrypted AAC audio layer, aiming to protect copyrighted works sold through iTunes Store, and it only allows authorized devices to play the content.
8. CPRM/CPPM
CPRM/CPPM, short for Content Protection for Recordable Media or Pre-Recorded Media, refers to a mechanism employed for restricting the copying, moving and deletion of digital media on a host device, such as a personal laptop, or DVD player.
9. High-Bandwidth Digital Content Protection (HDCP, DVI, and HDMI)
HDCP, short for High-bandwidth Digital Content Protection, refers to a scheme of digital copy protection developed by Intel Corporation to prevent copying of digital audio & video content, including DisplayPort (DP), Digital Visual Interface (DVI), and High-Definition Multimedia Interface (HDMI), etc.
All right, we've listed 9 different kinds of DVD copy protections for your reference, after reading that, I'm sure you understand that different scheme might cause different copying or ripping errors when you try to reproduce the DVD content. In other words, if you want to remove copy protection from DVDs, all these types of DVD copy protections are the ones you should bear in mind when looking for right solutions.
Operating System: Windows, Mac and Linux
Removable DVD Copy Protection: Regular DVD protections like Region Code, CSS, UOP, etc.
Pro:
Free and open source
Rips DVDs and converts video files
Can queue up multiple conversions
Includes ready-made presets
Con:
Can't handle DRM and some advanced copy protections
Handbrake ranks top as one of completely free DVD copy protection removal software, and it is certainly a very popular one. Famous for an open source video encoder, Handbrake could be used to rip copy protected DVDs, helping users to remove DVD copy protection and rip them effectively. Many users are wondering, how to remove DVD copy protection with Handbrake exactly? Well, it is true that Handbrake cannot decrypt copy-protected DVDs natively, but you can achieve it with the help of a third-party tool called libdvdcss, which literally stands for lib (library) + dvd (DVD) + css (Content Scrambling System), a free and open-source software library for accessing and unscrambling DVDs encrypted with the CSS.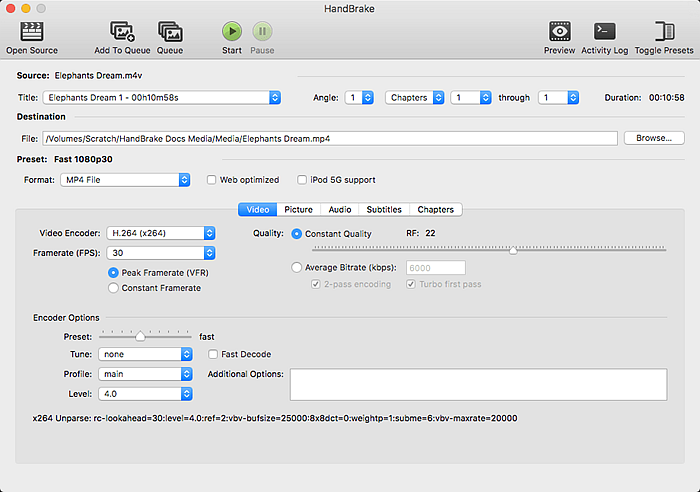 You need to install libdvdcss before using Handbrake to remove DVD copy protection. Libdvdcss can decrypt not only DVDs with CSS encryption but also some other similar copy protections. With Handbrake, you can watch movies with their laptop at any time. Next, we would show you the simple steps on how to remove copy protection from DVDs with Handbrake.
Step 1: Download DVD Copy Protection Removal Software
Here comes the 1st step to remove DVD copy protection with Handbrake: install Handbrake. You could go to its official website to make DVD copy protection removal software free download of the right version matching with your system.
Step 2: Download Libdvdcss
As we mentioned above, Handbrake needs to work in collaboration with a third-party tool called libdvdcss to remove DVD copy protection. Therefore, you are required to download and install libdvdcss. Search "libdvdcss" on Google, and find one to download, there should be many websites offering libdvdcss downloading service.
Step 3: Open the DVD Source
Launch Handbrake on your laptop, then click the "Source" button on the top left corner to load the source after you put the DVD disc in your drive.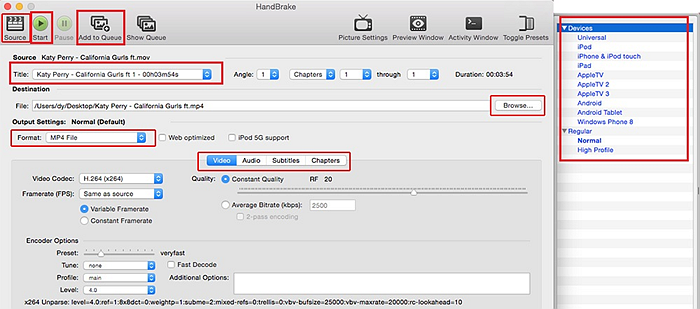 Step 4: Make Source and Destination Settings
Select the title you'd like to rip from the drop-down menu, then press "Add to Queue" button to add your selected title to your ripping list. How to choose multiple titles? Just add them to the queue one by one, and don't forget to set a destination directory.
Step 5: Select the Output Format
Choose an output video format from the list.
Step 6: Start to Rip copy protected DVD
Click on the "Start" button to let Handbrake remove copy protection from DVD on your computer. During the ripping process, the regular DVD copy protection shall be bypassed and disabled.
Operating System: Windows, Mac
Removable DVD Copy Protection: Regular DVD copy protections like CSS, RC, RCE, APS, UOPs and Sony ARccOS.
Pro:
Rips DVDs and converts video files
Con:
Can't handle DRM and some advanced copy protections
DVDSmith Movie Backup, created by DVDSmith, works as a good DVD copy protection removal software. This program can decrypt and remove DVD copy protections and help users to rip the entire DVD movie to hard drive. With DVDSmith Movie Backup, users could copy protected DVDs in just a few clicks, either the full movie or main movie. Besides disabling DVD copy protections, it allows user to select audios and subtitles.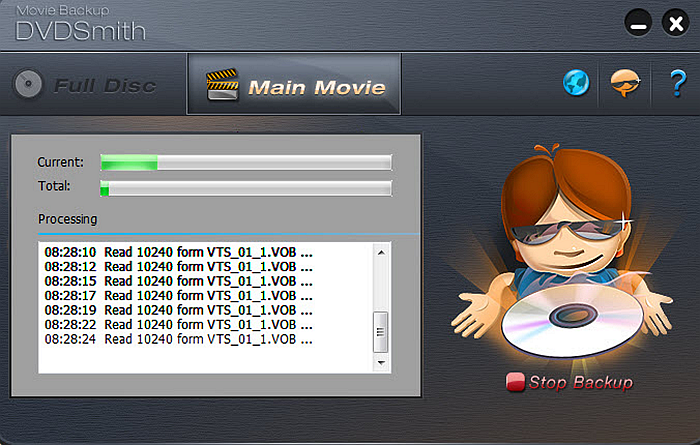 Steps on How to Copy Protected DVDs with DVDSmith Movie Backup
Step 1: Download and install the right version matching with your computer operating system.
Step 2: Then, you need to launch DVDSmith Movie Backup and then insert the DVD movie disc into your movie drive.
Step 3: Choose backup mode to copy the movie either with Full Disc (with bonus features) or Main Movie (without bonus features) mode.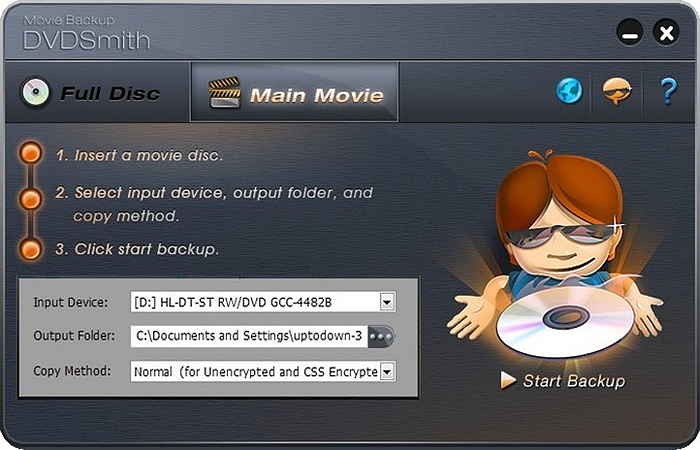 Step 4: Choose the drive location in the drop-down list where the DVD is inserted, and remember to set a directory for the backup files.
Step 5: Last, you can click "Start Backup" button to start the DVD copying process after all settings are done. During this process, DVDSmith, this free DVD copy protection removal software shall automatically bypass and remove DVD copy protections like CSS, Region Code or others. Upon the ending of the copying process, you can check the output folder for the backed-up movie file.
Note: regarding the copying speed, you could make it quicker by selecting different Copy Methods from Normal, Lowly Enhanced or Highly Enhanced. Certainly, the latter you choose, the more time it requires.
However, when it comes to some advanced and latest copy protections, Handbrake and DVDSmith might not be able to decrypt and remove all the time. What's more, many might find it troublesome and inconvenient to install libdvdcss. In this case, you might need a good and more powerful Handbrake or DVDSmith alternative to do the job. That way, DVDFab Passkey for DVD would be a nice choice.
Operating System: Windows
Removable DVD Copy Protection: Almost all known DVD copy protections like CSS, Region Code, RCE, APS, UOPs, ARccOS Rip Guard, etc.
Pros:
Rips DVDs into folder or ISO files
Work with 3rd party software to copy, rip and convert the disc video.
Keep updating to meet the latest encryption tech and copy protections
30-day free trial
Con:
Can't handle DRM and Cinavia, not free.
Constantly updated to deal with new DVD copy protections, DVDFab Passkey for DVD has been tested for countless times to be more powerful than any other similar software on the market in all aspects. This DVD copy protection removal software, a Windows-based driver that works on-the-fly, never stops being updated to catch up with the latest DVD protections, and offer users the latest decryption technologies and features. Having a DVD can't be decrypted on hand? Try this following solution.
Step 1: Install DVDFab Passkey for DVD
Unlike Handbrake DVD copy protection, which requires a third-party tool to decrypt a few copy protections, this DVD copy protection removal software allows you to decrypt almost all known DVD copy protections. Install it and click "Start DVDFab Passkey".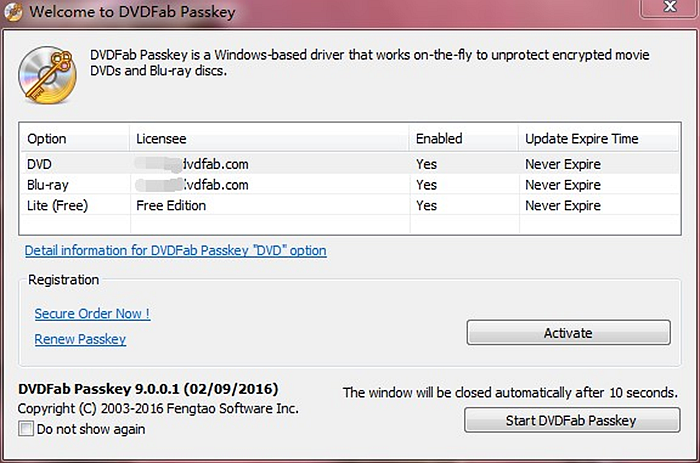 Step 2: Insert the DVD or Blu-ray source into the Drive
Insert DVD/Blu-ray into the drive, DVDFab Passkey shall remove the protection automatically after analyzing it, then presents you a general info relevant to the removed protection.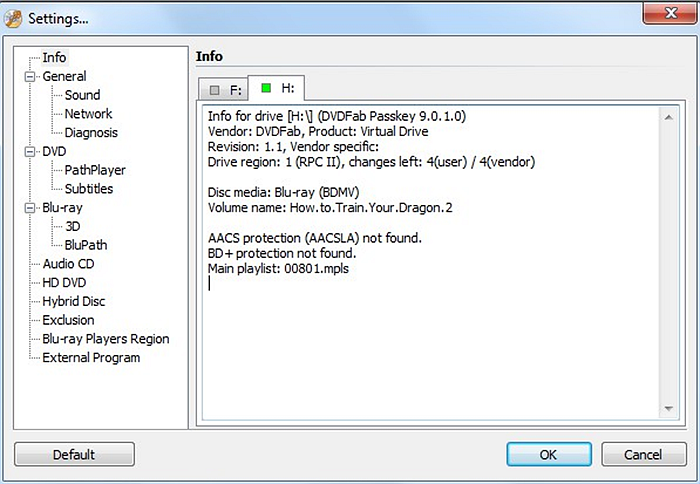 Step 3: Play or Work with other Software
Then, feel free to use other DVD or Blu-ray playback, or copy and ripper software to back up the DVD/BD content.

Even the above 3 great solutions would prove futile when it comes to Cinavia Removal. For the Cinavia removal method, you need a dedicated tool. For Cinavia, working to prevent DVD copying through the detection of watermark recorded into the analog audio of media such as theatrical films and DVD or Blu-ray discs. Different devices or firmware might cause problems like muted audio or suddenly stopped playback.
To remove Cinavia, you need a dedicated DVD Cinavia removal software Like DVDFab DVD Cinavia Removal. Now, with this Cinavia removal software, the backup discs are completely Cinavia-free and won't be interrupted during the process of playback by any Cinavia error message on any Cinavia enabled DVD playback devices, such as the PS3 and certain home DVD players. After removing the audio track planted with Cinavia watermark, DVD Cinavia Removal will produce a comparatively lossless AC3 audio track in replacement.
Here Are the Simple Steps to Remove Cinavia from DVD:
Step 1: Download and Installation of DVD Cinavia Removal
To download DVDFab DVD Cinavia Removal, just click the two buttons below, one is for Windows, the other macOS;
i Free Download i Free Download
Step 2: Navigate to Copy > Main Movie Mode
During the process of DVD reading and analyzing, this Cinavia removal software shall select the audio track from the audio section which is embedded with Cinavia watermark automatically. Remember to slash across the Cinavia logo to make sure to disable Cinavia.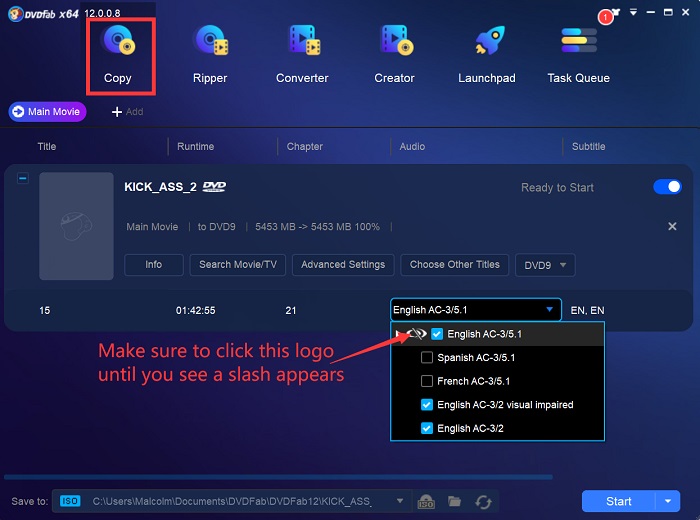 Step 3: Start Conversion
The last part is to start conversion to back up the Cinavia-clear DVD disc. But don't forget to select a directory before you click the "Start" button.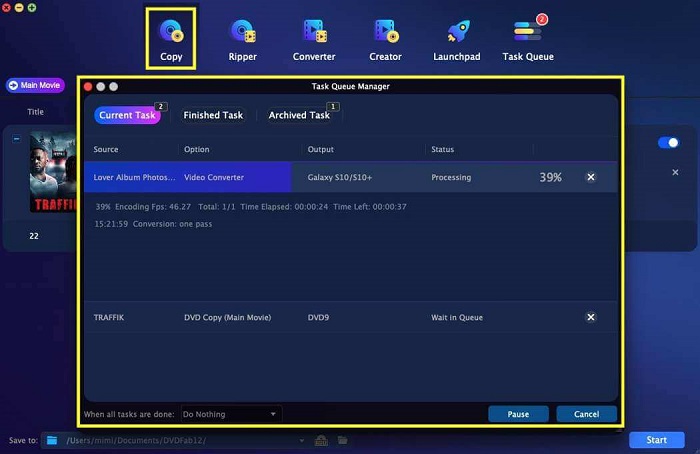 As currently, the movie industry and studios have been releasing new movies of Blu-ray or even 4k UHD version. DVD might sometimes become kind of outdated for the image resolution and quality. Then some users might ask, talking so much about DVD copy protection removal, how about removing Blu-ray protections? Don't worry, if you are in your search for a good way to disable copy protections from Blu-ray, we have a good recommendation for you: DVDFab Passkey for Blu-ray, the brother of Passkey for DVD.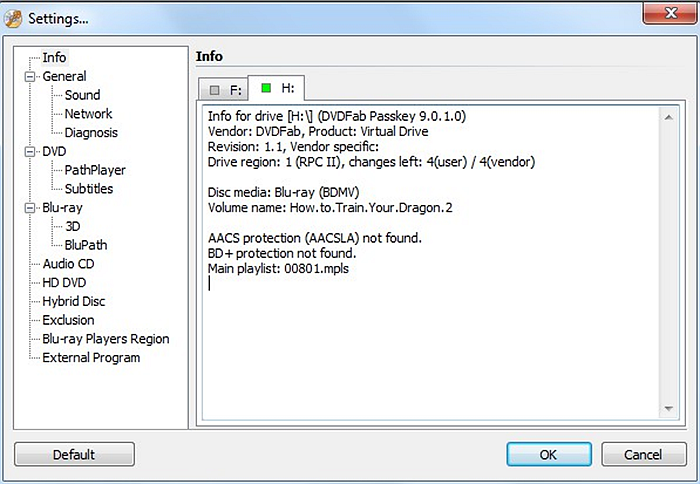 The copy protection removal method is very similar to that of Passkey for DVD as we mentioned above. 3 Steps would have your Blu-ray removed of copy protection once you insert the Blu-ray disc into the drive. Besides, you can also rip the decrypted Blu-ray to hard disk or image for your later use.
With this powerful Blu-ray software, you could save newly released DVDs like Sleeping Beauty, Iron Man, Parasite for enjoyment anywhere and anytime, a real bliss for home theater enthusiast. Next, we are going to conclude this article with some frequently asked questions (FAQs).
FAQ 1: What specific Blu-ray copy protections can Passkey for Blu-ray remove?
Removable Copy Protections: all known BD+ copy protections including the newest 15th generation BD+ and 3D BD+, AACS MKB v 26, and AACS bus encryption, Region Code, BD-Live, and UOPs for Blu-ray, with the only exception of Cinavia, which you are going to need a dedicated tool to disable. By the way, if you aim to upscale video from 480p to 1080p or from 1080p to 4K, you can try out another AI upscaling program, DVDFab Enlarger AI. It will convert DVDs to 1080p videos and rip Blu-rays to 4K videos for home play.
FAQ 2: How can I choose from the 3 DVD copy protection removal software?
If you are going to remove regular DVD copy protections like RC, RCE, UOP, you can go with Handbrake or DVDSmith to remove it for free. If you need an advanced tool that constantly updating to meet the new copy protection demand, you'd better to choose a powerful one like DVDFab Passkey for DVD. Although it's not for free, it offers you a 30-day free trial period, and could catch up with the ever-changing need for new DVD copy protections with a strong technical team.