4K HDR TV: Everything You Want to Know
Summary: With the application of HDR technology and the advent of HDR TV, people begin to pursue first-rank viewing experience for home theatre entertainment. This article aims to give you a full picture of 4K HDR TV and how to make the most of 4K UHD HDR TV.
DVDFab Player 6 Free
• Offer two display modes: PC Mode and TV Mode
• Provide menu support for DVD and Blu-ray discs, folders and ISO files
• Play 4K UHD, HEVC videos and 3D media contents with HDR 10 and HD audio output support
As a home theater buff, have you heard of 4K HDR TV? If you are seeking Ultra HD TVs, you have probably noticed that TVs with 4K resolution begin to stand in disgrace, though 4K resolution used to be considered an expensive feature merely available with high-end TVs. Most TV manufacturers have shifted their focus to HDR TV, a new hot spot for home theater systems. Therefore, you have come to the right place, since this post will take you through everything you want to know about 4K HDR TV.
HDR, short for High Dynamic Range, has been the latest prevailing buzzword for LCD TV you might have encountered these days. Looking backward, 4K, also known as Ultra HD, the previous hotspot for TV manufacturers, means adding more pixels up to 3,840x2,160 pixels, while HDR aims to create better, brighter and more dynamic-looking pixels.
TV with HDR capabilities supporting one or more HDR formats will be able to present HDR content with higher peak brightness and wider color, which is the reason why lots of home theater enthusiasts are keen on HDR TVs. For audio playback, HDR means the difference between the softest and loudest parts of the composition, while for video, it refers to enhancing the contrast between the brightest whites and the darkest blacks a TV can display.
Besides, HDR is often paired with the latest "Wide Color Gamut" technology, aka WCG. Anyway, not all TVs with HDR provide the same benefit to picture quality, since the output image quality presented by HDR TVs vary considerably with prices and sizes. Therefore, think twice before you act to make the right choice.
Up to till now, there are five different types of HDR, namely, HDR10, HDR10+, HLG (Hybrid Log-Gamma), Dolby Vision and Advanced HDR by Technicolor, among which HDR10 is the original and currently the most common format of HDR, an open standard that has been widely applied by numerous TV manufacturers, media streamers like Netflix, Amazon, Disney+ and Apple, and Blu-ray Disc Association. It is a common practice that all 4K TVs on the market are HDR10 capable, meaning that your TVs will be compatible with 4K Blu-rays, 4k media player, and 4K streaming content.

For detailed information on HDR10, HDR10+, Dolby Vision, click HDR10 to get more clue. By the way, Hybrid Log-Gamma (HLG) is a format born from a partnership between BBC and Japanese broadcaster NHK, developed with an emphasis on live broadcasting, without using metadata, which works to its advantage in some ways, but depends on how TV manufacturers perform it.
Similar to HLG, Advanced HDR by Technicolor is designed to be backward compatible with SDR displays, as announced that it will simplify HDR deployments for distributors who will send one signal to all of their customers regardless of which TV they own. However, it remains to be seen whether Advanced HDR can take SDR content and upscale it to HDR.
Before getting down business to 4K HD TV, let's start from scratch. To ensure optimal display for HDR content on HDR TV, you need to have several trump cards. To begin with, an HD TV that supports one or more HDR formats; second, HDR content that is produced using one or more of the above-mentioned formats; finally, a professional playback device, an Ultra HD Blu-ray home player, 4K media player software like DVDFab Player 6, or HDR-compatible media streaming services such as Netflix and Amazon.
Since HDR technology provides an exceptionally wide color gamut for TV to display vibrant picture that is closer to what human eye perceives naturally in the world, 4K HDR TVs, not only presents video content in 4K resolution but creates a more natural viewing circumstance where dark colors become much darker, bright colors much brighter, shadows have more depth, highlights get more natural and clearer. All these exquisite details pop off the screen in a harmonious ratio and perfect contrast, thus giving you the utmost viewing experience via crystal-clear picture quality. These are the irresistible charisma of 4K HDR TVs.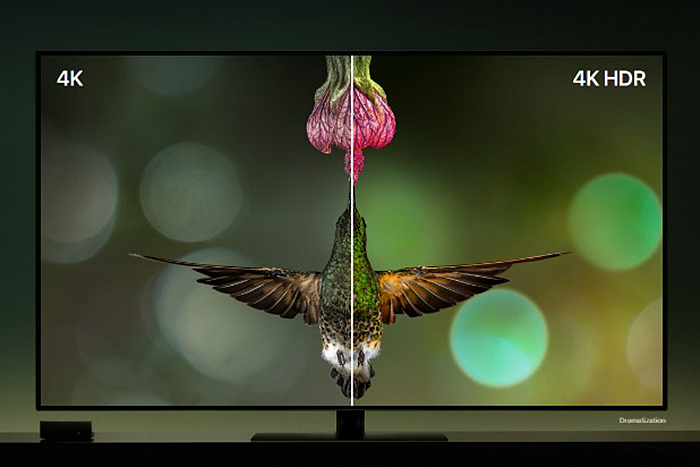 If your TV is equipped with the latest and finest HDR technology, color display and 4K Ultra HD support, it's hard to identify much of the content you are watching can make the best of these technologies. In a sense, you can resort to the following tips to ensure a better HDR display.
Ultra HD Blu-ray Home Player
As we know, Ultra HD Blu-rays can support 4K Ultra HD resolution, HDR and color expansion, and top-ranking surround-sound codecs such as Dolby Atmos and DTS:X, thus driving UHD Blu-ray releases with HDR support to be the mainstream streaming media content pursued by movie fans. Hence, if you have a standard Ultra HD Blu-ray player such as Panasonic DP-UB9000/DMP-UB700, Sony UBP-X800, Pioneer UDP-LX500, and Xbox One S/X, you will be more likely to enjoy the premium HDR content with your 4K HDR TV.
Peerless 4K Ultra HD Blu-ray Player: DVDFab Player 6
If you are reluctant to invest in hardware 4K Blu-ray home player, you are highly recommended to try out the best 4K media player software, DVDFab Player 6, which stands out from the crowd due to its highlighted features listed as follows.
i Free Download i Free Download
• Menu navigation support on DVDs, Blu-rays and 4K Ultra HD Blu-rays
• Support 4K UHD and HEVC/H265 videos, other media files, and BDAV discs
• Support HDR 10, Hi-Res Dolby Atmos and DTS:X
• 3D playback on all forms of 3D media content
• Import DVD and Blu-ray discs to the local library as ISO files
• PC and TV modes optimized for small and huge screens
• Quick and precise smart preview with adjustable thumbnails
• Organize and manage local media library by online poster walls
• Customized settings for playlist management and playback control
• Available on Windows and Mac with a 30-day full trial
What makes this 4k media player different from its rivals lies in that this 4K Ultra HD Blu-ray player can deal with all kinds of media playback, meaning that you can enjoy whatever you like with the utmost viewing experience, a cost-efficient media player beyond example.
8. Best 4K HDR TVs Worth Your Trial
Are you looking for 49in HDR TV to make your home theater system shining again? As we know, Best Buy, Amazon, and Walmart are gaining the lead to sell 4K HDR TVs. Currently, the Samsung brand is considered the laureate among numerous 4K HDR TV manufacturers because of its impressive performance and unequaled features. Anyway, aside from this HDR TV brand, there are other alternative options worth your concern.
Price: $4999.99
Rain or shine, this grand 4K HDR TV is designed to allow users to experience vivid and divine picture quality in their favorite outdoor spaces given QLED 4K, 2000+ nit brightness levels, an IP55 rating that ensures protection from water and dust. You can navigate The Terrace with your voice via the remote control. More importantly, the 4K HDR TV soaks in lifelike picture quality outdoors with Quantum Dot technology that delivers 100% Color Volume for a billion shades of brilliant color, without washing out extreme brightness. Thus, you can enjoy stunning shows and movies even on sunny days with a display that minimizes reflection and enhances picture contrast based on Direct Full Array 16X and Quantum HDR 32X that sets a new standard for incredible minute detail and peak brightness. Meanwhile, the 4K HDR TV has built-in 4K AI upscaling technology that allows for reducing image noise, restoring lost details, and offering a crisp definition. Moreover, you can tap to mirror content with Apple AirPlay and SAMSUNG Smart Things and enjoy multiple views at the same time. However, such a marvelous 4K HDR TV comes at a price, not affordable for everyone.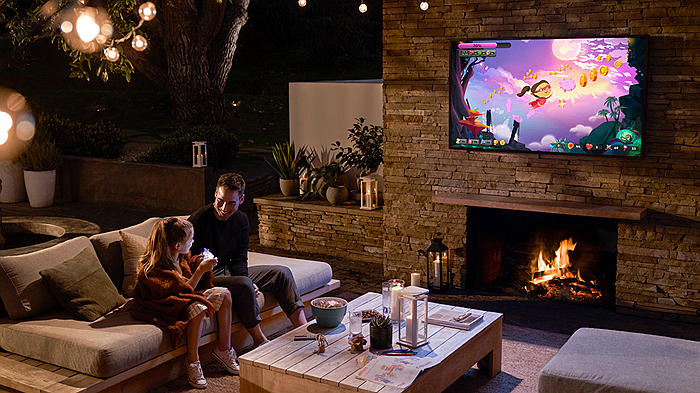 Price: $4499.99
This 4K HDR TV allows you to experience the revolutionary self-lit pixels of LG OLED TV C9, with perfect black and intense color found nowhere else, thus bringing out shadow details in the dark scenes that will truly take your breath away. Remember only LG can provide the exceptional picture quality of perfect black and intense colors with smooth and responsive gameplay to take PC gaming to new heights with an unparalleled gameplay experience. Hence, this 4K HDR TV is a great boon for game lovers who require the newest features and 1ms response time and low input lag to ensure smoother and real-time action. What's more, LG's most powerful 4K processor allows for noise reduction to enhance images, action, and color with the ultimate goal of bringing the most immersive viewing experience powered by AI at its core.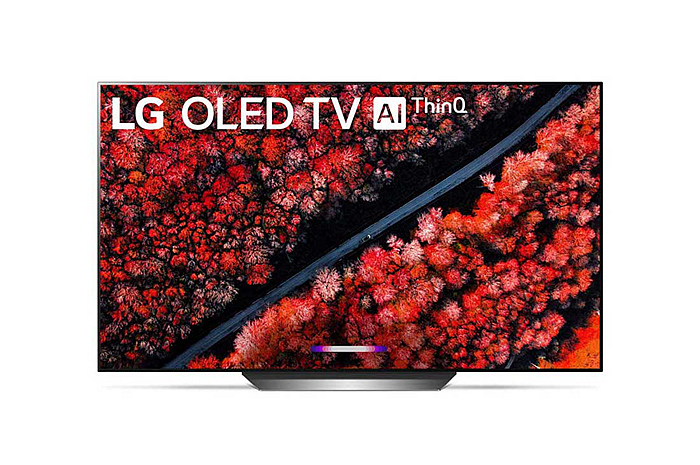 Price: $2999.99
This 4K HDR TV aims to bring true-to-life pictures and acoustics based on its combination of most powerful Picture Processor X1 Ultimate with Pixel Contrast Booster and unique MASTER Series philosophy to provide optimal captivating audio-visual performance. Meanwhile, this OLED 4K HDR TV pairs the deep black and natural color of OLED with Pixel Contrast Booster to enhance color contrast in high luminance. With this wonderful 4K HDT TV, you can easily connect your home theater system to unleash an immersive and authentic cinematic experience. Of course, you can enjoy Netflix's originals to satisfy your personal needs.
Price: $799.99
This popular 4K HDR TV, equipped with Dual-band Wi-Fi and Ethernet port, has built-in 4K Creative Pro upscaling engine, with the aid of HDR technology, aiming to present stunning viewing experience, with 4K Ultra HD resolution. Also, it allows users to stream 500,000 movies and TV episodes across thousands of streaming channels. Its price is affordable and acceptable.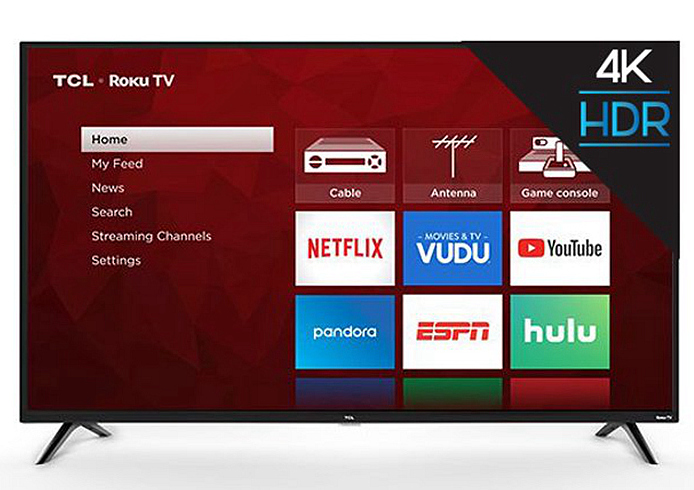 Price: $549.99
Is the Vizio M Series worth the extra money? Absolutely! This 4K HDR TV offers better picture quality and more features than TCL-6-Series. Vizio Quantum Color technology produces up to 80% more color than standard 4K HDR TV, delivers up to 3X brighter imagery with striking details in every highlight. Besides, its powerful Active Full Array backlight features 90 Local Dimming Zones for a striking contrast and deep blacks. What makes it more competitive lies in that it works seamlessly with Apple AirPlay and Chromecast built-in. With this 4K HDR TV, you can stream movies, TV shows, music from over 100 free live and original channels, and mirror your screen for presentations and video chats directly on your Vizio SmartCast TV.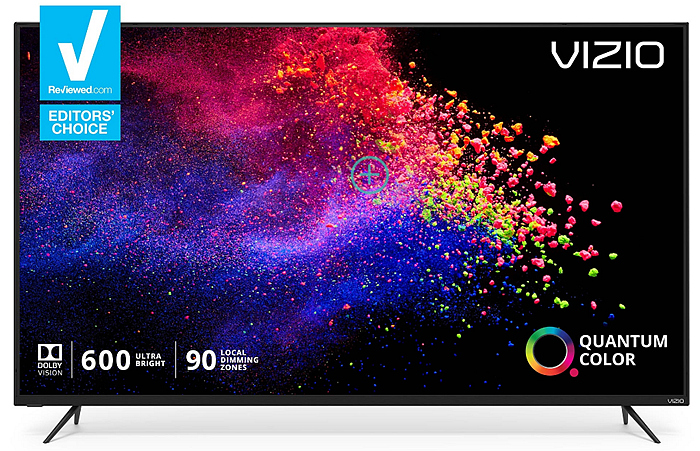 Price: $49
This household 4K HDR TV box, compatible with Google Assistant and Chromecast built-in, features the latest technology and high-speed 4K processing for up to 60fps playback, adopts Dolby and DTS technology to deliver crisper and three-dimensional surround sound, installs tons of awesome apps, to enable users to enjoy the lifelike audio-visual experience with fast and stable performance than normal rivals.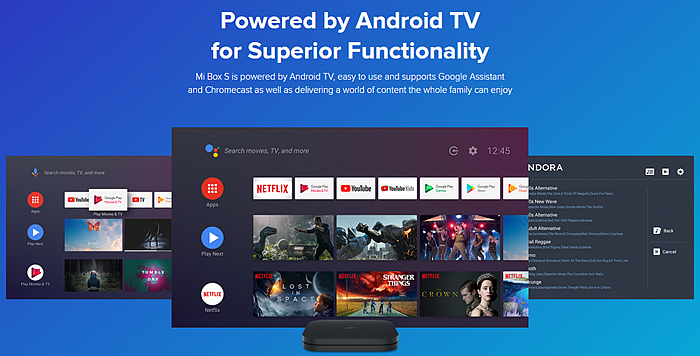 Price: $199
Apple TV 4K enables you to watch movies and TV shows in amazing 4K HDR, which finalize the pictures with immersive sound from Dolby Atmos. You can enjoy rich content from apps such as Netflix, Amazon Prime Video, HBO NOW, and Hulu. With Siri, you can control TV playback with just your voice, a new feature for the latest 4K HDR TVs. Besides, streaming sports shows from apps like NBA and MLB, watching breaking news from apps like Bloomberg and CNN, as well as live-channel and on-demand packages from apps like DirectTV Now, YouTube, and Sling TV. One more world, this tinny TV box is highly compatible with HD and 4K HDR TVs with HDMI.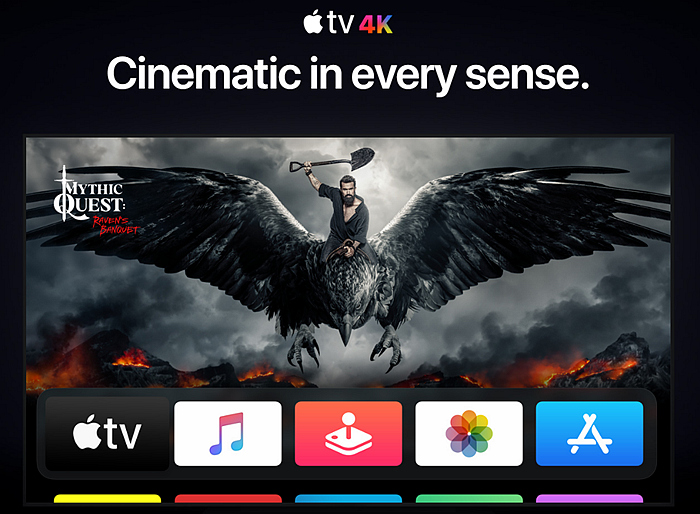 Conclusion
Now you might have understood HDR TV meaning and 4K HDR TV, and familiarized yourself with the best 4K HDR TVs on the market, some of which even support 4K upscaling. Whichever you choose, stunning viewing experience and your willingness to invest shall be given top priority. By the way, to seek better picture quality and peak brightness, you are suggested to adopt professional AI video upscaling software to upscale your video from 1080p to 4K instead of relying on 4K HDR TV AI upscaling features.