Colorize Black and White Photos Manually & Automatically
Summary: Colorizing black and white photos is fun and can give new life to those old photos. The most amazing part is that you can colorize old photos automatically not just manually. If you are now wondering how it is to be done, then you can read this article. And we have prepared some best photo colorizers to help you colorize a photo manually and automatically.
DVDFab Photo Enhancer AI
• Enlarge photos up to 40x with more details added
• Sharpen photos by reducing background/chroma/luminance blur
• Make photos clearer by removing motion blur and out-of-focus blur
• Suitable for both beginners and experts
In recent years, colorizing black and white photos has become something of a trend. People love colorizing old photos because it is the best way to bring that history alive in modern times and we can appreciate them in a better way. I'm pretty sure that you have run into some b&w (black and white) photos in your family album that you want to colorize. Then here comes the question you concern which is how to colorize a black and white photo. Below we have prepared some photo colorizers for you, both manually and automatically. And DVDFab Photo Enhancer AI is the best tool which serves online and offline to help you colorize photo.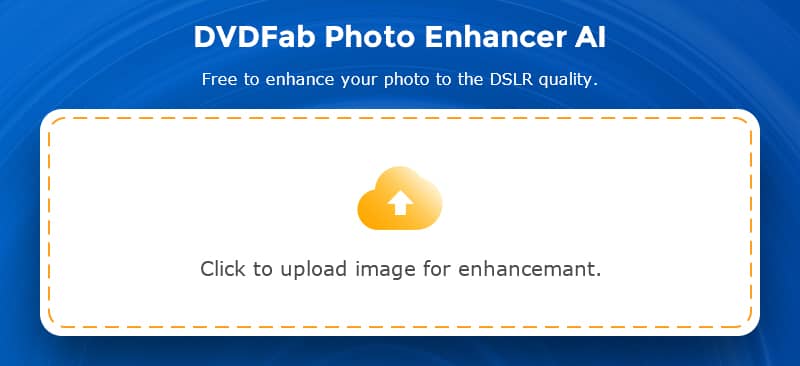 Whenever it comes to photo editing, lots of people tend to consider Photoshop. One of the most important thing should be noted for you is that Photoshop is a mechanical tool, so many steps are involved to colorize photos with it.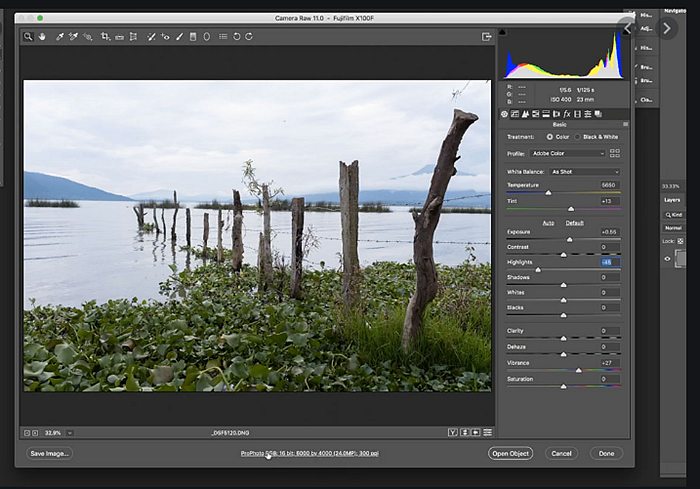 How to colorize a black and white photo with Photoshop?
Step 1: Cleaning the photo
Open a black and white photo in Photoshop, then right-click to open the Smart Object and go to Filter > Noise > Dust and scratches. Next, you need to set the radius to 1-2 pixels and adjust the threshold to 20-30 levels. This step aims to remove the scratches and dust.
Step 2: Adjusting the photo tones and contrast
If you are dealing with a sepia photo, then you can add a Black & White adjustment layer to neutralize the tones. Another thing you can do it adding the Levels adjustment layer to adjust the contrast. And maybe you need to darken the shadows many times.
Step 3: Converting the photo to CMYK
Click Image> Mode> CMYK Color when you feel satisfied with the photo. If your photo is sepia, these steps make its original tones less.
Step 4: Colorizing the photo
This is the last and also the most complicated step. Here are the things you need to do.
First, adding a new Solid Color adjustment layer in the approximate hue of the area you're working on.
Second, pick up the layer mask next to the Solid Color adjustment layer and fill it with black to clear the color overlay.
Third, switch to the Brush Tool and adjust the hardness and size, depending on the area you're working on.
Fourth, repeat the process to add color to all the left areas when you are done with skin.
Ultimately, you can make some tweaks to improve the image further. For example, add a Color/Saturation adjustment layer on top of the layer stack, to add some vibrancy to the image.
Pros:
Very professional on colorizing photos
Offer many effects
Cons:
Not friendly for the novices
Take a long time to colorize one photo
No denying that it is a professional for colorizing photos, however, as you can tell using Photoshop to colorize a black and white photo is no small task largely because it is too professional to be used for those novices. You have to make some adjustments yourself.
If you tend to colorize your grayscale photos through manual works, yet feel Photoshop too professional to operate, here is another one for you.
This is a website where you have to colorize a photo manually which can take a long time to color a single photo. You will have to put a reference photo and then choose colors from it to add colors to each element in your desired images with customization tools.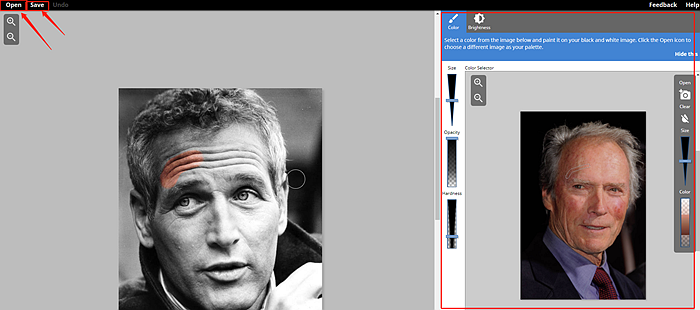 Step 1: Open this photo colorization website
As soon as you open it, you will see its main interface presented as the screenshot shows.
Step 2: Import your own photo
To import your own photo, you can click the "Open" tab on the upper-side left corner.
Step 3: Colorize your black and white photos manually
It may take some time for you to figure out how to colorize photos with it. And here are two main settings - color and brightness - offered to make old photos more colorful.
Step 4: Save the colorized photo
Like always, the last step is to click on the "Save" button to get the colorized photo on your computer.
Pros:
Online platform for colorizing black and white photos without charge
Output images in the same size of the input
Cons:
Colorize old photos via manual work
Require expert knowledge to utilize it
If you are a beginner and hope to automatically colorize your black and white photos, then just keep reading this article because we have prepared many other efficient tools, online platforms, and software, to help you achieve photo colorization automatically.
Still wonder if there is a much simpler way to colorize black & white photos, as the ways discussed above are way too complex for you? Well, indeed photo polishing itself is a time-consuming job and usually requires expertise, unless we have an AI-assisted photo colorizer like the one offered by the DVDFab Photo Enhancer AI, which is an all-in-one photo enhancement solution package offering five independent working modules named PhotoPerfect, Colorize, Cartoonize, Enlarge, Denoise and Sharpen, respectively. Among these five modules, the Colorize module is the photo colorizer that you can use to add vibrant colors to your black & white photos so that they look like shot just yesterday.
How to colorize a black and white photo with it? Refer to the steps below.
Step 1: Choose the Colorize module
After installation, launch this photo enhancer software and choose the Colorize module.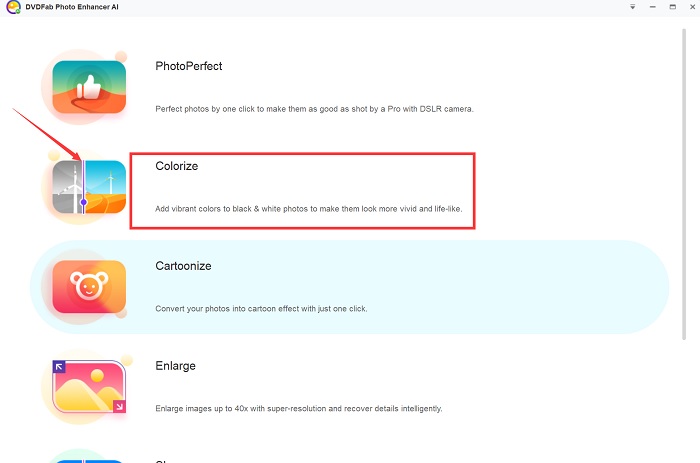 Step 2: Load your B&W photos to colorize
Click the Open Images button at the upper left corner to load your black & white photos. When the old photo is uploaded, this colorizer will automatically create a preview for the output photo.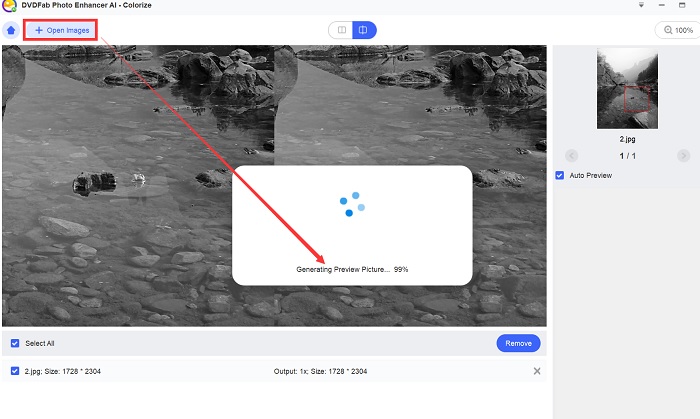 Step 3: Save the colorized photo
If you're okay with the result, then click the Save button to save the final work.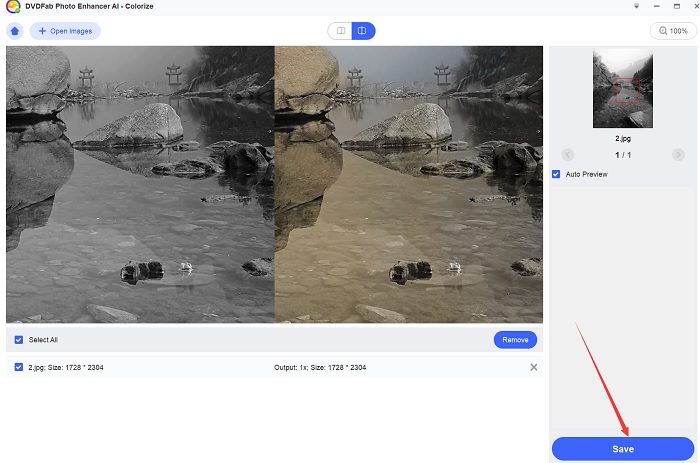 Pros:
Colorize black and white photos automatically with AI-powered algorithms
Extremely simple and easy to use
Can give you a preview photo to check if you are satisfied
Can batch process multiple photos at one go
Con:
Only works on Windows computer as of now, macOS version is not available
ColouriseSG uses a deep learning colorizer prototype specifically for old Singapore photos. Before using this online photo colorization tool, you are required to verify the captcha first. Only after the checking, you can upload your old black and white photos.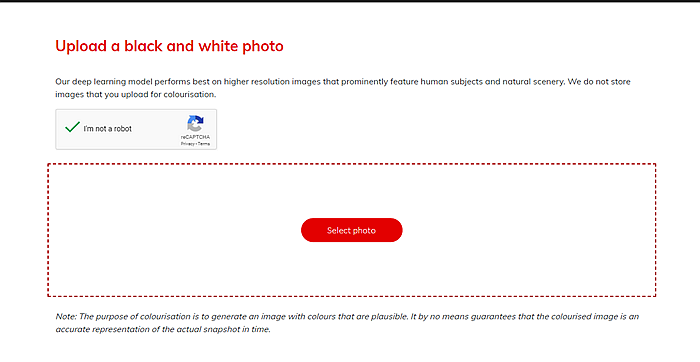 How to use this black and white image converter?
Step 1: Upload a grayscale image
It is slightly different from other online platforms when it comes to uploading images. That is, ColouriseSG only supports to load images from computer without supporting URL uploading. Click on the "Select Photo" button to upload a black and white photo.
Step 2: Download the result
Once your photo is uploaded, this online tool will automatically colorize it. When the result comes out, you can save it on your local file. Or, you can also download comparison or go to colorize a new one.
Pros:
Cons:
Not support URL
Need to verify captcha frequently
Different from other online tools, Lunapic restores old photos by using a gradient filter instead of an automatic or manual function. Below are the stops to colorize a black and white photo with it.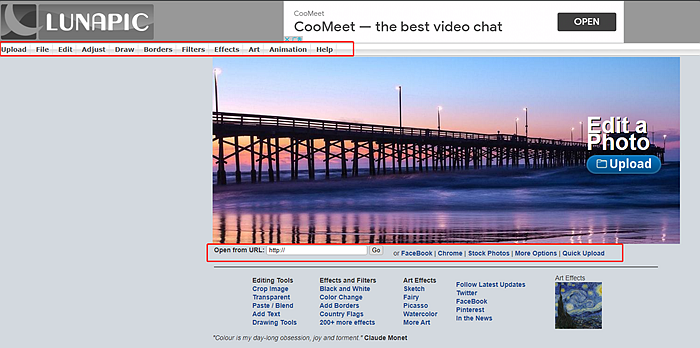 Step 1: Add your photos
You can click on the "Upload" button to upload your black and white photos via a photo URL. Alternatively, you can go to the "File" tab and select the "Upload Image" option to add your photos from the computer
Step 2: Customize your photo
In addition to coloring, you can also apply some effects on the old photos if needed.
Step 3: Save the edited photo
When finishing the colorization process, you can decide whether to save it on your own local file or share it on some social websites.
Pros:
No watermark
Allow users to add text on photos, rotate photos, etc
Share the edited photos on Facebook, Twitter, and other platforms
Cons:
A little confused to use it
Can not colorize black and white photos in a realism way
Set limitations on the type of pictures
Many insert ads on its page
Takes a long time to upload your image
Image Colorization API uses a deep learning model that has been trained to add color to grayscale images with amazing quality to colorize black and white images or videos. This online-based colorization tool can also be considered when you need to add color to old family photos or bring an old film back to life with colorization.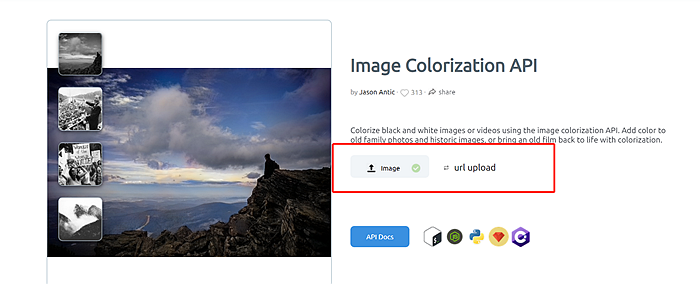 How to colorize black and white photos with it? This online platform is a one-click solution for old photo colorization. To use it, you just need to upload one of your old images from your computer or via an URL. Then after a few seconds of processing, you will see the colorized photo.
Pros:
Fast colorization speed
Impressive result
Cons:
Shrink image larger than 1200px
Not support saving
The above mentioned old photo colorizers are all online platforms, but ColorSurprise AI Pixbim is a black and white image converter software based on advanced artificial intelligence and is trained to colorize black and white photos.
Before downloading and installing this black and white image converter software on your PC, you are required to input your email address first to get access to the downloading process.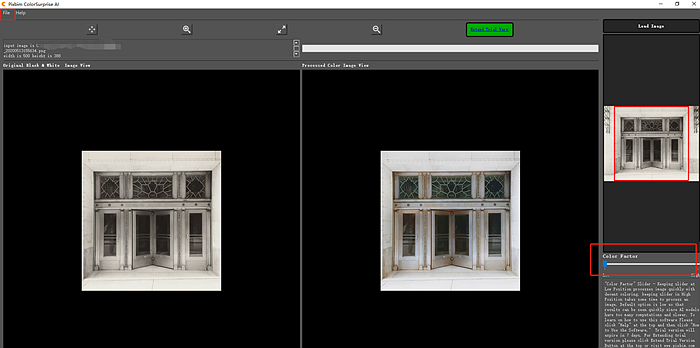 How to colorize old photos with it? Being a very easy-to-use software, the Color Surprise AI Pixbim only asks 3 simple steps to colorize pictures and only takes a few seconds to colorize a photo without manual work.
Step 1: Open this application
Open this application through a double-click.
Step 2: Add an old B&W photo
Click on the File tab, then select the Open option to load an image from your PC.
Step 3: Wait for the photo colorizing
This black and white image converter will automatically generate a preview and show the photo comparison side by side a short time later.
Note: This software offers a "Color Factor" slider designed with low position and high position that determines how much time the software will take to finish the photo colorization process.
Step 4: Save the colorized photo
The last step is to click on the "Start-Process Full Image and Save" button to save the colored version on your PC.
Pros:
Offer a free version
No manual work involved
Provide impressive results
Cons:
Have to use your email account
Only available after downloading
Now, you have known all the pros and cons of those photo colorizers and also figured out how to colorize black and white photos with them. The next thing to do is selecting the right one to meet your needs due to each black and white photo converter has its own strengths and weakness. In addition to old photo colorizing, image upscaling has also been a hot thing to do. And if you know nothing about image enhancement, you can click here.
Other Articles You May Like:
Top 13 Best Photo Restoration Software 2020
Top 10 Solutions to Convert Low Resolution Image to High Resolution
Top 20 Best Photo Size Editor
10 Best Photo Color Editors to Make Your Photos More Life-Like
Top 5 Solutions to Resize Image without Losing Quality
How to increase resolution of image
20 best free photo editors 2021
Top 10 best photo editors 2021 to deliver you breathtaking photos
Top 7 MOV to GIF converters to convert MOV to GIF
7 best ways to make 4K photos
Top 7 Best Free Downloadable Photo Editing Software
Ten Best Photo Blur Removers