How to Copy DVD Free with DVDFab DVD Copy?
DVDFab DVD Copy is not free, but you can copy DVD free within the 30-day trial period, with full functions. So, the 30-day trial version in fact is a DVD copy freeware, probably the most powerful one. This tip is about how to copy DVD free with DVDFab DVD Copy. Now let's dive down to the detail.
Step 1: Download DVDFab to use it within the 30-day trial period
Download DVDFab at www.dvdfab.cn/download.htm and install it according to the wizards. Then it can be used as a free DVD coping software for 30 days.
Step 2: Run DVDFab, and choose a DVD copy mode
Start up DVDFab after it's installed. Choose the Copy option. On the left panel of the interface, click the copy mode icon to select the one you want to use among all the 6 DVD copy modes. Here we're going to use Full Disc mode for example.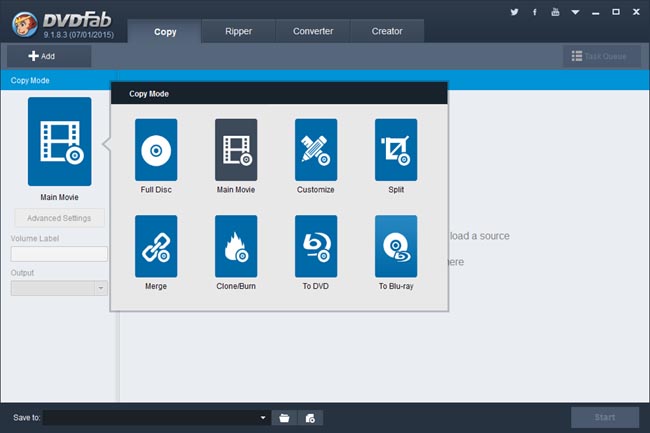 Step 3: Load in the source DVD and specify the size, type and path for the output
Insert the DVD disc you want to copy into the DVD drive then DVDFab will load it in just one or two seconds later. Or if the DVD is backed up as a digital file, just drag and drop the file into DVDFab. After it's in, you'll see it showing on the interface. Now go to the left panel to select DVD5 or DVD9 for the output size you like. Move to the bottom of the interface to specify a storage path for the output file which can be a folder or an ISO image file. Or choose the DVD drive of/connected to your computer here if you want to burn the DVD into a blank DVD disc.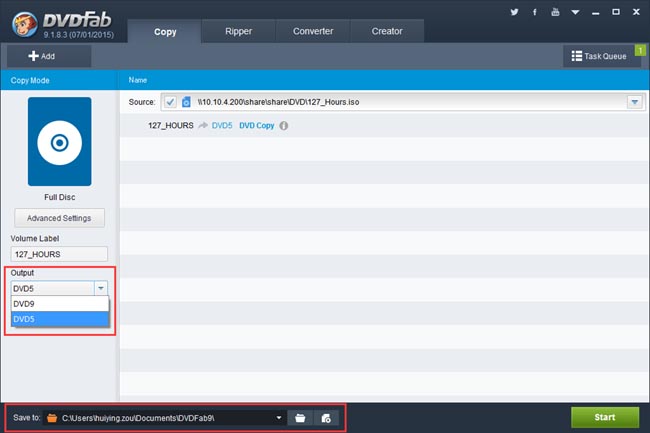 Click Advanced Settings on the left panel, under the copy mode icon, and you can go to set the loop play mode for the output if you want, and you can also choose whether to copy non-DVD files.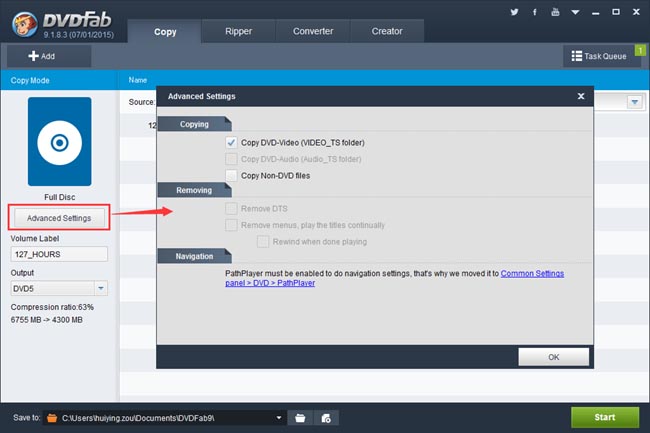 Step 4: Start copy process
OK. Now go ahead to the main interface to hit the Start button. During the copy process, you can view detailed progress info, you can also set your PC to shut down, or hibernate, or set DVDFab to exit the program, when all tasks are done.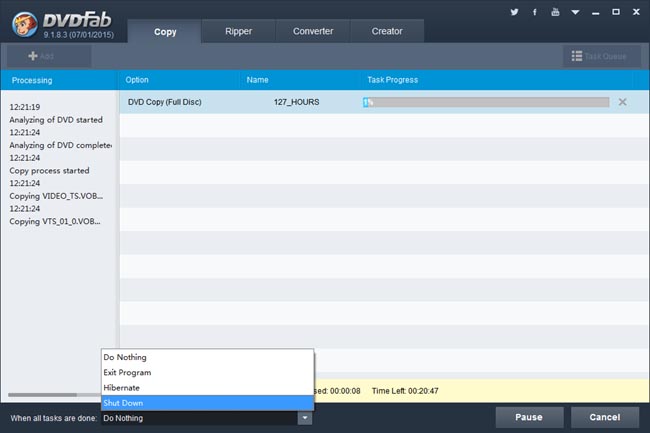 Alright. Now leave the rest to DVDFab. For more info about DVDFab DVD Copy, please go to: www.dvdfab.cn/dvd-copy.htm