How to Copy DVD Movies with DVD Copy for Mac?
12/26/2020
DVDFab DVD Copy for Mac is a combination of DVD copy, DVD cloner, and DVD burner that can read, rearrange, and manipulate the content of a DVD to suit your needs.
Let's find out how easy it is to copy DVD movies on Mac by going over this tip:
Step 1 > Start up DVDFab 11 for Mac, and go to Copy option
After downloading and installing DVDFab 11 for Mac, start it and navigate to Copy on the option bar.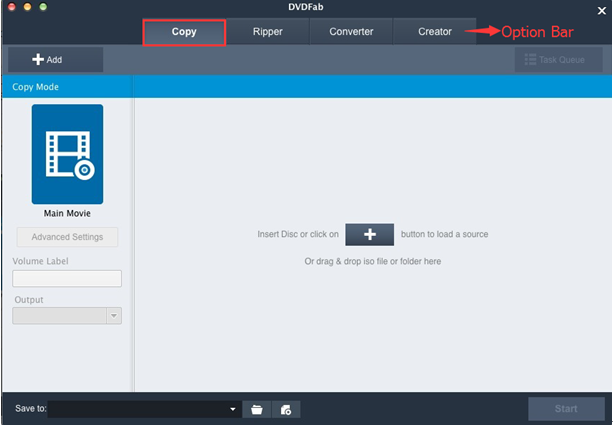 Step 2 > Choose one copy mode, and insert the DVD you want to copy
DVD Copy for Mac has six copy modes, and you can freely choose anyone you like. Click Mode Switcher icon, according to your need, select one mode among Full Disc, Main Movie, Customize, Clone/Burn, Merge and Split. Here, let's use the default Main Movie mode to copy the feature movie (usually the longest movie title).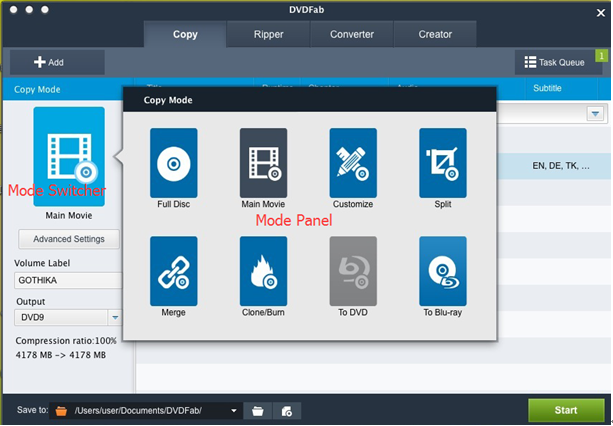 Now time to insert the DVD disc into the optical drive for DVDFab to load it in. When it's in, the longest movie title will be selected by default, and you can change its first/last chapter, set audio tracks and subtitles.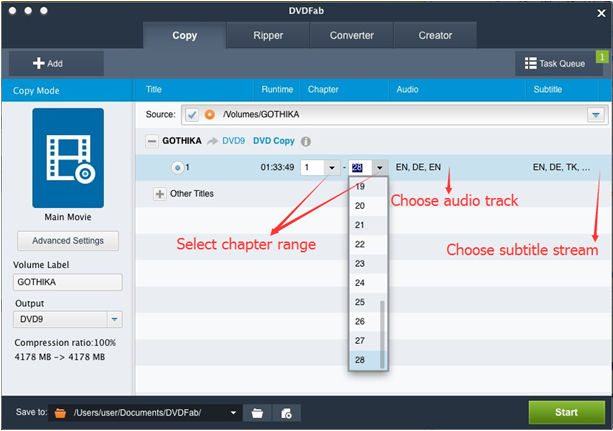 Step 3 > Specify output size, type and path
Now navigate to the left pane to choose an output size from DVD5 and DVD9. Then go to the bottom "Save to" part to specify a storage path for the output folder or image file. If you want to burn the DVD into a blank DVD disc, you should choose the DVD drive.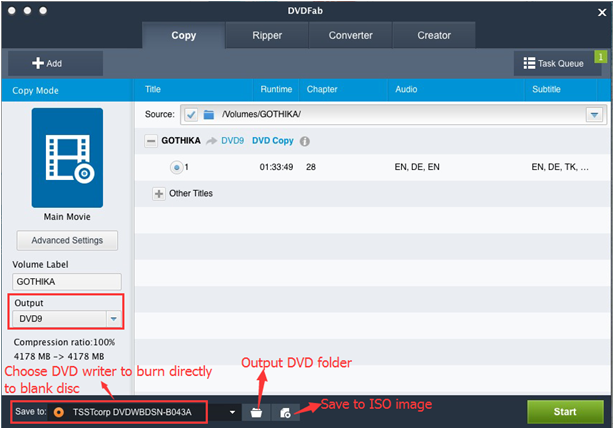 Behind the Output size panel, Advanced Settings button sits there. Click it and you can choose to copy non-DVD files and set loop play mode for the output if you'd like.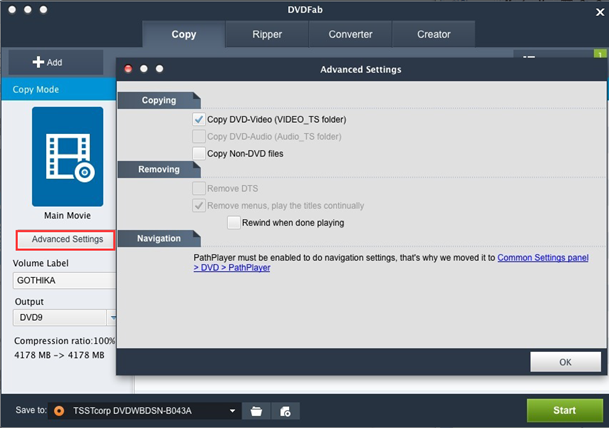 Step 4 > Start copy process
Now click Start button on the main interface then the copy process begins.
If you choose to output and save the copied DVD on your hard drive, the process will start right after you hit Start. If you set your burner as output, after finishing the copying process, you will be asked to insert a blank media to start burn process.
During the process, you can view detailed progress info, and set your Mac shut down, or set DVDFab to exit the program, when all tasks are done.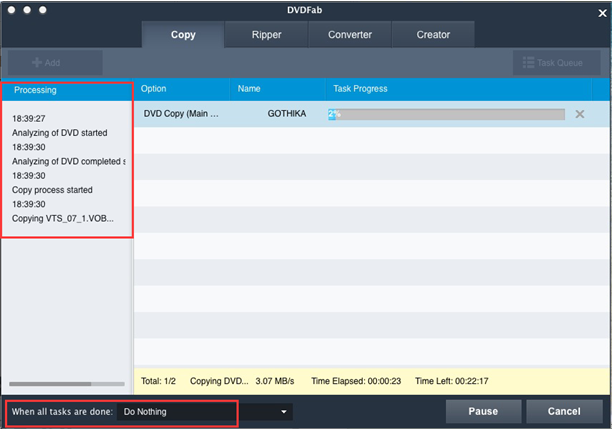 Software you need: the latest build of DVDFab 11
Product you need order: DVD Copy for Mac
For further information, please visit www.dvdfab.cn/dvd-copy-for-mac.htm
① Burn DVDs to blank discs or copy them to HDDs as ISO files/folders
② Offer 6 different copy modes to meet versatile backup needs
③ Support all types of blank discs like DVD±R, and DVD±RW
④ Copy the DVDs in a lossless manner or compress them smaller
⑤ Support GPU hardware acceleration to back up much faster