Disney Plus Devices - What Devices Stream Disney Plus
Summary: If you are a Disney+ video lover and are holding questions about what devices stream Disney Plus, then you are in the right place. This article includes everything you need to know about what devices stream Disney Plus.
StreamFab All-In-One
• Download streaming video in 1080p from Netflix, Disney+, HBO, Hulu & Amazon Prime
• Download 4K/8K videos from 1000+ sites including YouTube, Facebook, and more
• Batch download YouTube videos or playlists to MP3 in 320kbps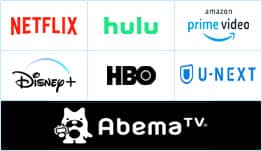 Are you fond of Disney, Pixar, Star Wars, and Marvel content, you will not be able to resist the temptation for opting for the streaming service from Disney – the Disney Plus. You will get access to a wide range of content from old school fairy tales, to content such as The Avengers. What further makes it one of the excellent options is its lower pricing of $ 7.99.
So, what devices stream Disney Plus? It would be a good option to check out what devices stream Disney Plus. We thought of helping you find the best Disney Plus devices and Disney+ platforms that would help you pick the best options for the purpose.
Where can you watch the Disney+ content? Which devices do support Disney Plus? The choice of the best options for the best Disney plus supported devices include
Desktop web browsers
Android mobile devices
Android TV
Apple TV
Chromebooks
Chromecast and Chromecast-enabled devices
Fire TV streaming devices
Fire TV Edition smart TVs
Fire Tablets
iPads
iPhones
LG TVs
Samsung TVs and devices
Sony PlayStation 4
Sony Smart TVs
Roku players
Roku TV
Vizio TVs
Xbox One
These are a few of the Disney Plus devices and the list is expected to grow further with support for more and more devices in the days to come. In any case, the list above should give you a better idea of what devices stream Disney Plus.
Amazon was not a part of the Disney Plus streaming devices until recently. Disney and Amazon struck a deal in November 2019 and since then the Disney Plus content is made available on Amazon devices. If you are an Amazon Fire user, you can make use of the Alexa built-in to get access to your Disney Plus content.
Based on the specific requirements for a different individual scenario, you can opt for a few specific options for picking the right choices and Disney+ platforms for your requirements.
If you are checking out the best options for your expectations in terms of an enhanced experience for a home fan, Amazon Fire TV Stick 4K is what would meet all your needs. Low-cost affordability offered by the Amazon Fire TV stick makes it one of the prime options for your needs. The device can seamlessly stream the Disney Plus content. It also provides you access to a greater degree of Amazon Alexa Assistant making it all the more effective and practical.
If you want to have access to a clearer picture and video quality, the Apple TV 4K can be one of the right options. The box does support 4K Disney Plus content. The support for Dolby Vision and Dolby Atmos technology can prove to be one of the excellent options that should take you well ahead in terms of a sharper look and a cinema-style sound experience. The Siri voice control can further make it one of the reliable options you would want to go with. It can be one of the excellent options for enjoying the cheapest Disney Plus streaming ever.
The Roku streaming stick+ is what would provide you access to far better performance for achieving a great deal of experience in terms of a high-end performance ever. The Powerful features offered by the service can actually make it one of the right choices in the right direction. The stick is not noticeable at all as it can connect to your TV and even to the wall outlet. The Roku stick provides you a faster and clearer Disney Plus performance on its devices. You will also be able to enjoy your favorite content in 4K as well.
While you should be able to enjoy the excellent options through Disney+ and PlayStation 4 for your needs. However, the Xbox One S can be one of the great options you would find rather interesting. The sleeker and space-saving design should be one of the excellent reasons that you would want to use the device for enjoying the Disney Plus content. The options for the 4K content can further make it all the more powerful options ever. The Dolby ATMOS makes it yet another reason you would want to go with for the best experience in terms of movies, games, and TV shows. You will also have access to high-dynamic-range (HDR) technology for more vibrant colors and depth.
The Samsung Galaxy S10+ is the right choice for the portable and efficient device for enjoying your favorite content on a high-quality device. You can enjoy your episodes in Quad high definition+. You can also have access to HDR technology that would provide you a better cinematic experience. The WiFi 6 technology can be yet another experience that should provide you access to a great degree of performance ever.
You can stream Disney Plus content on up to four devices simultaneously. That would mean – as long as you have any of the devices and Disney+ platforms compatible with Disney Plus, you will be able to stream your content onto those devices without hassles of any nature.
In essence, if you have four members in your house, you can use different profiles on your account and watch the content as per each one's preferences. While you can keep watching your documentary in your room, your kids can watch their cartoons on the same account. Isn't that a wonderful experience that you do not want to miss out on?
If you are looking to download the Disney Plus content on your devices, you can download any content that includes movies, shows, and Disney originals from Disney Plus on up to four different devices at a time.
You will be able to download the content from Disney, Star Wars, Marvel, or National Geographic. You can check out the compatible Disney Plus devices and get access to an enhanced experience in terms of a great deal of service ever. You can download shows on different Disney+ devices and enjoy your favorite content to your heart's content.
One of the prime and excellent features offered by Disney Plus is that it lets you download the content as per your preferences. You can download any of the content as per your preferences. You do not need to be limited when getting access to any of the content as per your requirements.
You can download practically everything from Disney Plus – that would include a movie from Marvel, another movie from Star Wars, An episode from DuckTales, or even an animation show for your kids. In the first year, Disney Plus had 7500 episodes of TV shows and 500 movies that you could choose from. A few of the prime shows you would find rather impressive can include Captain Marvel and Avengers: Endgame. The Star Wars TV series The Mandalorian has been yet another excellent service quality that you would find something one of the excellent options you would find quite impressive.
The library offered by Disney Plus is indeed one of the high-end options ever. The Disney live-action offered by the service should definitely be quite impressive. And it does keep getting updated regularly. A few of the interesting content can include newer titles like Frozen, Zootopia, and the first four Pirates of the Caribbean movies.
Downloading the Disney Plus shows can be quite simple and easy. The simple options offered by the streaming service for downloading the content make it one of the excellent options. You can simply move on to the show that you want to download and find it the show is downloadable.
If the show is downloadable, you should find the download icon beside the info and other details of the show or episode. Simply click on the download icon and your show should be downloaded onto your device. One of the best things offered by Disney Plus when it comes to downloading the content is that it has no limit on the number of titles that you can download from the service. As long as the content is available on Disney Plus, you can easily download the title as per your preferences. This would be applicable for all Disney Plus devices.
Having said that, it should be noticed that the option to download the titles from Disney Plus comes with a few limitations. That would be what makes it important to find the options for the third-party downloader for Disney Plus.
DVDFab Disney Plus Downloader has been regarded as one of the excellent options for downloading your favorite Disney Plus content. Download any of your favorite movies and TV shows from the TV service with 720p quality and EAC3 5.1 audio.
Some of the excellent options that DVDFab Disney Plus Downloader can provide you access to can include
Download the content in MP4 – DVDFab Disney Plus Downloader is one of the excellent downloaders for the Disney Plus service and lets you download videos in MP4. This can be helpful in letting you play your videos on any device.
Fastest Download options – The Disney Plus Downloader can provide you access to a far better performance with the fastest download option. You can download the content in 10 to 20 minutes flat.
Batch Download options – The service offers you a batch download option. You can download more than one video in one go. The method can be helpful in providing you access to downloading all the episodes of an entire series.
Download customized subtitles – You will be able to download customized subtitles as per your preferences. You can download the subtitles as an SRT file or even embed them into your video.
Additional metadata information – The software provides you access to media server-friendly metadata as part of your videos and their download. The additional metadata information includes movie title, cast, season, episode title, and cover. This can be helpful in organizing your files and videos in a more positive manner.
Download your videos from all regional websites – The DVDFab Disney Plus Downloader can download the videos from any of the regional Disney Plus websites. This includes the regional sites such as US., DE, FR, JP, and others.
Disney Plus is a new streaming service compared to most of the other services in its genre. However, despite being a late entrant, it has been able to achieve a huge degree of excellence in a shorter span of time. That should speak a lot about the efficiency of the service and the content library that it boasts of. The support for a wide range of platforms and Disney Plus devices can further provide you complete freedom in enjoying the best streaming experience regardless of what device you are on. You can get access to a great degree of options for the best options for Disney Plus compatible devices and enjoy the perfect experience of streaming the perfect content.
Having understood the essence and importance of Disney Plus as one of the best streaming services, it would also be quite important to check out the options for downloading the content on Disney Plus. DVDFab Disney Plus Downloader should be a great option for achieving the best results in terms of the prime third-party Disney Plus downloader. The ease of use, customized subtitles, simple interface, and a wide range of the service can prove to be a few of the excellent options in favor of enjoyable content.