Unblur Image and Photos Free and Fast [Remove Blur From Photo]
Summary: Unblur photos. How to fix a blurry photo or how to unblur an image? There are 15+ deblur photo software able to do you a favor. Learn about the features of each deblur tool, and deblur a photo free and fast using your favorite software.
DVDFab Photo Enhancer AI
Enlarge photos up to 40x with more details added
Sharpen photos by reducing background/chroma/luminance blur
Make photos clearer by removing motion blur and out-of-focus blur
Suitable for both beginners and experts
How to make pictures unblurry or remove blurriness from photos? You can install a free blur remover on your computer or unblur image online. Check the unblur photo app I have recommended in this post and learn how to unblur photos.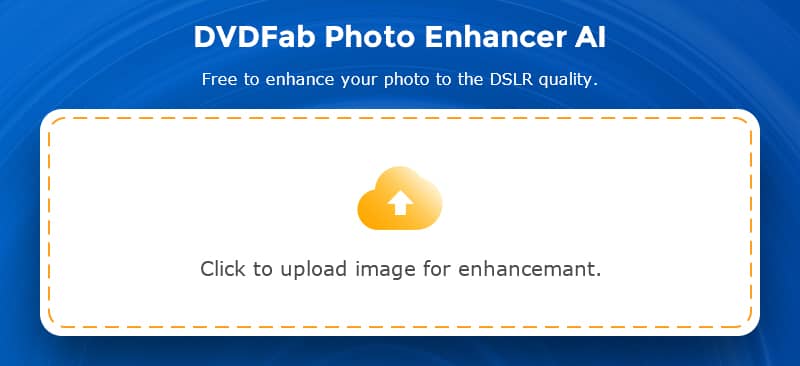 DVDFab Photo Enhancer AI is the best free solution to how to make a picture unblurry. You can access it fast and learn how to remove bluring from a photo-free. With this AI Photo Enhancer, you can easily:
Sharpen edges and fix blurry photos
Remove noise from a photo to make it clearer
Upscale image by up to 40x without losing quality
Colorize black and white photos
Apply cartoon effects quickly
One-click to retouch photo & achieve DSLR camera quality
First of all, let's start with the reasons to make an image blurry. Sometimes our photos are fuzzy, blurry, and not quite sharp. Do you know the reason for that? Here are some factors you need to take into account. Check which causes your blur photo and find the right way to unblur photos with the best unblur App.
⚬ Out of focus
Your focus is not correct. Maybe you have focused on the wrong place which leads to blur photo. How to fix a blurry photo in this situation? Turn the focus on the closet eye of a person or a living creature to make the subject distinct and sharp. You can take lots of pictures and refocus as well. If you are not skillful at adjusting the focus, ask Apps that unblur photos recommended in this post directly.
⚬ Camera shake
Your camera is shaking. How to unblur photos in this situation? You can stabilize the camera on a tripod or rest it on a stable surface to take photos. Alternatively, fix motion blur with DVDFab Photo Enhancer AI or fix motion blur in Photoshop.
⚬ Air & light quality
The farther your camera is from the subject, the more haze, and humidity between them. As distance increases, a sharp and contrasty photo can turn unsharp and washed out. Moreover, the softer the light, the softer you picture, and vice versa. How to unblur photos in this situation? Keep your camera close to your subject especially outdoors facing bad weather. And adjust the light coming to your camera. if such things are not easy to control, unblur image straight with Apps that unblur photos easily.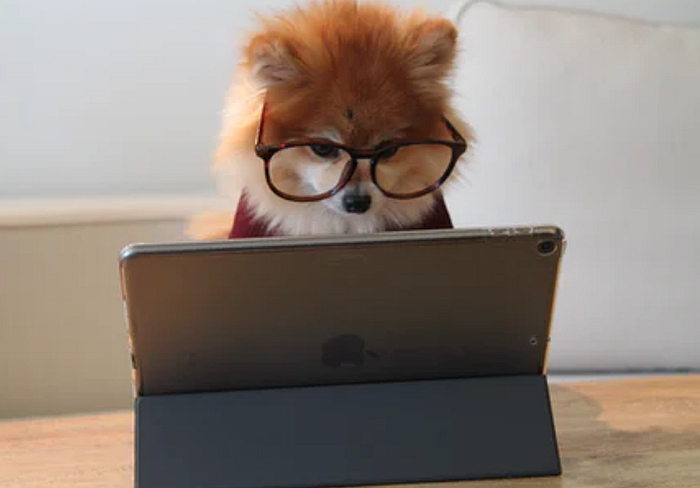 ⚬ Motion blur
The subject is moving while you are shooting. How to unblur photos in this situation? To deblur photo, you need to put your camera into shutter priority mode, and pick a shutter speed that is fast enough to freeze the motion. For people, 1/60th is proper. While for playing sports, choose 1/250th or 1/500th. And for wildlife, it should be 1/1000th or 1/2000th. Generally speaking, the shutter speed should be at least 1/100 second faster than a moving subject. If you are walking slower than it, you will get a blur photo. So there is a high demand for shutter speed if you want to unblur an image.
⚬ Shallow depth of field
Part of your photo is focus, while the rest like the background is blurry. You may have a shallow depth of field. How to unblur photos in this situation? To unblur photos, you need to raise the aperture number. If you have a low f-stop number like f/1.8, make sure to raise it to f/6.5 or something higher. Then you will be close to unbluring.
⚬ Slow shutter speed for the photographer
The thumb speed to press the shutter should be faster than 1/focal length of the lens. Otherwise, the shutter speed will fail to freeze your subject. How to unblur photos in this situation? There is a golden rule related to lenses and shutter speed: always use a shutter speed faster than the length of the lens. You can refer to this chart below to avoid blur photo. And this rule only applies to hand-held shooting, instead of a tripod. Remember these data and remove blur from photo easily.
| | |
| --- | --- |
| Lens length | Minimum shutter speed |
| 50 mm | 1/50 |
| 70 mm | 1/80 |
| 85 mm | 1/100 |
| 135 mm | 1/160 |
| 200 mm | 1/200 |
| 300 mm | 1/320 |
Taking photos with a camera is cool, but there are always some factors that can cause photo blurry such as motion blur, and out of focus, etc. In order to clear blur images or deblur an image by solving such problems, you need to find what makes for a blurry image and unblur photos using the right method or the best free deblur tool. Here I have concluded all types of causes which may render photos blurry. Check them and follow the detailed instructions to remove blur from photo free and fast.
There are many ways to make photo blur, such as add mosaic to blur a photo. Likewise, there are also lots of methods to unblur photos with software rather than just adjust a camera? Here are some software capable of deblurring photo. If you want to unblur photo free and fast, try such deblur tools and learn how to unblur an image following the step-by-step guides.
The first blur photo editor I am going to introduce is DVDFab Photo Enhancer AI. How do you unblur a picture that has been blurred online? This blur remover is powerful to enhance photo resolution 40 times clearer than the original picture, remove motion blur and out-of-focus blur, as well as get rid of background/color/luminance noise to unblur a photo easily and fast. So why not use it to unblur a picture, remove noise, get edge enhancement and make a photo clear? Empowered by artificial intelligence, it is the best image deblur to unblur photos based on your needs, and here are the main features of this image upscaler.
Price

Free, $79/year, $129/Lifetime

Compatibility

Windows

Pros

Offer a free trial for 5 images

Strong ability to enhance photo resolution

Suitable for both beginners and experts

Con

Only support Windows
How to fix a blurry photo with DVDFab Photo Enhancer AI:
Get this image sharpener launched on Windows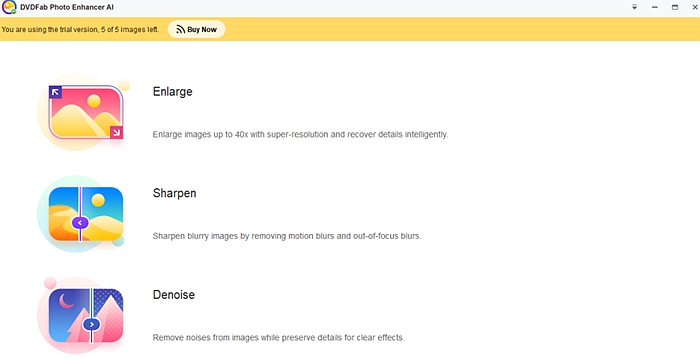 Click "Enlarge", "Sharpen" or "Denoise" based on your needs. Here are the functions of each option

Enlarge: enlarge images up to 40x with super-resolution and recover details intelligently
Sharpen: sharpen blurry images by removing blurs and out-of-focus blurs
Denoise: remove noises from images while preserving details for clear effects
When it comes to "unblur photos", each of the buttons has its own responsibility. Now, this photo blur correction software has been upgraded to play more roles. For example, you can follow it to learn how to turn photo into cartoon and colorize black and white photos, besides how to unblur photo.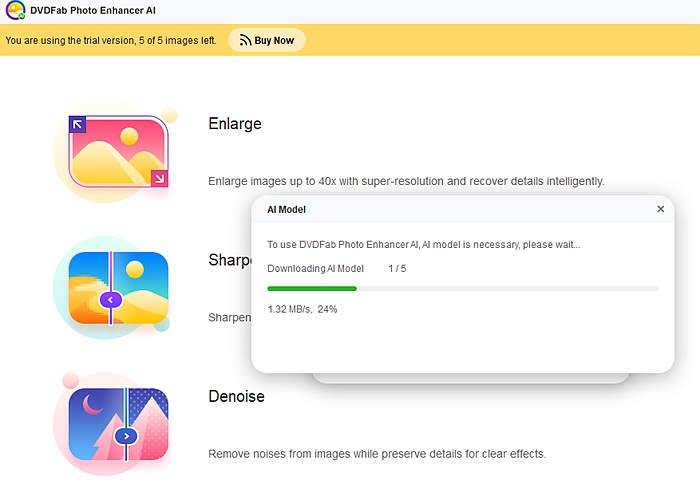 Suppose I click the option of "Denoise". Then wait for the AI model to be downloaded which is very fast.
As a beginner, this is a necessary step to unblur photos for the first time. After the AI model download, you can import your photos directly and start to unblur images.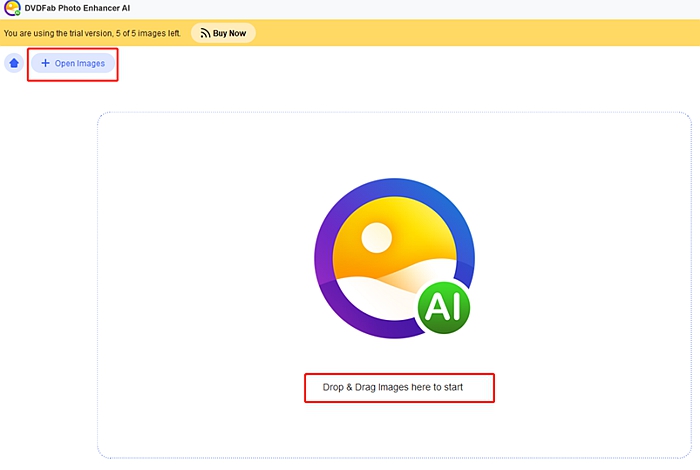 Press the button of "Open Images" or "Drop & Drag Images here to start".
You can unblur any image you want with this blur remover. And DVDFab Photo Enhancer AI gives you a free trial to unblur images up to 5. Offline deblur image program to unblur photos will be faster than "unblur image online".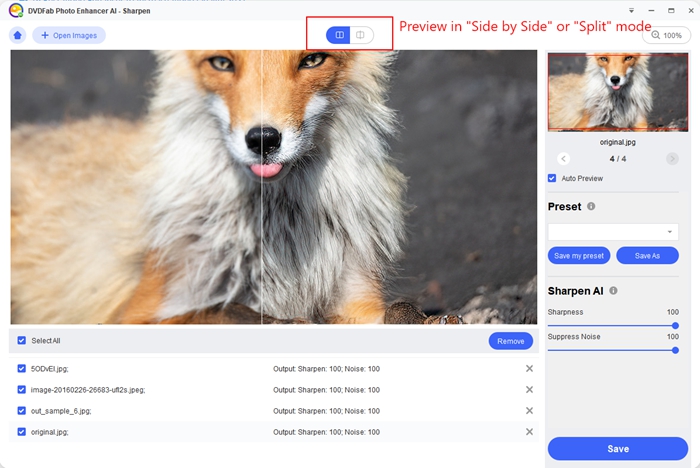 Choose preview mode: "Split" or "Side by Side"
There are two preview modes for your choice in this image unblurrer. The preview mode of "Split" is what you see in the last image, while the "Side by Side" mode looks like the picture below. Choose either of them based on your preference to unblur photos.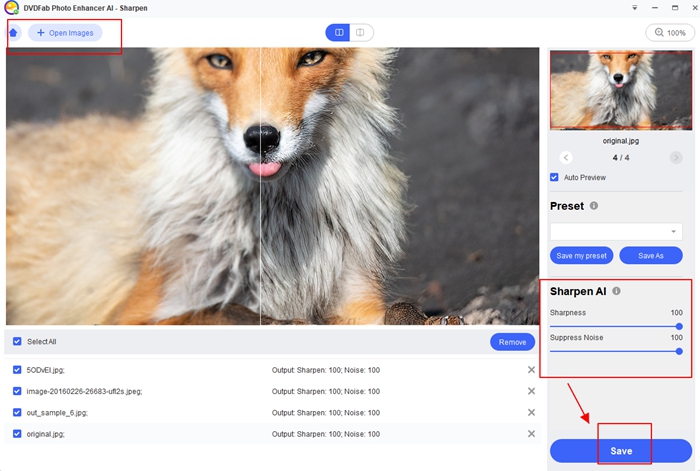 Do some settings to unblur photos
First, you can move the square icon in the small picture on the right to decide which part to be denoised. You can see obvious changes in the two photos in the preview section when you move your mouse. Then, click the option of "Save As" and name your file which can also be done in the last step. The function of "Denoise AI" offers two options, with "Suppress Noise" and "Sharpen" included. You can set the value of them based on your needs. And DVDFab Photo Enhancer AI will present the image effect immediately for you to check.
Click the button of "Save"
Finally, save the adjustment you have done and you will be asked to choose the output format, file name, and file directory. This deblur photo software support photos in the format of png, jpg, jpeg, tif as well as tiff. Choose one format to unblur photos.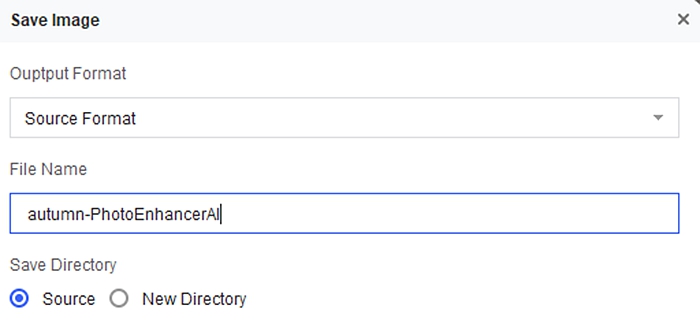 This is how to fix blurry photo with DVDFab Photo Enhancer AI. Besides denosing your photo, you can also enlarge and sharpen your photo by clicking corresponding options at the very beginning. Then tools used on different interfaces to remove blur from photo are different. But the use method is similar, just adjusting the options available to unblur photos free and fast.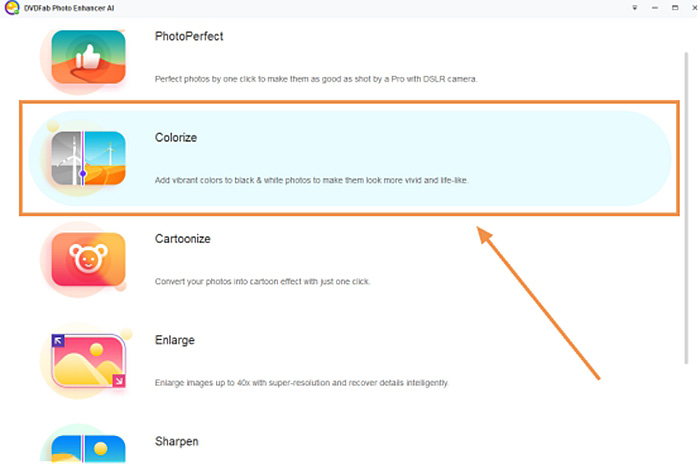 Another software to unblur photos is Photoshop and many people want to learn how to remove motion blur in Photoshop. It is an advanced photo editing software on Mac worth $9.99 per month. If you choose this image sharpener to deblur photo, make sure there is enough space in your computer, for it has a high demand for space. Now, let's learn how to fix a blurry photo with this software.
How to unblur a photo in Photoshop:
Click "File" and open a photo in Photoshop
Press "Image" > "Image Size" and set resolution, height & width
Tick off the box before "Resample" and choose "Preserve Details (enlargement)
Set the value of "Reduce Noise" to unblur photos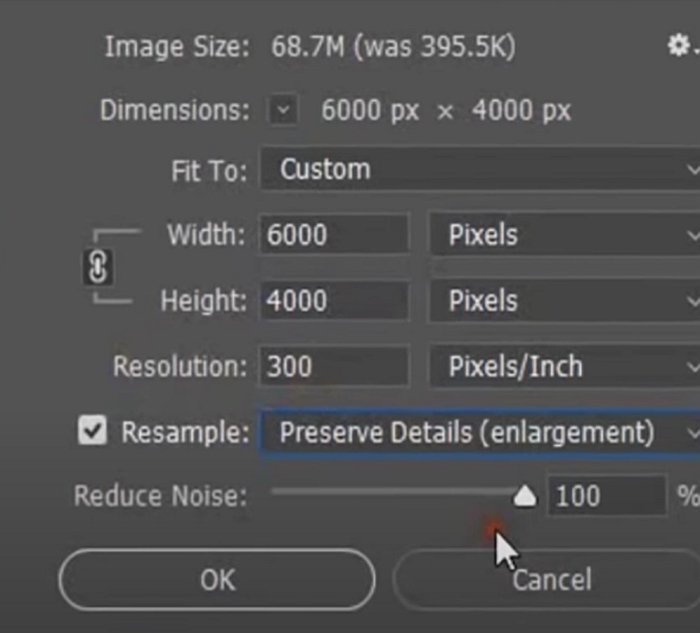 Copy the layer in the right section and select the copy file
Click "Filter" > "Noise"/ "Sharpen" > "Reduce Noise"/ "Unsharpen Mask" and set the options on those panels
Preview the effect and click the button of "OK" to unblur photos
Click the copy layer and "Merge Download"
Save the changes and output it
This is how to remove blur from photo with Photoshop. Honestly speaking, it is a little complicated for beginners who want to learn how to fix a blurry photo. But considering the excellence of this image editor, it still has a lot of followers. With considerable functions embedded, you can also follow it to learn how to use the blur tool in PhotoShop.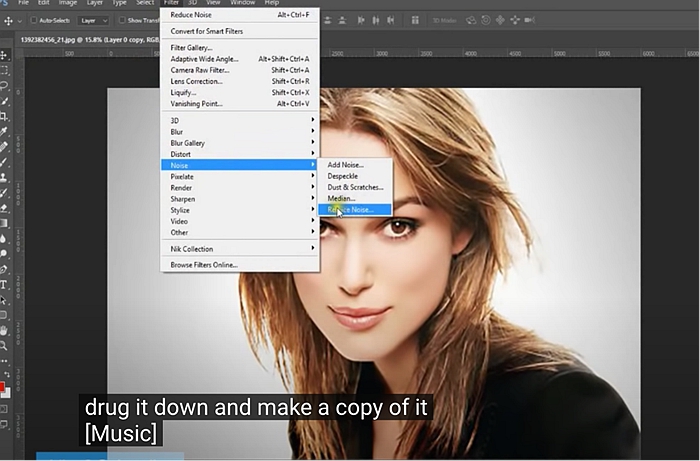 Besides the five deblur photo software I have introduced above, there are also other options available. If you are interested, read the information below
Compatible with Windows and Mac, AKVIS Refocus is able to enhance the clarity and sharpness of photos. Also, you can use it to add the bokeh effect. If there is a blur photo that is caused by out of focus, this deblur photo software is of great help. It is often used to process an entire photo or just a part of it. And there are four modes in it for you to unblur photos, including "Refocus, Tilt-Shift< Iris Blur, Motion Blur, and Radial Blur".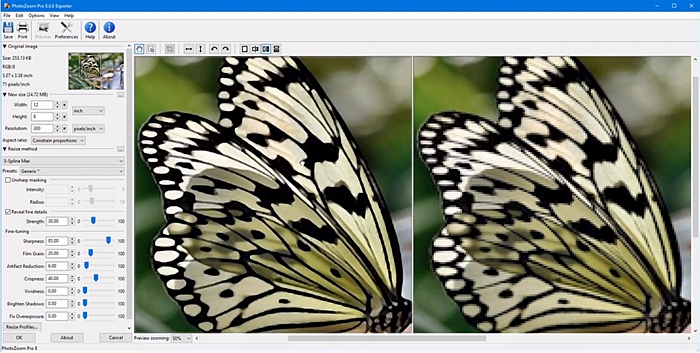 Another alternative to telling you how to fix a blurry photo is inPixio Photo Maximizer. It works on Windows only and is competent to enlarge the smallest details in a photo. And with the help of the pro version, you can also reduce noise and fix grainy photos to unblur photos. But you have to pay HK$465.04 for the services of "enlarge images up to 1000%", "improve image quality and sharpness", as well as "one zoom filter". If you desire a better image effect and higher speed to unblur photo, HK$620.08 is required.
Dedicated to preserving clean edges, sharpness, and fine details, this deblur photo software does well and enables you to eliminated distortions like noise when you sharpen images. You can use the options like strength, sharpness, film grain, crispness, vividness, brighten shadows, etc to unblur photos as much as possible. And through the preview window see the final effects. But this version costs you 159 euros.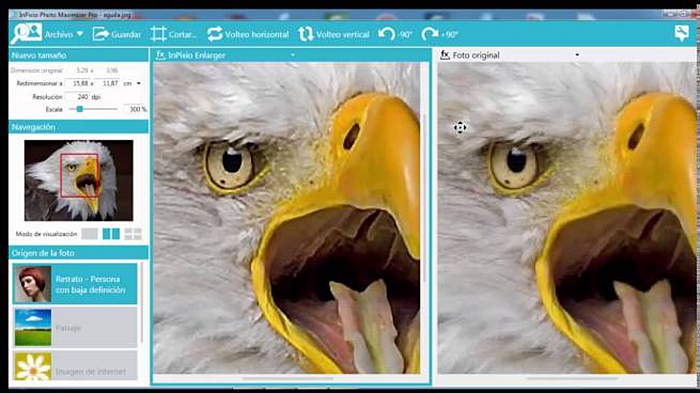 Unblur photo online with PineTools, one of the best Apps to unblur picture. If you don't want to install any software to unblur photos, try blurry photo fix online free tools. PineTools is one of the best solutions to how to deblur photo online. This fix photo blur app has many functions such as "invert colors, flip image, darken image, lighten image, change brightness/contrast/saturation/vibrance/exposure, grayscale image, adjust gamma/hue, sepia effect, clip image and add noise. "Remove blur from photo" is just a snack for it. Now let's learn how to clear blur image online with this deblur tool. There are only 6 steps for you to unblur image online with this freeware.
How to fix a blurry photo with PineTools (unblur photo online):
Input image to this online deblur photo software
Set the options of "Size of the convolution mask" and "Strength"
Click the button of "SHARPEN" at the bottom
Press the options under "Sharpen Image" to unblur photos
Select an output format (PNG, JPG, WEBP)
Start to unblur photo online
Then the sharpened image will be downloaded automatically. Get ready to open it and check the final effect. This is how to unblur photo online free with PineTools. It is very easy to use but lacks enough tools to remove blur from photo deeply. Do you like this tool to unblur photo online?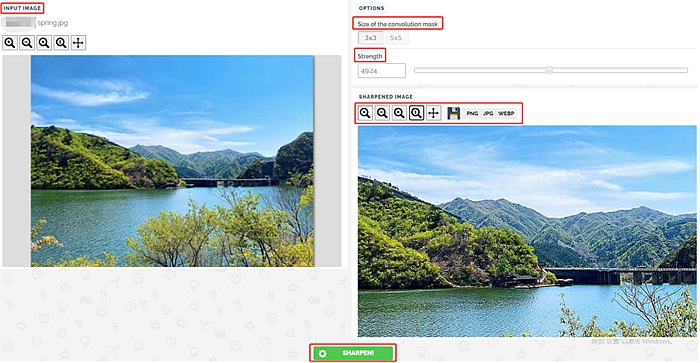 Another app to unblur photos online is Raw.pics.io converter and editor which supports files formats like pdf, dng, crs, nef, arw, orf, pef, raw, crw, raf, jpg, and png. Click the button Start, open files from the computer and add to this online unblur tool. Edit your picture or not based on your need and then save it to your PC or mobile.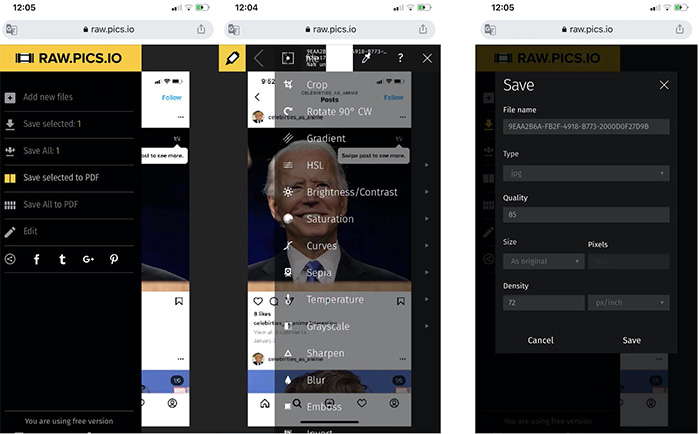 If you want to deblur a photo on iPhone or iPod, there are also such deblur tools. Now, let's learn how to unblur photos with iPhone unblur App.
Open iPhone and go to "Photos" to pick a blurry image
Click "Edit" > "My Brushes" under "Brush" in the briefcase below
Tap "Settings" and enable "High" & "Show Strokes"
Swipe your finger on the screen to highlight the strokes you want
Finish editing and deblurring photo
Save and output
With the help of the app of iPhoto, it is very simple to unblur photos on your iPhone or iPod. But compared to advanced image sharpeners, it needs more improvement in functions and performance.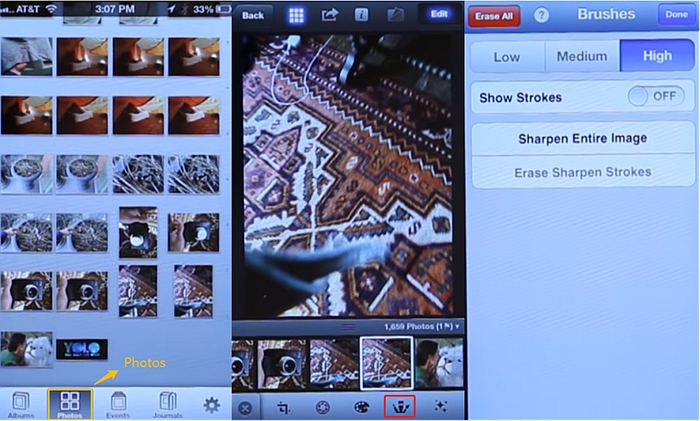 How to unblur an image? Is there an app to unblur photos? The following deblur tool is a good option to deblur a photo on Android. Let's see how to use this unblur App.
Open this deblur photo software installed on your smartphone
Click the button of "Open" at the bottom and go to "Gallery"
Add a blurry photo to this fix photo blur app
Unblur photos using the options of "Fix Blur, Details, Focus, Fix Noise"
Save the unblurred photo on your device or share it
This is how to fix a blurry photo on Android using Fix Photo Blur. You can install it and try to remove blur from photo by yourself.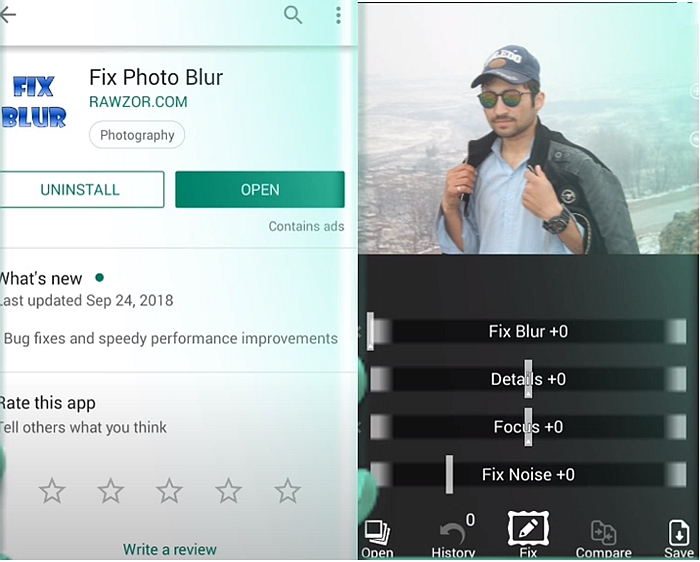 GIMP Image Editor (Windows, Mac, Linux)
This free deblur photo software helps you sharpen a whole image or just a part of a photo. And you can use it to blur photo as well.
Image Blur/Unblur Photo Editor
This is a fix photo blur app in Google play. Also, it is able to blur photo either entirely or partially.
It costs you $4.99 per month and allows you to unblur photos using the options of clarity, sharpen, contrast, exposure, fade and grain.
It is $2.99/month. Help you sharpen and clarify your photo.
Unblur photos by adjusting sharpening, radius, increasing detail and exposure.
Online: Fotor, Photo Sharpen, Snapseed
With so many deblur photo software provided, which one should you choose to remove blur from photo? DVDFab Photo Enlarger AI is highly recommended. It is the only image sharpener equipped with artificial intelligence. Trained by machine learning, it has become a class act in debluring photo. Do you still remember its three functions: enlarge, sharpen, and denoise? If you want more details, higher resolution, and less noise, this photo editing software is your first choice to unblur photos. And it is suitable for both beginners and experts. Choosing it and you will never feel disappointed.
Photo blur fix with the best deblur software. So much for the question of how to fix a blurry photo? There are more than 15 photo editing software introduced. Some enable you to unblur photos on Widows, some allow you remove blur from photo on Mac, some is good at deblurring photo online, and others are the best assistant on iPhone or Android to deblur photo. Which one do you like best? Make a decision and start to unblur photos free and fast. If you want to know how to blur video background, read another article.

Other Articles You May Like: