Top Ten Best Video Enhancement Software 2021 [Free & Paid]
Summary: Are you looking everywhere to find a perfect video enhancement software to revive your old videos that were taken years back with an old mobile phone or a less advanced DV? Reading this article, you won't need to continue your search, because you'll find the ten best video enhancement software here that can improve your old videos from various aspects.
DVDFab Video Enhancer AI
• Best free AI-based video enhancer software
• Upscale low-res videos to 4K resolution
• Enhance old videos to better quality
• Remove video noise and blur automatically
Almost all the smartphones and digital cameras of nowadays come out with 1080p video recording capacity, some even support 4K and slow-motion video recording at amazing 60fps, thanks to the rapidly developing camera technology on mobile platforms. However, back to those old days when all of today's technologies were not available, the videos you took a few years back may only have 720p quality, or even 480p. So, is there a way to improve those old videos to make them look they were just taken yesterday with an advanced smart phone? Yes, there definitely is! Today in this article, we're going to discuss how to improve those old videos of your precious life memories to bring them to life again, using ten best video enhancement software, free or paid, on Windows, or Mac computers. Now let's get started.
Content Quick Sneak
Section 1. Ways to enhance video quality
Speaking of video enhancement, there are multiple ways you can do to improve your old videos for better quality. Depending on your specific needs, you may want to upscale a low-res video to higher resolution in order to get a better image quality on larger screens, especially on today's big-screen smart TVs; you may want to brighten up the video color, change its saturation, and adjust its contrast for better visual effect; you may also want to remove the blurs caused by your trembling hands or camera shakes to make the video much clearer; sometimes you may have to reduce the video noise so that you see no visible grains; and there are also times you may need to trim, crop, flip your videos…the list can go on and on, but no matter what your actual need is, there is always a suitable video enhancement software that can help you achieve some if not all of your goals.
Section 2. Top 5 free video enhancement software
In this section, we gonna introduce you the 5 best free video enhancement software tools that you can use to revive your old videos. No matter you are running a Windows computer or Mac, there will be one meeting your requirements.
Available on: Windows
Pricing: Free
Included in Windows Live Essential package, Windows Movie Maker is a free video enhancement software offered by Microsoft for anyone who installs its operating system. As a free product, it is designed mainly for some quick video editing operations that may not be good enough for professional or commercial purposes, because there are only a limited set of templates and video enhancement options.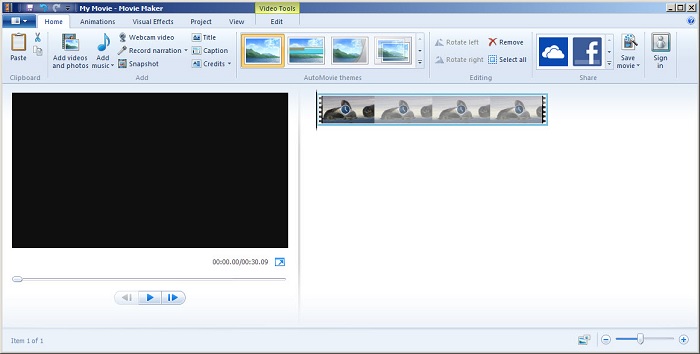 Key features at a glance:
Add titles, captions, effects, credits
Apply animations and visual effects
Split, trim, change video speed
Change the start and end points of a video
Burn videos to blank DVD discs
Output different formats suitable for YouTube, Vimeo, and Facebook etc.
As a sidenote: if you are with Windows 10, then you can no longer find Windows Movie Maker because it is already discontinued. In this case, you will have to opt for the Photos app instead, which also serves as a video enhancement software freeware, offering similar features.
Available on: both Windows and macOS
Pricing: Free for non-commercial use (verification required)
As a novice-friendly video editor and one of the best free video enhancement software, VideoPad Video Editor is an ideal replacement for the discontinued Windows Movie Maker mentioned above, in condition that you're not quite interested in the Photos app of Windows 10. It does not require too much learning curve before you can master its well-designed toolkits. Moreover, the best thing is that, unlike other video enhancement software freeware out there, VideoPad does not plant any watermark in your videos despite as a freeware.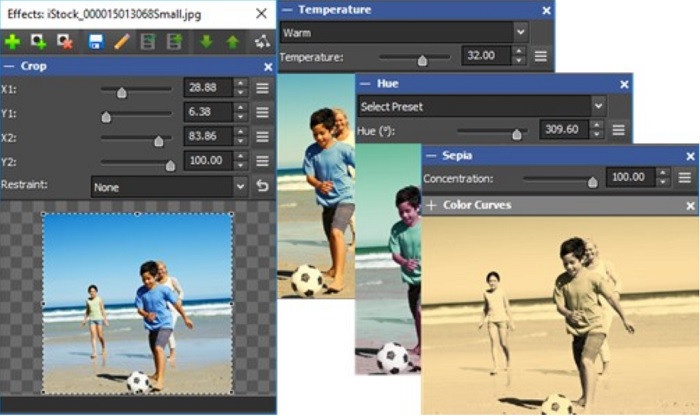 Key features at a glance:
Choose from a wide range of video clip transitions
3D video editing and 2D to 3D stereoscopic conversion
Add text, overlays and effects to 360 degree videos
Customize the duration of applied transitions
Overlay text for captions and movie credits
Chroma key green screen video production
Create visual effects templates to use on any project
Create title text animations in seconds with templates
As a sidenote: to use VideoPad Free version, you have to verify that you are really using the software for non-commercial purpose at home, which is a little bit irritating.
Available on: Linux
Pricing: Free
In case you are not impressed by the VideoPad but still prefer a Windows Movie Maker similar experience, then Pitivi is another free video enhancement software you can opt for. But be noted that as an open-source free video enhancement software for Linux, it's not compatible on Windows yet. Feature-wise, as a freeware, it offers more than enough functions you can expect from a freeware.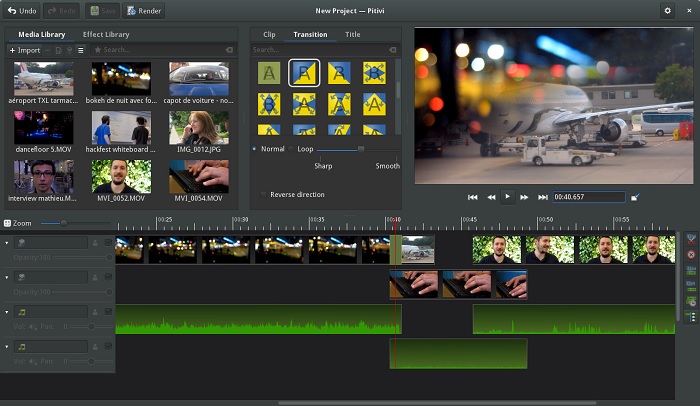 Key features at a glance:
Unlimited video/audio track layers
Full undo/redo history
Frame stepping, keyboard controls and shortcuts
Trimming, splitting/cutting, snapping
Ripple edits/roll edits
Sound mixing of multiple concurrent audio layers
Volume keyframe curves
Keyframable audio effects
Available on: macOS, iPadOS, iOS
Pricing: Free
As a free video editor offered by Apple, iMovie is one of the best free video enhancement software Mac that allows you to perform video enhancement in many ways. Featuring an extremely simple interface, iOS and macOS users can use this video enhancement program to create videos to commemorate moments, memories, and sceneries and share them with family, friends, colleagues, and even clients.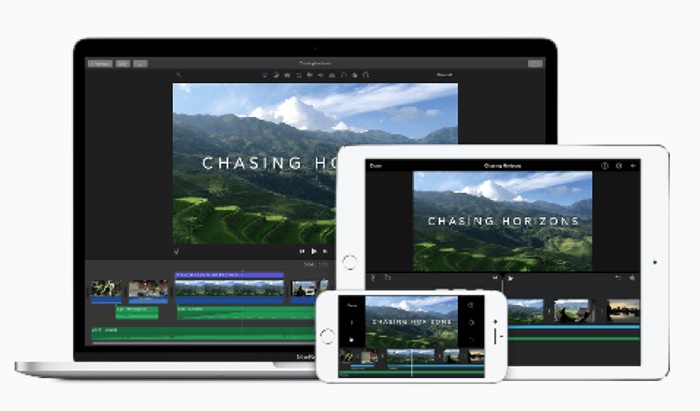 Key features at a glance:
Automated video editing
Audio & music editing
HD & 4K video support
Video color settings
Crop & rotate video clip
Video stabilization
Video effects & transitions
Video speed adjustment (speed up/slow down)
Pre-built themes & backdrops
Available on: Windows, macOS and Linux
Pricing: Free
Avidemux is a free video editing suite that can be used as a free video enhancement software. Even if you've never cut or edited your own video footages before, you can easily master this program to do some quick video edits and cuts, such as filtering, cutting and encoding, etc.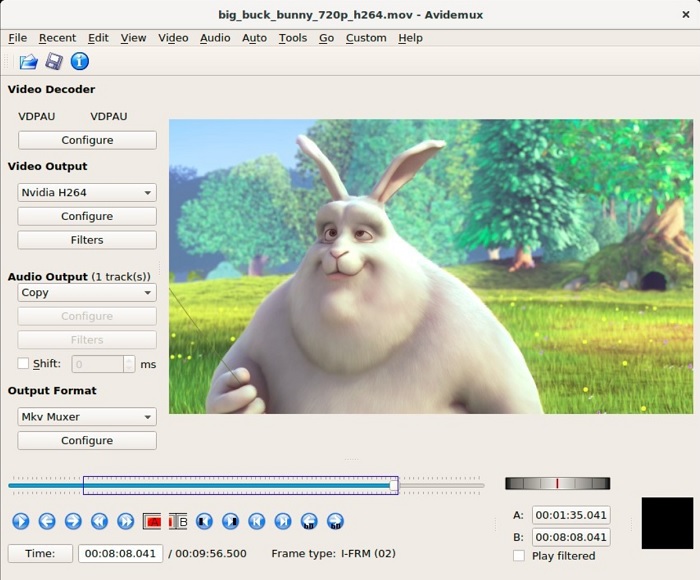 Key features at a glance:
Sharpening and de-noising filters
Clean and uncluttered user interface
Adjust video contrast, brightness, hue and saturation
Change the sampling frequency
Select, cut and save a portion of a long video
Section 3. Top 5 paid video enhancement software
For experienced video editing professionals, the free video enhancement software can far from being able to meet your video enhancement needs. Those professional video enhancement software, like the ones we're going to talk about, are the ones you should choose.
Available on: Windows
Pricing: $79.99/month, $99.99/year, or $139.99 for a perpetual license available at its online store
Powered by artificial intelligence and trained by neural networks plus super-resolution technologies, DVDFab Video Enhancer AI is a professional video enhancement software that aims to bring video enhancement to next level. With this AI video upscaling tool, you can enlarge your old videos of low resolution up to 4K, so that to bring your old memories back to life again. The best thing about this professional video enhancement software is that you don't need to manually tweak the settings one by one, as the program will do it all by itself, including the color corrections, adjustment of video contrast, saturation and brightness, and also the deblurring and denoising.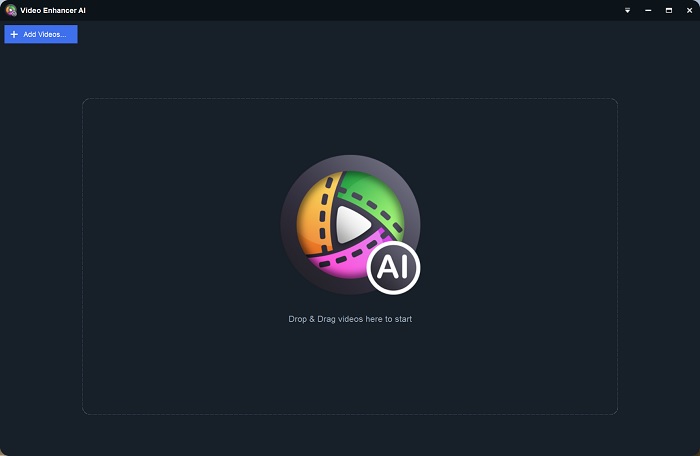 Key features at a glance:
Upscale low-res videos up to 4K
Apply color corrections, remove blurs and noise
Improve video image saturation and brightness
Automatic upscaling and improvement
Check below to see how Video Enhancer AI, as a professional video enhancement software, helps you bring your old videos to life again:
Step 1 — After installing Video Enhancer AI, launch the program (picture above);
Step 2 — Import your target video using the Add Videos button, or simply drag & drop them into the interface;
Step 3 — Depending your source video genre, choose a proper AI model from the available four options, namely, For Movie Video, For Home Video and For Web Video;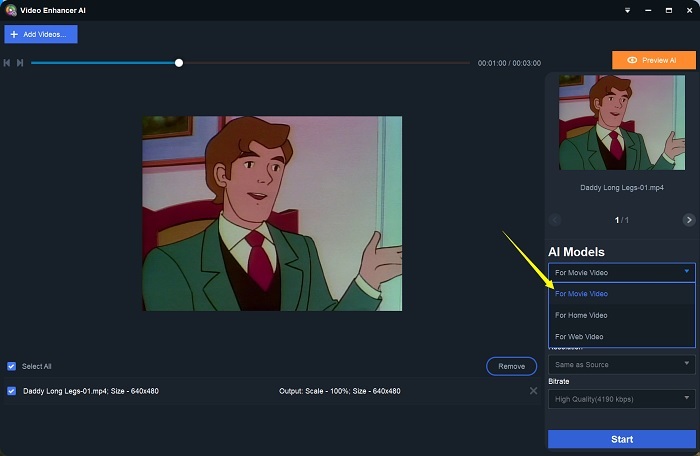 Step 4 — Choose your wanted output format, upscaling level (up to 4K/UHD 2160p) and bitrate;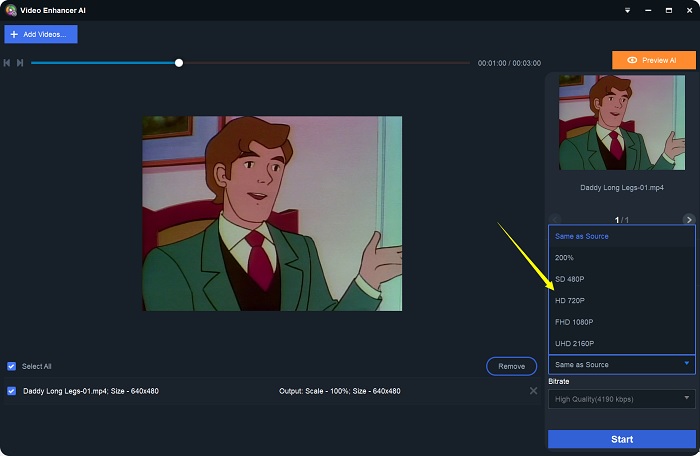 Step 5 — If you want to preview the output video before starting the real conversion, you can press the Preview AI button at the upper right corner of the interface to see if the output video image quality can satisfy your requirement;
Step 6 — Once you're okay with the preview, then you can hit the Start button to perform the video enhancement process, which might take several hours, depending on your computer configurations.
Available on: Windows
Pricing: Starting from $70.8
If you are someone who just started your video editing journey, then AVS Video Editor can be the video enhancement software to begin with. It makes basic video enhancement and editing a breeze with its simple interface and tons of online tutorials and guides which will walk you through the process with ease.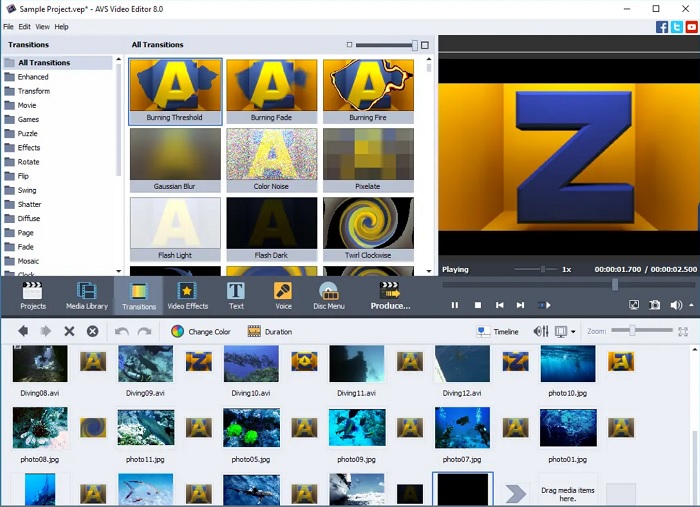 Key features at a glance:
Trimming, cutting, merging, rotating and adding transitions
Offers 300 built-in innovative video effects
Enhance videos with subtitles, menus, audio, and text comments
Record your computer screen and edit them with effects
Supports towards multiple video formats and multi-languages
Allows to create DVD & Blu-ray Videos
Available on: Windows and macOS
Pricing: Starting from $249
Born as a native screen recording software does not prevent Camtasia Studio from becoming one of the most beloved professional video enhancement software among tutorial and product demo makers. Among the many features it offers, the keystrokes, text boxes, and highlights functions inside the Callouts can help make your videos more engaging.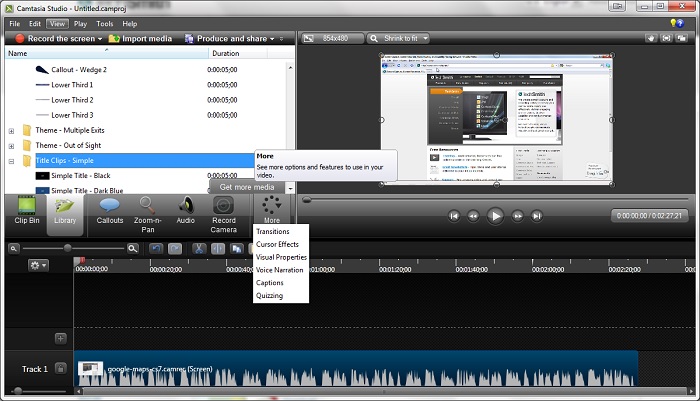 Key features at a glance:
Record computer screen or import your own videos
Add images, animations, audio, and hotspots
Zoom and pan, create transitions, add closed captions
Animated and simple titles, callouts
Available on: Windows and macOS
Pricing: $20.99/month
Adobe Premiere Pro is a professional video enhancement software and comes in different packages, you can choose whatever depending on your specific needs. It offers nearly all the video enhancement features, including video editing effects, audio effects, transitions, animations, color adjustments and more that you can possibly imagine.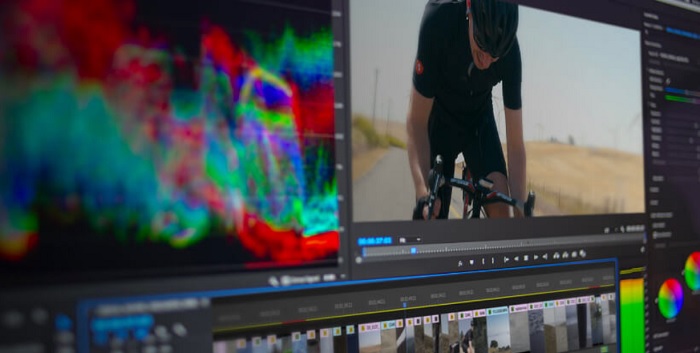 Key features at a glance:
Import footage from any file format
Trim footage with precision
Add animation and video effects
Manage audio editing and sound effects
Adjust colors and white balance
Available on: macOS
Pricing: $299
To Apple fans wanting a professional video enhancement software, Final Cut Pro is probably the most competent contender. As an intuitive video editing software for macOS platform, Final Cut Pro is capable of making a video from basic to ultra-advanced full-fledged movies with all the advanced effects. From adding advanced 3D titles to some advanced effects, advanced audio controllers, video trimming, intuitive interface, there are so many stunning features you can use to make your videos look stunning and professional.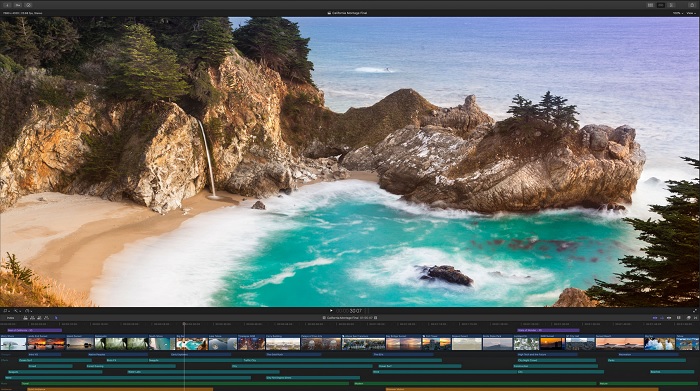 Key features at a glance:
Magnetic, trackless timeline
Superior organization tools
Support for 360-degree footage and HDR
Multicam, iPad Sidecar and MacBook Touch Bar support
Video enhancement software is on steady rise as customer demands on video enhancement continue to skyrocket. If you have a lot of old videos at home that need to be improved in terms of video quality and resolution, we've just reviewed the ten best video enhancement software available as of Nov. 2020 that capable of that. No matter you are looking for a free solution, or a professional video enhancement software worth your money, you will be able to find one that fits your circumstance. That said, from our perspective of view, we recommend DVDFab Video Enhancer AI, because for one thing, it is as of now the most powerful AI-assisted video enhancement solution market ever has, and for another, it does all the video enhancement job for you automatically without asking you to perform too many manual operations other than a few clicks. Plus the reason it supports batch processing, it could save you much of your precious time as video enhancement, regardless done with or without AI, is really a time-consuming task.