Generic Video Converter
DVDFab Video Converter - Generic option, which can convert all types of video files (3GP, AVI , FLV, MOV, MP4, MPEG, MKV, RMVB, WMV, TS, VOB,etc.)into the proper video formats (MPEG-4, DivX, XVID, H.264AVI, MP4, etc ) that play on computers or other popular mobile players with high speed and excellent video quality. With this professional video converter, edit function will allow you to change/customize parameter settings for desired output effect, you also can extract audio from source video files, then Listen to music and watch your favorite video wherever and whenever you go.

Here is a step-by-step guide followed for reference.

Guide

Step 1) Start up DVDFab -Go to Video Converter - Generic

Step 2) Load source files

Please click on the folder icon to load multiple source video files stored on your PC. You also can import single source file by clicking the icon behind (beside the folder icon looks like a piece of paper and a film). And preview the highlighted title in the lower left corner window. In this example, we are converting four source files. (See the illustration below)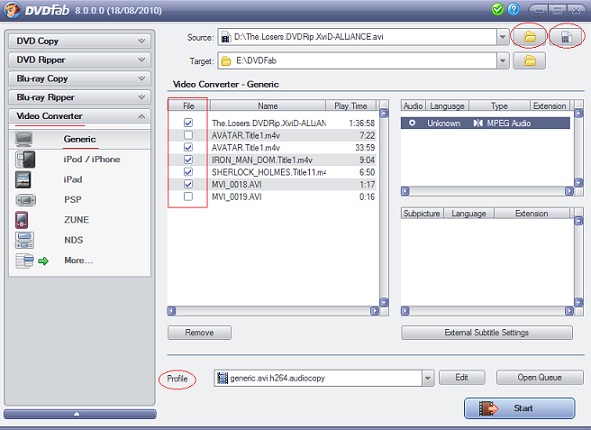 Note: This conversion option supports profiles for several file formats. Be sure to select the correct one you prefer in the lower area Profile selector.

Step 3) Set advanced settings

Step 3.1 External subtitle settings

This settings panel allows to insert external subtitle to the highlighted title you desired to convert. Please click on the dashed line button to add subtitle file.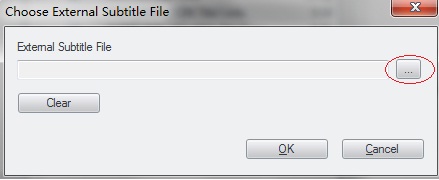 Step 3.2 Open Queue

DVDFab provides batch conversion, which makes it easier to convert a large batch of files using different output formats at once, that will definitely save much of your time.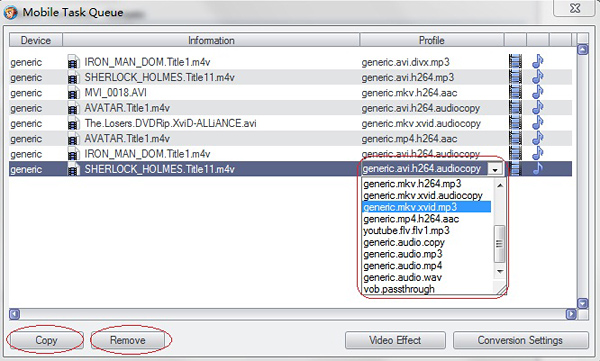 Copy: Create a new task for the same title yet output another format which can be selected with the drop down profile selector.
Remove: Remove the task you selected. If a title is removed from the task queue, it will be deleted from the Title List (in the main window) as well.

Step 3.3 Conversion Settings

Please click on "Edit" button, open "Conversion Settings" window.You can adjust the output parameters like output type, audio/video format, frame resolution/aspect ratio, and rename the output file, etc. For detailed explanation about this window, please check DVD Ripper Conversion Settings.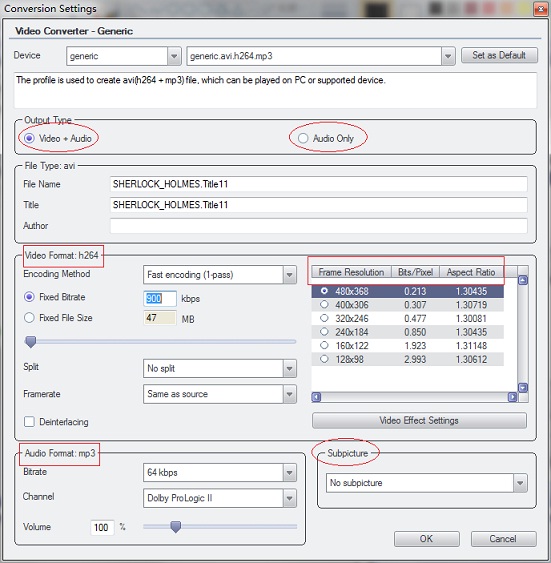 Step 3.4 Video Effect Settings

>Resize

Here you can select the suitable aspect ratio, frame resolution and visually check the different scene's output effect by draging the slide bar in the lower right area, and the detailed parameters of source/output file in the left bottom corner.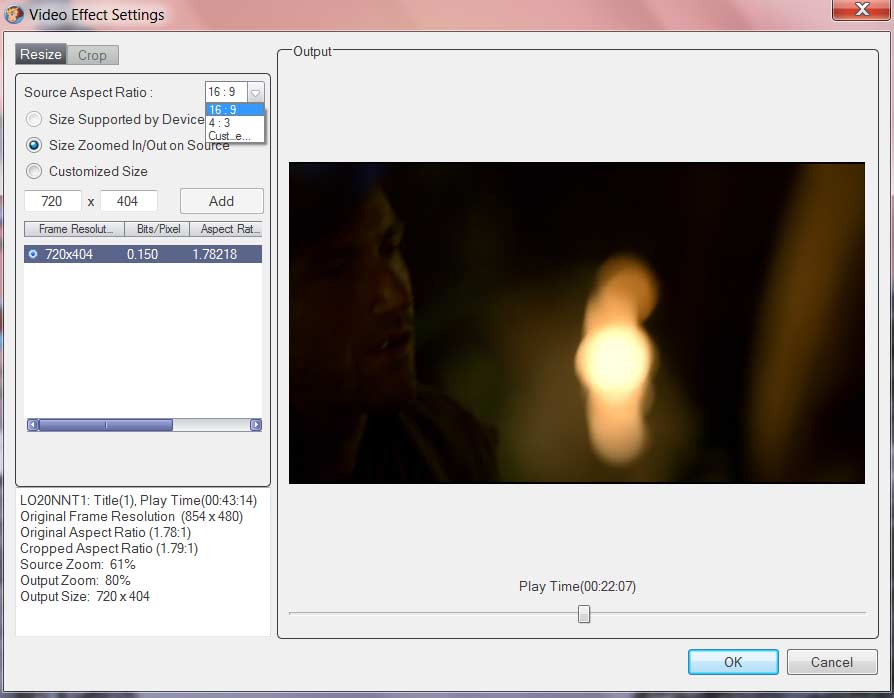 Note: If you don't want your converted video to be stretched and made taller, please don't change the Source Aspect Ratio before converting.

>Crop

Here you can cut off the black edges and unwanted area by easily draging the frame-mark on the video screen of the source file, you also can type the number in the Top/Left/Right/Bottom box to crop accurately.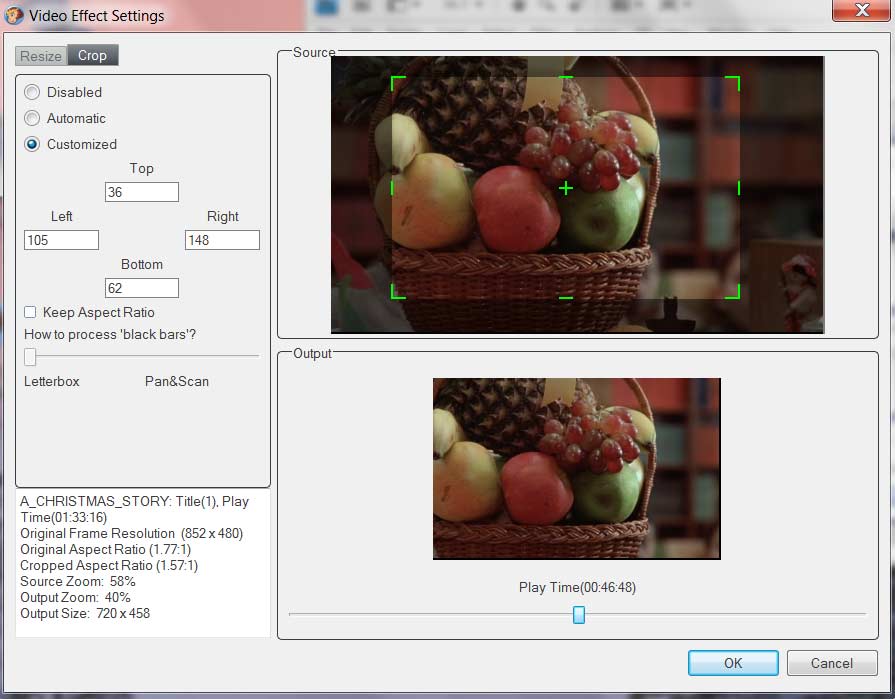 Note: If you want to keep the aspect ratio of source screen, you need to check this option before cropping. letterbox to pan&scan: Allow you to resize output from letterbox to pan&scan.

Step 4) Start to convert

After accomplish all the settings, click Start. The conversion will do it work. You can track the conversion process from the progress bar at the bottom of the interface.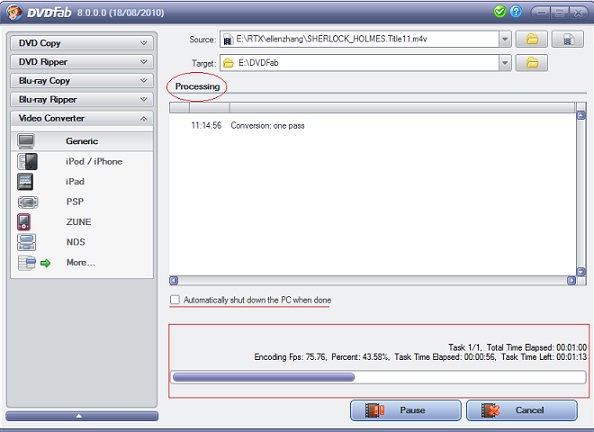 If you have checked the option "Automatically shut down the pc when done", the computer would automatically shut down after conversion finished.

After some time (some minutes or hours later (depending on your PC's speed and the length/amount of source files)) you will get a message that the process has completed successfully, then press the Finish button.
For a detailed video tutorial, please visit http://www.youtube.com/watch?v=u9_I-H-Eo9E