Convert MP4 to DVD
You have many non-DVD video files on your computer hard drive disk, and they are in all kinds of formats. Some are high definition or lossless video files, being it in MKV, AVI, or MP4 format. One day, your kids want to watch a specific cartoon, but you don't have that particular DVD disc in your home DVD library. Instead, you happened to have it on your computer, in high definition MP4 format. So here comes your question, how to let the kids watch this movie on your big TV, hooked up to your home DVD player? The answer is that you need burn this MP4 video to a blank DVD disc. At this point, a MP4 to DVD converting tool is necessary.
DVDFab DVD Creator, a professional DVD creator software designed for Windows system, can help you convert many video files in all sorts into regular DVD-video format so that you can watch any of your video files on your TV, connected to a home DVD player.
Right below in this tip, you will learn how to burn MP4 video onto DVD disc.
Burn MP4 to DVD -> Step 1: Download, install and run the latest DVDFab DVD Creator, then click the yellow folder icon at the source loading section to load a folder which contains your MP4 videos, or click the film&paper icon right behind to load the MP4 videos directly, insert a blank DVD disc into your DVD writer, and choose an output size at the bottom middle part of this interface, according the blank DVD you inserted in, for example DVD 5;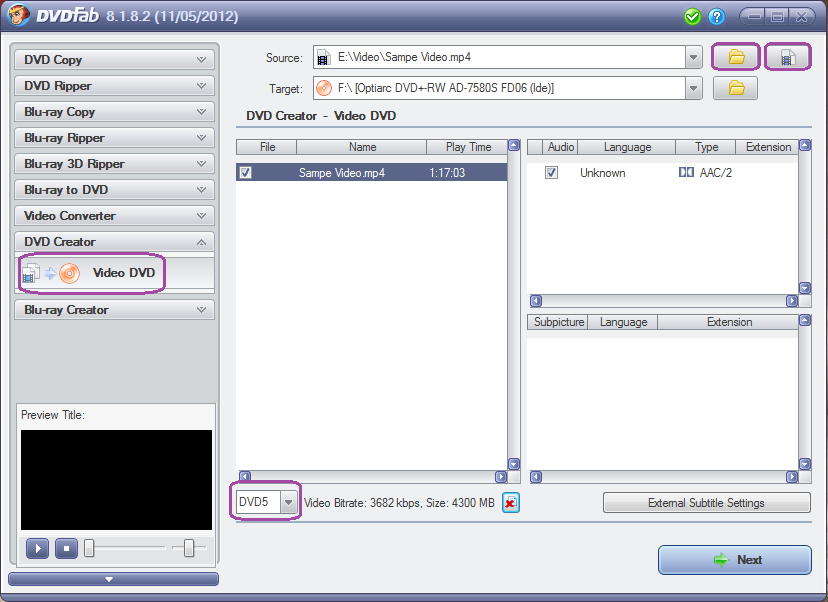 Burn MP4 to DVD -> Step 2: Move on to next page, type in a name you like for the created DVD disc at the Volume Label section at the bottom middle part, then click "Start" button to let go.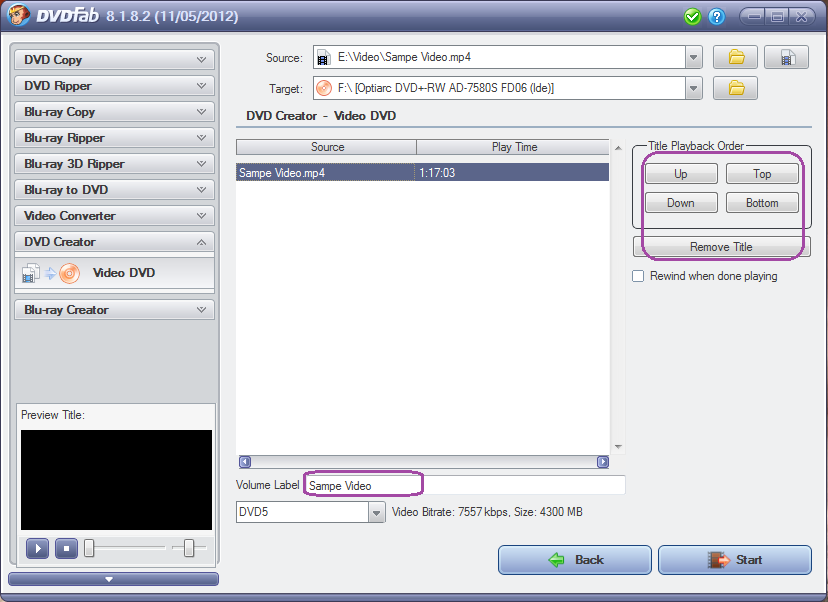 Sidenote:
1). If you are converting a couple of MP4 videos at one time, you can use the "Up", "Down", "Top" and "Bottom" buttons to decide which one plays first, and which one goes secondly.
2). Use the "Remove Title" button to remove the MP4 video you do not want the keep, after highlighting it.
Okay, that's all you need to do. The converting and burning time varies on your MP4 video size. Just wait for the job to be completed.
For more information, please go to www.dvdfab.cn/dvd-creator.htm.