How to convert videos for iPhone 7?
"Yesterday was my 6-year old son's birthday, and we took him to the Disney Resort and we had a very great day there, he was so happy to play games with the cartoon characters, especially the Donald Duck and Mickey Mouse. We also took a lot of videos there with our digital camera, however, when back at home, my husband want to transfer those videos onto his iPhone 7 finally in vain, because the videos are not playable there. So my question is that is there anything you can help us?"
Absolutely, not all the video formats can play back on a certain device, because decoding the video requires correct video decoders. To solve the above mentioned problem, users only need to convert the unplayable videos into correct formats with correct codec, then the iPhone 7 should be able to play back them smoothly. To do this, a third party video converter software shall do the job.
Now check out the following tips to see how DVDFab Video Converter can help users to convert unplayable videos to iPhone 7 compatible videos.
Convert Videos for iPhone 7: Step 1-> Download and install the latest DVDFab 9 onto your computer;
Convert Videos for iPhone 7: Step 2-> Launch DVDFab 9, choose the Converter module from the top menu, and then load the video need to convert.
Convert Videos for iPhone 7: Step 3-> Click the Profile Switcher to find the iPhone 7 from the built-in Profile Library and then just hit "Start" button at the Main Interface to let go of the conversion.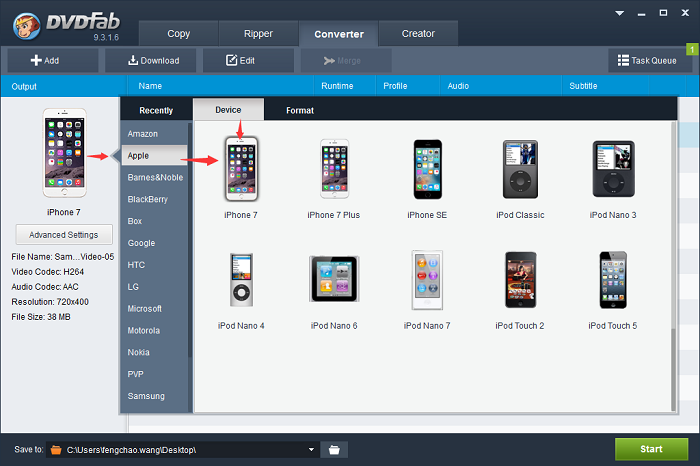 Note: selecting the iPhone 7 profile from the built-in Profile Library is the key point of the whole process.
Software you need: The latest build of DVDFab 9
Product you need to order: Video Converter
For more information, please visit the product page of DVDFab Video Converter at https://www.dvdfab.cn/video-converter.htm
Related Tips: