Top 6 Best MOV Players for Mac
Summary: If you are looking for MOV Players for Mac with extra functionalities, better performance and a lightweight application, then you are in the right place. Here we tested 6 best MOV Players for Mac.
DVDFab Player 6
• Play DVDs/(4K UHD) Blu-rays with menu support
• Support playback for 4K, HEVC, and regular media files
• PC & TV modes available for small & large screen
• Organize & manage local media library via poster walls
MOV file format is a format native to QuickTime player of Mac and should natively play in it. However, since you are here, I assume you are looking for some extra functionalities, better performance and a lightweight application from your MOV player for Mac. Let us help you get extras you are looking for in a MOV player for Mac.
DVDFab Player 5
DVDFab Player 5 for Mac is a free MOV player for Mac. A highly powerful media player for Mac that can play anything and everything you would want to in a media player. It is a 4k UHD media player, meaning it supports the highest quality media file you can throw at it. It supports menu playback on regular Blu-rays and 4k Ultra HD Blu-rays. If you have a television which supports graphics for a 4k or HDR10 movie, then activate the HDR10 toggle to watch your movie in the best possible way using this MOV player for Mac.
It has 2 playback modes - TV and PC mode, each of which offers a unique playback experience. Use the TV mode if you have a large screen television at home and improve the experience further by connecting a state-of-the-art acoustic system to your Mac to take advantage of the capabilities of this MOV player for Mac to give Hi-Res Audio Output, up to Dolby Atmos & DTS:X. DVDFab Player 5 can output lossless high-resolution audios such as Dolby Atmos, Dolby TrueHD, DTS-HD Master and DTS:X etc.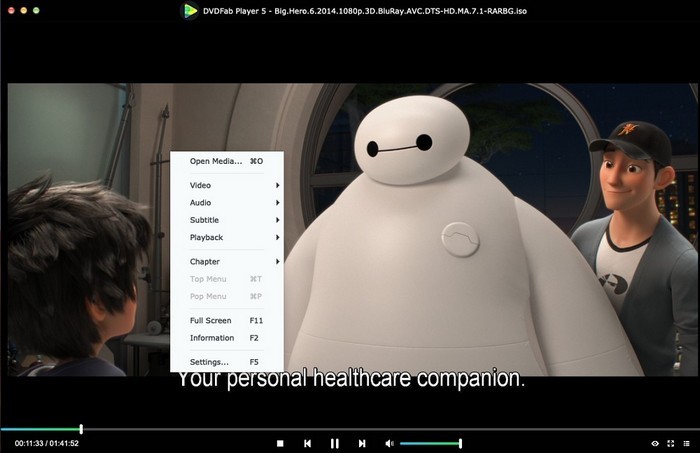 It has a lot of advanced options as well to control the playback like playing it is slow or fast speed, rotate, take a snapshot, change aspect ratio and adjust color properties like brightness, contrast and saturation.
To play a MOV file, install this MOV player for Mac from DVDFab Player 5 official website, launch the application and load or just drag and drop the MOV file to the application screen to start the playback.
MPV player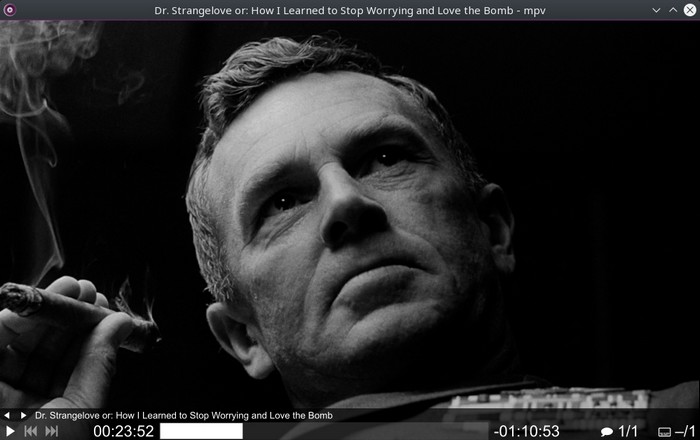 This MOV player for Mac is a fork of mplayer2 and MPlayer. This player has no GUI of its own and most of the functionality is controlled by the CLI. However, it does have a small controller that floats on the screen when mouse movement is detected and otherwise hides during playback. It has an OpenGL based video output that makes it capable of video scaling, color management, frame timing, interpolation, HDR and more. It leverages the FFmpeg hwaccel APIs to support VDPAU, VAAPI, DXVA2, VDA and VideoToolbox video decoding acceleration. It is a cross-platform application and you might need to refer some "How to" article to learn how to use it.
MPlayerX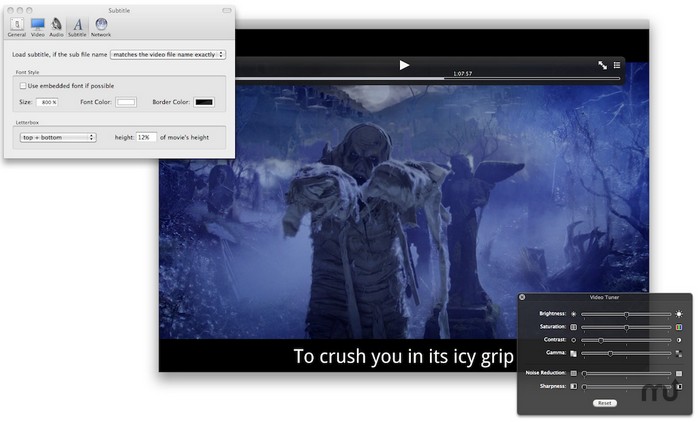 This MOV player for Mac though is free to use, comes embedded within an installer that is basically adware. You need to carefully avoid installing any extra software that are offered as ads. Once it is installed though, you don't need to worry about any further issues. It supports a wide variety of codecs and is an actively updated software. It can detect and convert encoded subtitles. In addition to Latin, Eastern Asian languages, Arabic and Hebrew are supported as well. It can be controlled by Apple Remote. If you plugin a SPDIF cable, this MOV player for Mac automatically detects and streams the audio-video output through the cable.
VLC Media Player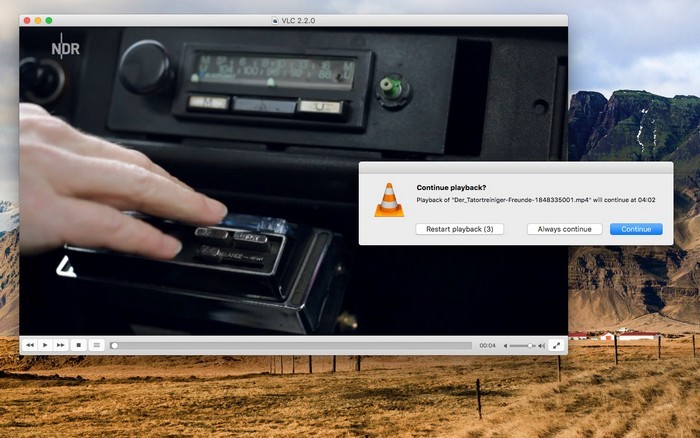 This is a free, open-source MOV player for Mac. It is quite well known for its support of a wide variety of media files and codecs. In addition to Mac, it is available for all major platforms including Windows, Linux and even Android. The application comes with an inbuilt video converter, a basic video editor, audio/video download and the ability to directly stream a video file in the application with an URL.
Macgo Mac Media Player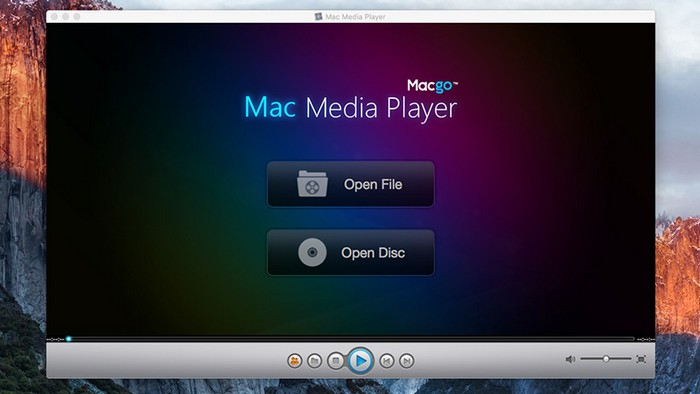 Another free MOV player for Mac that plays high-quality videos for you in its free version. It generates lossless audio and supports DTS5.1 audio system. It has support for playing both inbuilt subtitles as well as externally added ones. You can use it to play videos on your iPhone, iPad or iPod using the AirX functionality. The application can be downloaded from the Mac Store and is available for Mac OS X 10.8 - 10.14 Mojave.
Cisdem Video Player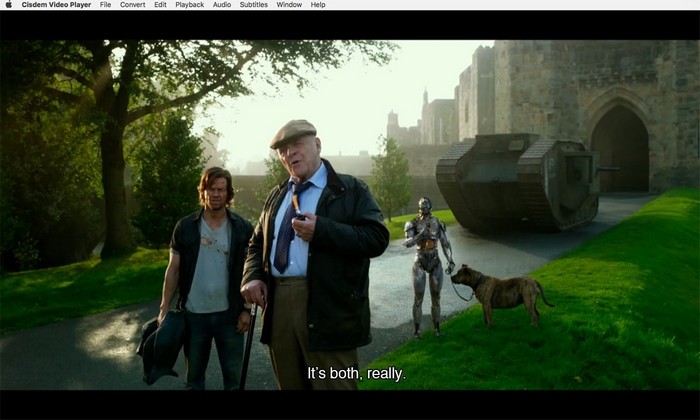 A completely free MOV player for Mac that is ready for macOS Mojave. It can play 5k as well as Full HD 1080P video. There is no need for adding any external plugin or codec as it supports all major video and audio formats. It has a simple and easy to use interface and loads videos fast. It plays native subtitles as well adding on external subtitles.
That finishes our list of the best MOV players for Mac. All these players allow you to play MOV and many other video and audio file formats for free. Download the player of your choice and enjoy your movie!
From this article, you have known the best MOV Players for Mac to play MOV and many other video and audio file formats. Then would you like to convert these musics from MOV to MP3? Here are several best tools we tested.