Does Xbox 360 Play Blu-ray?
2019-12-02 05:02:09
Posted by Gabriel
11438
Summary: Does Xbox 360 play Blu-ray? Xbox 360 itself cannot play Blu-rays but you convert Blu-rays to Xbox supported format for playback. Read the article to check the details.
The Most Complete Multimedia Backup Solutions
As the world's most complete multimedia backup solution package, DVDFab 11 offers four major modules, Copy, Ripper, Video Converter and Creator, and a bunch of other useful utility tools with amazing features.
Xbox 360 was a seventh generation video game console that was released back in the 2005. It directly competed with Sony's Playstation 3 and Nintendo's Wii. But does Xbox 360 play Blu-ray? The answer is a big 'No!'. Xbox 360 doesn't support Blu-ray discs just like the PS3 does. Xbox could only play DVDs, CDs, and HD DVD. Xbox 360 sold nearly 84 million units in just 9 years. So there are chances that you may be having a working unit of Xbox 360 with you at present. At present only Xbox One can play Blu-rays. But if you can't afford the Xbox One then read the article till the end if you want to learn how to play Blu-ray on xbox 360?
Part 1: Play Blu-ray Movies on Xbox 360 by Ripping Blu-rays to Xbox 360 Supported Formats
You can use DVDFab Blu-ray Ripper to rip your Blu-ray discs to Xbox 360 compatible video formats. DVDFab Blu-ray ripper is a Blu-ray ripping software available for both Mac and Windows. It can rip your Blu-ray discs to any known video format in different resolutions and quality. It also lets you edit the videos on the disc with its built in video editor.
This ripping software has a built-in video profile for Xbos 360 so you can select it to load the pre-configured settings for the best quality. It processes Blu-ray discs faster because of the Intel Quick Sync and Nvidia CUDA hardware acceleration technologies. Follow the tutorial below to rip your Blu-ray discs to an Xbox 360 compatible video format.
· Download and install the latest version of DVDFab 11.
· Open the program and click the 'Ripper' tab. Now load your Blu-ray disc in the optical BD drive. You can also load a BD ISO if you don't have discs.
· After loading the ISO/disc click the 'Video Profile Selector' button and click the 'Device' tab. From this list select 'Microsoft' from the left side and then click 'Xbox 360' in the right side.
· Now set the quality to 'High Quality' and then click the 'Video Settings' to check whether you need to modify the video settings or they are just perfect.
· After checking the settings you can click the 'Video Editor' button to launch the built-in video editor.
· The DVDFab video editor provides all the basic video editing tools with several advanced video editing tools like multi trim, add subtitles, and adding background music.
· After editing your Blu-ray disc media click 'OK' to go back to the main ripper function. Here check whether you need to select chapters, audio stream, and subtitles. Please click the 'Choose Other Titles' button to select all the videos on the Blu-ray disc.
· Finally click the 'Start' button wait till the software finishes ripping your Blu-ray disc to an Xbox 360 compatible format.
· Once the ripping process finishes you can transfer the ripped videos to your Xbox 360's storage for watching them on the TV.
So this is how you can rip your Blu-ray discs and watch them on your Xbox 360 gaming console.
Part 2: The Most Recommended Player to Play Blu-rays on Computer
Xbox 360 is unable to play Blu-ray media and if you have a collection of Blu-ray discs then you may be looking for a relevant software player for playing those Blu-rays on the computer. Please note that free media players usually don't support Blu-rays. So we suggest you using the DVDFab Player 5.
DVDFab Player 5 is an all-in-one video player with a clear support for 4K Ultra HD Blu-rays, Blu-rays and 3D Blu-rays. It is the only Blu-ray player that adapts to your computer hardware configuration. DVDFab player 5 can be used in two modes 'PC Mode', and 'TV Mode'. You can use any of the modes which suits you the best. Here are some features of the DVDFab Player 5.
Features of DVDFab Player 5
· Fully supports 4K Ultra HD Blu-ray playback.
· The only player which supports HDR10 playback for crystal clear playback.
· High-Res 7.1 channel audio output with support for Dolby Atmos, Dolby TrueHD, DTS:X etc.
· Fully supports navigation menus on 4K UHD Blu-ray/Blu-ray/DVD discs.
· Easy to use UI.
· Can be used in two modes 'TV Mode' and 'PC Mode'. For TV mode you'll need an HDMI cable.
· Supports all kinds of 3D content like 3D Blu-ray discs, ISO files and SBS (side-by-side) or top & bottom 3D videos.
· Allows creation of playlists.
· Built-in player settings. Customize the settings while the player plays a movie.
Conclusion
Now you just have learned to rip your BD discs/ISOs to Xbox 360 compatible format and go the right answer to your question "does Xbox 360 play Blu-ray". This is the only indirect way to watch and play Blu-rays on Xbox 360 by ripping them first to a compatible format. Secondly we discussed DVDFab Player 5 an all-round player for Blu-ray discs on computer. If you are looking for a compatible DVD/BD/3D BD/4K UHD player then do check DVDFab Player 5 first because after using it you may feel not moving to other Blu-ray player software.
Just as we said in the article, the successor of Xbox 360, namely Xbox One, can play Blu-rays. If you are going to replace your Xbox 360 with Xbox One, you may want to check how to play Blu-rays on Xbox One.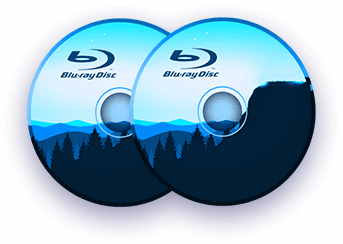 Backup Blu-rays at home with up to 5 different copy modes
Featuring the most advanced Blu-ray copy technologies, DVDFab Blu-ray Copy allows you to make premium backup copies to your legally purchased Blu-ray movie/TV Show discs at home, for non-commercial use. With 5 versatile backup modes catering various demands, you can copy your Blu-rays in the way that fits your situation best.