Does the PS3 Play Blu-rays?
2019-03-19 00:46:19 Posted by Rebecca
5640
Summary: Does the PS3 play Blu-ray discs? The answer is yes. Now please follow us to have a look at the steps of how to play Blu-ray movies with PS3 console.
The Most Complete Multimedia Backup Solutions
As the world's most complete multimedia backup solution package, DVDFab 11 offers four major modules, Copy, Ripper, Video Converter and Creator, and a bunch of other useful utility tools with amazing features.
Despite the PS4 and PS4 Pro having been available for some time, a lot of people still prefer sticking with their PS3. Regardless of whether you don't want to spend money on a new console or simply prefer older games, there are plenty of good reasons to still own a PS3 in this day and age. The PS3 is not just a gaming console, however, because you can also use it to play other forms of digital content such as movies. But does the PS3 play Blu-ray discs? The short answer is yes. In fact, the console was the very first consumer-grade entertainment system to include a Blu-ray player. A lot of people are still not aware of this so today we're going to teach you how you can play Blu-ray movies using your PS3 console.
Part 1: How to Play Blu-ray on PS3 Directly
So how does the PS3 play Blu-ray discs directly? Well, it works pretty much as you would expect, however, there is one thing to keep in mind. Make sure your PS3 is connected to the internet so you can perform a system update if needed. As of this writing, the latest PS3 software version is 4.83 but if you have at least version 1.50 you should be good to go.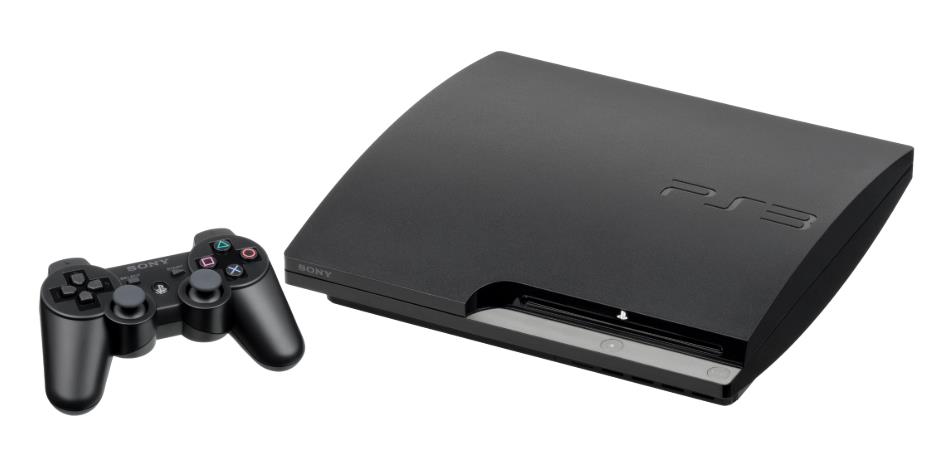 1. Insert the Blu-ray disc you want to play into your PS3's optical drive. Instead of choosing the Game Tab from the home menu, pick the Video Tab and then highlight the disc you just inserted. Press the X button to start playing the disc.
2. With the movie now playing, you can use your controller to play, pause, and stop the movie or navigate through the menu.
3. Use the triangle button to access the menu that lets you choose subtitles and adjust the volume. L1 and R1 are used for skipping between chapters while L2 and R2 allow you to fast forward or rewind the video. The right analog stick can be used to perform a similar function but gives you a lot more precision. Finally, when you want to return to the home screen simply press the circle button.
Part 2: Rip Blu-ray to PS3 for Indirect Playback
Now that you know how to play Blu-ray on PS3 directly it's worth noting that this may not always be the best option. The PS3 is a pretty old console so its Blu-ray drive isn't as reliable as it used to be. If you want to make sure your discs don't get damaged we recommend using the more reliable drive of your computer combined with a specialized tool to rip the contents of the disc and then play them on your PS3 via a USB drive. Sure, it takes a bit more time but doing so will ensure that your discs will remain in perfect working order for a longer time.
The tool we recommend for this job is DVDFab Blu-ray Ripper. This software can be used to rip the contents of any Blu-ray disc and convert them to a format that's supported by pretty much any device, including a PS3. The great thing about DVDFab Blu-ray Ripper is that you don't even have to know which formats your PS3 supports. The software comes with a number of pre-made profiles that will make your life easier so simply choose the PS3 profile and the software will select the ideal format for you. And, if you combine the Ripper with DVDFab's Cinavia Removal Solution you can also get rid of the Cinavia watermarks in the process. If your PS3 won't play Blu-ray discs directly, make sure to follow the steps below for guaranteed success.
1. Launch the main DVDFab 11 client and go to the Ripper module in the top menu. Insert the Blu-ray disc you want to rip into your optical drive and wait until the software loads it up or use the "+" button to manually add the disc or a compatible folder that's already on your computer.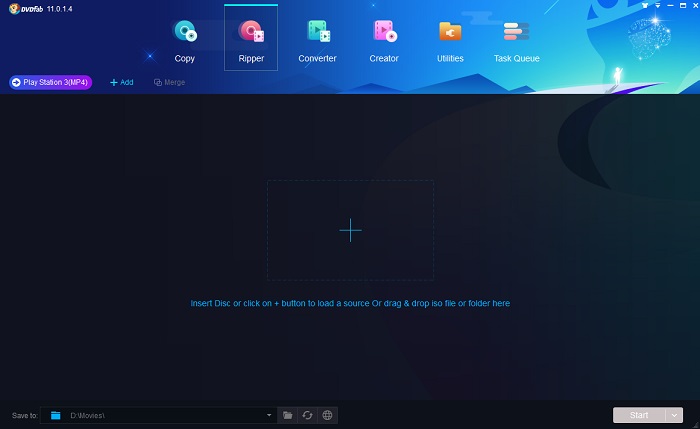 2. Go to the Profile Switcher in the upper left corner to choose a PS3-compatible format. You can pick a format yourself if you know what you're doing or you can let the tool do it for you, as previously mentioned. To let the software pick the format for you, go to Device -> Sony and then select the Play Station 3 option.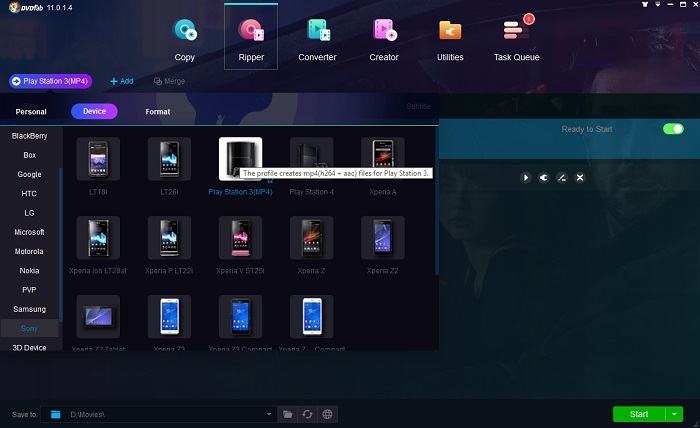 3. This step may not be necessary but if you ever need to edit or customize videos in the future before converting them, you can do so by using the Video Edit and Advanced Settings menus located in the main UI.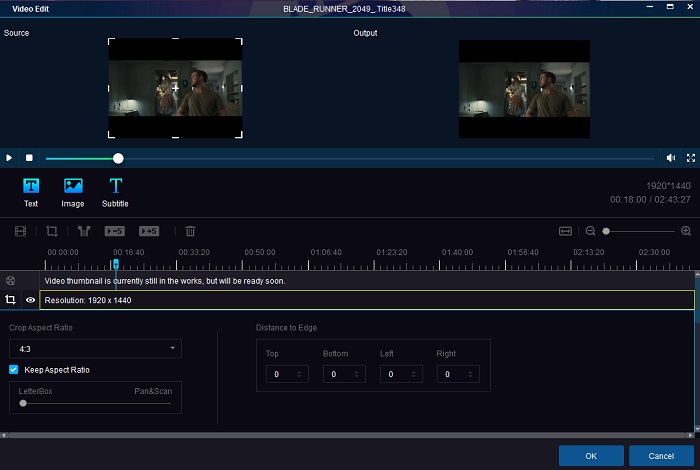 4. Use the bottom menu to choose a suitable location for the contents of the disc you're ripping and then click the Start button to initiate the ripping process.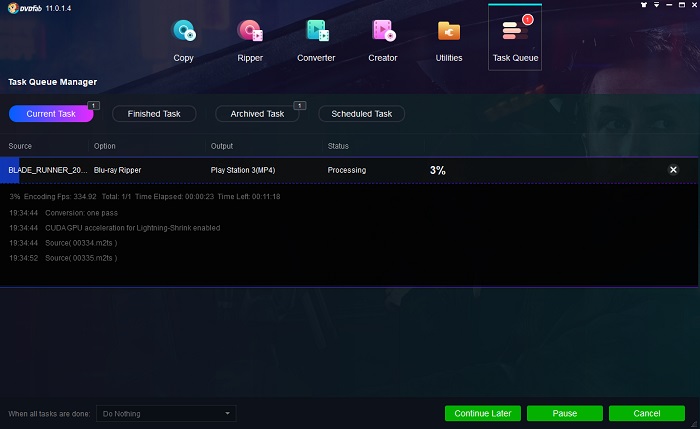 Part 3: How to Transfer and Play the Ripped Blu-ray on PS3
So can the PS3 play the Blu-ray movie you just ripped? It can indeed but you do require a USB flash drive or external hard drive so you can store the Blu-ray contents and then transfer them to your console.
1. Connect the drive and then copy over the contents of the disc you just ripped using DVDFab Blu-ray Ripper.
2. Wait until the transfer is complete and then plug in the drive into your PS3.
3. Go to the Video Tab from the home screen and select the drive. Press the triangle button to see its contents and select the movie to play it directly or copy it to the PS3's hard drive to watch later.
Conclusion
We hope this article helped you learn how to play Blu-rays on PS3 in the most efficient way possible. The easiest way is, of course, to play it directly but using DVDFab Blu-ray Ripper coupled with a USB/external hard drive is sometimes a better alternative. This method is particularly useful if you're a collector and want to keep your Blu-ray discs in pristine condition at all time. With DVDFab Blu-ray Ripper you only need to rip the discs once and then you can copy and transfer the contents as many times as you want, thus ensuring that you'll never have to take the original discs out of their box ever again in the future.
If you also have an Xbox One game console at hand, you may be also interested in how to play Blu-rays on Xbox One.
1. Convert Blu-rays to MP4, MKV, and etc., to watch on PCs, portable & mobile devices
2. Extract Blu-ray audios to AAC, MP3, and etc., to listen on iPod, or other music players
3. Customize the audio & video parameters to meet specific needs from different users
4. Edit the output videos like cropping, trimming, adding text/image watermark, and etc.