How to Copy Blu-ray to Disc/ISO/Folders?
05/28/2020
It's true that we live in a digital world where everyone could easily get off media contents from various platforms online. However, DVDs, Blu-rays, and other premium movies cannot be freely or cheaply accessed on any streaming network or video download sites. Unlike DVDs which has the maximum resolution of 720x 480p, Blu-ray movies are premium movies, and they come with stunning high resolutions up to 1080p resolution.
Blu-ray movies are copyrighted, which makes them difficult to copy. However, with DVDFab Blu-ray Copy software, you can copy all kinds of Blu-ray discs to regular discs or save them as ISO image files or folder (irrespective of the size). Although there are many software programs out there that can copy Blu-rays to discs, not all of them are capable of copying Blu-ray to folders/ISOs. Thus, the DVDFab Blu-ray Copy software is apparently the best app you can use for this action.
DVDFab Blu-ray Copy software
This is a comprehensive software solution specially designed for Blu-ray disc owners who wish to save their premium movies in ISO format, folders, or copy to a new disc. Converting or rather copy Blu-ray to ISO file comes in handy when you want to save the premium movie(s) you probably got from Netflix, Amazon, or other platforms that provide originals on your PC HDD or another storage to re-copy them into a blank Blu-ray disc when you've got one at hand. This process has been a tough task to quite a lot of people, but, here is the best solution.
DVDFab Blu-ray Copy software is extremely easy to use and navigate, thanks to its unmatched intuitive interface. Also, DVDFab Blu-ray Copy supports to copy Blu-ray movies to a new compatible disc. It further features a bunch of flexible options, as well as tools for an effective copying process. You can copy Blu-ray to Blu-ray discs with this app or copy Blu-ray to DVD discs. Copying Blu-ray to DVD discs means to copy and compress Blu-ray movies to DVD-5 or DVD-9 in Blu-ray formats. DVD-5 and DVD-9 are also referred to as BD-5/BD-9, and they can be played on a Blu-ray player software such as DVDFab Player 5. DVDFab Blu-ray Copy is arguably the best app to copy Blu-ray on win/mac.
Steps to copy a Blu-ray to disc/folder/ISO file using DVDFab Blu-ray Copy software
Step One: Download and install DVDFab 11
To start with, you have to download the DVDFab 11 software package on your PC. DVDFab 11 is available for Macintosh and Windows. After downloading DVDFab 11 package, launch the installer file; it will automatically launch a server download process. Kindly wait until the program completely downloads its components and files from the server, then, follow the on-screen instructions to install DVDFab 11 on your Windows PC or Macintosh.
Step Two: Launch DVDFab Blu-ray Copy
Launch the DVDFab 11 on your computer (double click on the icon to launch), and click on the "Copy" module to run DVDFab Blu-ray Copy. Don't be confused, DVDFab Blu-ray copy is inclusive in DVDFab 11 software packages.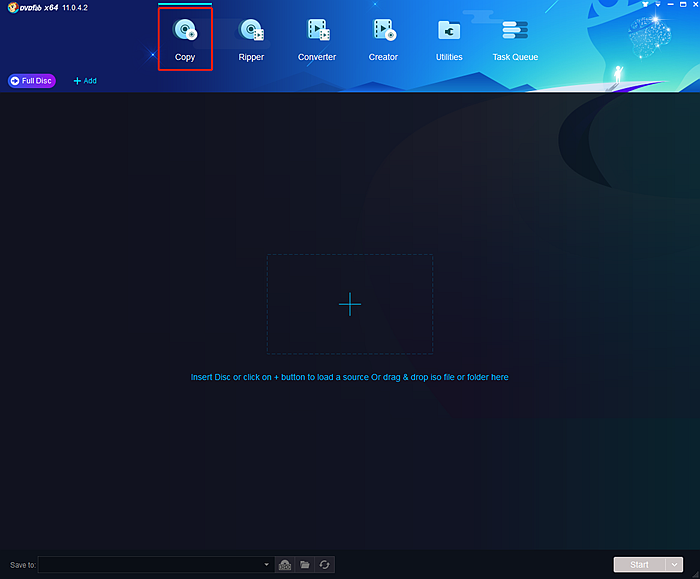 Step Three: Select a copy mode
Now on the Copy module, click on the first tab at the left end of the active window to choose a copy mode for your Blu-ray movie/disc. There are varieties of unique Blu-ray copy modes to choose from; however, to copy Blu-ray to discs/ ISO images/folder, you can choose, full disc, main movie, customize, clone/burn, and merge.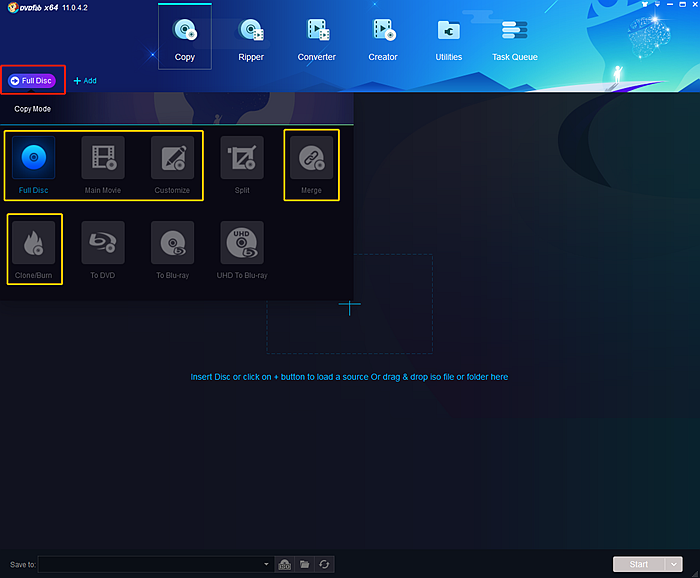 Step Four: Load your Blu-ray movies/discs/folders
Now that you've chosen a mode, the next thing to do is to load your movies to the active window interface. This can be achieved by simply dragging and dropping the Blu-ray ISO file or Blu-ray folder onto the active window or load Blu-ray movie(s) from a Blu-ray disc inserted into your PC disc drive (you will need a Blu-ray disc drive for PC). Also, you can import files saved on your PC local drives. Interestingly, you can load/add more than one Blu-ray sources and DVDFab Blu-ray Copy will handle the tasks one after another.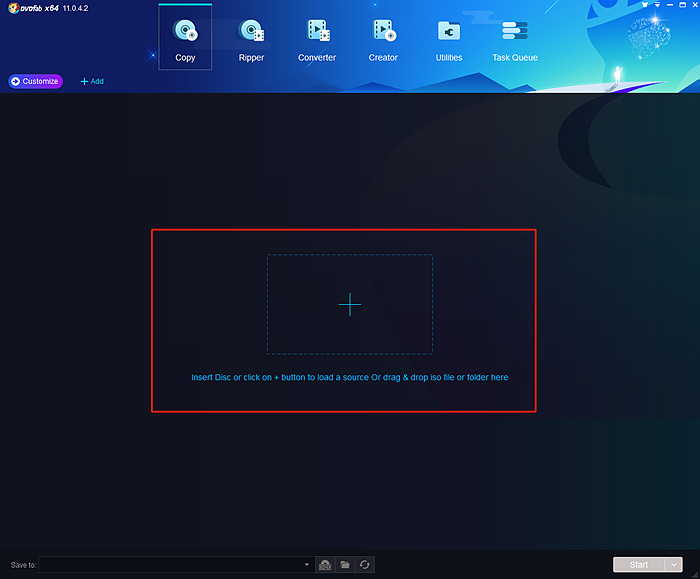 Step Five: Customize your Blu-ray movie
This step is optional; yes, because it is not compulsory that you should customize your original movie; especially when you don't know much about tweaking video settings. However, for advanced persons who are vast with video settings, there are quite a bunch of utility tools available on DVDFab Blu-ray Copy software that allows tweaking various aspects of your premium movie(s).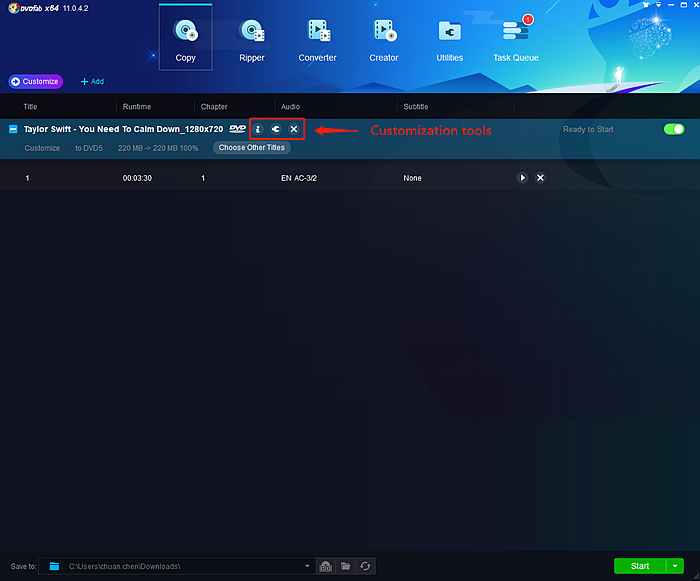 For this example, we are using a ISO file. The 'I' button beside your file name is information about the input source. You can also export this info if you want. Next, you have your advanced settings. Clicking the wrench icon will show the following screenshot.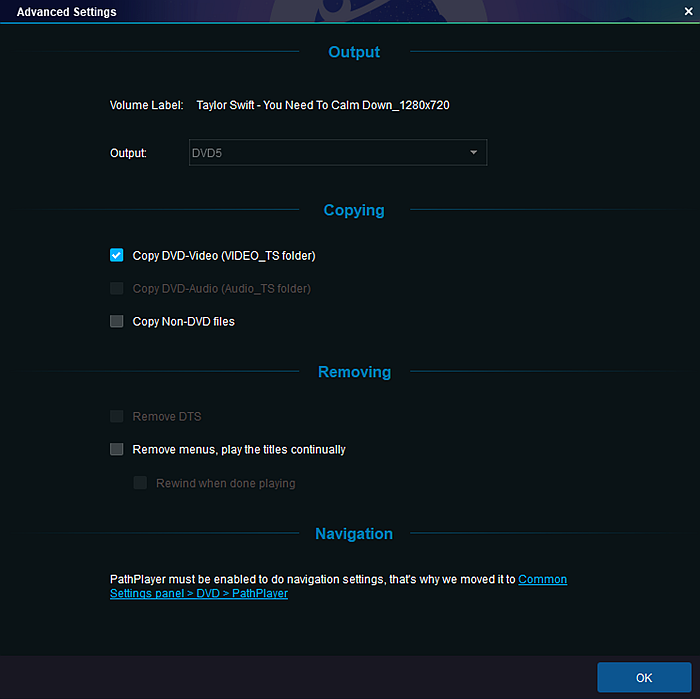 Of course, the 'x' button removes your file. You can preview your file by clicking on the play icon beside subtitle.
In this advanced settings, you have a few options. While the options you see above are pretty self-explanatory, keep in mind that you can change the name of the volume label directly. We advise you do not change the settings available in the "Advanced Settings" box if you don't know precisely what you're doing.
Other options include changing the file audio, subtitle, chapter, and more.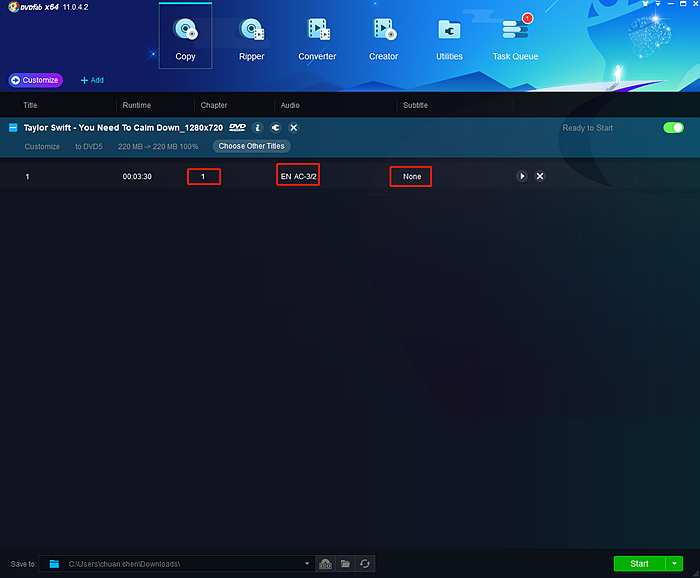 Step Six: Choose an output folder
To copy your Blu-ray movie to ISO, all you need do is to click on the ISO icon which is at the bottom of the software window. You will have to select a directory on your PC where the final file would be saved as an ISO image. Similarly, if you wish to copy the Blu-ray to folder, simply click on the folder icon.
Click on the drop down icon to find your optical drive to copy your Blu-ray movie to an empty compatible.

Step Seven: Start the copy process
After completing the steps above, you can now go ahead and start copying your Blu-ray to ISO, folder, or disc. Click on the "Start" button to trigger the process immediately. Alternatively, you can schedule when the copy process should begin by clicking on the arrow beside the "Start" button.

While the copying is ongoing, you'll get to view detailed information about the process. Plus, you can cancel the process at any time it is still running.
Why choose DVDFab Blu-ray Copy software?
DVDFab Blu-ray Copy is a full-featured Blu-ray copier/burner/cloner software. It is very easy to operate and comes with a super-intuitive interface. With the DVDFab Blu-ray Copy software, you do not need to undergo many steps before you can copy your Blu-ray movie to ISO image/folder, or disc.
Also, DVDFab Blu-ray Copy is designed to meet the needs of all users; both the less-experienced ones and advanced users. Hence, it comes with up to 5 unique copy modes, which are Full Disc, Main Movie, Customize, Clone/Burn, and Merge. Furthermore, the DVDFab Blu-ray copy does not utilize bulk resources; thus, this program can work on virtually all Windows and macOS computers.
Conclusion
In conclusion, DVDFab Blu-ray Copy is the best app/tool to use when you want to copy Blu-ray to ISO image. If your Blu-rays are Cinavia protected, Blu-ray copy software will help you to remove this protection with the help of DVDFab's exclusive Cinavia Removal Solution (available separately). There are quite other good apps included on DVDFab 11, and they are all useful for various purposes.
① Burn Blu-rays to blank discs or copy to HDDs as ISO files/folders
② Offer 5 different copy modes to meet versatile backup needs
③ Support all types of blank discs: BD-R, BD-RE, DVD±R and DVD±RW
④ Copy the Blu-rays in a lossless manner or compress them smaller
⑤ Support GPU hardware acceleration to back up much faster