Convert Blu-ray 3D to MKV
DVDFab Blu-ray 3D Ripper can get rid of all Blu-ray protections (3D BD+, region code, BD-Live, UOPs, MKB V19 and MKB V20) and freely convert Blu-ray 3D to 3D video files like AVI, MP4, WMV, MKV. It supports the current popular side-by-side format for 3D content. The output 3D video files can be played on computer using Stereoscopic Player or NVIDIA 3D Vision Video Player, and transferred to 3D display devices or 3D TV.

Here we will show how to convert Blu-ray 3D movies into MKV file that could easily be played over NVIDIA 3D Vision Video Player.

Guide

Step 1) Start up DVDFab program, go to Blu-ray 3D Ripper.

Step 2) Load Blu-ray 3D disc or 3D folder/ISO imge file.
Click on folder

icon button to add blu-ray 3D disc in Blu-ray drive tray or 3D folder saved on hard drive;
Click on ISO

icon button to add Blu-ray 3D ISO file;

Here we use Blu-ray 3D movie 'Cloudy with a Chance of Meatballs' as example. Please specify the Blu-ray 3D disc's region code, then click OK. This window can be disabled by checking "Do not show again". Then you need preset the region code for inserted disc in Common Settings/Protection/Blu-ray.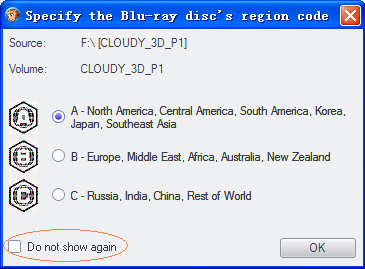 It supports batch files conversion, here we choose Title1 and Title 300 from the list. You can also select your desired audio streams and subpicture tracks.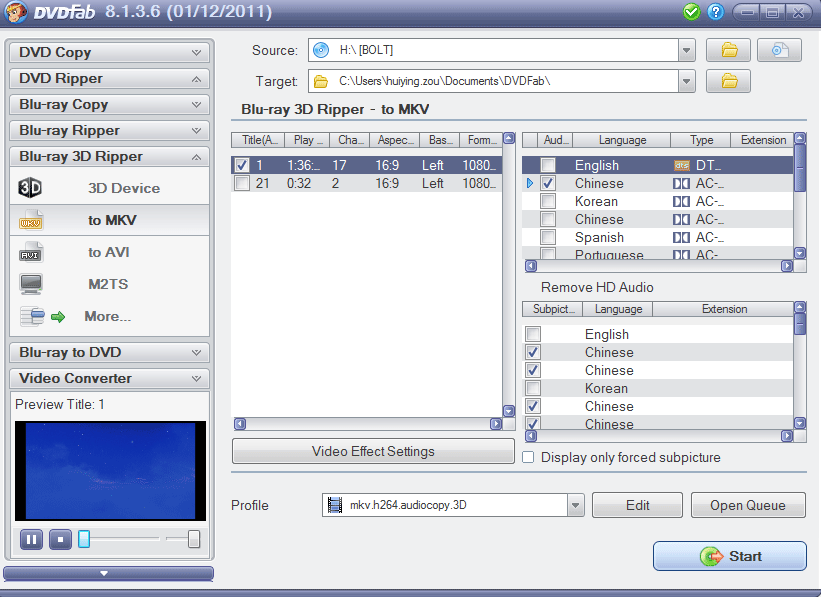 Step 3) Open task queue

This batch conversion function makes it easier to convert a large batch of files using different output formats at once, which will definitely save much of your time.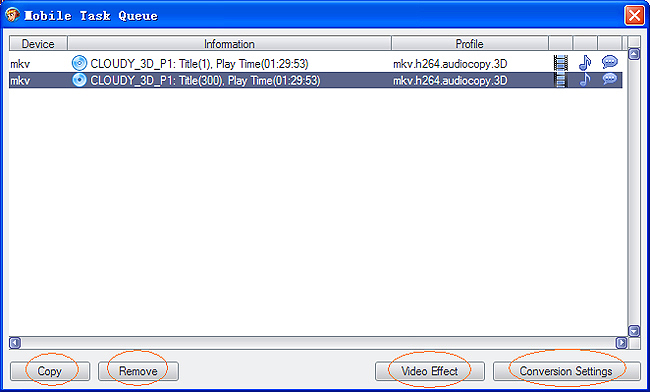 Step 4) Conversion Settings

Please click on "Edit" button to find out "Conversion Settings" window. You can adjust the output parameters
like output type, audio/video format, frame resolution/aspect ratio, and rename the output file, etc.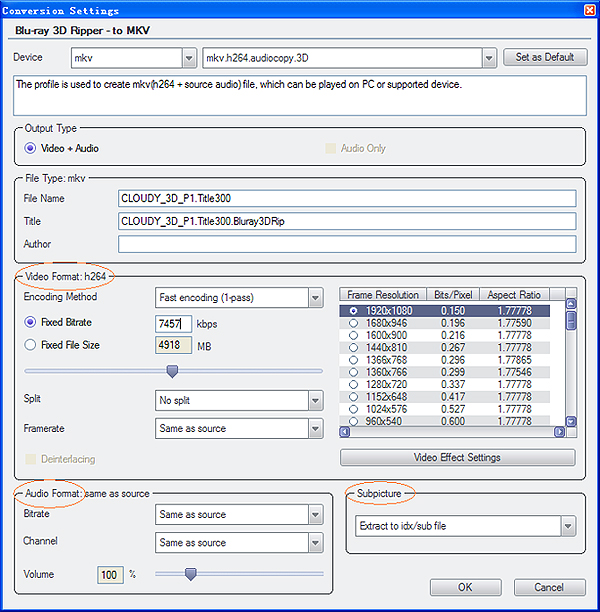 Step 4.1 Video Effect Settings->Resize

Here you can customize the video effect freely to make it your preferred. Please select the suitable aspect
ratio, frame resolution and visually check the output effect in the right area and the detailed parameters of source/output file in the left bottom corner.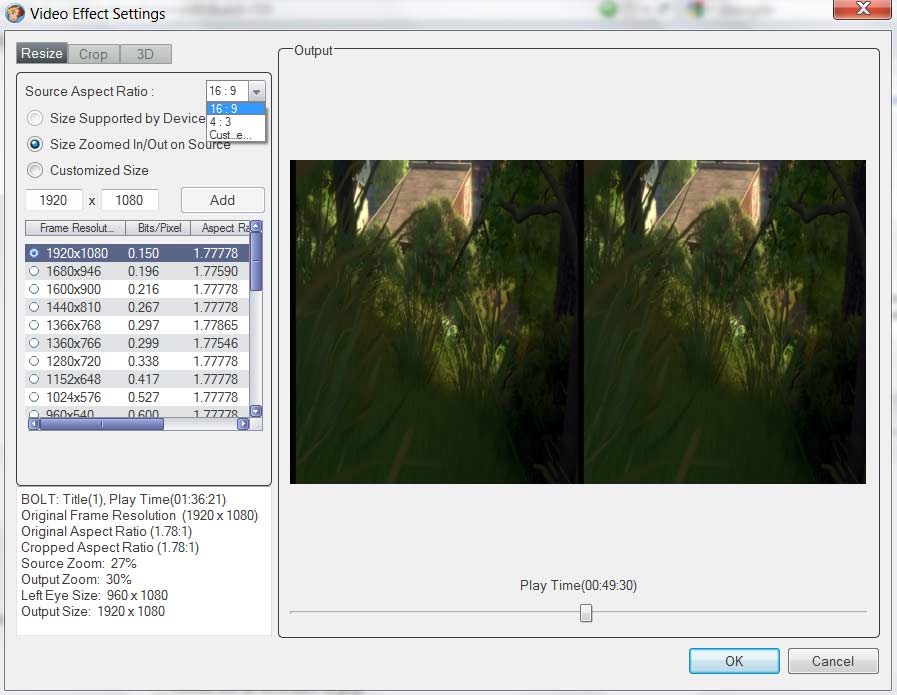 If you don't want your converted video to be stretched and made taller, please don't change the Source Aspect Ratio before converting.

Step 4.2 Video Effect Settings->Crop

Here you can cut off the black edges and unwanted area by easily draging the frame-mark on the video
screen of the source file, you also can type the number in the Top/Left/Right/Bottom box to crop accurately.

If you want to keep the aspect ratio of source screen, you need to check this option before croping. It allows
to preview the effect of output files in the right-hand Output area. (See the illustration below)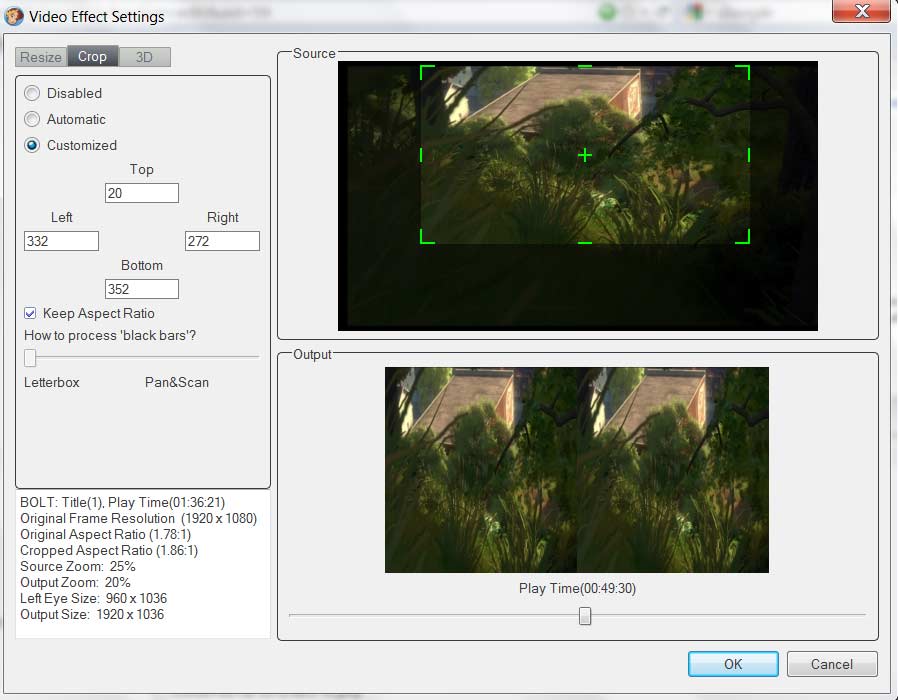 Step 4.3 Video Effect Settings->3D

The 3D type in the Blu-ray 3D Ripper supports left/right (side-by-side) or top/bottom to meet different requirements from different display devices. The video frame size can be full (100%) or half (50%) with excellent effect, and the minor damage can be totally negligible.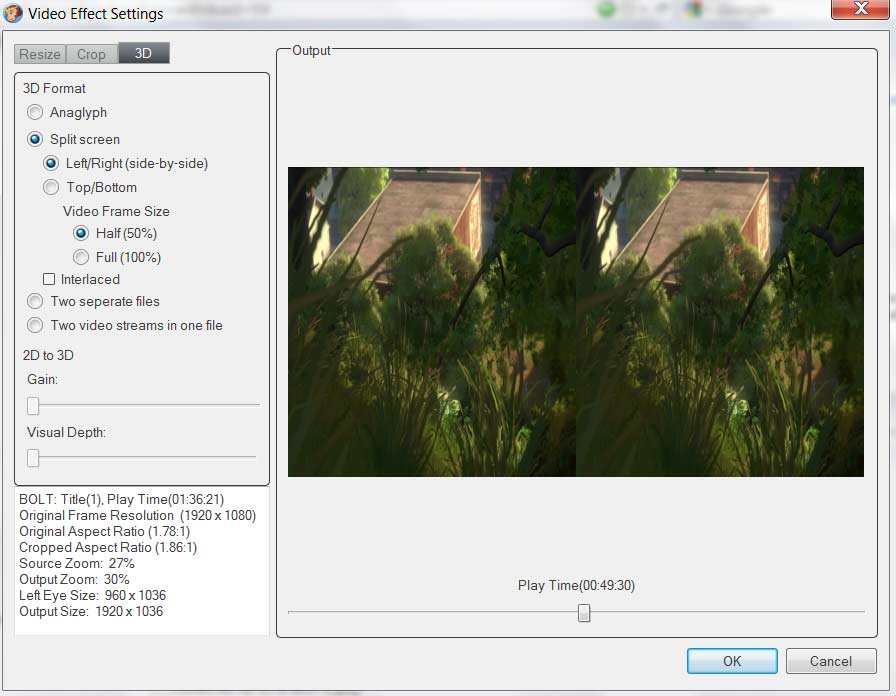 Step 5) Start to convert

After accomplish all the customized settings, click Start. The conversion will do it work. You can track the conversion process from the progress bar at the bottom of the interface. After some time (some minutes or hours later (depending on your PC's speed and the length of movie)) you will get a message that the process has completed successfully, press the Finish button.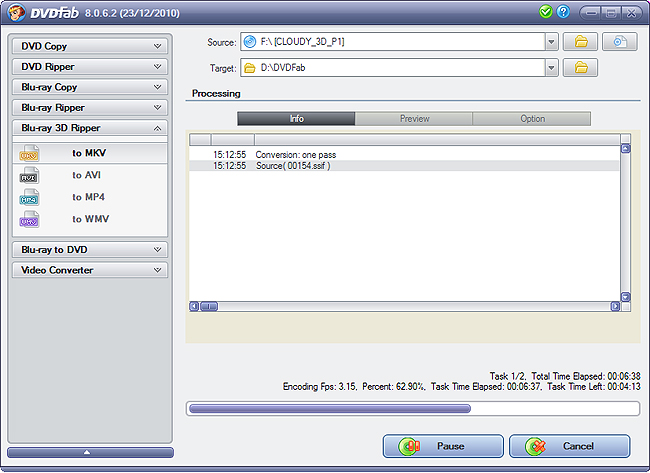 This is is very easy to use, just a few clicks to convert to get the desired mkv file with fast speed and maintain the extremely high quality video and audio. Please download blu-ray 3D Ripper at https://www.dvdfab.cn/mlink/download.php?g=DVDFAB and have a wonderful try!