DVDFab DVD Copy - Full Disc
DVDFab DVD Copy - Full Disc is a quick and easy copy mode for you to backup dvd. You can copy all playable content of your original disc with just a click or two.
Some features may be inactive depending on the content of the original DVD. It will apply compression (see the Quality % readout) if the content will not fit on the blank media size you have selected.
Full Disc Guide
If you don't want to look at the text guide bellow, please scroll down this page to bottom for video tutorial.
Step 1) Start up DVDFab
Start up DVDFab, welcome screen will appear. If you don't want to see it again, check the box "Do not
show again", then select DVD Copy option, Start DVDFab.
Step 2) Load DVD movie
As you can see this is the main interface of DVDFab which is resizable and more readable on large screen. Please select DVD Copy-->Full Disc mode in the left navigation bar, insert your DVD disk to the DVD-ROM tray.
If you choose to burn a DVD from a file you already have on your hard drive, you need to click folder
icon

or ISO icon

to select the source files, remember your files should be standard DVD files.
(This guide uses DVD disc as example)
Now specify the DVD disc's region code, then click OK. This pop-up window is used to remove the 'RCE - Region Code enhancement' on the original DVD, which can be disabled by checking "Do not show again",
you still can find the default RCE settings in Common Settings/Protection/DVD.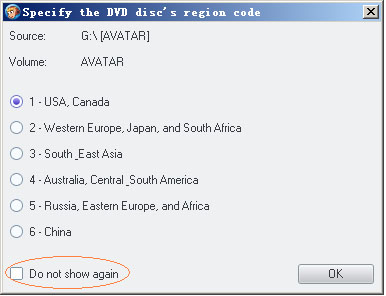 It will open the DVD and you just need to wait a while for analyzing the disc as illustrated below.

Step 3) Start rip process
This interface of Full Disc option makes it incredibly easy to navigate, making multiple copying tasks simple.
Just press "Start".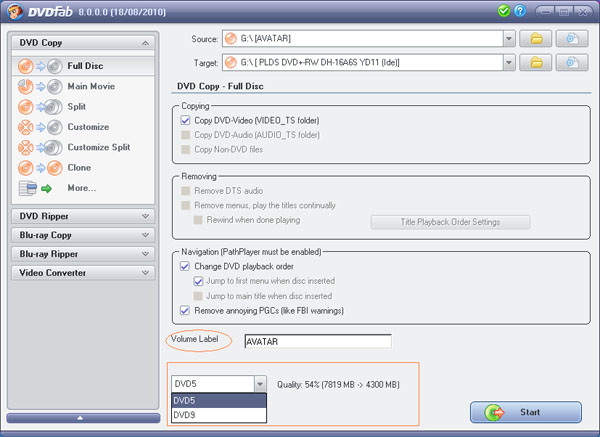 So first you have to configure target path. Click on the folder icon to select the location of the ripped
DVD files. If you want the ripped DVD files output as ISO image files, please click on ISO icon to choose
the target path. Here we select DVD burner as the target.
You can rename the backup DVD folder in Volume Label box.
Choose "DVD5" or "DVD9" in the lower area, choose DVD5, DVDFab will compress the entire movie to
make it fit on one DVD5 disc; choose DVD9, DVDFab will make an integrated copy with no compression.
The larger the original disc, the lower the "Quality" number when you copy to a DVD5 SL.
Now click the "Start" button to begin the ripping process.
Step 4) Start burning process
When this ripping process is completed just press the Finish button, you will be asked to insert a blank
DVD in the DVD-ROM.

Choose your prefer burning engine, specify the output media size and write speed in Common
Settings/DVD/Blu-ray/Write. Click Ok. Then begin the burning process.
DVDFab's default write settings will work just fine for those wanting simple copies.
After some time you will get a message that the process has completed successfully, press the Finish button, then enjoy your perfect DVD copies.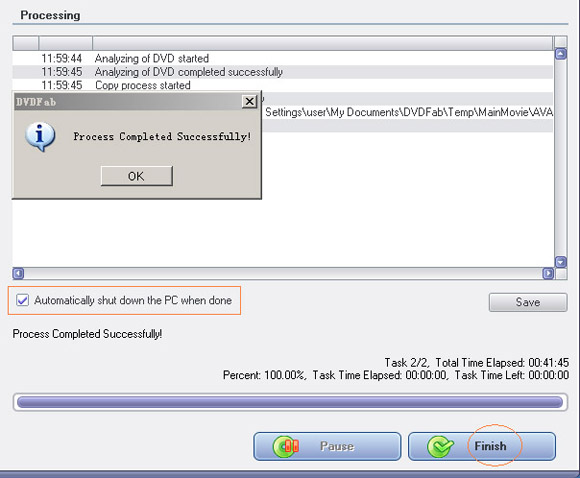 Note: If you have chose the option "Automatically shut down the PC when done", our program would shut
down auto after burning.
For a detailed video tutorials, please visit http://www.youtube.com/watch?v=NUYYZx-pZ7I
You may also be interested in
copy dvd to dvd - Main-Movie
copy dvd to dvd - Split
YYYYYYYYSFASDFsa