DVDFab DVD Copy - Merge
DVDFab dvd copy - merge is a powerful tool for dvd backup that allows users to rearrange titles from several sources into new compilations. You can choose different titles on different movies from DVD drive, HDD folder, or image folder.
Applications include:

● Combine several titles of several sources into one DVD, like a cartoon carnival disc for the kids.
● Combine two DVD-9 like "The Lord of the Rings" into one DVD-9.
● Merge TV season DVDs to fewer discs.
● Create your own special features collection disc,like making a disc of just "Extras" and "Making Ofs".
● Convert 2-disc or 2-sided DVD5 movie to one DVD9.


Merge Guide

If you don't want to look at the text guide bellow, please scroll down this page to bottom for video tutorial.

First of all, you need to decide what sources to use for your merge. Valid sources are DVD discs (but you must have an optical drive for each disc source), DVD folders and ISO files. The merge process runs faster if you copy the merge sources to your HDD before starting. All sources must be continuously available untill the merge process completes—you can't pop a DVD out of a drive and put in another; if you do, the Merge entries from the disc you remove will be deleted from the Merge list. In practice this means that you'll be copying to HDD for some sources anyway, unless you have lots of optical drives or a project with few sources.

This mode includes two screens throughout the process. Merge1 screen is used to select the title sources. Merge2 screen lets you re-arrange them.

Step 1) Load source files or DVD dsic

When you've decided on the sources and copied them to your HDD if necessary, open DVDFab main interface and click on "Merge"mode. Add your sources using the Source drop down (to select optical drives) or the Folder icon

or ISO icon

buttons.

Add the first source from the location of your ripped files. Do this same sequence for sencond source, third source and so on. Sources can be added in any order. Here we select two source files ripped by DVDFab and one DVD disc in the DVD-ROM. As each is selected it will be analyzed and added to the Merge list which is displayed on Merge2. As you add each source, select the title, audio stream and subpicture you want to include.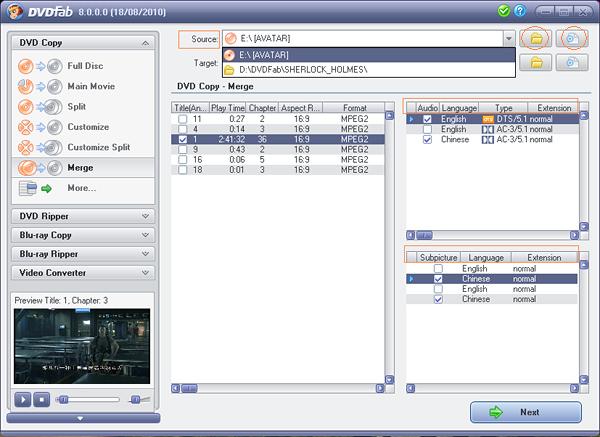 Step 2) Start merging process

Click "Next" to bring up the Merge2 screen.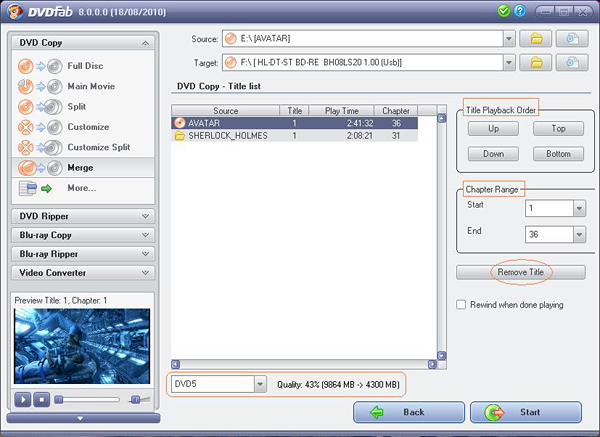 If you're just converting a flipper disc or putting a two-sided movie onto one disc, you will only see two sources listed. If you're making a "favorites" compilation you may have several sources. Verify the order of the titles, make any chapter range changes, select DVD5/9 as output method, select a target, and click Start to begin the merge process. If you have chose the option "Automatically shut down the PC when done", our program would shut down auto after merging.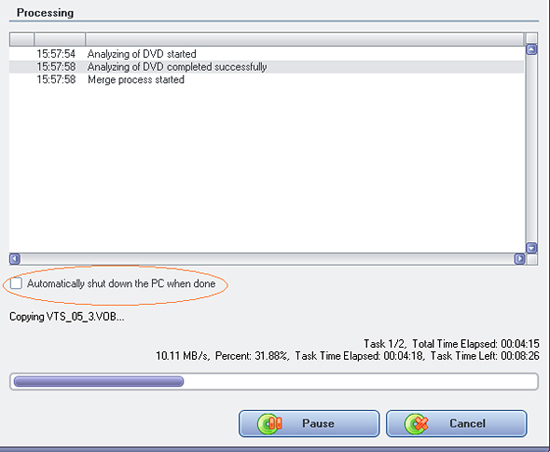 Note: If you are merging DVD mixed with PAL/NTSCV sources, there will be a popup window like bellow. Please make sure that your standalone DVD player can support both PAL and NTSC. Then click on "Yes".
Tips

● Think the merge through before you start. Don't wind up ready to push Start and realize you need to copy another source to the HDD.

●Merge mode will not allow you to re-use or duplicate a title on the merge list using the drop down source selector. This can be accomplished if necessary by re-loading the source using the folder or ISO Source buttons. You can, as I did in the first Example above, re-use a source using the drop down selector as long as you select a different title from the one already on the merge list.

●There are no menus on merged volumes.

●DVDFab makes the same default title selections in Merge that it does in Main Movie, so be sure to UNcheck that title if you don't want it.

●You can go back and forth between the two screens as you want when as necessary.

●The Preview window is a friend you never had before. Remember that it updates the Title and Chapter numbers just above the viewer window in real time while running and will be a tremendous help in setting chapter begin and end points if you need to do that.