The Best DVD Player for iPad
Summary: DVD player for iPad. As we all know there is no DVD player for iPad per se, iPad users need to download content via streaming media or the internet to play. Here we tested the best way to convert your DVDs to a format that your iPad can recognize. DVDFab portable DVD ripper saves you from finding an external CD drive for iPad, allowing you to stream DVDs to iPad.
Free HD Decrypter
• Copy DVD and Blu-ray files with two backup modes: Full Disc and Main Movie
• Convert Videos/DVDs/Blu-rays to MKV or MP4 format
• Work at top speed and export files without quality loss
Play iso on iPad. Apple's iPad is one of the most popular devices for playing digital content on the go. If you're an iPad user, chances are that most of the content you play is either being streamed or download off the internet but there is also a way to play your DVDs using this device. How do I put a DVD on my iPad? While there is no DVD player for iPad per se, there is a way to convert your DVDs to a format that your iPad can recognize and then play without any issues. With that in mind, today we're going to talk about the best method to convert DVDs and then transfer them directly to an iPad in a playback-ready state. Continue to read and find the Apple DVD reader.
How to watch DVD on Macbook air? DVDFab DVD Ripper is a Windows and Mac tool that allows you to rip any DVD disc and convert its contents to a variety of different formats. The software is very fast and even includes some nice editing tools to help you make a number of adjustments to the videos you wish to convert. What is the outstanding feature of this Apple DVD reader? This ripper's most helpful feature in this particular scenario is its ability to convert DVDs to formats that are compatible with specific types of devices, such as iPad. So although you may not be able to find an external DVD Player for your iPad, using this software is the next best thing because it can guarantee that the ripped media files will work with any player capable of handling common formats like MP4. In other words, virtually any media player you can think of. Here's how it works.
Steps on how do I put a DVD on my iPad:
(1) Launch the main DVDFab 12 client and go to the Ripper module in the upper menu to get started. This is the DVD player for iPad. Pop in the DVD you want to rip and wait until the software automatically loads it up or use the "Add" button to manually load it yourself. Using the drag & drop method works equally fine too. Then this Apple DVD reader will analyze your file and display all the information of it.
i Free Download i Free Download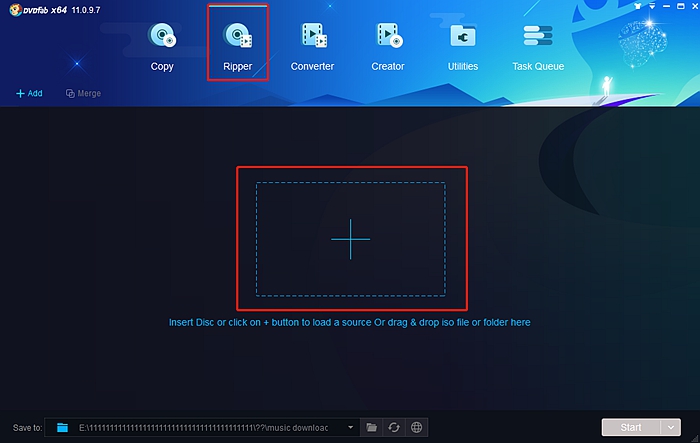 (2) Here is where this DVD player for iPad alternative gets interesting. After loading your DVD file, click the option of "Choose other profile" to choose an output device or video/audio format. In this case, we're going with Apple and then the iPad Air 2 but you can always select another option if you want to convert for a different device. How about this DVD player for iPad?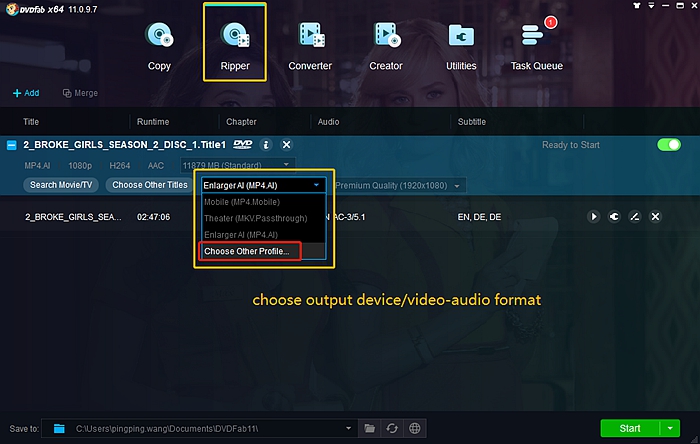 (3) Continue to edit your file with this DVDFab portable DVD ripper, the best free DVD player for iPad. Before you kick off the conversion process, you may want to spend a few minutes making adjustments to the output file if needed. For example, clicking the Video Edit button will bring up a menu that lets you adjust color proprieties, aspect ratio, crop and trim the video, add watermarks or subtitles, and more. Meanwhile, the Advanced Settings menu lets you play around with things like resolution, codec, and an encoding method, video quality, frame rate, and more.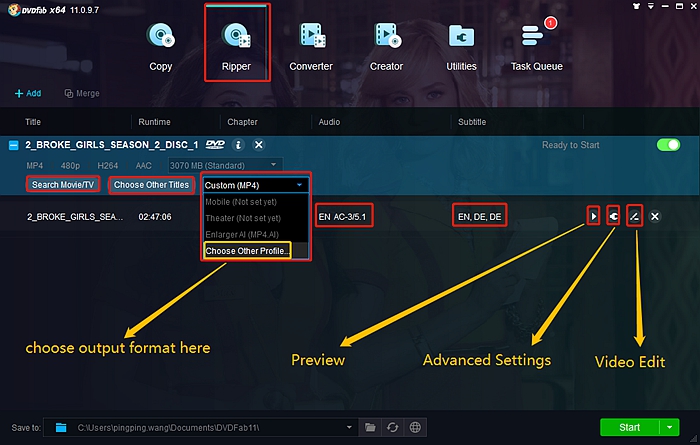 i Free Download i Free Download
(4) Where to save your file using this DVD player for iPad? Go to the bottom dropdown menu and select the "Mobile Device" option if you want to transfer the ripped file directly to your iPad once the conversion is complete. Finally, click the Start button and wait until the software finishes processing your file.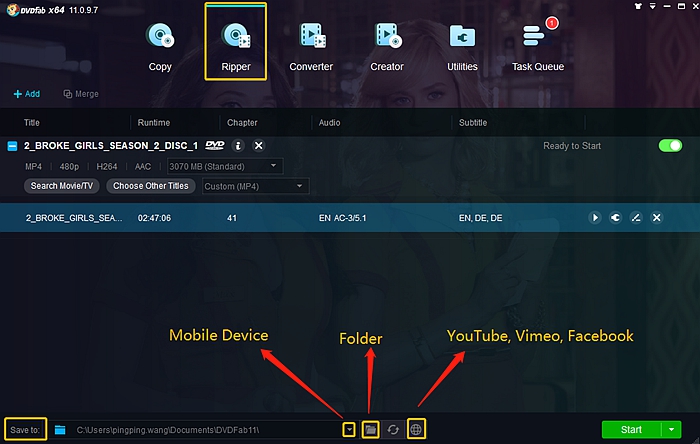 DVD player for Apple. Using the method described above will ensure that you won't need to worry about finding a traditional DVD player for iPad ever again, but what about a play for Windows or Mac? Well, there's no shortage of good players when it comes to these platforms but if you're looking for the best of the best there's only one real choice and that's DVDFab Player 6. This excellent media player, also Apple DVD reader, supports all the most popular formats out there and includes a number of very useful features that allow it to stand out from the crowd.
i Free Download i Free Download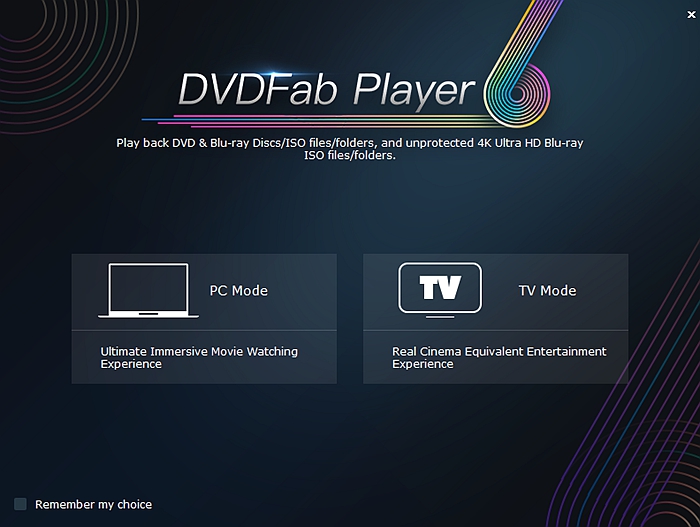 What's more about this DVD player or iPad? More than just a regular DVD player, this software can also handle Blu-ray and even 4K UHD Blu-ray discs with ease. In addition to playing all types of discs, the software also includes navigational menu support and offers two distinct playback modes – PC and TV – so you can use this DVD player for Apple on your large-screen TV just as easily as you would on your computer. A few more highlights of the player include HDR10 and Hi-Res Audio support, 3D upscaling, customizable playlists, a new Preview feature with adjustable thumbnails, and much more. For more video player, you can read another article.
If you were disappointed before that there's no actual DVD player for iPad you can finally rest assured knowing that you can still watch your favorite DVDs on the go in spite of that. Ripping DVDs and transferring the contents to your iPad may not seem like the perfect solution but DVDFab DVD Ripper makes the whole process very easy and intuitive so this is the closest alternative you can get to have a more traditional DVD player for iPad. And if you're ever looking for a good player to use on your Mac or Windows computer, don't forget to check out DVDFab Player 6.

Hot topics recommended:
Disney Plus: Download Disney Movies and Songs for Free
Gfycat Download with Sound on PC and Mobile [Offline & Online]
How to Download Netflix Movies on Laptop
Download Amazon Prime Video to Any Device [PC, iPad, iPhone, Android, Disc]
WeSing: Download Best Karaoke Songs Free
Unblur Photos Free and Fast [Remove Blur From Photo]
Anime Movies Free Watching and Download 2021
DVD Movies Download [Movie from DVD; YouTube Movie Download; Burn Movie to DVD]
Watch Harry Potter on PC/Smartphone/TV [YouTube Download]