How to Rip/Convert DVDs to MKV?
2019-03-19 02:22:07
Posted by Rebecca
6922
Summary: How to rip or convert DVDs to MKV? Here we will introduce an easy-to-use DVD to MKV converter that can convert DVDs to MKV files that can be stored on your computer or an external hard drive.
The Most Complete DVD/Blu-ray/4K UHD Solutions
DVDFab 11 offers the world's most complete DVD, Blu-ray and 4K Ultra HD Blu-ray backup solutions to help users make home backups to their DVDs, Blu-ray, and 4K Ultra HD Blu-rays in the ways they prefer.
The days of storing all our favorite movies on DVDs are quickly coming to an end thanks to the rise of Blu-ray and easy access to online streaming platforms like Netflix. But just because you're not likely to buy a whole lot of new DVDs from now on that doesn't mean you should throw all your old ones away. Nowadays it's very easy to convert DVDs to MKV files and create a digital collection that you can store locally on your computer or on an external hard drive. As an added benefit, even if you still want to keep your DVDs for the sake of nostalgia, at least you can rest assured knowing that you have backup copies always available in digital format. Just in case your discs get damaged or lost. But what tool should you use to convert DVD to MKV? Well, we just happen to know the perfect one.
Part 1: The Best DVD to MKV Converter
DVDFab DVD Ripper is the best software you can use to rip DVD content and convert it to an MKV file on both Windows and Mac. The software can rip any type of DVD disc and can even be used to convert ISO files and folders to a format runs on any compatible media player. Whether that's a DVD to MKV conversion is all up to you because the tool can convert to a variety of other formats as well, such as AVI, MP4, WMV, and more. 3D and 4K formats are also supported, as is conversion from video to audio.
Conversion aside, the software takes pride in being extremely fast, reliable and offering several helpful features like batch conversion, the ability to create web optimized files or the ability to create files for specific devices like the iPhone XS or the Samsung Galaxy S9. Want to convert DVD to MKV and personalize the video in the process? No problem. DVDFab DVD Ripper comes with many powerful editing and customization tools that allow you to do exactly that. Now that you know more about the software, let's take a closer look at how it works.
Part 2: How to Convert DVDs to MKV
1. Your first order of business is to download the new DVDFab 11 client from the official website, if you don't already have it of course. If you do, open DVDFab 11 and select the Ripper module from the top menu to get started. Once there, you can either insert the DVD disc you want to convert or navigate to its location using the "Add" button. Meanwhile, if you want to convert an ISO file or folder, simply use the drag & drop method. Thanks to the batch conversion feature, you can convert DVD to MKV for multiple discs so feel free to add more than one source if necessary.
2. With the source loaded up, it's time to select the format. To do this go to the Profile Switcher in the upper left corner and select Format -> Video. We want to convert DVD to MKV for this example so we're going to pick MKV as the output format but you can use the same method to convert to other formats too. If you want to convert the file for a specific type of device make sure to go to the Device section (next to Format) and pick the desired device from the list.
3. Before we go ahead and convert the DVD to MKV it's time to do a bit of customization. First, you can play with some of the basic options like changing the name of the output, picking the audio tracks and subtitles or picking the chapters and titles you want to rip. For a more in-depth level of customization, however, you'll want to check out the Advanced Settings menu. Here, you can change a lot of things about the output, including the resolution, frame rate, encoding method, video quality, and more. This menu also lets you make changes to the audio and choose if you want the subtitle to be rendered directly on the video or stored in a separate .sub file.
4. Next to the Advanced Settings button, you can find another useful menu known as Video Edit. Here, you can take the customization to the next level by changing the brightness, contrast and saturation or by cropping and trimming the video. The Video Edit menu also lets you add external subtitles to the video as well as text or image watermarks.
5. Once you're done customizing the video you can choose how and where you want to save it by using the options found near the bottom of the user interface. Finally, to convert the DVD to MKV you just have to click the Start button and wait until the software finishes processing your file.
Conclusion
Converting DVD to MKV is a great way to keep your movie collection save by transforming it to digital format. Unlike physical discs, digital movies don't degrade over time, which means that you'll never have to worry about your collection ever again. There are many tools that allow you to convert DVD to MKV but if you want the best we recommend trying out DVDFab DVD Ripper.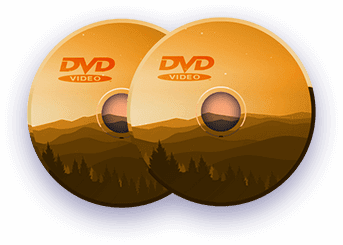 Backup DVDs at home with up to 6 different copy modes
Featuring the most advanced DVD copy technologies, DVDFab DVD Copy allows you to make premium backup copies to your legally purchased DVD movie/TV Show discs at home, for non-commercial use. With 6 versatile backup modes catering various demands, you can copy your DVDs in the way that fits your situation best.