How to Convert ISO to MKV?
2019-03-18 19:35:27
Posted by Rebecca
11581
Summary: Converting ISO files to a video format like MKV will ensure that you won't have to worry about compatibility issues ever again. So how to convert ISO to MKV? Read on to find the details.
The Most Complete Multimedia Backup Solutions
As the world's most complete multimedia backup solution package, DVDFab 11 offers four major modules, Copy, Ripper, Video Converter and Creator, and a bunch of other useful utility tools with amazing features.
ISO files are quite common nowadays but they can often be difficult to play because they are not natively supported by a lot of multimedia players. Therefore, it's sometimes better to convert these files to a more widely supported format rather than trying to find a player that can run them. Converting ISO files to a common format like MKV will ensure that you won't have to worry about compatibility issues ever again. The only problem with this is that you would need a tool that can rip DVDs and Blu-rays as ISO files are most often found on these types of discs. Don't worry, though, because today we're going to talk about a software solution that will let you convert ISO to MKV quickly and easily.
Part 1: What is ISO?
An ISO file is essentially an archive that contains all the files that would be written on a particular disc. That is why a lot of the times ISO files are also referred to as disc images. ISO files first appeared during the age of the CD but nowadays you're more likely to see them on DVD and Blu-ray discs. Files are usually packed like this because a single archive is slightly smaller in size and easier to work with than multiple files and folders. However, the downside is that you will need a specialized tool to extract the files from the archive, or in the case of a DVD/Blu-ray movie, a specialized player. Of course, you could also just convert the ISO to MKV so you don't have to worry about that.
Part 2: What is MKV?
MKV is a very popular multimedia container that can house a variety of different content. That includes things like videos, images, audio tracks, subtitles, and more. Because of this, MKV files are perfect for storing movies and TV shows. A great feature of this format is that it can support almost any audio and video format regardless of their quality. In other words, MKVs can support a high-resolution Blu-ray movie just as well as a low-quality homemade video. The MKV format is highly adaptive and was designed with longevity in mind, which is why converting and ISO to MKV is a very good idea.
Part 3: How to Convert ISO to MKV on Windows/Mac
Now that we've talked a bit about why it's a good idea to convert ISO to MKV it's time to discuss the tools that you can use to do that. The first two tools we want to recommend are DVDFab DVD Ripper and DVDFab Blu-ray Ripper. These are different tools but work pretty much the same and allow users to rip the contents of any DVD/Blu-ray disc and convert them to a different format in the process, including but not limited to MKV. Discs aside, you can also use these tools to rip the contents of ISO files and folders. We mentioned earlier that you need specialized tools to extract data from ISO archives. These are two of the best tools for the job.
If the two tools described above are not exactly what you were looking for, you may want to try a third tool known as DVDFab UHD Ripper. Just as its name suggests, this software specializes in ripping 4K Ultra HD Blu-rays of all shapes and sizesto 4K MKV and SDR MKV. Regardless of what tool you choose, all three of them offer support for a wide variety of different output formats and come equipped with many powerful editing and customization tools. All three tools are available on both Windows and Mac. We're going to give you an example down below of how you can convert a regular Blu-ray ISO to MKV but keep in mind that the process works the same for DVDs and UHD Blu-rays, too.
1. Open DVDFab 11 and select the Ripper module to get started. Insert the disc you want to rip into your optical drive or use the navigation buttons to add an ISO file or folder if you want to rip and convert content that's already stored on your computer.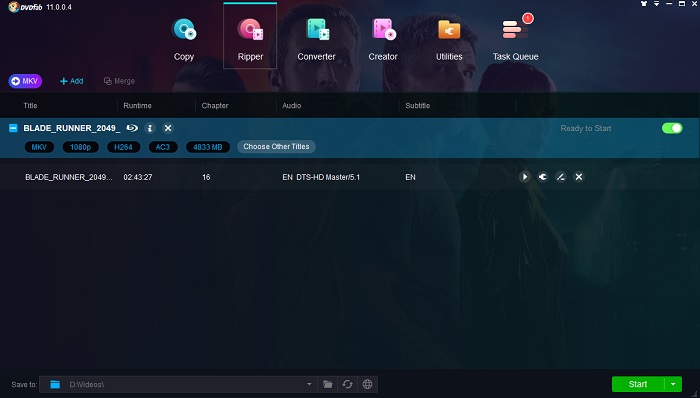 2. Select the Profile Switcher to choose the format for the output. The software automatically recognizes the type of ISO you want to rip (DVD, Blu-ray or UHD Blu-ray) so you only need to worry about the output. In this particular scenario, we want to convert ISO to MKV so we need to go to the Profile Switcher -> Format -> General -> MKV. If you want to pick a different format, follow the same steps but choose a different option instead of MKV.
3. Before initiating the ISO to MKV conversion we're going to spend a few moments checking out some of the editing options. There are sets of options to play with, which are found under the Advanced Settings and Video Edit menus, respectively. The first menu will let you modify things like the video quality, frame rate, resolution, encoding method and more. Meanwhile, the Video Edit menu contains tools that let you crop and trim the video or add subtitles and watermarks. Other options like picking audio tracks and selecting specific chapters or titles are found on the main menu. Keep in mind that a few of the options differ depending on what type of ISO you're trying to rip. For example, the options you see when you convert a DVD ISO to MKV will be a bit different than when you convert a UHD Blu-ray to ISO.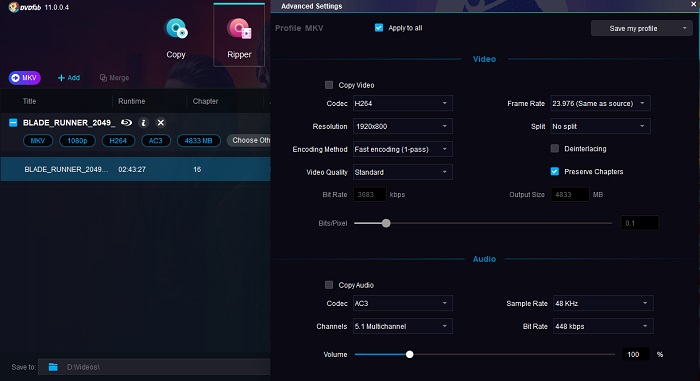 4. Once you're done editing the output you can choose where you want to save the file by using the "Save to" menu near the button. Finally, click the Start button and wait until the software finishes processing the file. It's worth noting that Blu-rays take longer to rip than DVDs as they tend to be much larger in size.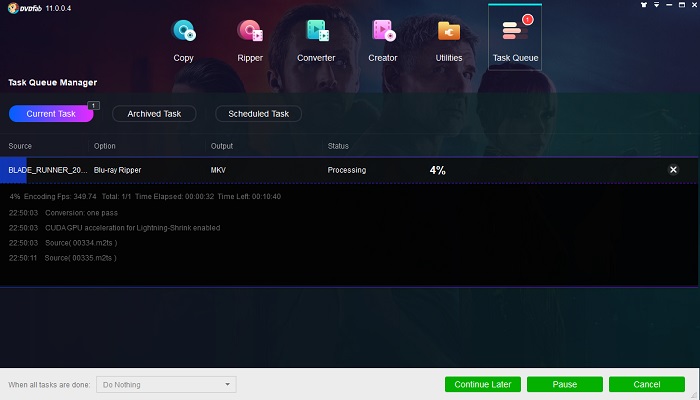 Conclusion
Hopefully, this article helped you learn more about not only ISO and MKV formats in general but also how to easily convert any ISO to MKV. All the rippers we discussed today are professional grade tools and are guaranteed to work as advertised. But you don't have to take our word for it because there's a free trial available for each tool so you can grab them without spending a penny and see for yourself how well they perform.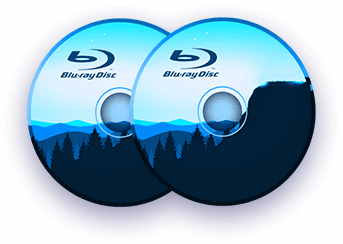 Backup Blu-rays at home with up to 5 different copy modes
Featuring the most advanced Blu-ray copy technologies, DVDFab Blu-ray Copy allows you to make premium backup copies to your legally purchased Blu-ray movie/TV Show discs at home, for non-commercial use. With 5 versatile backup modes catering various demands, you can copy your Blu-rays in the way that fits your situation best.