[Most Detailed] The Best 4 Free DVD Rippers for MAC | 2021
Summary: A qualified DVD ripper on Mac will let you enjoy the ease of watching DVD movies on your MacBook. Just read on and check out the top 4 best DVD rippers for Mac.
Free HD Decrypter
• Copy DVD and Blu-ray files with two backup modes: Full Disc and Main Movie
• Convert Videos/DVDs/Blu-rays to MKV or MP4 format
• Work at top speed and export files without quality loss
First of all, to figure out why we need a free DVD ripper on Mac, we are glad to start by describing some dilemmas you must have had struggled.
Most of us had a hobby of collecting DVDs. Collecting DVDs could be a lot of fun. It felt like you had the most treasured things in the world. However, with time passing by, the shortcomings of this thing emerged and you may also have noticed that DVDs are gradually becoming a thing of the past. For example, you want to watch one of your favorite DVD movies during your journey. But apparently, it is impossible to realize. So what is the method to deal with it? The answer is ripping your DVDs to other formats so that they can be played on your computer or other devices. So, if you've got stacks of DVD movies and other discs that you want to watch on your MacBook computer, looking for the best free DVD ripper for Mac is what you need to do. In this article, we will introduce you the 4 best free DVD rippers for Mac. But before that, let's see the main reasons for us to rip DVDs.
DVDs are cumbersome. They can take a lot of space in your room. So imagine what your room will be like if all these DVDs disappear - more tidy and more space, right?
If you copy DVDs to a hard drive you will win a chance to manage your movie library by genre or year.
DVDs are super easy to get scratched. So a free DVD ripper on Mac can help you backup them.
Almost all free DVD ripper software on the market claim that they can help you. But it is hard to believe that they all can meet your demands. So we list the below points for your reference.
DVD ripping speed: DVD videos are usually large. So a good DVD ripper software can save you a lot of time by offering a fast ripping speed.
DVD output quality: You will enjoy yourself a lot if you are watching a high-quality video. Otherwise, your eyes or your mood may be affected.
DVD Output formats: A good free DVD ripper software should be able to offer more output formats so that you can play your video on different devices.
Customize your video: If a DVD ripper can let you edit your DVD videos before ripping out, then you will get a video with your personality.
In this section, we will discuss the top 4 best DVD ripper software available on macOS, detail their features and functions, compare their pros and cons, so that you can decide on your own which one is worth your attention.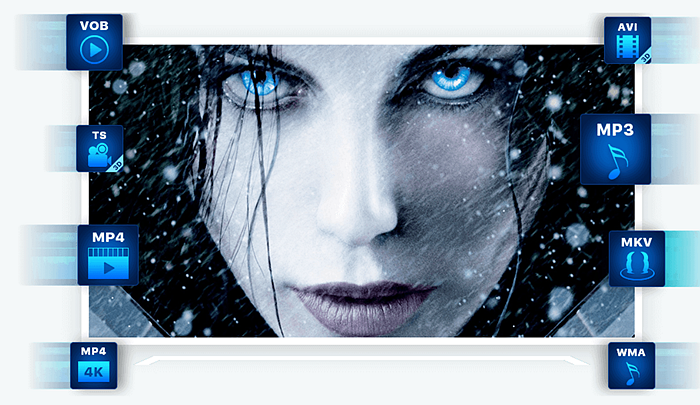 If you are seeking a tool to help you watch DVD movies easily and freely from other portable applications, even your mobile ones, then DVDFab DVD Ripper is the best choice for you. Designed with a rich profile library, this best DVD ripper for Mac has the power to rip and convert any DVD/ISO/folder to any mainstream video/audio format. Even more, the metadata information of the source, especially TV shows, will be fixed and then applied to the resulting videos in the conversion process. What is the most important point is that with the help of Enlarger AI, the output videos can be upscaled by 300%. One thing should be mentioned here is though the conversion process is fast, it has a great connection with your internet conditions. Besides, you can upscale video from 480p to 1080p, or from 1080p to 4K.
i Free Download i Free Download
Pros:
Offers full trial, free and paid versions
Gives you full control of your video
Large library of conversion presets for all the mobile devices
Easy to use
Can rip protected DVDs
Cons:
Enlarger AI is sold separately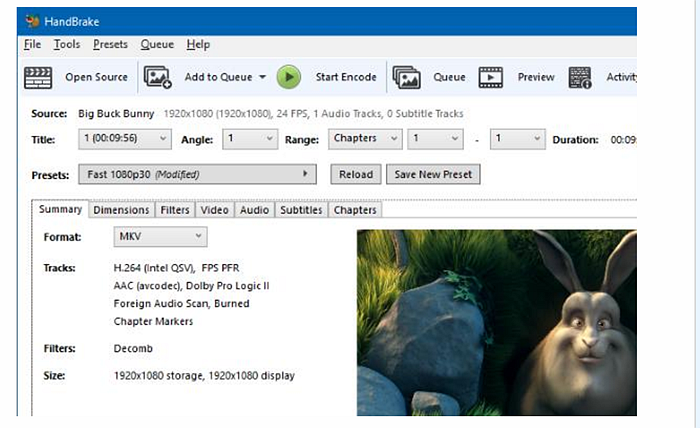 HandBrake is one of the most welcomed free DVD rippers for Mac and Windows. It is not only a DVD converter, like converting DVD video to AVI, MP2, WMV, etc, but also a video converter. It can convert videos to MP4, and MP4 to WMV. Also, HandBrake can queue up multiple DVDs or video files to rip or convert.
But this free DVD ripper for Mac does have some shortcomings. First, HandBrake can not handle DRM. Second, its ripping speed can be slow if the DVD video is large. Third, though it can act as a video converter, only two output formats are supported. Fourth, this DVD ripper software works good but is not easy to know how to use it, because before using it, you have to download and install another tool to bypass copy protection.
Pros:
Acts like a video converter
Easy to work
Cons:
Fail to handle DRM
Slow ripping speed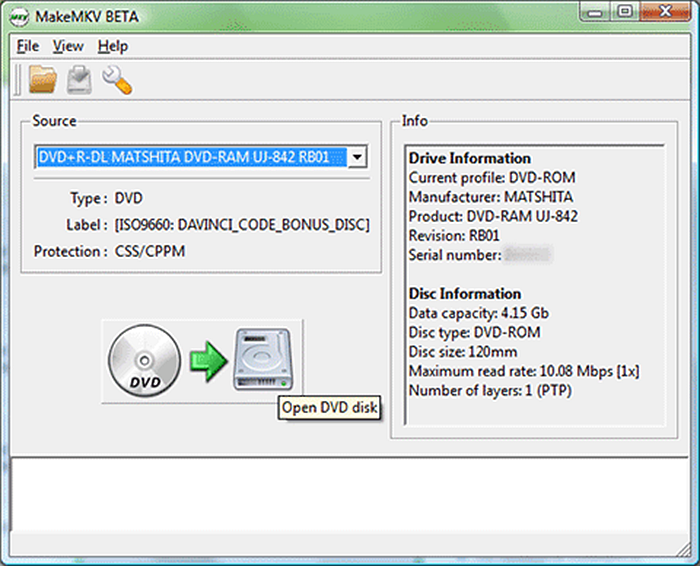 MakeMKV is an easy free DVD ripper for Mac. With this tool in hand, it will never be a problem to rip a protected DVD. Besides, you can also preserve all video/audio tracks and subtitles with meta-information. Another remarkable advantage of it is the whole ripping process is pretty fast with good quality. What is even better, it is available as a free DVD ripping tool. Putting all these advantages together, this free Mac DVD ripper may be your first choice for backup or storing your movie contents on Mac.
But as you can tell from its name, this software only offers one format - DVD to MKV only. Another thing that should be noted is that only a little compression happens during the DVD to MKV converting process, so the output file size can be very large, which means you will have trouble importing the DVD movie into your iPhone or iPad.
Pros:
Can copy-protected DVDs
Customize your video
Fast DVD conversion speed
Cons:
Only MKV format available
Output large video size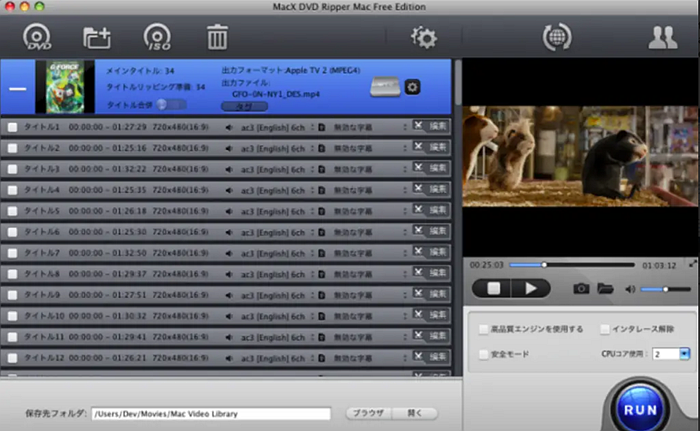 MacX DVD Ripper is a functional free Mac DVD ripper program. As a professional DVD copier and converter, it can freely rip DVDs to Mac-specifics formats like MOV, M4V, H.264. Besides, this free DVD ripper on Mac has the capability of dealing with most commercial DVDs with encryption schemes. In other words, it can help you copy your protected DVDs. Importantly, all most all DVD formats are supported by it.
But most people are stunned by its unfriendly interface when they tried it for the first time. Though you are allowed to change the resolution and do other settings, you can not re-size its interface window.
Pros:
Support almost all formats
Multiple setting options
Decrypt commercial DVDs
Cons:
Not allow resizing
Unfriendly interface
Among all these four best free DVD rippers for Mac OS, the last one - DVDFab DVD Ripper is what we highly recommend due to its powerful functions. Next, we are glad to show you a tutorial on how to rip protected/unprotected DVDs with it. If you aim to rip DVD to iPad for offline playback, click here.
Step 1: Download this best free DVD ripper on Mac
To use this best free Mac DVD ripper, you are supposed to start from downloading, like always.
i Free Download i Free Download
Step 2: Choose a profile and customize the output DVD
When you launch this software, please find the "Ripper" tab and choose a profile through that profile switcher. When your DVD source is loaded, you can customize your output DVD by the "Advanced Setting" and "Video Edit" buttons.
Step 3: Rip DVD free on Mac
If all settings are done, down to that folder icon on the bottom of the interface to click an output direction. Then you can output your video by clicking the "Start" icon.
Note: If you want to know more detailed information about how to rip DVDs to other formats, you can click here.
While reading down to the bottom of the article, you must have known why rip DVDs, or how to choose the best free DVD rippers for Mac. Most importantly for us is to make sure that you have found a perfect DVD ripper on Mac so that you can rip your DVDs and watch them on your portable devices.