Best Free DVD Rippers for Windows 10 | 2021
Summary: This article aims to list 3 best free DVD Rippers for Windows 10 and demonstrates how to rip DVD with the most professional and full-featured DVD Ripper Windows 10 program, DVDFab DVD Ripper.
Free HD Decrypter
• Copy DVD and Blu-ray files with two backup modes: Full Disc and Main Movie
• Convert Videos/DVDs/Blu-rays to MKV or MP4 format
• Work at top speed and export files without quality loss
Faced with piles of stacked DVD discs in your room, sometimes you probably anticipate ripping DVDs into video contents for better playback on portable devices, even transfer digital files onto hard drive or cloud storage service for lasting preservation. For Window users, to rip DVD Windows 10 fast and well, it's imperative to seek a professional DVD Ripper able to rip DVDs to video or audio files playable on mobile devices. Hence, this post gives you a shortcut to pick your desired DVD Ripper Windows 10 programs from the given list.
There are 3 free DVD rippers introduced here for you to convert DVD to MP4, MKV and other digital formats on the Windows operating system.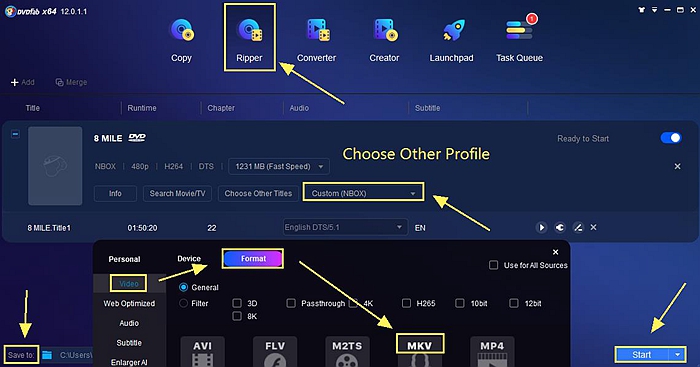 (1) DVDFab DVD Ripper
This DVD Ripper Windows 10 program stands out from the crowd due to its striking features that contribute to the high-quality output contents ripped from DVDs. It not only meets the basic needs of ripping DVDs but offers an unexpected AI video upscaling solution, which becomes the icing on the cake. In a nutshell, it's not that easy to find a free DVD Ripper for Windows 10 that has such overall and powerful features.
i Free Download i Free Download
Rip DVD to almost all video/audio formats playable on all portable devices
Customize the output content via advanced settings and a built-in video editor
GPU acceleration to support batch and fast conversion
Works seamlessly with AI-driven video upscaler to improve video resolution
Save converted contents to mobile, or as a folder on HDD
Share converted video/audio files onto YouTube, Facebook, and Vimeo
Available on Windows & Mac, 30-day free trial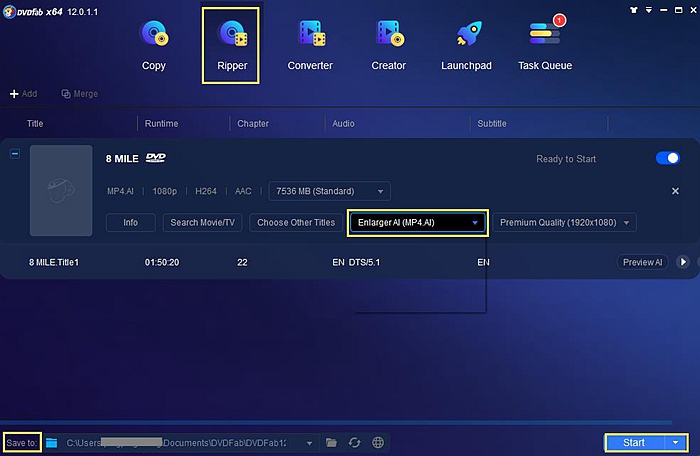 For this free DVD Ripper for Windows 10 and Mac, these prominent features are an ace in the hole, with which, you can access ripped and converted video or audio contents easily and quickly so as to play them on your portable or mobile devices. What's more, you can share them onto social networks such as Facebook, YouTube and Vimeo to attract followers or please your friends.
(2) Winx DVD Ripper
This DVD Ripper Windows 10 program allows you to directly rip DVD into various formats such as MOV, MP4, MPEG, FLV, and save to devices like Apple TV, PSP, Samsung and HTC. Such ripping process requires lots of decoding and encoding support to keep constant update so as to meet users' demand. Besides, this free DVD Ripper for Windows 10 also needs to be backward compatible to support all the versions of Windows till XP, which has become a major green signal for its market share over the years. The area of convergence is also pretty much the Windows community, but it caters to others as well using the same underlying file formats.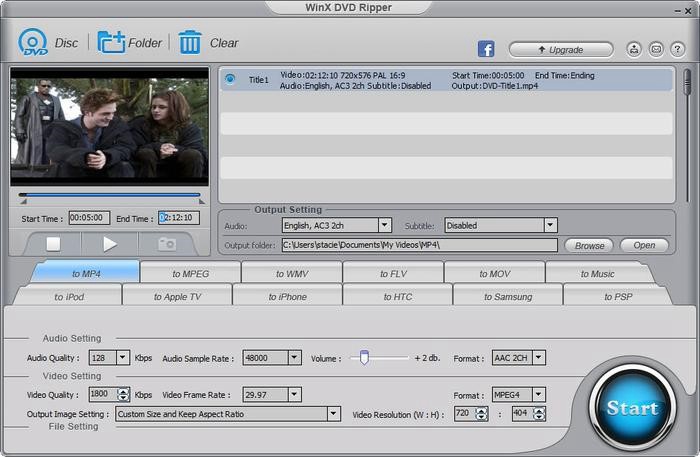 However, the DVD ripping process is a nightmare if you do not have the right set of tools. But it is a blessing if you get fully fledged DVD ripper right off the shelf that has everything inbuilt into it to rip DVD. The protections and their versions are managed by the producers of movies, corporations like Disney, which implement proprietary standards. These can be made readable, convertible or ripped using this free DVD ripper for Windows 10 only if they have their decoder inbuilt inside them.
(3) HandBrake
This free DVD Ripper for Windows 10 also works on Mac and Linux, a wonderful program that allows you to save DVD by ripping them into videos for the particular device listed in its presets. With this DVD Ripper Windows 10 software, the parameters can be manually tweaked a lot using its settings, the picture quality can be changed, the video files can be compressed and much more using a fast tool like this. However, one of the downsides of this DVD Ripper is that it cannot rip Disney's DRM protection, but can be manageable after installing the required package inside it.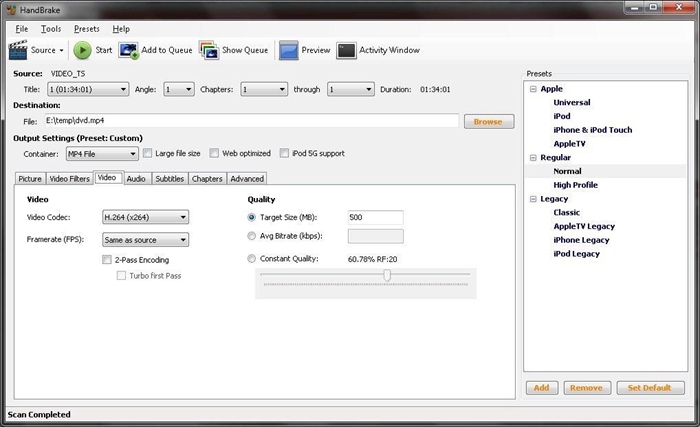 With its simple interface, you can rip DVD within several clicks by selecting DVD drive location after inserting one into the DVD driver, choosing a device and then click on 'Start' button. Then the output video will be saved on HDD of your computer. But the whole ripping process of this free DVD Ripper for Windows 10 takes some time that depends on the size of the DVD you're using.
Now you might understand which one to choose when you seek free DVD Ripper for Windows 10. Apparently, free versions of these DVD Ripper Windows 10 programs offer the basic features to rip DVDs. Nevertheless, if you hope for quality converted content ripped from DVD, you shall resort to full-featured program like DVDFab DVD Ripper. Below step-by-step guidelines can be your reference.
Step 1: Run this free DVD Ripper for Windows 10 and load DVD source
Download and install this free DVD Ripper (integrated into DVDFab11) on trial basis, and choose 'Ripper' module when the program runs. Next insert DVD disc into the optical drive on PC, or simply drag & drop the ISO file or DVD folder onto the main UI.
i Free Download i Free Download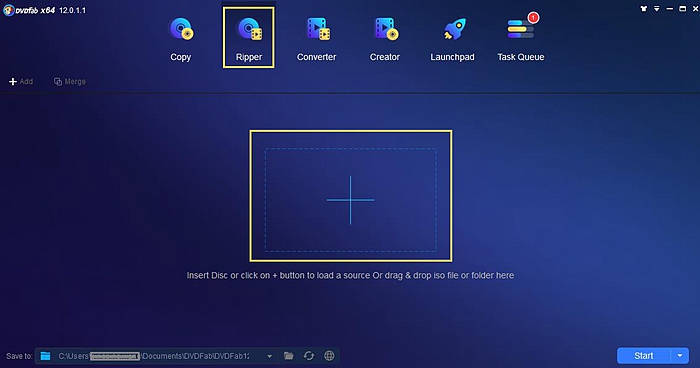 Step 2: Choose one profile and customize output video
Select your desired profile from the profile library on the left panel. Then tab 'Wrench' icon (for Advanced Settings) to set relevant parameters for video, audio and subtitles. Besides, with the built-in video editor, you can trim, crop, merge and rotate video, add watermark and subtitles, or adjust brightness, saturation and contrast to improve video quality.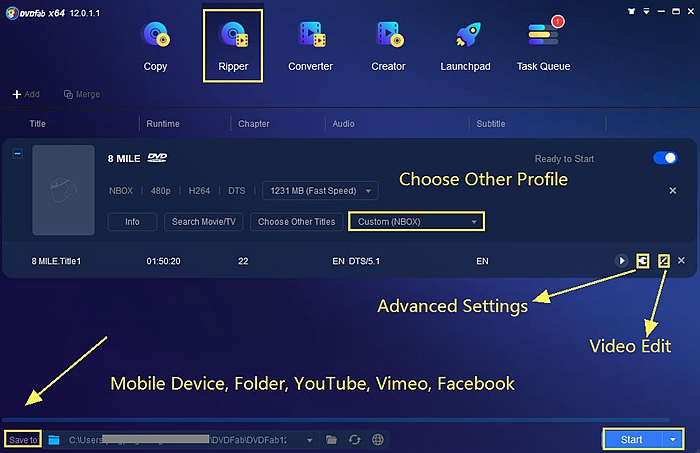 Step 3: Start to rip DVD on Windows 10
Set file directory to save the output video on HDD (folder) or transfer to mobile. Meanwhile, you can choose 'GPU Hardware Acceleration' to quicken the batch conversion. Once done, press 'Start' button to wait for the resulting video.
Within three simple clicks, you can rip DVD and convert it to videos of various formats. Besides, you can enjoy the converted video with DVDFab Player 6, a professional 4K media player that can playback all DVDs, Blu-rays, UHDs, and videos.
Among all listed free DVD Ripper Windows 10 programs, you must had got the right answer to rip DVD with fast speed and high quality. Obviously, the best DVD Ripper, DVDFab DVD Ripper, can rip DVD to all mainstream video and audio formats to be compatible with all devices such as smart phones, tablets, game consoles, 3D devices and TV boxes. Next time when you are wondering how to get video and audio files from DVDs, this program will help you out.
By the way, if you are not satisfied with the quality and resolution of the video ripped from DVD, there is an optimal solution way out there. Try to upscale video resolution the AI-powered video upscaler that can improve video resolution from 480p to 1080p.
Other Hot Topics Recommended:
DVD to Digital: How to Upload a DVD to YouTube
Convert DVD to MP4 Free with Top 6 DVD to MP4 Converters
[Most Detailed] The Best 4 Free DVD Rippers for MAC | 2021
How to Play DVDs on PS4 in 3 Ways [Free & Easy]
The Best DVD Player for iPad